A 19-year-old woman was killed after a fatal multi-vehicle traffic collision in Hesperia on Thursday evening, April 1st.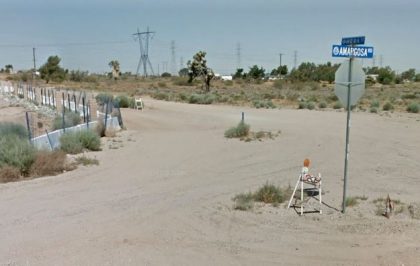 The deadly collision happened on Amargosa Road near Palmetto Way in Hesperia at around 6:42 p.m. A northbound red 2005 Mazda 6 and a southbound gray 2012 Ford Focus were involved in the collision.
Police suspect that the Mazda driver may have lost control before the accident, which caused it to swerve onto the opposite lane and collide with the Ford Focus.
The female Mazda driver was killed as a result of the crash. She was declared dead at the scene. Three people occupied the Ford Focus. An adult passenger from the Ford was taken to an area hospital for treatment.
The cause of the collision is currently unclear. Local authorities are currently investigating the accident and will attempt to figure out why it happened and the liability.
Witnesses that can give more information about the accident are asked to contact Deputy F. Zavala or Deputy S. LoPiccolo at the Hesperia Station at 760-947-1500

Fatal Head-On Collision Statistics
Motor vehicle accidents are one of the leading factors in unintentional injury deaths in California. According to the National Highway Traffic Safety Administration, there were 3,304 fatal car accidents in California in 2017. In 2018, 48 over 100,000 people died from their injuries on average in California.
Although head-on collisions only represent 2 percent of accidents, they account for 10 percent of fatalities on U.S. roadways. Head-on collisions mainly occur when drivers are distracted or are experiencing over-fatigue.
A variety of reasons causes these car accidents; they mainly occur due to drunk drivers, distracted drivers, people who break the speed limit, and drivers who ignore road laws in general. Side impact car accidents most commonly occur in the middle of intersections due to people's failure to yield at a stop sign or red light.
Liability can involve complex legal issues and defenses. It might be split between multiple drivers or companies. The defense might even try to say that you were partly at fault for your injuries. The difficulty in navigating this process is why it is essential to work with an experienced California accident lawyer who knows how to prove liability.
San Bernardino County Wrongful Death Attorney for Victims of Fatal Head-On Collisions
In a wrongful death suit, the survivors sue the person responsible for an untimely death and the financial losses they caused. These losses can include funeral and burial expenses, as well as all the lost wages the victim would have earned between the time of the accident and his or her expected retirement.
If you recently lost a loved one in a motor vehicle accident, you are familiar with this. You might wonder how you will ever be able to live your everyday life again. It will take time, and there are no quick fixes, but you can learn to cope and rebuild your life. One step that many families find helpful after losing a loved one in a car accident is meeting with a compassionate fatal car accident attorney.
If you have a nagging suspicion that someone is to blame for your spouse or family member's death, contact Arash Law. We have the resources you need to pursue justice for wrongful death and the experience to ensure fair compensation. We're conveniently located throughout California, with offices in Los Angeles, Sacramento, San Francisco, Riverside, Orange County, and San Diego, and are happy to visit you. Call (888) 488-1391 for a FREE Consultation with a wrongful death attorney in California.