One person was hurt after a multi-vehicle collision involving a semi-truck in Fontana on Wednesday morning, August 18.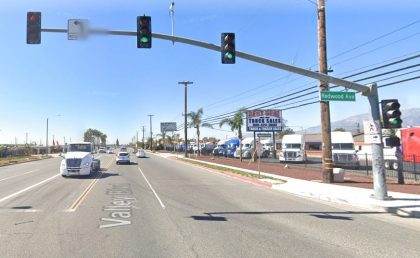 The major collision occurred at the intersection of Redwood Avenue and alley Boulevard in Fontana at approximately 5:00 a.m. Four vehicles were reportedly involved in the collision.
A semi-truck crashed into a small sedan for unclear reasons. Two other vehicles were also involved in the mishap. One person was injured after the crash.
They were immediately taken to an area hospital with unspecified injuries. Information about the accident is limited at the moment.
The identities of the involved parties have not been disclosed. No arrests have been made. The California Highway Patrol is further investigating the cause of the collision.

Multi-Vehicle Collision Statistics
Millions of people are injured in automobile accidents on roads across the United States, while tens of thousands of drivers and passengers lose their lives each year due to crashes. According to the United States Department of Transportation's Fatality Analysis Reporting System (FARS), 33,654 fatal vehicle crashes in 2018 caused 36,560 deaths.
Multi-vehicle collisions are just one type of car accident. This type of accident usually occurs when three or more cars are involved in the accident. They commonly stem from a "chain-reaction" crash, wherein one vehicle will bump into another, potentially causing it to crash into other cars on the roadway. According to the National Highway Traffic Safety Administration (NHTSA), multi-vehicle collisions account for less than 10% of all collisions in a given year, but they result in a disproportionate number of fatalities.
Personal Injury Attorney for Victims of Multi-Vehicle Collisions in San Bernardino County
Any type of traffic accident has the potential to cause serious injuries to the victims. Even if they survive the accident, they may suffer catastrophic injuries that will necessitate lifelong care. A personal injury claim can cover lost wages, in-home nursing care, medical treatment, and modifications to the home to make it more accessible.
Multiple health insurers will be involved in a multi-vehicle collision case, each defending its financial interests. Other accident victims may have legal representation. The only way to ensure that your legal right to compensation is protected is to have someone on your side fighting for you.
When you hire a California motor vehicle accident attorney, they will assess the circumstances of your accident from all angles. They will determine who is liable and what insurance policies there might be to draw from so that you can receive full and fair compensation for your damages. Call Arash Law at (888) 488-1391 or send us an email today to schedule your free, no-obligation fatal car accident case review.