Parents are constantly working to determine the best ways to protect their children. Many moms and dads safeguard their children from illnesses, bullies, and sports injuries. However, one of the most important safety measures often overlooked is car seat safety for kids.
From 36,096 in 2019 to 36,680 in 2020, traffic fatalities increased by 1.6 percent in 2021, according to the National Highway Traffic Safety Administration. Federal data shows that over 500 children in the United States get injured daily in car accidents. This number adds up to 183,000 injuries annually. That means that one child is involved in a crash while riding in a passenger vehicle every 25 seconds, on average.
So it was a surprise when, in the same year, the AAA automotive group and the National Safety Council reported that only one in five parents ensure that their child is properly seated in their car seat.
In the event of a crash, car seats and booster seats provide protection for infants and children. When correctly installed, they are capable of reducing the risk of fatal injury by 71% for infants and 54% for toddlers. For this reason, it is essential that you select the right car seat and use it correctly every time your child is in the vehicle.
As the Child Passenger Safety Week approaches, our team at Arash Law, led by Arash Khorsandi, Esq., has provided this definitive car seat safety guide to help ensure your child is appropriately protected every time you hit the road. We hope this will answer important questions about car seat safety.
Follow these important steps to choose the right seat, install it correctly, and keep your child safe. And if your child is injured in an auto accident, consult with an attorney as soon as possible. Doing so is the best way to fully protect your and your child's important legal rights.
Why Should You Care About Car Seat Safety for Kids
Car seats for kids are required by law. According to Federal Law, any child traveling in the front or rear seat of a car, van, or goods vehicle must use a child car seat until they reach the height of 135cm or the age of 12—only then can they use an adult seat belt.
Still, the number of children who die or are injured in car accidents every year is staggering. In the majority of cases, child seats are not installed correctly. NHTSA and field studies indicate that car seats, booster seats, and seat belts are misused between 74 and 90 percent of the time.
In order to ensure the safety of children, car safety seats must be used properly. However, with so many options available, many parents find this confusing. It is possible to get help. The following tips will help you determine which car seat is right for your child.
RELATED: The Ultimate Guide For Pregnant Women Who Are Involved in Car Accidents (2020 Edition)
Child Safety Seat Checklist All Parents Should Know
Before buying a car seat for your kids, keep in mind that car safety seats are not all the same. So it's crucial that you completely understand the importance of knowing the right car seat for your child. When buying a new child safety seat, make sure to hit the following checklist:
Learn about the four types of car seats. There are many car safety seats for kids out there, but you only need to know four major types: rear-facing, front-facing, booster car seats, and seatbelts.
Check the seat's compliance with the federal motor vehicle safety standard. A sticker on the side of the car seat provides this information.
Make sure your child meets the seat's height and weight requirements. The height and weight ratings are directly on the car seat and packaging.
Make sure the harness is easy to adjust by practicing with the straps. Every time your child rides in the car seat, you'll have to adjust the straps many times.
The car seat is easy for you to install. In addition to your child's age, size, and developmental needs, the type of seat your child needs depends on several other factors, including how easy it is to install and remove. The National Highway Traffic Safety Administration offers an installation guide on its car seat website.
How to Spot a Counterfeit Car Seat
Unfortunately, we're seeing a rise in something new and troubling—counterfeit car seats. They resemble car seats that meet or exceed FMVSS 213 in appearance and performance. It is unfortunate, however, that many families end up having to purchase unsafe or illegal car seats.
We've compiled a list of what a car seat should have to be safe and legal. In addition, we have provided information on how to determine if the car seat you bought can be used. If you've unknowingly purchased one of these seats, we can help you figure out what to do.
Not sure if your kids' car seat is the real deal? Here are some things to look out for:
Manual and registration card for the car seat

A genuine car seat includes a manual and registration card, whereas a counterfeit one does not. For US brands, manuals are usually printed in English and Spanish, including contact information and the manufacturer's logo. It is usually located directly on the seat when the box is opened, or it may be contained in a packet within the box.

Various mandated labels that provide safety information

Car seats that passed FMV13 and are legal to sell and use in the United States will have some specific labels. A white label with red and black writing on US-made car seats indicates that the seat meets federal safety standards. These labels will not be found on counterfeit seats.

Label/s that show and explain how to use the seats

You will find information regarding reclining angles, belt guide instructions, and lower anchor weight limits here. The minimum and maximum weights and heights will also be indicated in English imperial or metric units.

Label/s containing manufacturing information

FMVSS213 states that all car seats sold in the United States must have the following:

Model name or number
Manufacturer's name, address, and telephone number
The statement: "Manufactured on [Date]."
Place of manufacture (City and State, or foreign country)

Label/s containing the statements

"For recall information, call the U.S. Government's Vehicle Safety Hotline at 1-888-327-4236 (TTY: 1-800-424-9153), or go to http://www.NHTSA.gov."
"This child restraint system conforms to all applicable Federal motor vehicle safety standards."
"This Restraint is Certified for Use in Motor Vehicles and Aircraft." if the kids' seat meets aircraft safety standards. Otherwise, "This Restraint is Not Certified for Use in Aircraft."

The location of all of these labels or information varies by seat and manufacturer, but it will always be on the seat.

Purchase location of the car seat

An authorized retailer is always the best place to purchase a car seat. The manufacturer's website provides a list of authorized retailers if you do not want to purchase directly from the retailer.

Some accessories or attachments are missing.

The chest clip is almost always included with every legitimate rear-facing and forward-facing harnessed car seat in the US. If you see a harnessed car seat sold in the United States without a chest clip, it is likely a counterfeit car seat.
Common Counterfeit Car Seats
A car seat's safety isn't something you can take for granted. This is why parents and guardians should not settle for cheap counterfeits. Here are some of the most common car seat counterfeits in the United States:
Counterfeit Rear-Facing Only Seats
Some counterfeit car seats resemble federally approved car seats but do not meet the necessary safety tests. These counterfeit seats are often sold as a "3-in-1 Bassinet Travel System" or as a luxury travel system with a "baby seat."
Counterfeit Car Seats from Online Marketplaces
Online marketplaces and e-commerce websites are littered with tons of counterfeit car seats, like Doona car seats. Unless you purchase your car seat from one of the authorized retailers, the seat is probably unsafe and illegal.
Chinese "booster seat" or harness "seat"
These seats seem like a good option for families looking for slim and lightweight travel options. However, when you examine the pictures and websites listed on these products, you'll notice that these harnesses don't have federally mandated labels. The devices do not pass safety tests, which is even more concerning.
Confirming Your Child's Car Seat is Legitimate
Here are some additional ways to confirm that your child's car seat is legally and safely used in the United States if it does not have the labels, manual, or registration card that we mentioned above:
Consult the car seat manufacturer directly about your seat by finding the manufacturer's name, address, and phone number on the label
Visit a CPST near you to get your check done in person.
You can also check for child seat recalls through the NHTSA website.
Why You Should Rethink Buying A Second-Hand Car Seat
Most high-quality car seats can cost upwards of $500, but getting a good one for your kid should not necessarily break the bank. Using quality second-hand car safety seats is enough for practical parents.
Never buy a used car seat from garage sales, flea markets, second-hand stores, or online when you don't know the previous owner or the complete history of the car seat. Avoid borrowing one from someone you don't know.
Before buying a used child safety seat, make sure to check the following:
Verify that the car seat has never been in a crash.
Verify whether the seat has been recalled. You can find information on all car seat recalls from the past ten years on the National Highway Traffic Safety Administration's website.
Ensure the seat is not too old (under six years).
When installing the seat, be sure to read the vehicle owner's manual as well as the car safety seat manual. Additionally, getting professional installation help can help all parents ensure that their child's seat is properly installed.
Best Car Safety Seats for 2023: Keep Your Little Ones Safe and Secure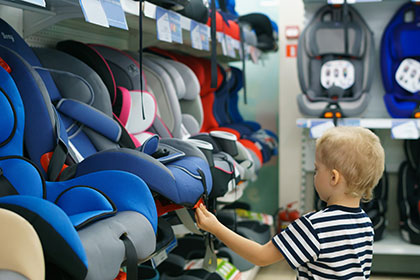 Car seats play an essential role in keeping your child safe and secure while you are driving. When choosing a car seat for your child, your kid's age, weight, and height should not be the only considerations.
Before buying, read reviews and check safety ratings. Besides being comfortable, the right car seat should have impressive features, be easy to install, and, most importantly, ensure your children's safety when on the road.
Listed below are the ultimate car seats that have passed the most rigorous safety tests to meet or exceed US standard FMVSS 213:
Doona Infant Car Seat & Latch Base Combination Seat

The Doona Infant Car Seat and LATCHBase feature a unique, patented, three-in-one design. According to caranddriver.com, this impressive car seat quickly and easily transforms from a car seat to a stroller, providing parents with a safe and easy way to transport their little ones.

Graco 4Ever DLX Convertible Car Seat

The Graco 4Ever DLX 4-in-1 Car Seat gives you ten years of use. It easily transitions from rear-facing for infants to forward-facing for toddlers and then to a belt-positioning booster for children. The 6-position recline keeps your child comfortable, while the InRight™ LATCH system makes installation easy.

Diono Monterey XT Latch Booster Seat

Good Housekeeping gave its seal of approval to the Diono Monterey XT LATCH Booster, a lightweight booster seat designed to provide your child with a secure and comfortable ride. With a weight of 13.9 pounds, it is a portable seat suitable for kids 4–12 years old. It measures 26.0 by 16.0 by 20.0 inches and also features a sturdy seatbelt and LATCH system to ensure your child is secure and safe.

BRITAX Boulevard ClickTight Anti-Rebound Bar Convertible Seat

The BRITAX Boulevard ClickTight Convertible Car Seat is designed with two layers of side impact protection surrounding the head, neck, and torso. It features a 14-position adjustable harness and quick-push recline. It has a maximum weight capacity of 29.4 pounds.

Chicco KeyFit 30 Infant Car Seat

NY Times' Wirecutter lists The Chicco KeyFit 30 Infant Car Seat as its top pick for 2023. Designed to provide superior safety and comfort for your little one, it features a 5-point harness for a secure fit, side-impact protection, and an adjustable base for easy installation. It is lightweight, weighing just 16.6 pounds with the base, and has dimensions of 27.5 by 16.8 by 24.0 inches.
Installing a Car Seat Correctly: How to Avoid Common Mistakes
Car seat installation and child safety seat placement can be challenging for the average parent. Don't let discouragement get you down. You can find many manuals, videos, and other online tutorials that will help you install and use car seats safely.
The following tips can help you avoid making the most common car seat mistakes: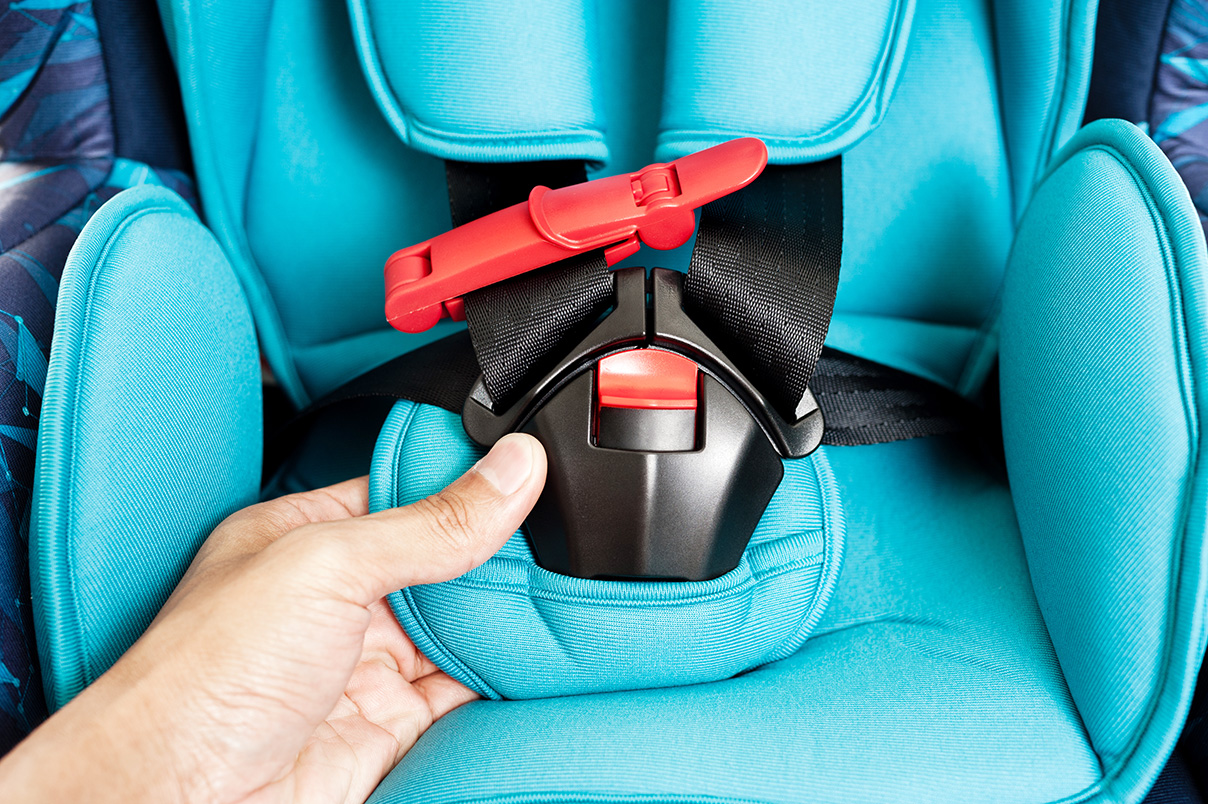 Make sure the installation is tight.

A properly installed child safety seat should not move more than one inch (side-to-side and outward).

Position the shoulder straps correctly.

The shoulder straps should go through slots beneath your baby's shoulders when using a rear-facing car seat. When your child is in a forward-facing seat, the shoulder straps should be at or above their shoulders. The chest clip should always be placed at the armpit level.

Test harness by pinching.

When the harness is buckled, pinch extra material on the straps at the top of your child's shoulders to test for snugness. It is too loose if you are able to pinch excess webbing. Recheck and tighten.

Be sure to check the belt path.

Check the instruction manual for the child's safety seat to ensure the seat belt is routed correctly. If the seat can be moved from side to side or front to back by more than an inch, it is not tight enough.

Make use of the top tether.

The top tether strap provides greater safety for your child in the seat. Your owner's manual will tell you where the correct anchor point is.
Choosing a child safety seat that suits your child's needs, fits your vehicle, and is easy to use for parents and caregivers is essential. No single brand is the "safest" or the "best." However, the right seat for your child will be sized appropriately based on age, weight, and height.
Additionally, many communities offer free car seat checks through local law enforcement agencies, parent groups, or safety councils. When installing or using a car seat, don't hesitate to seek help.
Find a certified child passenger safety technician (CPST or CPS technician) through NHTSA Parents & Caregivers or National Child Passenger Safety Certification if you have questions or need help installing your car safety seat.
Car Safety Seats for Preemies and Babies with Medical Conditions
Even with the best prenatal care, your baby will sometimes be born with specific medical needs. This can occur if the baby arrives early, has a low birth weight, or is born with medical conditions as the result of genetic anomalies or complications during delivery resulting in an injury.
If your baby has special needs, hospital staff will make sure your baby can travel safely in the car before you are discharged. In order to determine whether an infant can safely travel in a car seat, doctors often give them a "tolerance test."
Within a week before your baby is ready to go home, you will be asked to bring in your baby's car seat, which he or she will sit in for 90 to 120 minutes, or the length of the car ride home, whichever is longer.
The nurse will keep an eye on your baby's heart rate, breathing, and oxygen level during the test. If your baby passes the car seat test, then he or she can use the car seat you provided. Alternatively, the hospital may recommend a different car seat if the baby fails the car seat test.
Before their first trip in a car, the American Academy of Pediatrics (AAP) recommends that medical staff monitor the following indicators:
Babies born before 37 weeks of gestation
Infants who cannot tolerate a semi-reclined position, such as a rear-facing car seat
Babies at risk for apnea, bradycardia, oxygen desaturation, or obstructive apnea (e.g., Pierre Robin Sequence)
Additionally, your doctor may order a home monitor to monitor your baby's heart rate and breathing.
Using a Car Bed for Your Baby? Here's What to Do
When your doctor recommends a car bed for your baby, it's likely due to concerns about their breathing and heart rate in a semi-reclined child safety seat. Car beds allow babies to lie down while traveling.
Be sure to follow the manufacturer's instructions when setting up your baby's car bed. You can also use these guidelines to ensure proper installation and use.
It is best to place your baby's car bed in the rear seat so that his or her head is in the center of the vehicle, away from the doors.
Attach the car bed to the vehicle using the seat belt, and make sure it is tight.
Unless your doctor instructs you otherwise, your baby should be placed on his or her back. Check-in with your doctor often while driving and stop this practice once it is no longer required medically.
Learn how to properly secure any equipment your baby requires, such as a breathing monitor, to keep it from moving in the event of an accident.
While the infant is in the car bed, someone other than the driver should keep an eye on all monitors.
Until your baby is medically stable, limit car rides and long trips. For longer car rides, allow rest stops every two to three hours so your baby can be fed and cared for outside the car bed.
Until your baby passes a car seat tolerance test or your pediatrician says it is safe for your baby to be in a semi-reclined position, do not use baby seats, swings, bouncy chairs, backpack slings, or infant carriers.
If you are going on a car ride, make sure that all monitors have enough battery life. For a one-hour car ride, two hours of battery life is a good rule of thumb (for example, two hours of battery life).
Ensure that any portable medical equipment is secured to prevent it from coming loose and hitting your baby.
Rear-facing Car Seat Safety: Newborn to 2 Years
Newborns face some of the highest risks of injury in a car accident. Infants are more susceptible to head and neck injuries due to their larger heads and necks than older children. Head and neck injuries can cause devastating injuries or even death. It is vital to offer your baby the most protection available whenever he or she is in the car.
For this reason, babies should only use infant-only seats until they are at least two years old. Infant car seats use five-point harnesses to keep babies safe, comfortable, and protected while traveling. Most infant-only car safety seats have a base that allows the parent to secure the baby in the car seat before setting it up in the vehicle. Certain car seats for infants and younger toddlers come with additional features for safety.
A rear-facing car seat, for example, provides extra protection for the head and neck. For your baby's safety, here are some tips:
Rear-facing child safety seats are always the best option for your infant.
You must place the shoulder straps at or below your baby's shoulders. There are several harness slots on child safety seats, so you can adjust the harness as your child grows. Here are some tips for using the harness correctly:

Once your baby is buckled in, the harness must be snug enough not to pinch a fold in the material.
Straps should lie flat and not sag or twist.
Adjust the chest clip at the armpit level.

Never place a blanket underneath or behind your child's harness straps.
Wearing bulky outerwear while traveling in a car can interfere with the harness' tightness.
Your child's head should be at least one inch away from the top of the rear-facing seat.
Forward-Facing Car Seat Safety for Toddlers Age 2 and Up
Seat belts are designed for adults – not small children. Toddlers and children of all ages need appropriate car seats to be adequately protected in a collision.
Forward-facing Seats Designed for Children
Convertible safety seat: A convertible safety seat can be used both rear-facing and forward-facing. Your child's convertible car seat must remain rear-facing until he is two years old or reaches the maximum weight or height allowed by the manufacturer.
Combination child seat and belt-positioning booster seat: Depending on the seat model, you can use this combination seat with the internal harness until your toddler weighs about 40 to 65 pounds. The seat can then be converted into a belt-positioning booster by removing the harness. Before switching to a booster seat, use a child safety seat with a full harness until your child has outgrown the weight and height limits.
Travel Vests: As an alternative to forward-facing child safety seats, these vests are suitable for children weighing 20 to 168 pounds. They are useful when a vehicle has lap-only seat belts in the rear seats or when a child's weight exceeds the weight limit of the child's safety seat.
Built-in child seats: Some vehicles come with forward-facing child safety seats. Check your owner's manual for information about your car's height and weight limits.
The following tips can help you maximize the use of front-facing car seats for your toddler:
If a child has outgrown the weight or height limits on a rear-facing safety seat, he or she should be restrained in a forward-facing safety seat in the back seat.
The harness must be snug, and the straps should lie flat in a straight line without sagging or twisting. The top of the chest clip should be positioned at the armpit level.
Utilizing the top tether strap of your forward-facing car seat will further enhance its safety. Ensure that the top tether strap of the seat is attached to the correct anchor point in the vehicle.
If your child's ears reach the top of the seat, he is too tall for a forward-facing car seat.
Booster Car Seat Safety for Ages 4 to 8
Switch to a booster seat when your child reaches the weight or height limit of the forward-facing child safety seat. Remember, a child is not ready for a seat belt alone just because he or she has outgrown the forward-facing car seat.
If the vehicle seat belt is at a child's belly rather than below the hip bones and touching the thighs, your child could suffer damage to internal organs, the spine, and other critical body parts if a crash occurs.
Belt-positioning booster seats prevent injuries in crashes when used correctly. Keep your child safe with these booster seat safety tips: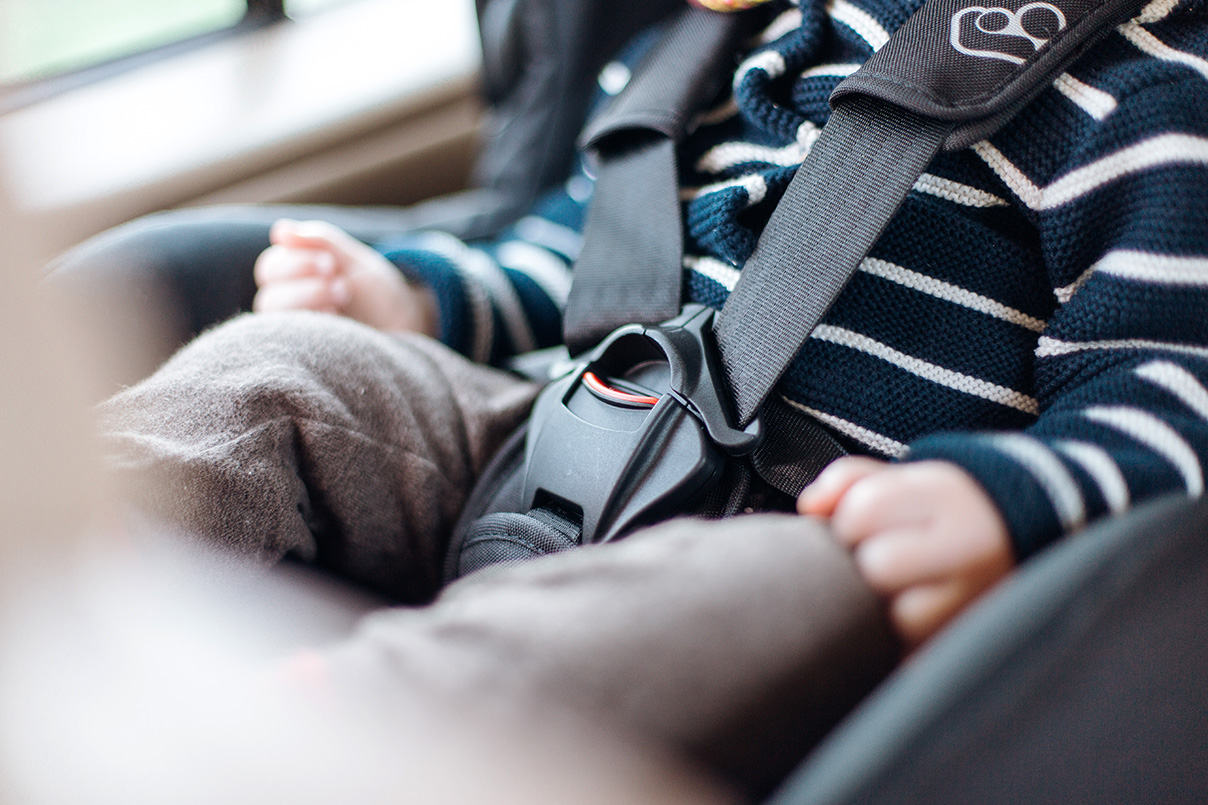 Make sure the booster seat meets national safety standards. "This child restraint system complies with all applicable federal motor vehicle safety standards." should be printed on the label.
In the backseat of your vehicle, you should use a belt-positioning booster seat. The lap and shoulder belts and the booster seat should always be used in the vehicle.
When using a booster seat, make sure the lap belt lies low and snug across your child's upper thighs, below the hip bones. The shoulder belt should cross the center of your child's chest and shoulder and not cut across the child's neck or face.
Never put your child's shoulder belt behind his back or under his arm.
Many boosters come with belt guides to make the shoulder belt fit better.
Seat belt assemblies can be retrofitted into your vehicle if it lacks shoulder belts in the back seat. Consider using a travel vest, which accommodates children up to 168 pounds.
Children should be tall enough to sit back against the vehicle seat with their knees bent without slouching and remain comfortable the entire trip.
Sometimes, having your kid participate in decision-making is a good way to let them know you care for them. Let your child help you pick out the booster seat. Ask him or her to try out seats to find one that is comfortable.
At this stage, you can teach him or her how to buckle up. Explain to your child why he or she uses a booster seat, not just the car's seat belt. Let him know that a booster would help keep him safe if a crash occurs.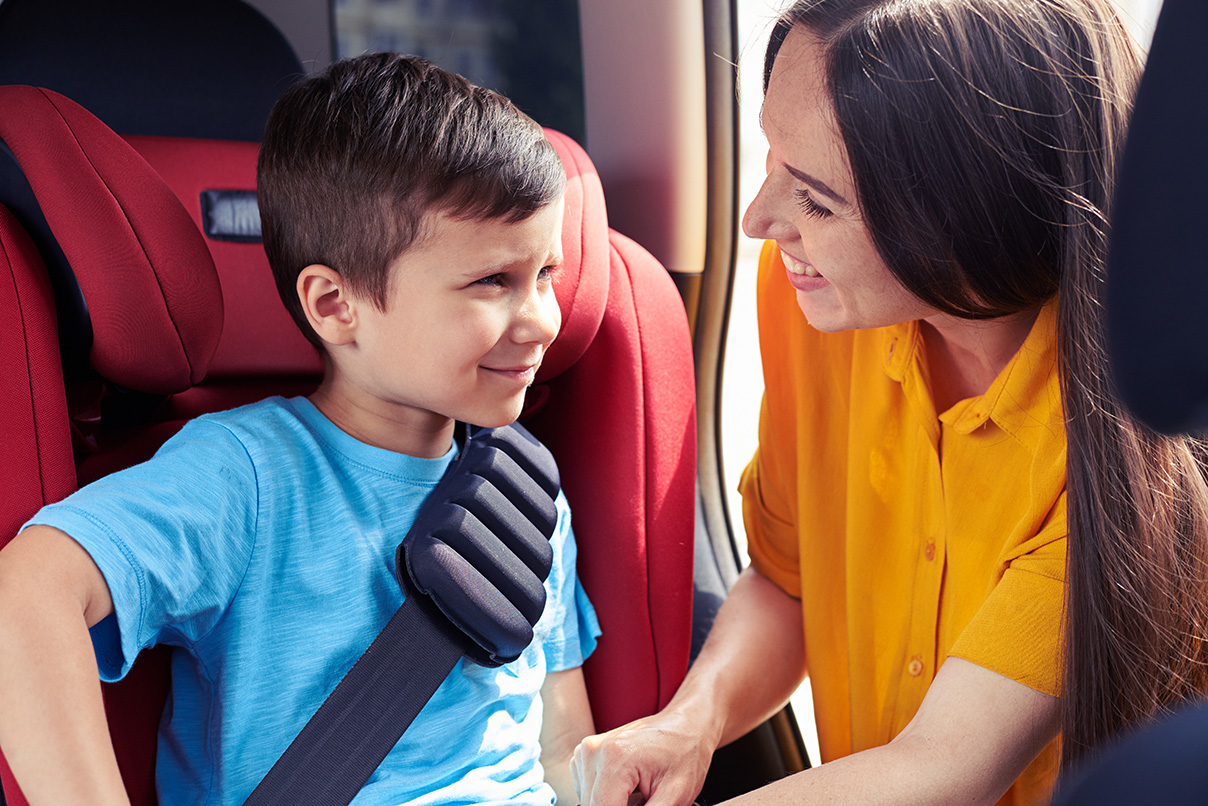 When Should My Kid Start Using Car Seats, Booster Seats, and Seat Belts?
When your baby outgrows the rear-facing infant seat, they must switch to a convertible and/or forward-facing seat and, finally, to a belt-positioning booster. And if they've grown into bigger kids at some point, they'll need to start using seat belts.
Every time your child moves into a different type of car seat, you should read the instruction manual for your vehicle and car seat. Check out our Car Seat Safety by Age topics to read more about each phase of child safety seats.
Infants should ride in a rear-facing car seat until they are at least two and have outgrown the height or weight limit on the car seat's label. Keep them in a safer, rear-facing position as long as possible. Rear-facing car seats offer the best protection for a child's head, neck, and spine.
Once your child has outgrown the rear-facing car seat, they should move to a forward-facing seat with a harness. The forward-facing car seat should be used until your child reaches the weight or height limits on the car seat label. Remember to use the car seat's tether to secure the forward-facing car seat to the car.
Once your child exceeds the weight or height limits on the forward-facing car seat's label, they are ready for a booster seat. This chair is used with the vehicle lap and shoulder seat belt.
Remember, all children under 13 are safer riding in the back seat. A child is ready to use a seat belt alone when they pass all three of the following tests:

the child's knees should bend at the edge of the seat when their backs and bottoms are against the vehicle seat back;
the vehicle lap belt should fit snugly across the hip bones or upper thighs (not the child's soft, vulnerable abdominal area)); and
the shoulder belt should fit across the shoulder bones and chest (not across the soft parts of the face or neck.)
Need to know if Your Car Seat is Safe for Your Kids?
There are thousands of vehicles on the market, and various car seats can be installed in each of them in hundreds of different ways. Installing and using car seats correctly is complicated for this simple reason. Do not complicate this dilemma even more by getting your car seat checked.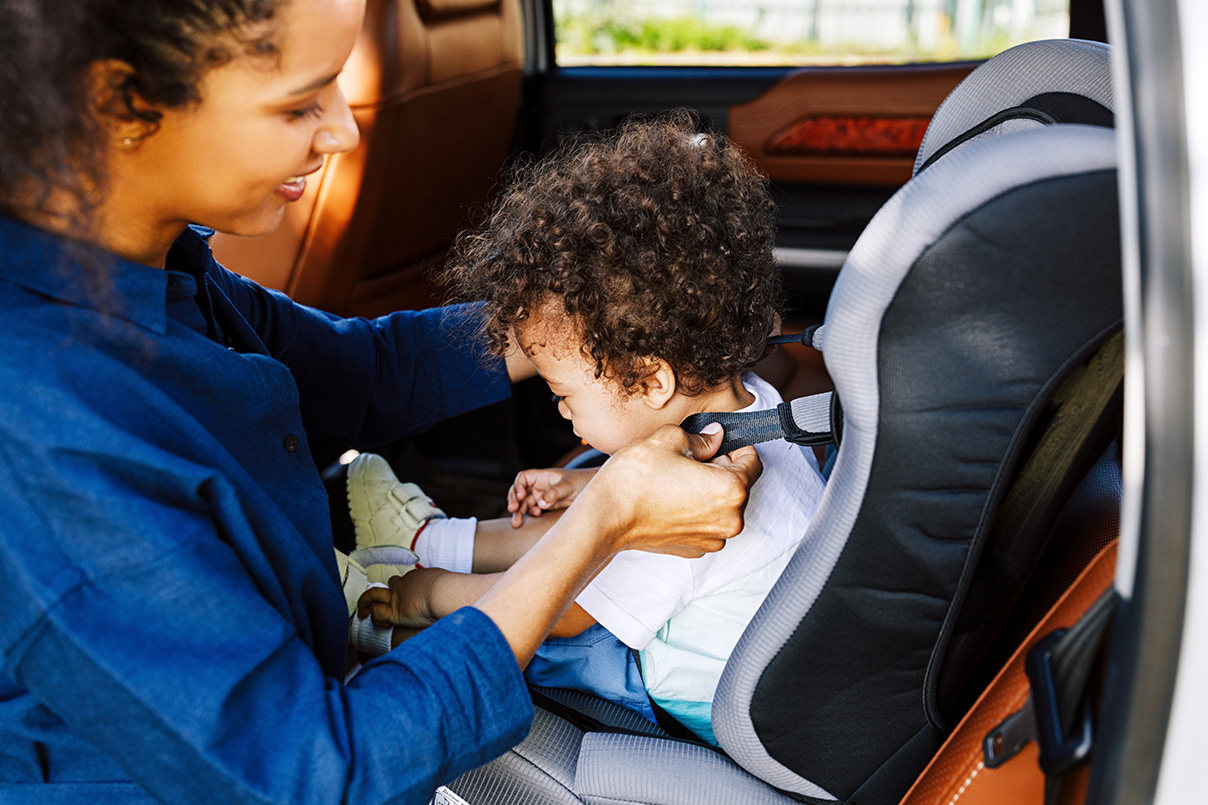 Free car seat fitting stations are held periodically in most areas. When you go to a car seat check, a trained technician will work with you to teach you the best way to install and correctly use your child's safety seat. By having a trained technician examine your car seat, you can be assured that your child is getting the maximum protection possible.
When having your car seat checked, remember to bring the following:
The vehicle your child will be riding in
Your child's safety seat
Your child safety seat manual
Your car owner's manual
Your child (if possible)
We recommend checking your infant's car seat safety at an inspection station or at an event for car seat check-ups. However, if you can't come to a car seat check, contact a child passenger safety technician with your questions. The state highway department, your local police or fire department, or a hospital are also good options if you need non-emergency assistance.
You are also encouraged to visit the National Highway Traffic Safety Administration or Safe Kids USA websites for more information.
Is It Safe To Use A Car Seat After An Accident?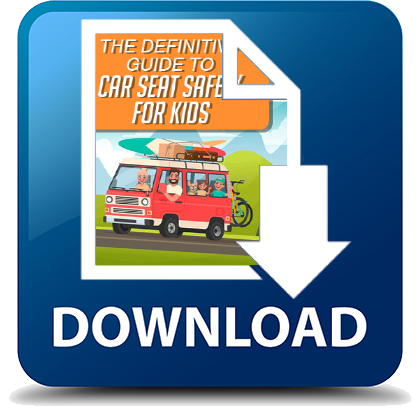 The NHTSA advises replacing car seats following a moderate or severe crash to ensure high crash protection for child passengers. Car seats do not automatically need to be replaced following a minor collision.
What Defines a "Minor Accident"? A minor crash is one in which all (five) of the following apply:
The vehicle was able to be driven away from the crash site.
The vehicle door closest to the car seat was not damaged.
None of the passengers in the vehicle sustained injuries in the collision.
If the car has airbags, the airbags did not deploy during the accident.
There is no visible damage to the car seat.
NEVER use a car seat that was involved in a mild to severe crash.
ALWAYS follow the manufacturer's instructions.
What About Car Seat Insurance?
You must replace your car seat if you've been in a car accident. It is always better to be safe than sorry, even if you do not believe the car seat is damaged. Car seats can, unfortunately, be quite expensive. There's a chance that your insurance will cover the cost of replacing your car seat.
Many insurance companies will cover the cost of replacing the car seat after a car accident. Remember, the car insurance company is typically responsible for this, not the health insurance company. You should contact your insurance provider if you have concerns about whether your policy includes replacement car seats.
Ensure your insurance will cover the new car seat after replacing your old one. This typically doesn't pose a problem. After all, if you need to replace your car, your insurance should also pay for the new one.
Statistics About Child-Related Traffic Injuries
As mentioned before, traffic accidents are one of the leading causes of death for children in the US. More than 63,000 children aged 12 and younger were injured in motor vehicle crashes in the United States in 2020. About 38% of the children who died in accidents weren't buckled up. On every trip, parents and caregivers can make a lifesaving difference by making sure their children are properly buckled up.
Race, Ethnicity, and Children's Safety in Cars
American Indian and Alaska Native children and black children are likelier to be killed in a crash than white children.
According to data compiled from 2015 to 2019, black children (1.96) had the highest child passenger death rates, followed by American Indian and Alaska Native children (2.67 per 100,000 population).
Several studies also indicate that it is more common for black, Hispanic, American Indian, and Alaskan Native children to travel unrestrained or improperly restrained than white children.
34% of Black children, 17% of Hispanic children, and 8% of White children ages 4–7 years were not buckled up, according to a study in 2019 where researchers observed children riding in cars.
City or Country—Which Poses More Danger to Car Seat Safety?
Children in rural areas are typically at higher risk of being killed in a crash. According to combined data from 2015–2019:
Child passenger death rates were highest in the most rural counties (4.5 per 100,000 population) and lowest in the most urban counties (0.9).
Death rates among children who were not using age-appropriate restraints were highest in the most rural counties (2.9 per 100,000 population) and lowest in the most urban counties (0.5).
Studies also indicate that children in rural areas are more likely to be incorrectly restrained than children in urban areas.
A multistate study using data from car seat check events found that child restraint misuse was more common in rural locations (91%) than in urban locations (83%).
Alcohol-impaired Driving—A Leading Cause of Car Crashes
Alcohol-impaired driving is a major threat to all road users, including children.
According to the National Highway Traffic Safety Administration, drunk driving is the main cause of death for people between the ages of 15 and 24 in 2021.
In 2020, 24% of deaths among child passengers (ages 14 and younger) involved an alcohol-impaired driver.
Among all child passengers (ages 14 and younger) who were killed in crashes, a higher proportion of those riding with alcohol-impaired drivers was unrestrained (56%), compared with children riding with drivers who had no alcohol in their system (38%).
Other studies have also found an association between driver alcohol use and child passengers being unrestrained. For example, one study among children under two years old who were killed in crashes found that the odds of the child being unrestrained were 2.2 times higher when the driver had been drinking alcohol than when the driver had not been drinking.
Many unfortunate things happen in the world today, and plenty of them happen on the road for various reasons. So if you, a loved one, or your dearest children suffer from injuries, don't hesitate to give us a call and set up a free consultation.
Call (888) 488-139 Today to Schedule a Free Case Evaluation with a California Car Accident Lawyer
Many children are unaware of their legal rights. So, parents and guardians need the help of seasoned California car accident lawyers who know how to defend their children's rights.
No matter how young they are, we at Arash Law, under the direction of Arash Khorsandi, Esq., fight hard to protect injury victims' legal rights. With over forty years of combined experience, our personal injury lawyers have collected over 400 million dollars for our clients, helping accident victims in Los Angeles, San Francisco, Riverside, San Jose, San Diego, Sacramento, Sherman Oaks, and throughout California.
Call (888) 488-1391 or contact us online to set up a free consultation with a dedicated California auto accident injury lawyer.