Research Shows How to Reduce Traffic Accidents Involving Children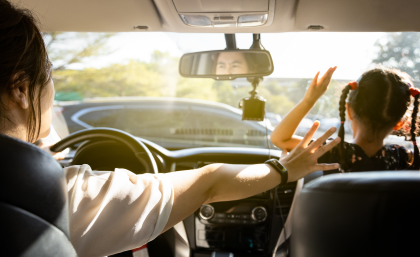 Every year, thousands of children across the United States are injured in car accidents. Some are even killed. It is every parent's worst nightmare to see their child injured in any type of preventable accident. While parents can take some steps to reduce the likelihood their children will be injured in a car accident, other drivers on the road must drive safely, as well.
This requirement is actually a legal obligation imposed on anyone who operates a motor vehicle. Parents have the right to protect their child's legal rights after the child is hurt by a negligent driver. An experienced auto accident lawyer can guide parents through the complicated claims process and advise them on the best strategy for protecting a child's legal right to compensation. Don't wait to get an experienced injury lawyer fighting for your child.
Ways to Prevent Car Accident Injuries in Children
A research article published in the Singapore Medical Journal has identified several key risk factors for childhood car accident injuries. By making changes in several critical areas of regulation, government officials can significantly reduce the number of injuries and deaths that occur to children on the road. There are also specific steps that parents can take to reduce the risk of injury. What follows are some of the specific risk factors identified by the authors of the study.
Restraints and Helmets
Parents should ensure that children are always bucked into a car seat, booster seat, or seat belt when they are in the car. The appropriate restraint will be determined by the child's age and weight. Be sure to read the latest safety recommendations to be sure that your child is using the restraint type that is safest for them. Children should also wear helmets when they ride bikes, trikes, or scooters.
Size the helmet appropriately and move up in sizes as your child grows. A helmet that is too small may not offer your child the protection they need. You should also watch children closely when they are riding bikes, trikes, or scooters near the street. Drivers are not always expecting to see children in the roadway. It can be especially difficult for drivers to see small children who are riding low to the ground.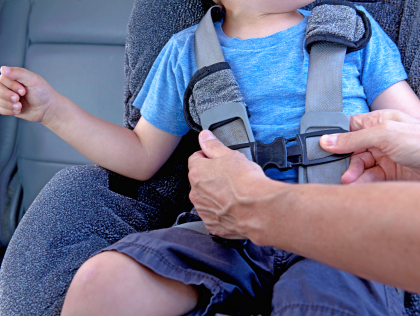 Regulation of Restraints
While parents must ensure their children use restraints on the road, it is up to government regulators to make these devices safe. The government is responsible for ensuring that car seats, seat belts, airbags, booster seats, and all other safety devices work as they are supposed to.
The government also makes recommendations about the use of these devices. It is important that governments not only ensure that child safety devices work but also that the law requires them to be used.
Seat belt usage is consistently found to be higher in areas where laws require it – and where police officers actually enforce these laws. The usage of child seats and booster seats must also be required and enforced in order to protect children on the road.
Road Safety Education
In order to reduce child traffic deaths, government officials must ensure that safety information is made available to the public. Federal, state, and local government agencies all play a role in ensuring that critical safety data is made available to parents. Once they have done their part, parents must ensure that they stay current on all the latest safety information. Child car safety information changes quickly.
It wasn't that long ago that child safety seats did not exist at all. Airbags have only been mandatory in vehicles in the U.S. since 1998. Safety developments have made incredible progress in the fight against traffic deaths, but only when consumers use them properly. Parents must ensure that their children are fitted properly in the correct restraint device that is most effective at preventing car crash injuries.
Speed Enforcement
Speed increases both the likelihood that a driver will cause an accident and the severity of injuries that everyone involved in the accident is likely to suffer. Speed increases the stopping distance required to avoid an accident, so many speeders do not have enough time to avoid hitting another car or person.
Speed also increases the overall force that is generated in a collision. This force must have somewhere to go, and as a result, many victims are hurt far worse in a speeding accident than victims of accidents that occur at lower speeds. Drivers have a legal obligation not to drive faster than is "reasonable and prudent" for current road conditions.
As a result, a driver could be found negligent even if they are going the speed limit. Snow, rain, fog, ice, nighttime driving, and many other conditions can reduce visibility and make it unsafe to travel at the posted speed limit. In these circumstances, a driver could be found negligent, even if they are not going faster than the speed limit.
So what can government and law enforcement officials do to reduce speeding? Research has consistently found that speeding occurs less frequently in areas where speeding laws are noticeably enforced. Speeding cameras, frequent police patrols, and other efforts do have a deterrent effect on drivers. If a speed limit sign is simply posted without ever being enforced, drivers are more likely to speed and, in turn, cause car accidents.
Who Is Legally at Fault for Causing Your Child's Injuries?
The person who is legally at fault ("liable") for causing your child's injuries also has the legal obligation to compensate your child for those injuries. The liable party could be an individual, a company, or a mix of individuals and companies. It is important to hire an auto injury attorney to find the right defendant so that you do not miss out on any compensation that your child is owed. What follows are some of the most common defendants in car accident cases involving children.
A Negligent Driver – All drivers have a legal obligation to operate their vehicles with "due care." If they fail to use due care, they are considered negligent and legally obligated to compensate anyone who is injured as a result. The state requires drivers to carry liability insurance in order to ensure that there are funds available to the many victims who are injured on the roads of California every day.
School or Daycare Staff – In some cases, a caregiver could be found liable for failing to watch a child who is later injured in a traffic accident. If, for example, a school or daycare facility were near a busy road, it is possible that children could wander into the road. These caregivers must take precautions to ensure that the children in their care do not get hurt in preventable car accidents. If not, the school or daycare company could be liable for failing to watch your child.
A Negligent Property Owner – Some car accidents are the result of dangerous conditions on a property. Imagine that the parking lot at a family recreation center had a blind turn. Children could run out into the street without being seen by turning drivers. This design would be highly dangerous, and it would be foreseeable that children could be hurt. The property owner could be found liable if they fail to correct the condition and a child is hurt as a result. This legal rule is known as "premises liability." It is not as common as claims against negligent drivers, but it is a legal claim that our team will investigate to be certain that all your child's legal claims are protected.
The Manufacturer of Defective Child Safety Products – Another less common injury claim is the "products liability" claim. The U.S. has strong consumer protection laws that hold manufacturers liable for any defective products they sell. In car accident cases, products liability sometimes applies to defective brakes or seatbelts, though more often, a driver's negligence is the cause of the accident. However, children are protected by far more safety devices in a vehicle than adults are. If a child seat, a booster seat, or other child restraints are defective, your child can be injured, and the manufacturer must be held accountable for these injuries. Other children could be hurt in the same way if the manufacturer does not correct its dangerous product.
What to Do If Your Child Has Been Injured in a Car Accident
1. Call 911 and See a Doctor as Soon as Possible.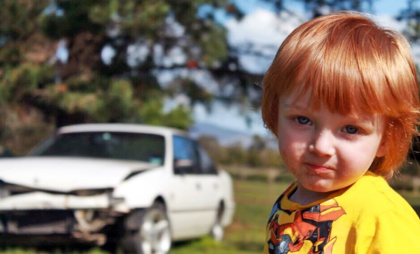 It is not always clear whether you need to call the police after a car accident. When a child is involved, however, it is always important to get a police report. A police report is often the most crucial piece of evidence. Getting one protects your child's legal rights.
Calling 911 ensures that any immediate safety concerns are addressed and also protects your child's legal rights. Let the EMTs evaluate your child any time you think there might be an injury. Even if you decide not to have your child transported by ambulance, it is still important to get them to a doctor as soon as possible. Find an urgent care facility or emergency department in your area.
Many injuries do not show symptoms right away, so it is important to let a doctor evaluate your child even if they seem to be doing okay. It is also important to see a doctor because children cannot always verbalize their symptoms the way that adults can. An adult knows that feeling dizzy is not normal, but small children may not.
Even if they do, they might not know how to describe what they are experiencing. Seeing a doctor right away after a car accident will both protect your child's health and their legal rights.
2. Follow Up With Your Child's Pediatrician.
Once you have gotten immediate medical attention, it is also important to follow up with your child's pediatrician. You will need an experienced doctor who can coordinate care between different specialists and other medical providers. It is also helpful to work with a doctor who knows your child's medical history.
Children do not always experience symptoms the same way that adults do, and they are not always able to express what they are feeling. A pediatrician who knows your child might be alert to symptoms that other healthcare providers would miss.
3. Document All the Ways Your Child's Life Is Affected by Their Injuries.
It is very difficult for children to express the ways they are affected by their injuries. An adult can usually identify work stress, missed events, and strain on their interpersonal relationships. But how is a child supposed to recognize all of that – let alone explain it to a jury? Parents are in the perfect position to describe the changes to a child after a car accident.
Their watchful eyes are already monitoring for any changes, so they are the first to know about any changes in behavior or personality. Parents are the first to spot physical signs (like bruising) and invisible symptoms (like a general crankiness from being in pain). It can be helpful to note these changes in a journal. Your quick notes can make for compelling testimony at trial.
Experienced California Auto Accident Lawyers for All Child Injury Victims
You could spend hours searching online for "injury lawyers near me," but Arash Law led by Arash Khorsandi, Esq. has the best injury lawyers in California. Our skilled accident attorneys have decades of experience handling all types of auto accident claims. Parents throughout California trust us to protect their children's important legal rights. Our legal team has collected over 400 million dollars for clients throughout California.
We serve clients in Los Angeles, San Francisco, Riverside, Bakersfield, Santa Barbara, San Jose, San Diego, Fresno, Sacramento, Sherman Oaks, and all across the Golden State. Call (888) 488-1391 today to schedule your free consultation. The sooner you have an experienced car accident lawyers on your side, the better protected your child's legal rights will be.