Traffic congestion on California's highways makes driving challenging, especially for truck drivers. For semi-truck drivers, understanding the state's speed limit laws is more than just about compliance; it's about ensuring safety for all road users. California enforces a stricter 55-mph limit for commercial trucks on most highways compared to its neighboring states.
Despite the imposition of this speed limit, semi-truck accidents seem inevitable for several reasons, including road conditions, weather, and driver errors. If a careless semi-truck driver hurts you or a member of your family, we at Arash Law, under the direction of Arash Khorsandi, Esq., will assist you in getting the compensation you deserve. Contact our California semi-truck accident lawyers today at (888) 488-1391 to schedule a free consultation.
Understanding California's Semi-Truck Speed Limit Laws
Truck drivers can help prevent accidents and promote better traffic flow by adhering to these speed limits. However, truck speed limitations differ between different roadways. Trucks are typically required to follow the imposed speed limits in urban areas, interstates, highways, and freeways. Trucks may occasionally only be allowed to travel at speeds as low as 45 mph, depending on some conditions.
The purpose of California's semi-truck speed restriction regulations is to safeguard truck drivers, other motorists, passengers, and other road users. These laws have stiff penalties for breaking them and possible legal repercussions. Therefore, it is essential that logistics businesses and truck drivers thoroughly comprehend and adhere to these rules.
Differences Between Speed Limits for Semi-Trucks and Other Vehicles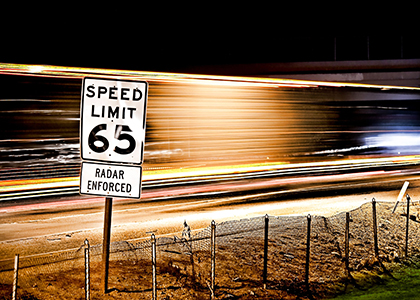 California has different rules regarding speed restrictions for various kinds of vehicles. Truck drivers must know the distinctions between the speed limits for semi trucks and other vehicles to operate legally and safely in California.
Maximum speed limits
Most California highways have a 65-mph top speed restriction. However, the maximum speed restriction for commercial trucks is generally set at 55 mph. This lowered speed limit aims to increase security and lessen the possibility of collisions involving big vehicles, such as semi-trucks.
Residential and urban areas
Trucks must follow the imposed speed limits in urban areas, interstates, highways, and freeways. Depending on the road and the region, these speed limits may change. Truck drivers must pay close attention to the displayed signage to ensure compliance.
Lower Speed Limits for Trucks
Even lower speed limits may occasionally apply to trucks. For instance, trucks may only be allowed to travel at a maximum speed of 45 mph on some highway sections with steep inclines or other hazardous situations. The purpose of these slower speed limits is to protect both truck drivers and other road users.
Understanding these differences in speed limits for semi trucks and other vehicles is vital for truck drivers to travel California's roads safely and comply with the law. By adhering to the posted speed limits and being aware of any specific speed restrictions for trucks, drivers can help reduce accidents and promote safer road conditions.
Factors Contributing to Semi-Truck Speed Limits in California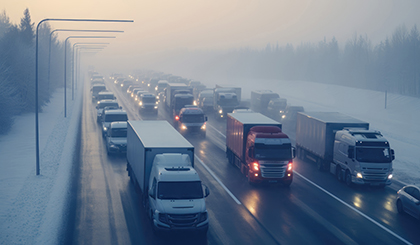 In California, the speed limits for semi-trucks aren't chosen at random. Some factors influence these speed limits to maintain traffic flow and safety. Truck drivers traversing California's highways might benefit significantly from understanding these issues.
Road Conditions. The layout and state of the road heavily determine the speed restrictions for semi trucks. A truck's speed limit may be reduced on highways with inclines, tight turns, or poor road conditions.
Heavy Traffic. Highway congestion in California is a serious problem. Speed restrictions for semi trucks may be lowered in busy regions to regulate traffic flow and lessen the chance of accidents.
Safety Factors. When deciding on speed restrictions for semi trucks, safety comes first. The objective is to lower the risk of collisions and make the road environment safer for all users. Factors like visibility, the environment, and accident-prone locations are considered when setting truck speed limits.
Effect on The Environment. Lowering semi-truck speeds can also be beneficial for the environment. Lower speeds lead to less fuel consumption and emissions, which helps create a cleaner and greener environment.
These and other elements affect the semi-truck speed limitations in California. Truck drivers can better traverse the roadways and contribute to safer and more effective transportation by being aware of these factors.
The Significance of Observing Semi-Truck Speed Regulations
Adhering to semi-truck speed limitations is crucial for California truck drivers and logistics companies. It can improve road safety and adherence if people know the significance of these speed limits.
Road Safety for All Users

Speeding increases the possibility of accidents and can have severe consequences for all road users. Truck drivers can create a safer environment for themselves, other vehicles, passengers, and pedestrians by obeying semi-truck speed regulations.

Reduce the Risk of Accidents

One of the main factors contributing to accidents involving semi trucks is speeding. By obeying the speed limits, truck drivers can considerably lower the chance of accidents and associated dangers, such as injuries and property damage.

Better Flow of Traffic

Traffic flows more smoothly when semi-trucks adhere to the imposed speed limits. The possibility of abrupt braking or lane changes is decreased when trucks travel at the proper speed. It also helps in reducing congestion and enhancing traffic flow.

Legal Compliance and Penalty Avoidance

It's crucial to adhere to semi-truck speed limitations for both legal and safety reasons. These speed limits are subject to heavy fines, penalties, and possible legal repercussions for violations. Truck drivers and transportation organizations must prioritize compliance to prevent these negative results.
Truck drivers may contribute to safer roads, better traffic flow, and legal compliance by knowing the significance of obeying semi-truck speed regulations. For California's transportation business to be successful and responsible, it is critical to put safety first and to abide by the rules.
Consequences of Violating Semi-Truck Speed Limits
In California, breaking the rules on speed limits for big trucks can have serious repercussions. Logistics firms and truck drivers must understand the possible fines and legal consequences of speeding. Otherwise, they will face consequences that might be unbearable for them, such as:
Fees and Punishments
Truck drivers who violate the speed limit may incur significant fines. Depending on the severity of the speeding offense, different fines may apply. Additional infractions can also result in higher fines and penalties.
Points on the Driver's Record
Speeding offenses may also add points to the driver's record. If drivers receive too many points, their commercial driver's license (CDL) may be suspended or revoked. A truck driver's career and employability may suffer as a result.
Increasing Cost of Insurance
Trucking companies might also face higher insurance costs due to speeding charges. Insurance companies view traffic violations like speeding as signs of higher risk, which can translate into higher premiums for the business.
Potential Legal Implications
Aside from fines and penalties, serious speeding violations may result in legal action. In cases of collisions or injuries caused by speeding, truck drivers may be subject to lawsuits and insurance claims.
Truck drivers and logistics firms must know the potential repercussions of exceeding semi-truck speed limitations. They can prevent these negative results and maintain a good reputation for the business by prioritizing compliance and following the rules.
Tips for Driving on California's Roads while Adhering to Semi-Truck Speed Limits
Driving on California's roads while following semi-truck speed limits can be challenging. Still, with the right strategies and mindset, truck drivers can successfully navigate the fast lane safely and legally. Here are some valuable tips to consider:
Plan Ahead
Before hitting the road, truck drivers must plan their routes and familiarize themselves with the speed limits along their journey. Being prepared and aware of specific speed restrictions can help drivers adjust their driving habits accordingly.
Use Technology
Technology can be a valuable tool for truck drivers. Use GPS systems and navigation apps that provide real-time traffic information, including speed limits and road closures or construction zones. This can help drivers stay informed and make necessary adjustments to their routes.
Maintain a Safe Following Distance
You must maintain a safe following distance to drive safely, especially at low speeds. This minimizes the risk of collisions and allows for better reaction times. By maintaining the recommended following distance, you can avoid infractions of speed limits and enhance your safety.
Stay Alert and Focused
Distracted driving is a significant problem on the road. It would be best to remain alert, focused, and attentive to the road conditions, traffic signals, and potential hazards. Keep your eyes on the road and ignore distractions such as mobile phones or other devices to remain safe and comply with speed limits.
Regular Vehicle Maintenance
The proper maintenance of vehicles is essential for safe and efficient operation. Keep your truck in top condition by regularly inspecting and maintaining it. It includes checking tire pressure, brakes, lights, and other critical components that can negatively impact the truck's performance and ability to adhere to speed limits.
Truck drivers can drive safely and legally on California's roads by following these tips. Staying alert, planning, and prioritizing safety are critical strategies for a successful and safe journey.
Resources for Staying Informed About California's Semi-Truck Speed Limit Laws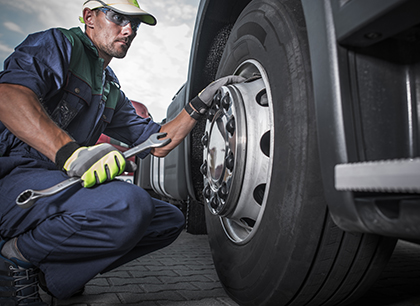 Keeping up with California's semi-truck speed limit laws is crucial for truck drivers and logistics companies. A driver's compliance and safe driving can be enhanced by staying updated on regulation changes. To stay informed, here are some valuable resources:
California's transportation system is described on the Caltrans website, including speed limits for various types of vehicles. You can use it to stay updated on any changes to regulations and to understand them.
In California, the CHP enforces traffic laws and ensures road safety. They offer information on various traffic-related topics, including speed limits, on their website. You can learn about regulations and updates from this reliable source.
Trucking Associations
Associations for truck drivers and logistics companies, such as the California Trucking Association (CTA), provide resources and support. They can provide helpful guidance and updates on industry regulations, including speed limits.
Online Forums and Communities
The California semi-truck speed limit laws can be found in online forums and communities dedicated to trucking. Platforms like these allow you to connect, share information, and discuss relevant topics, such as speed limits and compliance.
These resources can help truck drivers stay updated on California's semi-truck speed limit laws to ensure safe and responsible driving.
Common Misconceptions About Semi Truck Speed Limits in California
Speed limits for semi trucks in California are often misunderstood. It is vital to debunk these myths and clarify the facts to promote accurate knowledge and compliance. Some common misconceptions include:
"Trucks can drive at the same speed as other vehicles."
Contrary to popular belief, California has specific speed limits for semi trucks, which are generally lower than other vehicles. Truck drivers must follow these speed limits and avoid speeding violations at all costs.
"Speeding is acceptable if traffic is flowing faster."
Even if other vehicles are driving faster, speeding is never acceptable. The truck driver must prioritize safety and comply with speed limits, regardless of traffic flow.
"Speeding allows trucks to reach their destinations faster."
Compared to the risks and consequences associated with speeding, there is no significant benefit in speeding. Maintaining speed limits promotes safety and reduces accidents, thereby improving transportation efficiency.
The California semi-truck speed limit law can be better understood by removing these misconceptions, allowing truck drivers to prioritize safe and compliant driving practices.
Advocacy and Awareness Initiatives Regarding Semi-Truck Speed Limits
Advocacy and awareness initiatives are crucial in promoting safe driving practices and compliance with semi-truck speed limits. Organizations and campaigns are launched to raise awareness and educate truck drivers. Among the notable initiatives are:
Share the Road Campaign
This campaign promotes safe practices between trucks and other road users. In addition to promoting speed limits, it encourages road safety and mutual respect among drivers.
Driver Education Programs
Many driver education programs and training courses include speed limits and safe driving modules. Programs such as these teach truck drivers about California's regulations and equip them with the necessary skills to navigate the state's roads safely.
Industry Associations and Events
The trucking industry organizes events, workshops, and seminars on various topics, including speed limits. As a result of these initiatives, truck drivers can learn, network, and stay up-to-date on the latest industry trends and regulations.
Truck drivers can make California's trucking industry safer and more responsible by supporting and participating in these advocacy and awareness initiatives. Collaboration and education can help create a culture of compliance and safety on the road.
Choosing the Right Truck Accident Lawyer for Your Case
When seeking legal representation for a trucking accident in California, it is vital to consider various factors to ensure you receive the best assistance possible. You can find an attorney suitable for your situation and case by researching, seeking referrals, and negotiating fees.
Put your trust in Arash Law, under the direction of Arash Khorsandi, Esq., if you require knowledgeable attorneys for trucking accidents in California. We have a proven track record, having successfully recovered over $500 Million in compensation for clients injured in vehicular accidents, including trucking accidents and cases related to excessive speeding.
Contact us today at (888) 488-1391 for a free initial consultation. Our legal team can provide a comprehensive discussion about attorney's fees and other costs relevant to your trucking accident case. Your well-being and justice are our top priorities.