Creating Safer Domains for Pedestrians and Bicyclists
We have, as a society, recently come to have a greater appreciation for communities where we can walk or bike to the places we want or need to be. In doing so, we have found it increasingly obvious that, for some time, residential areas were not designed to aid that goal. For decades, our communities have reflected a cultural love affair with the automobile with all roads – wherever they led to – being made for cars and cars alone.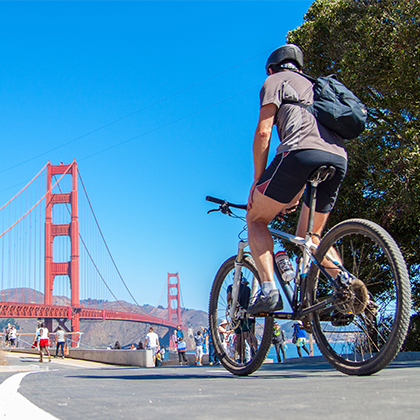 Moving Away From the Car
However, many communities have recently begun to seek a return to an era when residents could walk or cycle to the locations they desired. Walkability became a watchword in urban design, and people began to look at their particular community's existing obstacles to mobility and their potential for removing or modifying those obstacles. We will look at some of these issues, and you can then make suggestions to consider for bringing change to your community.

What Are the Common Problems?
Most suburban and metropolitan areas built in the mid to late 20th century featured a car-focused design. New urban housing developments were built away from city centers, and suburban developments were built with large, centralized shopping malls and acres of McMansion homes far away from anything but other McMansions and an occasional school reached by bus.

Consequently, residents end up in an area – whether urban or suburban – where they're afraid to cross the street and aren't comfortable letting their kids ride their bikes anywhere. Plus, there's not much nearby to make either crossing streets or riding bikes worthwhile in the first place. Specific issues include:

Nearby locations – Pedestrians, cyclists, and those in wheelchairs need easy access to nearby locations. This access requires two things – there have to be locations nearby that people want to get to and access to those locations has to be possible. There should be convenient and barrier-free routes to important locations such as schools, businesses, healthcare, and transportation.
Safe ways to travel – Getting to those nearby locations needs to be both direct and safe. For walkers, safe travel means well-maintained and unobstructed walkways, such as dedicated sidewalks or paths. For those in wheelchairs, walkways should be wide enough that chairs going in opposite directions can pass. Bike riders need designated bike lanes or paths. In some less-traveled areas, the shoulder may be sufficient for cyclists or walkers. Communities should also ensure sufficient pedestrian and bicycle safe intersections with signals that allow for enough time for those not in cars, especially the disabled and the elderly, to make it safely across.
Uninterrupted routes – Not only should there be safe routes for walkers and cyclists to use, but those safer roads should provide uninterrupted routes to important municipal locations. A safe walking path interrupted by a multi-lane interstate highway is not of much use to someone on a wheelchair or bike.
Well-marked routes – Both drivers and users of pedestrian/cyclist walkways need to know where those walkways are. Signage for these routes must be clear, easily seen, and understandable to those with limited reading or English skills.
Accessible routes – Sidewalks and pathways should be easily accessible. Government mandates for curb ramps should be in place, while sudden changes in the walkway's width, texture, or direction should be avoided as much as possible.
Visibility – Both drivers and those using walkways need to be seen by one another. Pathways should be well lit and allow for maximum disability to vehicular traffic at any time of day. Children can be especially difficult to see and should receive training on how and where to cross safely.
Specific Mobility Problems
Problems in getting around can be general – those that affect everyone who isn't in a car – and specific such as the problems that confront bikers versus those that impact pedestrians and the disabled. We will look at each group of problems separately. Please note that, under California law, a "pedestrian" is someone who is walking, riding something propelled by their effort, including a wheelchair (but not a bicycle), or is riding a motorized wheelchair, tricycle, or quadricycle and is disabled.

Pedestrian Problems
No place to run – The biggest problem facing pedestrians in many suburban and urban areas is that there is simply no place for them to walk at all. Municipalities once required that developers build sidewalks into suburban developments. However, in the late 20th century, this requirement faded away and new housing estates opened with streets and yards but no pre-built sideways. Fortunately, this century has seen the beginning of the return of the sidewalk in response to the Americans with Disabilities Act (ADA).
No place to pass – Sidewalks should be wide enough to allow two pedestrians to pass one another or walk side-by-side.
Blocked walkways – In both urban and suburban environments, sidewalks can be blocked by debris, construction, vehicles, and barriers like vegetation, snow, and trash.
Wide intersections – Many Walk/Don't Walk signals are too short to permit pedestrians, particularly the elderly, to cross comfortably in the time allowed. Pathway planners should check lights at broad intersections to ensure that all pedestrians have enough time to cross safely.
Directions and signage – Everyone using the roads needs to know how to get where they need to go, even in an era of universal GPS.
Cyclist Problems
No place to ride – Few communities have developed good bike pathway networks to make getting around on a bike easy or safe. Although this difficulty has been somewhat improved by requirements that bikes follow the same rules as other vehicles on the road, their presence can still be dangerous. Cyclists on sidewalks are a hazard to pedestrians and the disabled, while traffic can be hazardous for the riders themselves. The formal designation of bike paths and bike lanes in traffic can help manage this risk.
Blocked pathways – Bike routes can also be blocked by debris, construction, and other vehicles. Sometimes, where bike lanes adjoin the curb, they may also be blocked by parked or standing motor vehicles.
No connections – All too often, communities do not offer complete routes to important centers of the municipality. Bikers need to be able to reach schools, city/town centers, and other important facilities without dealing with dead-ends, broken bike lanes, and no direct bike routes.
No place to park – Those who ride bikes need places to put them when they arrive at their destination. Bike racks need to be far more common and accessible than currently, particularly at schools, hospitals, libraries, and shopping districts.
Problems for the Disabled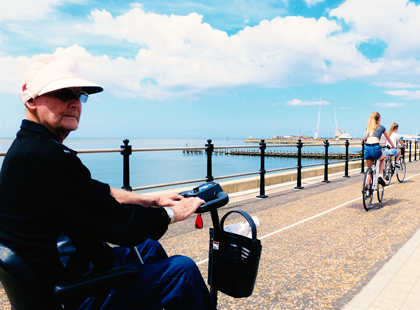 No place to pass – To be useful for those in wheelchairs, sidewalks and shoulders must be wide enough to allow chairs to pass one another safely and comfortably. Generally, the roughness and unfinished nature of shoulders will make them inappropriate for use by those in wheelchairs.
Protective zones – There needs to be space between the road and the disabled. By definition, not as agile as others on the road might be, those in wheelchairs need space to separate themselves from cars on the road.
Not enough time – As noted with pedestrians, those in wheelchairs can have difficulty making it across wide or divided highways in the time allotted by the traffic signal. Communities should check their traffic lights, making sure that the disabled can safely cross at such intersections.
Not enough curb ramps – Since the ADA was enacted in 1990, state and local governments must ensure that the disabled have access to public pedestrian routes. Governments ensure this access by ramping curbs at intersections. The ADA did not require that all curbed be immediately ramped. Compliance has been somewhat uneven, with smaller municipalities tending to require curbing only on new and reconstructed or reconditioned roadways or complete "spot" ramps on a per-request basis. Failure to comply can result in huge settlements, and many local government entities have been sued for non-compliance.
Recent California Changes for Safer Mobility
In January 2019, several new California Active Transporation Laws became effective. Intended to make the state's roads safer for those on bikes and foot, the new laws cover various issues.
Changes to Helmet Laws
Under Assembly Bill 3077, a "fix-it" ticket will be offered to those under 18 who are cited for not wearing a helmet while operating or riding as passengers on:
Non-motorized scooters
Rollerblades
The ticket provision allows the cited minor to cure the violation by completing a safety program within 120 days of the citation.
Changes for Motorized Scooters
Under AB 2989, those over 18 are no longer required to wear a helmet while riding a motorized scooter. However, these same scooters are now prohibited on roadways with speed limits above 25 mph or roads with a speed limit of up to 35 mph unless traveling in a qualifying cycle track or bike lane.
Changes to Hit-and-Run Laws
Bikers on Class I bikeways are now subject to all collision-related rules that apply to a car driver during a hit-and-run accident. Under the new law, anyone involved in a collision while riding a bicycle on a path with a separate right of way for pedestrians and bicycles must remain at the scene and exchange information with parties involved.
Commitment to Vulnerable Road Users
California communities have devoted a great deal of time and attention to making their roads safer for vulnerable road users in recent years. A vulnerable road user (VRU) is anyone not protected by the steel frame of an automobile. The VRU laws protect those walking and rolling on California roads from death or injury resulting from the negligent or intentional behavior of drivers.
By boosting fines and penalties for this misconduct as it relates to VRUs, these laws increase incentives to avoid bad behavior and assist VRUs in pursuing civil actions after an accident. Several California communities have already adopted VRU laws. For a broad overview of California's rules and regulations relating to pedestrians and cyclists, see Bicyclist and Pedestrian Safety – California DMV.
Public Transit Isn't Necessarily the Answer
The problems confronting pedestrians, bikers, and the disabled cannot be solved just by telling them to take public transit. Although many municipalities have made huge strides in making their public transit vehicles safe and handicapped-accessible, there still remain issues relating to the bus stops themselves. Often they are located in areas that are not easy to get to on foot or by bike, or by those who are disabled. Some of the specific issues relating to bus stops include:

Sidewalks & bike racks – If there are no sidewalks or bike racks at the bus stop, those on foot or on bicycles will be unlikely to use that stop. Some cities deal with this lack by having bike racks on the front of some buses, but they can only carry one or two bikes at a time.
Unsafe locations – Bus stops can often be located in poorly lit areas or with no obvious street crossing to get to them. The bus stop shelter or other obstacles may block access to the bus stop, and the seating may be too close to traffic, making waiting there a poor user experience. There is frequently no shelter at all, requiring potential passengers to stand in the elements while waiting for a bus.
Subways and trains face many of the same issues, accompanied by the fact that many train stations are not yet accessible by the disabled. If a disabled rider needs to get to point A, but the nearest train stop is several miles away, public transit is not much of a solution.

Drivers Are a Large Part of the Problem
There is no question that drivers are often unaware of or indifferent to those sharing the road with them who are not operating motor vehicles. Many drivers treat pedestrians, bikers, and the disabled as intruders in a wholly motorized world. While pedestrians must by law use due care for their own safety, motorists also have a duty to care for them. Here are some of the specific problems.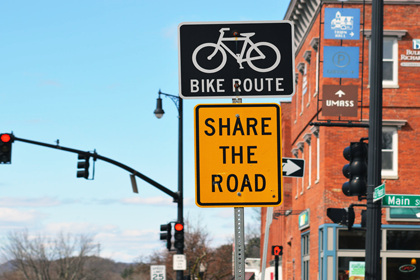 Failure to yield – In California, pedestrians have the right of way over motor vehicles in various circumstances, particularly when attempting to cross at an intersection. Yet, despite these rights, over 13,000 pedestrians are involved in car accidents in California every year. These accidents happen because drivers simply do not stop or yield to the pedestrian attempting to cross the roadway.
DUIs and distractions – It is clear that driving under the influence of drugs, alcohol, or distraction is among the leading causes of accidents on the roads. Indeed, distracted driving is rapidly becoming the leading cause of accidents because of the ubiquity of cell phones and tablets. Drunk driving and driving under the influence of drugs – legal or otherwise – are also among the main causes of highway accidents.
Speeding and disobeying traffic signals – In addition to failing to yield to pedestrians, drivers often travel at speeds dangerous to pedestrians. They also ignore traffic signals occasionally or turn right on a red when a pedestrian is crossing. These illegal behaviors contribute to the dangers for pedestrians and cyclists on the roads.
But So Are Pedestrians and Cyclists
It would be easy to place all the blame on neglectful municipalities and discourteous drivers, but pedestrians and bikers also add to their own risks on the road. Bike riders are, since January 2019, subject to all the provisions of the traffic laws that apply to drivers, so they should know exactly what they are required to do. Pedestrians should consider their duty to take care and act accordingly. Some specific issues include the following.

Jaywalking – Jaywalking is, essentially, crossing the street where you're not supposed to do so. The law requires that you go to a marked intersection to cross the street. Failure to do so can result in being invisible to an on-coming or fast-moving driver and result in an accident.
Not paying attention – Officer Friendly taught us all to look both ways before crossing the street. You still need to do that, even in a marked intersection with a traffic light where you have the right away. Remember, distracted and DUI are still in those intersections!
Going the right direction – Remember, pedestrians walk facing traffic while bikers go along with it. Doing otherwise can cause unpleasant driver surprises at intersections.
Helmets – You should always wear a helmet when advised or required to do so. It won't prevent an accident, but it can certainly reduce your likelihood of traumatic brain injury.
Community Planning for Safe Mobility
Nothing and no one can prevent all accidents involving pedestrians and bikers. But, communities can begin to address the issues discussed above and plan to respond to them. You can help by getting involved on the local level, advocating for good planning for mobility, and for change to municipal codes that don't require sidewalks and pathway networks. California is working toward the protection of vulnerable road users, but we all need to participate on the state, county, and local levels to achieve those goals. While we never hope to see this happen, if you need help from a trustworthy California bicycle accidents lawyer, do not hesitate to contact Arash Law for a free initial case consultation.