When In My Pregnancy Should I Stop Driving?
For most pregnant women, the biggest concern in their lives is protecting the health of their unborn child. It is important to know when it is safe to drive during pregnancy. It is also important to know what steps to take to reduce the risk of injury – both to yourself and your unborn child.

Ultimately, however, negligent drivers are legally responsible for the injuries they cause to pregnant women. The injury lawyers at Arash Law have experience handling car accident cases involving pregnant injury victims. Learn more about driving safely while pregnant and how to protect your legal rights after an auto accident.

The Research About Driving While Pregnant
NPR spoke with a leading car accident researcher about the risk of driving while pregnant. He found that the risk was greatest during the second trimester. At this point, the risk of a pregnant woman getting in an accident is as high as the risk for someone with sleep apnea. (Sleep apnea patients suffer from chronic sleep deprivation, and they suffer from a higher risk of car accidents as a result.)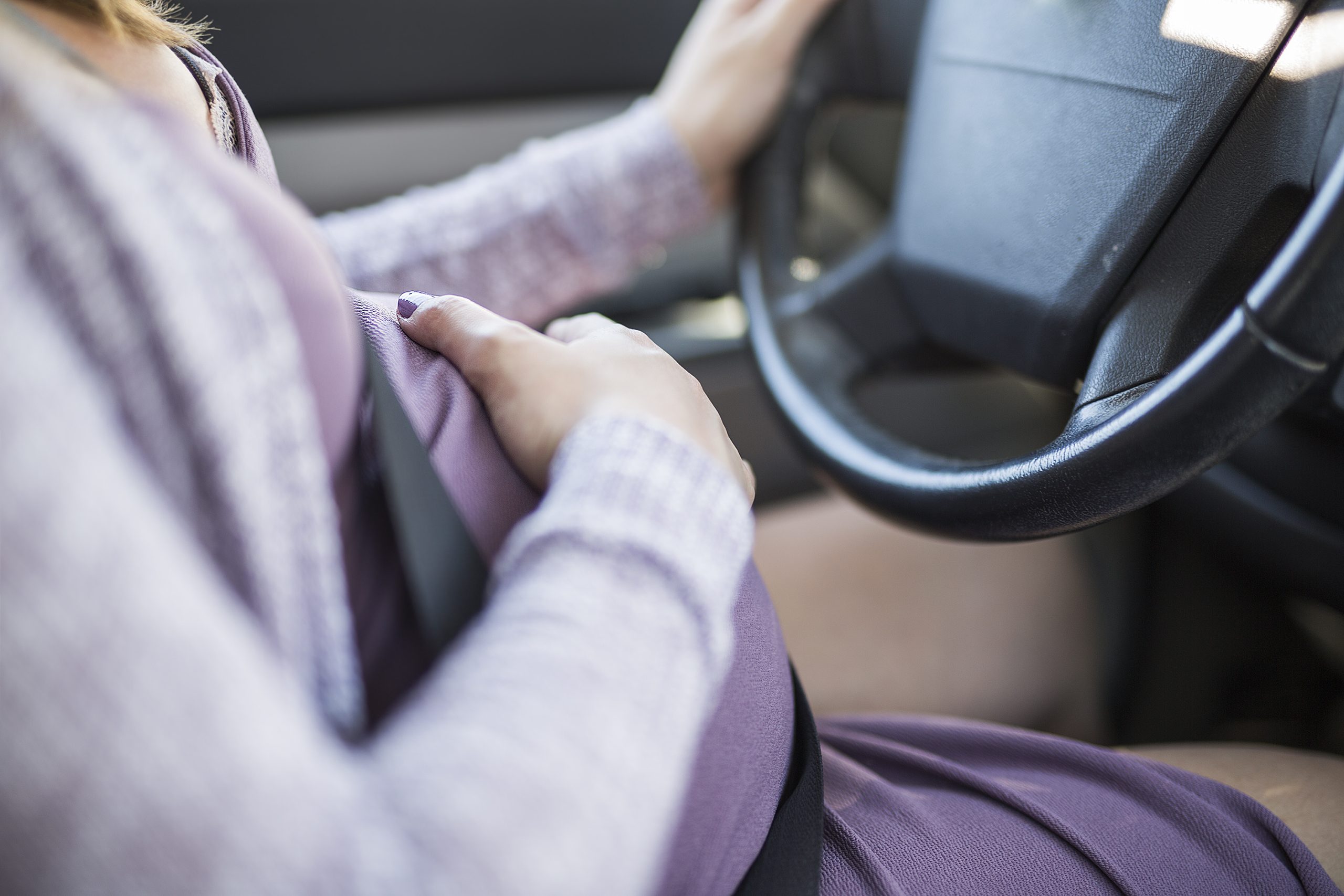 The risk in the second trimester was almost twice as high as the risk of being in a car accident during the first trimester of pregnancy. Though some pregnant women might consider delegating the driving responsibilities to a male partner, this is not always a good idea. Research shows that young adult men have even higher crash rates than pregnant women.

So what is the answer? Though it sounds simple, the researcher told NPR that pregnant women need to simply be aware of the risks and drive more carefully. Though it sounds simple, the issue is not discussed nearly enough during the early stages of pregnancy.
The researcher first investigated the issue precisely because his pregnant patients did not ask about staying safe in the car. They asked about flying, scuba diving, roller coasters, and other rare activities, but they did not ask about the risk they faced every day while on the road.

Tips For Safe Driving During Pregnancy
While it is not possible to eliminate every risk on the road, there are some simple steps that pregnant women can take to protect themselves and their unborn children.
Banner Health reports that pregnant women should always wear a seatbelt and ensure that you position it correctly. Remember, your body changes during pregnancy, so your usual seat belt position might need to change. Place the lower strap of the seat belt below the abdomen (on top of the legs and just above the hip bones). Place the upper shoulder strap across the middle of your chest. The upper strap should not lie directly across your baby bump.
Be especially mindful of your new symptoms. If you have experienced sudden nausea, dizziness, or excessive fatigue, driving could be unsafe. Be sure you are comfortable with how your body is reacting to the pregnancy.
Avoid sharp, fast turns or sudden braking. Slow down in every situation, so you have more time to react and so your baby will not be subjected to sudden movements.
Sit in the back seat whenever possible.
Be sure that the airbag system has not been deactivated or compromised. Doctors agree that airbags, in conjunction with seat belts, provide the best protection for pregnant women in the event of an accident.
According to Healthline, you should not drive while pregnant in the following circumstances:
It's probably not a good idea to drive you are experiencing nausea, dizziness, vertigo, or lightheadedness. You never know when this can hit, and it can be dangerous to operate a motor vehicle if you have an unexpected attack of morning sickness.
Additionally, you should avoid driving if you cannot fit your seatbelt to your changing body. If you feel crushed or uncomfortable, you should not stay in the seatbelt for a long drive. You should also be sure to comfortably move around to check your blind spots and perform other critical driving tasks.
Speaking of long drives: it may not be a good idea to take a long road trip while pregnant. In addition to needing more frequent bathroom breaks, you are also at a higher risk for deep vein thrombosis. Also known as DVT, deep vein thrombosis is a potentially fatal condition in which a blood clot forms in your body. Because blood circulation is more difficult in a pregnant body, there is a higher risk for blood clots any time a pregnant woman stays in one position for too long.
Pregnancy brain is real! If you find it difficult to pay attention, concentrate on tasks, or remember simple things, driving may not be safe.
Never drive while you are in labor. Even mild contractions can escalate quickly and leave you unable to operate your vehicle. Other dangerous medical conditions can develop quickly. In addition to endangering yourself, your unborn child, and other drivers on the road, these conditions can be fatal. You need medical attention when you are in labor.
Medical Advice About Traveling While Pregnant
We are lawyers – not doctors. Advice about traveling while pregnant should come from your doctor, considering your specific situation. Follow your doctor's advice carefully. Pushing the limits even "just a little bit" or "just this one time" can endanger everyone on the road – not to mention yourself and your unborn baby. Some pregnancies are considered high-risk.
If you develop preeclampsia, have a history of complicated pregnancies, or have any other risk factors, your doctor may advise you not to travel at all. Whether your doctor advises against travel depends on your unique situation: your medical history, risk factors, prior pregnancies, and how your pregnancy has gone. These complicating factors are why it is important to have an obstetrician familiar with your history monitor your pregnancy at all stages. Whatever advice your doctor gives you, be sure to follow it exactly.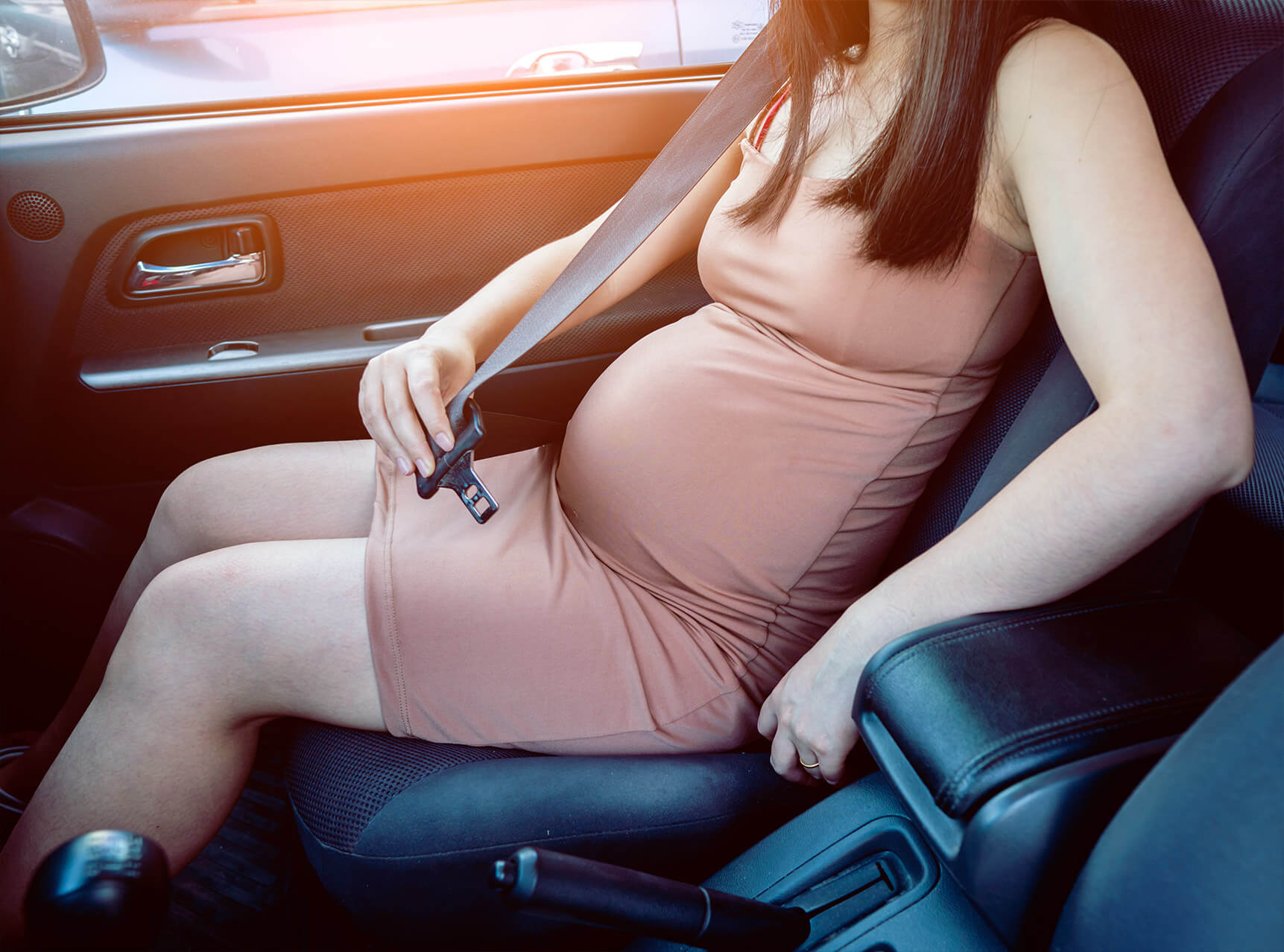 Driving At Different Stages Of Pregnancy
There are different risks to be aware of when traveling at each stage of your pregnancy. Be aware of how these risks will change throughout your pregnancy:
First Trimester
The NPR study reports that the risk of car accidents in the first trimester is about the same before pregnancy. This fact does not mean you don't need to take precautions. Morning sickness is common during the first trimester, and this can hinder you at unexpected times. You must also be aware of your changing body. Be sure that you position your seat belt properly every time you are in the car.
Second Trimester
As we have reported, the risk of car accidents is almost twice as high during the second trimester as in the first. There are many reasons for this: "pregnancy brain" is common, as is ongoing morning sickness. Hormones are also strong during the second trimester. They, too, can affect your mood and ability to concentrate.
Fatigue, insomnia, nausea, and stress are also common in the second trimester. Be mindful of all these risks. Pay attention to the physical changes in your body, the mental changes in your brain, and your emotional changes as well. Carefully assess these changes to determine whether they are affecting your ability to drive safely.
Third Trimester
The risk of driving in the third trimester seems to drop off after the third trimester. By the time the baby is born, the risk of causing a car accident is even lower than before the pregnancy. (Obviously, having a new baby in the car is a strong incentive to drive as safely as possible!) This fact does not mean that you can ignore the risk of driving in the third trimester. Many women experience false labor, Braxton Hicks contractions, and other conditions toward the end of their pregnancies.
These conditions can develop unexpectedly. Do not assume that you will always safely operate a motor vehicle during your third trimester. You must also allow for your growing baby bump, the increased risk of blot clots, lower blood pressure, and other conditions that develop in the third trimester.
What To Do If You Are In a Car Accident While Pregnant
Any car accident is overwhelming, but when you are pregnant, you are worried about the health of your unborn child. It is important to know what to do after a car accident to protect the health of both you and your baby. It is also important to know what to do (and not do) to protect your legal rights. Follow these steps to stay as safe as possible:
1.) Get Out of The Path of Oncoming Traffic.
Traffic accidents often cause secondary accidents. Onlookers might be "rubbernecking" and looking at the accident scene instead of the traffic ahead of them. You need to get out of the way of danger to prevent any further injuries to you or your baby. Find a safe spot far away from traffic. If you can move your vehicle, get it out of the way. If not, simply leave your car in the road and find a safe place to wait for help.
2.) Call 911.
It is not uncommon for the other driver to ask you not to call the police. They might offer to "work it out" or assure you that their insurance will handle everything without a police report. These are efforts to protect their legal interests – not yours. You need to get immediate medical attention to ensure that your baby is safe.
A police report also protects your legal interests, as insurance companies consider the police a more neutral source of information than the drivers involved in the accident.) It is in your interest to call 911 after an accident – especially if you are pregnant.
3.) Get Immediate Medical Attention.
Depending on the accident's severity, you might need to go to the hospital in an ambulance right away. Going directly to the hospital might not be necessary in the case of a minor fender bender. Use your best judgment about how you should get to a doctor. However you get there, it is important to see a doctor as soon as possible.
Your obstetrician will likely want to put you on a fetal monitor so they can check that the baby is okay. Always err on the side of caution. Remember, you are not just risking your health – your baby could be at risk, as well.
4.) See Your Regular Obstetrician as Soon as Possible.
Even if you see an ER doctor or on-call obstetrician, it is still important to check in with your regular obstetrician as soon as possible. Your regular obstetrician knows your medical history and the history of this pregnancy. This knowledge puts them in a better position to develop a long-term treatment plan for monitoring your baby.
Emergency care ensures that your baby is not in immediate danger. Still, follow-up care from your regular obstetrician will help prevent any further complications for the duration of your pregnancy.
5.) Find an Accident Lawyer.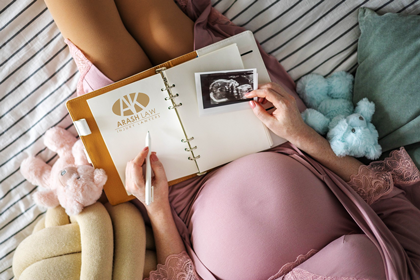 Once your immediate medical needs are met, it is time to find an injury lawyer. Your legal rights are in jeopardy as soon as an accident occurs. Even saying something simple, like "I didn't see you!" can make it difficult to deal with the insurance company later.
Your attorney will protect you from saying and doing anything that could hurt your case. Your injury lawyer will also handle all communications with the insurance company to ensure this does not happen. Communication is not the only immediate task your attorney performs to protect you. A California car accident lawyer can also take steps to preserve critical evidence, such as the physical evidence from the crash scene.

Without taking action, other parties could inadvertently destroy this evidence. For example, security video footage is routinely erased to make room for more data. If your lawyer needs the video footage, they will contact the camera's owner to preserve the evidence.

6.) Follow all Advice for the Continued Monitoring and Treatment of Your Unborn Child.
You may have to see several different doctors to get the treatment you need. If you have pregnancy complications or your baby has complex injuries, you could have an entire team of specialists devoted to your pregnancy. Be sure to follow all their recommendations. Continued monitoring will ensure that you and your baby receive the best treatment and have the best possible prognosis.
Following treatment recommendations not only protects your health – it also protects your legal rights. Insurance companies sometimes claim that a victim made their injuries worse by failing to follow through on their medical treatment. Failing to seek medical attention or follow your treatment plan can limit the amount of compensation available to you.
7.) Talk to Your Lawyer if You Have Any Concerns About Paying for Your Medical Care.
Medical care is expensive. Many injury victims struggle to pay their medical bills while waiting for a personal injury settlement – especially if they are out of work at the same time. If you have any concerns about paying for your medical care, be sure to talk to your attorney as soon as you can.
There may be options for getting care from medical providers who do not require payment upfront. These providers work on a lien, which means they have a loan against your personal injury settlement for the cost of their bills. Your health insurance provider (including Medicare and Medicaid) is also required to cover medical care under your existing contract – even if a negligent driver caused your injuries.
8.) Document All the Physical Pain and Emotional Suffering you Endure as a Result of the Car Accident.
The largest component of many personal injury settlements is compensation for pain and suffering. This fact is especially true with the injury victim is pregnant. When an injury victim must worry about the safety of an unborn child, their pain and suffering are greater. This worry can continue for weeks or months as doctors continue to monitor the baby.
It is important to document all the ways you are suffering as a result of the accident. Loss of sleep, inability to go to work, physical pain and discomfort, missing activities, and many other areas of your life can be affected. You might also find that your injuries impair your interpersonal relationships. You might be more impatient and angry with your partner because you are in pain.
Perhaps your relationship with your boss is strained because your productivity is not as high while worrying about your baby. All of these changes are pain and suffering related to your injuries. You are entitled to fair compensation for them.
Injured in an Accident While Pregnant? Call Us Today to Speak with a California Auto Accident Attorney
You could spend hours searching online, but the best "California Car Crash Lawyers Near Me" are right here at Arash Law. Our skilled motor vehicle accident attorneys have decades of experience. The legal team at Arash Law has collected over 200 million dollars for clients across the Golden State.
Our experienced legal professionals serve clients in Los Angeles, San Francisco, Riverside, Bakersfield, Santa Barbara, San Jose, San Diego, Fresno, Sacramento, Sherman Oaks, and throughout California. Our injury lawyers know how to handle cases with complicated legal and medical issues – such as pregnancy. Call (888) 488-1391 or contact us today to schedule your free consultation.