In recent years, many states have relaxed marijuana regulations to allow for it to be used recreationally, including California. Whatever your political position about marijuana, it is a fact that marijuana impairs the ability to drive safely. Its legalization means that road users can be at a higher risk of being injured in states that allow recreational marijuana use.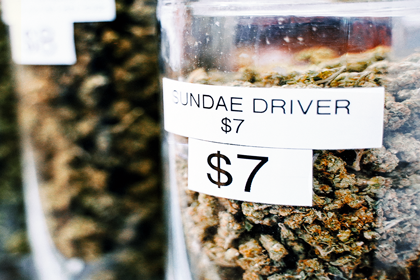 The experienced car accident lawyers at Arash Law in California fight hard to protect the legal rights of all injury victims, especially in developing areas of the law like marijuana use, where it is not exactly clear exactly what amount is allowable in a driver's blood. Learn more about the statistics about driving under the influence of marijuana, the law surrounding drugged driving, and what you can do to protect your legal rights after being hit by an impaired driver.

What the Data Shows About Drugged Driving Accidents
The Insurance Institute For Highway Safety analyzed crash data and found that legalizing marijuana for recreational use does increase overall crash rates. This discovery is concerning because more than a third of states have now legalized the recreational use of marijuana for adults over the age of 21.

However: studies have also found that drivers who use marijuana alone (without alcohol or other drugs) are no more likely to be involved in an accident than drivers who had no marijuana in their systems. These findings make it uncertain whether marijuana use increases the risk that an individual driver will have an accident.

Regardless, it is clear that less restrictive marijuana laws do increase overall crash rates, and lawmakers are likely to consider this evidence as they craft laws related to marijuana impairment while driving.

Why It Is More Difficult to Prosecute Drugged Drivers Than Drunk Drivers
Prosecuting impaired drivers is an important step towards reducing accident rates. Prosecution serves as a deterrent to not only the defendant but also other drivers who would consider driving under the influence of drugs or alcohol. Drunk driving laws have been carefully crafted to make them easier to enforce through prosecution.

A specific amount of impairment (.08) is specified so that a driver's blood or breath can be tested and introduced as clear scientific evidence at trial. This clear rule makes it easier for prosecutors to win convictions for drunk driving. Unfortunately, existing laws make it more difficult for prosecutors to win convictions when a driver is impaired by drugs instead of alcohol.

Scientists have yet to establish a level of marijuana in the blood that clearly impairs the ability to drive safely. As a result, impaired driving laws are vaguer when it comes to drug impairment, and there is no set value at which impairment can be presumed.

Prosecutors must therefore rely on anecdotal evidence from witnesses on the scene to prove that a driver was impaired by marijuana, making it far more difficult to win a conviction. If you are hit by a driver who was impaired by marijuana, a prosecutor may be less likely to file criminal charges against the driver. Even if charges are filed, it will be more difficult to get a conviction.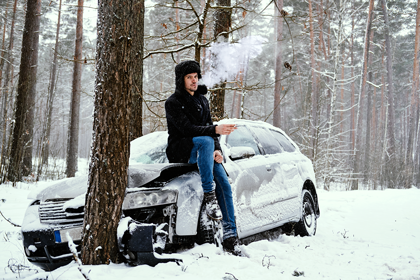 Drivers Have a Legal Duty of Care to Drive Without Any Impairment
Luckily, an impaired driver does not have to be convicted in criminal court in order to be held financially accountable for your injuries. You still have a separate legal right to file a personal injury claim in civil court.
Regardless of what happens in the criminal court, an impaired driver can be ordered to pay you fair compensation for all your injuries and losses because all drivers have a legal duty of care.

They must use reasonable caution to prevent accidents. When they fail to do so, they can be found negligent, and negligent drivers have a financial obligation to pay for all the injuries and losses they cause.

The experienced injury lawyers at Arash Law can answer any questions you have about the difference between a criminal case and your civil case. The important thing to know is that you have the right to be compensated for your injuries regardless of whether the impaired driver is ever charged with a crime.

What Injury Victims Should Do After Being Hit By an Impaired Driver
It is difficult to know what to do in the chaotic aftermath of a car accident. By knowing what to do, you can help protect your legal rights when they are most vulnerable. Here are some important steps for injury victims to follow after being hit by a negligent driver:

Be Sure to Call 911.
It is important to call 911 after any accident, but especially if you suspect the driver is impaired. Only police officers are able to press criminal charges against drunk drivers. The police report will also be an important piece of information that the insurance companies will use in resolving your civil claim for personal injury.
(Insurance companies consider the police report to be more objective than your statements because the officer was not involved in the accident.) A driver might ask you to "take care of it" without calling the police, which is not in your legal interest. Getting a police report is one of the most important things you can do to protect your legal rights after an accident.

Get the Names of Any Witnesses Who Observed the Driver's Impairment.
It is also important to get the names and contact information of any witnesses who saw the accident happen. It is difficult to prove marijuana impairment. Unlike alcohol, there is no set level that proves a driver was impaired, which is so important to have witnesses who are able to testify that the driver appeared impaired.

They might have seen the driver swerving, or observed bloodshot eyes, or even smelled the odor of marijuana in the car. All of this information helps to prove that the impaired driver was at fault for causing your injuries.

Get Medical Attention as Soon as Possible.
In some cases, injuries are so severe that an accident victim needs to call 911 and go to the hospital in an ambulance right away. Do not hesitate to call an ambulance if necessary. Your injury lawyer can help you work out payment until your case is settled.
If you do not get the care you need, you could make your injuries worse, which is why it is also important to see a doctor right away, even if you do not leave the scene in an ambulance. Some injuries do not show symptoms right away. Only a qualified medical professional can determine whether you have any internal injuries and what needs to be treated right away.
Find an urgent care facility or emergency department near you. See a doctor even if you feel alright right after the accident happens. Doing so can prevent injuries from becoming worse, and it also protects your legal right to be compensated for all the pain and suffering you endure as a result of the impaired driver's negligence.

Hire an Injury Lawyer Who Is Experienced in Impaired Driving Cases Involving Marijuana.
It is important to hire an accident lawyer as soon as possible after you are injured. But how do you know who the right lawyer is for your case? It is important to find a California injury attorney who is experienced in handling cases like yours.
As we have seen, marijuana impairment can be difficult to prove. The skilled injury lawyers at Arash Law stay current on marijuana laws and the medical science of impairment. We know how to prove that a driver was impaired, that their negligence caused your injuries, and what compensation you are owed.
You are entitled to fair compensation for all your injuries and losses, including medical bills, lost wages, and pain and suffering. It also includes compensation for future losses you will suffer due to your injuries (such as ongoing medical bills or a decrease in your earning potential at work). Our legal team proves the value of these losses and demands fair settlement from insurance companies. When they refuse, we are prepared to litigate your claim in court.

Experienced Injury Lawyers for All Impaired Driving Accidents
You could spend hours online searching for the best "injury lawyers near me," but the best accident attorneys in California are right here at Arash Law. Our skilled motor vehicle accident attorneys have decades of experience. We stay up to date on all developments in the law – including recreational marijuana laws and how these laws affect personal injury claims.
Our skilled legal team has collected over 200 million dollars for clients across the Golden State. We serve clients in Los Angeles, San Francisco, Riverside, Bakersfield, Santa Barbara, San Jose, San Diego, Fresno, Sacramento, Sherman Oaks, and throughout California. Call (888) 488-1391 today to schedule your free consultation. Clients across the state trust us to protect their legal rights, and we will fight hard for you, too. Don't wait to get an experienced California injury lawyer in your corner.