Our Gustine Injury Law Firm

Doesn't Just Win,


We Win Big!
You May Be Entitled to Compensation

Did you get caught in an unexpected crash or collision on your way to work or back home? You may have felt anger, shock, and distress on top of the injuries and other damages that you sustained. These are all caused by the carelessness of another driver, who should be compensating you for your losses. At Arash Law, founded by famous attorney Arash Khorsandi, Esq., our personal injury law firm is dedicated to helping out victims who suffered severe injuries and major damage from a car accident, a slip-and-fall incident, a motorcycle accident, a pedestrian accident, or any other type of personal injury within Gustine.
Gustine is situated within the San Joaquin Valley, between the Sierra Nevada Mountains and the Pacific Coast. With about 6,098 residents, the city is filled with hard-working people who are always on the go. These actions, unfortunately, put them at risk of getting injured, which could change their life. The more time people spend on the road, the greater their vulnerability to possible collisions or wrecks.
We cannot control the unexpected, but we can help you regain what you lost during the accident. Our Gustine personal injury law firm have recovered more than $500 Million for our previous clients. Contact us at (888) 488-1391 or fill out our online form to schedule a free consultation with one of our attorneys and get started on your journey to achieving maximum compensation.
Verdict for a client who was sideswiped by a commercial truck
– 
JUDD ROSS ALLEN
IF YES, You may be able to recover financial compensation. TELL US MORE: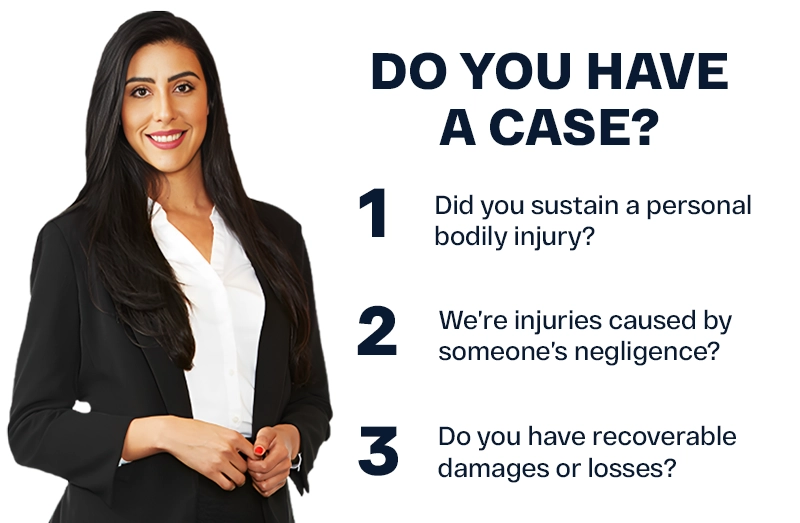 IF YES

, You may be able to recover financial compensation.

TELL US MORE:
Types of Cases We Handle in Our Gustine Personal Injury Law Firm
Our personal injury law firm in Gustine handles a wide range of cases involving personal injuries. We have a track record of success because we have gotten big settlements and favorable court decisions in different cases involving injuries and deaths. Here are the types of accidents that we are prepared to handle for you within the city:
You don't have to familiarize yourself with the nature of your accident on your own. Seek the advice of our personal injury lawyers so that we can guide you in identifying the validity of your claim. You can rest assured that our attorneys have extensive knowledge and a proven track record to fight for your justice.
Common Types of Accident Injuries in Gustine
At Arash Law, we understand how different accidents can result in different types of injuries. The National Highway Traffic Safety Administration states that more than half of all crashes happen on major routes like Highways 33 and 140 that cross in the middle of Gustine. Head-on collisions and rollovers are usually observed on these roads.
Our attorneys avoid the cookie-cutter approach to all personal injuries because we believe in representing all the needs of the injured. We believe that each case has its own circumstances and injuries, and each injury creates different factors and needs for the injured.
Even if the majority of personal injuries in Gustine come from crashes and fatal collisions, that doesn't mean all accidents and injuries are the same. Our lawyers are experienced in assessing diverse types of injuries. Some of the common injuries the residents of Gustine are at risk for are the following:
Head Injuries: Vehicle collisions, sports, and industrial injuries can cause concussions and traumatic brain injuries that can be devastating.
Broken bones: Broken arms, legs, wrists, and ribs are all common injuries that people face when engaging in daily activities. All of these require treatment, rehabilitation, and the risk of missing work hours.
Disease: Some types of work, especially in construction and manufacturing, put people at risk of disease.
Blunt Force Trauma: There is a high risk of serious injury or death from blunt force trauma sustained in car collisions.
Fatalities: Some injuries cause death, and when they do, there could be a claim for a wrongful death.
Product Liability: There is still a risk of sustaining injuries when an item you bought at a retail outlet in Gustine or ordered online from stores like Amazon or Target is faulty or hazardous.
No case is too difficult for our firm to handle successfully. We often take cases involving brain injuries, neck and back injuries, amputations, broken bones, and other serious injuries. We also help people whose loved ones have been wrongfully killed in crashes.
Industrial accidents: Agriculture is the number one industry for employment by population in the region. People who work in wineries, farms, and processing plants are still at risk for accidents.
Construction Zone Accidents: For more than two decades, the population of Gustine has skyrocketed from 3,600 to over 6,000. The construction industry benefits from this, but the additional construction sites throughout the city increase the possibility of injuries to its residents.
Slip-and-falls/Premises Injuries: The different businesses within the city can be hazardous if their owners neglect to consider the safety of the public that enters their premises.
Wrongful deaths: Some accidents, such as DUI and animal attacks, can lead to fatal outcomes that can devastate the victims' families.
Each injury is different, which is why it is important to determine how the injury happened and where it happened. At Arash Law, we can help assess your claim and exert ourselves to get you the maximum compensation possible.
What To Do After an Injury Accident in Gustine
If you were involved in a collision or wreck, it is important to secure both your safety and your rights. There are certain actions that you must carry out in order to build a strong foundation for your claim. Here are six things that you must follow:
Remain calm and remain at the scene to ensure safety. You should check yourself for injuries before helping others.
Call an ambulance right away if there are any injured individuals. If your vehicle was struck in the middle of the road, pull it over to a secure location before leaving it.
Report your collision to 911. The police report will be valuable for your injury claim. Do not disregard this step, even if it seems like you were uninjured. Some injuries take a while before manifesting.
Exchange information with all parties involved as well as witnesses. Document everything present at the scene of the accident, such as your injuries, license plate number of the other vehicle, weather, and road conditions.
Never admit fault to the police, and simply give an honest account of what happened.
Seek immediate legal counsel from a personal injury attorney. They will ensure your injury claim proceeds as smoothly and quickly as possible.
What Is the Statute of Limitations for a Gustine Personal Injury Case?
You must be aware of the statute of limitations that every personal injury case has within Gustine. This refers to the time limit within which a person must file a lawsuit after sustaining an injury due to someone else's negligence or intentional act. The interests of both the injured party and the potential defendant are balanced by this time limit. It allows the injured party a reasonable amount of time to discover their injury, gather evidence, and pursue legal action while ensuring that defendants are not indefinitely exposed to potential claims.
For victims of medical malpractice or a minor who has suffered an injury, there are some exceptions to this two-year rule. In those cases, there may be an extension to the statute of limitations. Furthermore, if the negligence of a government entity has injured a person, then the statute of limitations is only six months.
It is vital to consult with a seasoned personal injury lawyer in Gustine to grasp your case's particular details and subtleties. We can guide you through the legal process, protect your rights, and help you meet the necessary deadlines to pursue your claim.
Why Choose Our Gustine Personal Injury Law Firm?
In the event of a personal injury, it is crucial to have an experienced legal team on your side to protect your rights and guide you through the challenges that you may encounter when dealing with the legal system. Our legal team, led by Arash Khorsandi, Esq., at Arash Law, is dedicated to providing high-quality assistance to our clients, ensuring they receive the compensation they deserve.
1
Expertise and Experience
One of the primary reasons to choose our law firm is our extensive expertise and experience in personal injury law. Our reputable attorneys specialize in handling various personal injury cases, including slip-and-fall accidents, car accidents, workplace injuries, and medical malpractice. With an extensive background in the field, we have the necessary knowledge and insights to build a solid case on your behalf.
Our law firm understands that every personal injury case is unique, and each client has specific needs and concerns. We are committed to providing each client with individualized service, ensuring that their unique circumstances are fully understood and addressed. Our lawyers will work closely with you, providing guidance, support, and regular updates throughout the legal process. By choosing Arash Law, you can be confident that your case will receive the attention it deserves.
Successfully navigating a personal injury case requires a strategic approach. Our law firm is well-versed in developing effective strategies tailored to each case. We carefully look at the facts, gather evidence, talk to witnesses, and get advice from experts in the field in order to build a strong case for you.

Our lawyers will work diligently to identify the liable parties, assess the damages, and negotiate with insurance companies to secure a fair settlement. If needed, we are ready to take your case to court and fight for your rights.
Our law firm has a proven track record of achieving favorable client outcomes. We have successfully obtained substantial settlements and verdicts in numerous personal injury cases. Our attorneys are known for their dedication, tenacity, and relentless pursuit of justice. By hiring our law firm, you can trust that your case will be in capable hands.
We understand that pursuing a personal injury claim can be financially burdensome. To alleviate this concern, our law firm operates on a contingency-fee basis. This means that we only charge legal fees if we successfully recover compensation on your behalf. This arrangement lets you focus on your recovery without worrying about upfront costs.
Injured in Gustine? Let Arash Law Be Your Legal Support
Our injury law firm in Gustine stands beside individuals during their most challenging moments. At Arash Law, our primary commitment is to offer steadfast legal support to accident victims by hearing their narratives and fighting for their rights to proper compensation.
Seek the advice of our personal injury lawyers with more than 30 years of experience and more than $500 Million recovered for car, truck, motorcycle, Uber, Lyft, bicycle, pedestrian, and various other accident victims. Contact us at (888) 488-1391 to schedule your free initial consultation. We can seek justice and assist you on your journey to recovery.
Our personal injury law firm has built a strong reputation for its tireless advocacy for accident victims, ensuring they receive the compensation they are entitled to. We also extend our services to victims residing in the neighboring cities of Gustine, encompassing Atwater, Livingston, Los Banos, Modesto, Patterson, and Turlock, as well as major cities throughout California, namely Los Angeles, San Jose, San Francisco, Sacramento, San Diego, Bakersfield, and Fresno.
Record-Breaking Verdicts in the Following Areas of Practice
Get The Latest News from

The Best California Accident Law Firm Today