Our La Habra Injury Law Firm

Doesn't Just Win,


We Win Big!
You May Be Entitled to Compensation

Accidents can strike in various forms, ranging from motor vehicle collisions and slip-and-falls to workplace incidents and medical malpractice. With its bustling roads like Harbor Boulevard, Whittier Boulevard, and Beach Boulevard, La Habra experiences a notable frequency of car accidents due to heavy traffic.
When an accident occurs, the resulting injuries can lead to physical pain, emotional trauma, and significant financial burdens stemming from medical bills and lost wages. In these challenging situations, seeking legal assistance from a personal injury law firm becomes crucial.
At our La Habra personal injury law firm, we understand the profound impact accidents can have on individuals and their families. Our team of award-winning lawyers is dedicated to providing compassionate and skilled representation to those in need. We offer a free consultation to discuss the specifics of your case and outline the best path forward for seeking justice and rightful compensation.
If you or a loved one has suffered injuries in an accident, don't hesitate to contact us at (888) 488-1391. Let us stand by your side and fight for your rights during this difficult time.
Mild Traumatic Brain Injury
Verdict in a mild traumatic brain injury case involving a motor vehicle collision
– 
JUDD ROSS ALLEN
IF YES, You may be able to recover financial compensation. TELL US MORE: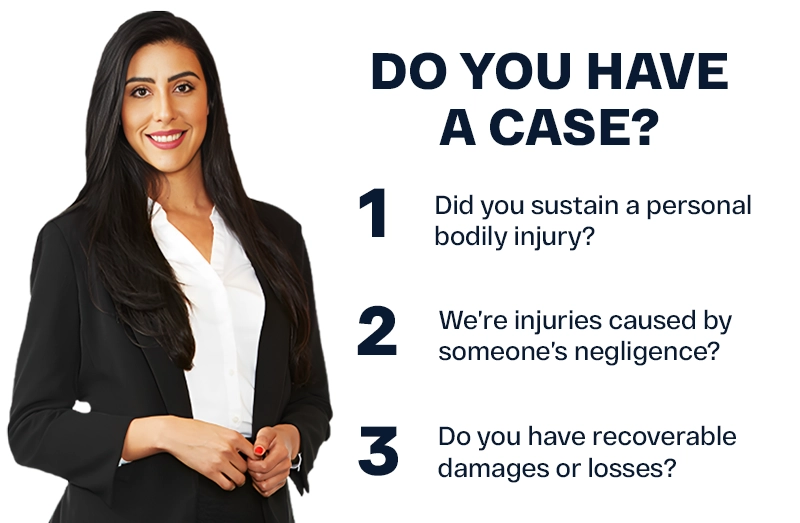 IF YES

, You may be able to recover financial compensation.

TELL US MORE:
Understanding La Habra Personal Injury Law
Personal injury law, also known as tort law, centers on safeguarding the legal rights of individuals who have suffered physical, emotional, or financial harm due to the negligence or intentional actions of others. Its primary purpose is to offer recourse, typically in the form of financial compensation, to the injured party while also serving as a deterrent against future similar offenses.
Within the realm of personal injury law, several fundamental concepts play a crucial role:
This concept addresses the failure of an individual to exercise reasonable care, resulting in harm to another person. To establish negligence, it must be shown that the defendant owed a duty of care to the plaintiff and breached that duty, leading to the plaintiff's injury.
This refers to the legal obligation one person has to act with reasonable care to prevent harm to others. The extent of this duty varies depending on the circumstances, relationship, and context between the parties involved.
A breach of duty occurs when an individual fails to meet the expected standard of care owed to another, thereby causing harm or injury.
This principle directly links the defendant's breach of duty to the plaintiff's injuries. It must be proven that the defendant's actions or negligence were a significant factor in causing the harm.
In personal injury cases, damages refer to the compensatory amount awarded to the injured party to address their losses, including medical expenses, lost wages, pain, and suffering.
These fundamental concepts form the cornerstone of personal injury law, guiding legal professionals in advocating for the rights of injured individuals and seeking just compensation for the harm they have endured.
Diverse Injury Cases Handled by Our La Habra Personal Injury Law Firm
While car accidents remain a prominent cause of devastating damages, our experienced personal injury law firm in La Habra encounters a wide range of accident types that lead to severe injuries. Some of the cases we handle include:
Rideshare (Lyft/Uber) Accidents
Scooter Accidents
Bicycle Accidents
Truck Accidents
Workplace Injuries
Slip-and-Fall Incidents
Premises Liability Accidents
Construction Accidents
Medical Malpractice
Fires
Boating Accidents
Product Liability Cases
Whether you experience a collision with a delivery truck while cycling down Euclid Street, endure a dog bite outside the La Habra Marketplace, or suffer a fall from a construction site off East Whittier Boulevard leading to a broken bone, your immediate concern should be seeking medical attention. Afterward, you can rely on us, as we have protected local citizens and secured significant settlements for over 30 years. If you seek the best personal injury law firm in La Habra, CA, don't hesitate to contact us for unwavering support and dedicated representation during this challenging time.
Steps to Strengthen Your La Habra Personal Injury Claim
After experiencing an injury, taking immediate action is crucial to ensuring the responsible parties are held accountable, as they may attempt to deny their liability in the accident. Strengthening your claim involves the following key steps:
Detailed Account of Events: Write down a comprehensive account of the sequence of events that led to your accident to the best of your ability. Include specific details such as the location of the incident, lighting conditions, and whether the ground was wet, as these can be crucial in establishing liability.
Document the Accident Scene: Take time-stamped photographs of the accident scene before any attempts are made to rectify the hazard that caused your injury. These photographs serve as crucial evidence to support your version of events.
Obtain Incident Report: If authorities or the property owner file an incident report, make sure to request a copy of it. This report can provide additional information and official documentation of the accident.
Gather Witness Information: Record the contact details of any witnesses present at the scene. Their testimonies can play a vital role in corroborating your account and strengthening your claim.
Seek Medical Attention: Seeking immediate medical attention is essential for your health and well-being. Additionally, obtaining prompt medical treatment creates a clear link between your injuries and the accident, which is critical for substantiating your claim.
Consult a Reputable Personal Injury Law Firm: Contacting a respected La Habra personal injury law firm is crucial in understanding how to proceed with your claim. Experienced attorneys can offer valuable guidance, protect your rights, and ensure you receive the compensation you deserve for your injuries and losses.
By diligently following these steps, you can bolster your personal injury claim and maximize your chances of obtaining a fair and just resolution for the damages you have suffered.
Determining the Worth of Your La Habra Personal Injury Claim
The value of your personal injury claim depends on various factors, including past and future medical expenses, treatment costs, and the extent of pain and suffering you have endured. Additionally, several other elements can influence the amount you may recover, such as:
Lost Income: The income lost during your incapacitation due to the injury will be factored into your claim.
Impact on Future Earnings: If your injuries have affected your ability to earn in the future, it can significantly impact the compensation you receive.
Home Modifications: The need for home modifications to accommodate your injuries will be considered when determining the value of your claim.
Long-term Consequences: Claims may take into account long-term effects such as disfigurement, scarring, disability, or loss of bodily function.
It is crucial not to accept any settlement offers from insurance companies without consulting a reputable law firm first. Insurance companies are primarily focused on protecting themselves and may try to minimize or avoid paying the compensation you deserve. Accepting such settlements without legal counsel could result in low-ball offers that may not cover the damages you are rightfully entitled to, including future medical expenses, emotional trauma, and pain and suffering.
To ensure you receive the full compensation you deserve, it is essential to consult with our experienced lawyers. We are dedicated to fighting for the highest amount of compensation possible for your injuries. We aim to make this challenging time as stress-free as possible, recognizing that experiencing a traumatic accident is already overwhelming. Let us handle the legal complexities while you focus on your recovery and well-being.
Deadline for Filing a Personal Injury Claim in La Habra
In La Habra, the statute of limitations for personal injury cases is a critical aspect that individuals must be aware of if they wish to seek compensation through a personal injury law firm. The statute of limitations sets a strict time limit within which a victim must file a lawsuit to pursue their claim for injuries sustained.
In most personal injury cases in La Habra, the statute of limitations is two years from the date of the injury or accident. This means that if you do not file a lawsuit within two years of the incident, you may lose your right to seek compensation through the court system.
It is important to note that there are exceptions and variations to this statute of limitations, depending on the nature of the case and the parties involved. For example, cases involving government entities may have different deadlines, and injuries caused by medical malpractice may have different time limits.
To protect your rights and ensure you have the opportunity to pursue a personal injury claim, it is crucial to act promptly and seek legal counsel from a reputable La Habra personal injury law firm as soon as possible after an accident or injury. Consulting with experienced attorneys can help you understand the specific statute of limitations that applies to your case and take appropriate legal action within the prescribed timeframe.
What If I Was Partially At Fault in an Accident?
Each state has its own set of laws governing negligence and liability concerning personal injury damages. California is one of the few U.S. states that upholds a pure comparative negligence statute. Under this law, a plaintiff who holds some liability for their claimed damages can still recover compensation from a defendant. However, the plaintiff's case award is adjusted to reflect their comparative fault.
In personal injury cases, defendants often try to assert comparative fault to shift liability away from themselves for the damages suffered by the plaintiffs. If you are concerned that you may bear partial responsibility for the personal injury you recently experienced, it is vital to seek guidance from an experienced La Habra personal injury law firm promptly. Depending on the value of your claim, even a minor degree of comparative fault could significantly impact your case award. For instance, being found 10% at fault in a $500,000 personal injury case would mean losing $50,000 from your case award.
The Role of Personal Injury Lawyers in Building Your Case
A personal injury attorney plays a crucial role in building your case and advocating for your rights. They will investigate the accident, gather evidence, and interview witnesses to establish liability. They will also work closely with medical experts to understand the full extent of your injuries and how they may impact your life.
In addition to building a strong case, a personal injury attorney will handle all communication with the insurance company and the opposing party. They will negotiate on your behalf to secure a fair settlement and, if necessary, take your case to court to fight for your rights.
How to Choose the Right Personal Injury Law Firm in La Habra
Choosing the right personal injury law firm is crucial for the success of your case. Here are some factors to consider when making your decision:
Experience: Look for a law firm with extensive experience in personal injury cases. They should have a track record of successfully representing clients and securing substantial settlements.
Specialization: Personal injury law is a complex field. Make sure the law firm you choose specializes in personal injury cases and has the expertise to handle your specific type of claim.
Reputation: Research the law firm's reputation and read client reviews. A reputable law firm will have positive testimonials and a strong presence in the legal community.
Communication: Clear and open communication is essential throughout the legal process. Choose a law firm that is responsive to your questions and provides regular updates on your case.
The Benefits of Working with a Local Personal Injury Law Firm
Working with a local personal injury law firm in La Habra offers several advantages. Firstly, they deeply understand the local legal landscape, including the specific laws and regulations that may impact your case. They also have established relationships with local experts and resources that can strengthen your claim.
Additionally, a local injury law firm can provide you with personalized attention and support. They are readily available to meet with you, answer your questions, and address any concerns you may have. This level of accessibility and individualized care can significantly impact your experience throughout the legal process.
Are You Injured in La Habra? Search for "The Best Personal Injury Law Firm Near Me"—You'll Find Us!
Arash Law, under the direction of Arash Khorsandi, Esq., takes pride in supporting people during their toughest times. Our dedicated staff works tirelessly to ensure that insurance companies and defense attorneys truly hear and understand the full story of our clients. The remarkable results we achieve speak volumes about our commitment to justice.
Having successfully recovered over $500 million for accident victims, including those involved in car, truck, motorcycle, Uber, Lyft, bicycle, pedestrian, and various other accidents, our passionate attorneys have been fighting for the rights of La Habra residents and their families for decades.
Unlike other firms that make empty promises, we are prepared to stand by your side and take your case to trial if needed. When you contact our office, you will have a designated lawyer devoted to serving your needs throughout the entire process. We handle all personal injury, car accident, dog bite, and lemon law cases on a contingency fee basis, meaning you don't pay unless we secure compensation for you.
While we cannot undo injuries or bring back loved ones, we are fully committed to obtaining the rightful compensation for victims of negligence. Your case is of utmost importance to us, and we'll work tirelessly to seek the justice you deserve.
Experience the Difference with Our Personal Injury Law Firm La Habra Trusts
Experience the utmost support in maximizing your compensation after an accident or injury with our dedicated personal injury law firm in La Habra. Our team's expertise and commitment to your case can truly make a significant difference in the outcome of your claim.
By entrusting us with your legal matters, you can focus on your recovery and move forward with confidence, knowing that we are diligently working to secure the financial support you need. Take the first step towards justice by scheduling a free initial consultation at (888) 488-1391. Don't hesitate to reach out for the help you rightfully deserve. Consult with our esteemed La Habra personal injury law firm today.
Get The Latest News from

The Best California Accident Law Firm Today