Our Whittier Injury Law Firm

Doesn't Just Win,


We Win Big!
You May Be Entitled to Compensation

In the thriving city of Whittier, accidents can happen when we least expect them. Whether it's a car collision, a slip-and-fall incident, or any other personal injury, the physical, emotional, and financial toll on the victim can be overwhelming. Residents of Whittier City can count on our award-winning personal injury law firm during these unfortunate events. With our unwavering commitment to justice and their deep understanding of Whittier City's legal landscape, we stand ready to advocate for those who have been wronged.
Arash Law, founded by Arash Khorsandi, Esq., is aware that suffering an injury in an accident can significantly impact your life. Our esteemed injury law firm understands the unique challenges residents and businesses face in the area. We combine extensive legal expertise with a compassionate approach to ensure clients receive the justice and compensation they deserve.
People hurt in accidents as a result of negligence should seek legal advice from a reputable firm. As a local injury law firm in Whittier, our firm deeply understands the challenges residents and businesses face. The firm's experienced attorneys combine their legal knowledge with a compassionate approach to ensure their clients receive the compensation and justice they deserve.
We treat every case with personal care and a strategic approach to ensure that our clients receive the best financial outcome possible, regardless of how severe their injuries are. To schedule a free consultation with one of our experienced attorneys, call (888) 488-1391 today.
SM v. Doe Defendant (settled on 10/14/2020) – settlement in a case involving a client who sustained a spinal cord injury and mild traumatic brain injury when he fell off a roof. The team at Arash Law secured an additional $610,000 as part of the third party settlement.
– 
TINA ESHGHIEH
IF YES, You may be able to recover financial compensation. TELL US MORE: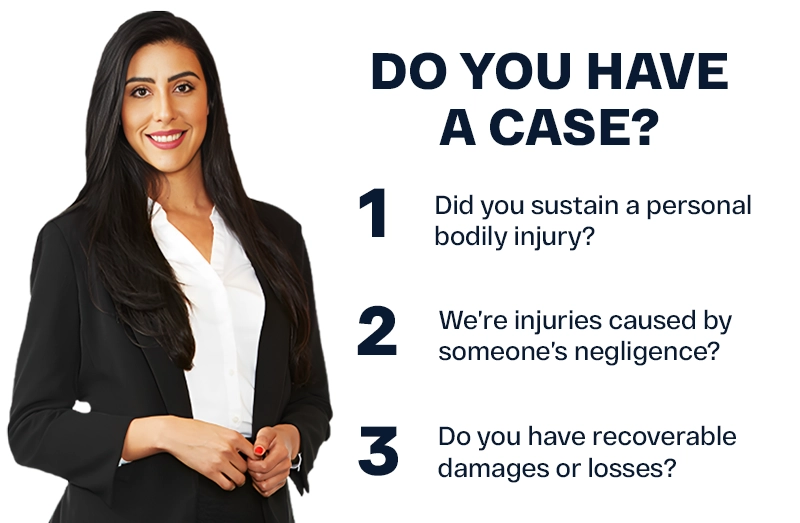 IF YES

, You may be able to recover financial compensation.

TELL US MORE:
Whittier's Personal Injury Accident Risks: Who's Most Vulnerable?
Accidents can occur in various locations, such as on the streets, at home, in stores, or even at work. Certain occupations pose more significant risks than others, and specific groups of workers are more vulnerable to injuries. According to a news release from the U.S. Bureau of Labor Statistics (BLS), people over 55 are more likely to experience fatal workplace accidents. In 2019, 38 percent of workplace fatalities involved older workers.
Nevertheless, this does not imply that younger individuals are exempt from work-related or other accidents. It simply emphasizes the need for older individuals to exercise extra caution in their daily activities. Take precautions to protect yourself if you are involved in an accident, especially one resulting from someone else's negligence: immediately seek medical attention and speak with a lawyer to learn about your legal options.
Typical Cases Our Whittier City Injury Law Firm Handles
To ensure the best outcome for your personal injury case, it is crucial to seek assistance from a law firm with a proven track record of handling similar cases. We have achieved significant settlements and successful verdicts in a wide range of personal injury and wrongful death cases, such as:
Auto Accidents
Motorcycle Accidents
Truck Accidents
Pedestrian Accidents
Bus Accidents
Train Wrecks
Bicycle Accidents
Rideshare Accidents
Plane Accidents
Traumatic Brain Injuries
Spinal Injuries
Dog Bites
Premises Liability
Slip-and-Fall Accidents
Wrongful Death
Other Personal Injuries
Personal Injury Settlement
Our client was the victim of a rear-end accident who was left injured and severely in pain. Arash Law was able to outshine other injury law firms when he searched online, and thankfully we were able to handle everything for our client from A to Z — All that he had to do was ask and focus on his recovery. Our client's life has changed forever, and the compensation received for the pain and suffering has opened paths for new lifelong opportunities.
Personal Injury Settlement
Our client was the victim of a rear-end accident who was left injured and severely in pain. Arash Law was able to outshine other injury law firms when he searched online, and thankfully we were able to handle everything for our client from A to Z — All that he had to do was ask and focus on his recovery. Our client's life has changed forever, and the compensation received for the pain and suffering has opened paths for new lifelong opportunities.
Whittier's Most Common Types of Personal Injuries
The severity of your personal injury can vary depending on the nature of the accident. Whether you've been involved in a car accident, injured at work, or suffered a brain injury from a fall, it's crucial to recognize that the true extent of your injuries may not be apparent without seeking medical attention. Regardless of the type of personal injury, it is critical to receive proper medical care. Some common accident injuries include:
Discomfort
Stiffness
Nausea
Headaches
Trouble sleeping
Broken bones
Muscle and ligament tears
Road rash and scarring
Neck and spine injuries
Brain injuries
Paralysis
Partial or full disability
Temporary or permanent disability
Wrongful death
Are Settlements Possible for Your Injury Case in Whittier City?
Yes. Depending on your personal injury case, you may be entitled to a settlement. Engaging in legal disputes can consume a lot of time and money. Consequently, the insurance company of the party at fault will likely seek pretrial negotiations to avoid going to court. This is advantageous because it means you may not have to endure a lengthy trial to receive your rightful compensation.
Before delving deeper into legal proceedings, let's examine the potential categories of damages your injuries may entitle you to.
Damages You Can Recover with Help From a Personal Injury in Whittier City
In a personal injury case, various types of damages can be pursued to seek compensation for the harm endured. The availability and eligibility for recovery of specific damages may depend on the circumstances surrounding the case. Here are some common types of damages that can be sought in a personal injury case:
These are tangible and quantifiable losses with a monetary value. Economic damages may include:
Medical Expenses: Costs associated with medical treatment, hospital stays, surgeries, medications, rehabilitation, and ongoing care.
Lost Wages: Compensation for income lost due to the injury, including both past and future earnings.
Property damage: Reimbursement for repairing or replacing damaged property, such as a vehicle involved in an accident.
Other out-of-pocket expenses: Compensation for any additional financial losses incurred directly as a result of the injury, such as transportation costs for medical appointments or home modifications.
These damages are subjective and do not have a precise monetary value. They aim to compensate for intangible losses and the impact on the injured person's quality of life. Non-economic damages may include:
Pain and suffering: Compensation for physical pain, emotional distress, and mental anguish caused by the injury.
Loss of enjoyment of life: Compensation for the inability to engage in activities or enjoy life as before the injury.
Loss of consortium: Damages awarded to a spouse or family member for the loss of companionship, support, or intimacy resulting from the injury.
Disfigurement or permanent disability: Compensation for any scarring, disfigurement, or permanent disability caused by the injury.
In cases where the defendant's actions were particularly egregious or involved intentional misconduct, punitive damages may be awarded. Punitive damages aim to punish the defendant and deter similar behavior in the future. However, they are typically only awarded in exceptional circumstances and not in all personal injury cases.
Seeking guidance from an experienced personal injury law firm in Whittier, CA, will help you understand the specific damages applicable to your case and the potential compensation you may be entitled to pursue.
Determining Comparative Fault on A Personal Injury Claim in Whittier
Sustaining injuries in a car accident or experiencing a dog bite from a loose neighbor's dog can devastate your health and well-being. These negligent incidents disrupt your quality of life from the moment they occur.
Who will be responsible for the expenses related to repairing your vehicle after the car accident? How will you address the dog bite injuries? Our Whittier personal injury law firm understands the confusion, anger, and trauma accompanying these unfortunate events, and we are here to help. Building your personal injury case begins with assessing your injuries.
Our Whittier personal injury law firm will thoroughly investigate who negligently caused your injury.
Did they create the circumstances that led to negligence?
Is an individual, party, corporation, or public entity responsible for the accident that caused your injury?
Is an insurance company liable for providing the necessary coverage for your full recovery?
These are some of the crucial questions that our personal injury law firm in Whittier will address to develop your case. Once our relentless lawyers have gathered all the details regarding your accident, we can begin the process of building a solid and assertive approach to holding the negligent party accountable for your financial settlement.
How Can Our Injury Law Firm in Whittier Help with Your Claim
Following an accident, it is essential to have someone safeguard your interests. The negligent party responsible for your injury will immediately enter defense mode, with their insurance company, attorney, or representative working to protect their interests. Our personal injury law firm in Whittier, CA, is committed to fully developing your case to address your overall financial needs and ensure that you are not taken advantage of throughout the process. As your trusted Whittier personal injury law firm, we will:
Manage all communication with the person or party who caused your accident, their insurance company, and their legal teams or representatives. With our guidance, you will not have to engage in discussions independently. This strategy aims to shield you from insurance companies' deceptive practices. It safeguards you against providing statements that can be twisted for their benefit.
Build your case, starting with a comprehensive investigation of the circumstances surrounding your car accident, work injury, or other personal injury. To determine your overall needs, we will thoroughly investigate your claim, including interviews with witnesses and consultations with your medical team. This enables us to focus on securing your injuries' best possible financial outcome.
Rest assured that our Whittier personal injury law firm is dedicated to advocating for your rights and ensuring you receive the compensation you deserve. We will reinforce and protect, ensuring your best interests are represented every step of the way.
Expert Solutions for Personal Injury Cases in Whittier
For decades, our committed attorneys have been champions for the rights of California residents, including those in Whittier and their families.
1
Understanding the opposition
Leveraging our experience, we ensure that the representatives of the other side are fully aware that we will not compromise our client's well-being or financial needs.
2
Prioritizing our clients' overall financial requirements
We recognize that the insurance company can and, with our assistance, will provide financial solutions tailored to our client's comprehensive needs.
3
Emphasizing our assertive approach
We swiftly and effectively navigate our clients' cases through the legal system to achieve prompt results. We have handled a wide range of cases, including automotive, truck, and motorcycle accidents, including injuries ranging from soft tissue and minor aches to permanent disabilities and wrongful deaths. Our Whittier personal injury law firm approaches each client's case individually, employing a strategic and confident approach to secure victory.
Why Retain A Local Injury Law Firm in Whittier, CA
When pursuing a personal injury claim in Whittier, finding a litigator familiar with the local area and understanding how insurance adjusters operate is crucial. The key to obtaining maximum financial compensation lies not only in the attorney's age or experience but also in their winning traits.
When choosing a Whittier injury law firm, look for winning traits. Given the vast economic landscape of Southern California, there is a possibility of encountering negligent individuals and inexperienced lawyers who may not fully grasp the specifics of your case. Additionally, insurance companies may try to offer you an unfair settlement, particularly if your current lawyer lacks the necessary skills.
You deserve a highly experienced injury law firm that will skillfully handle settlement discussions with your insurance company, taking charge of all communication with the adjuster. If your case requires it, your personal injury lawyer should be knowledgeable about the court system. Our team will even enlist investigators to gather evidence at the accident scene and reconstruct the events that led to your injury.
With our Whittier personal injury law firm, you can trust that we possess the expertise and determination to effectively advocate for your rights. We are committed to securing the compensation you deserve and ensuring that your case is handled with the utmost professionalism.
Injured? Let Our Law Firm Fight The Insurance Companies on Your Behalf
When you've been in an accident, it's natural to assume that the insurance company of the person who caused the accident will automatically compensate you for the damages. However, this is not always the case. Even when you can prove that someone else was at fault, you cannot assume that the insurance company will give you the money you deserve.
The first step is determining how much you should seek in damages to ensure you receive the appropriate compensation. This involves evaluating the accident costs, such as medical bills, lost wages, and property damage. It's also important to consider any future expenses from the accident, such as ongoing medical treatment or rehabilitation.
Once you clearly understand the damages you've incurred, you can approach the insurance company for compensation. However, it's essential to be prepared to negotiate for a fair settlement. In many cases, the insurance company may try to offer a lower settlement than you deserve. Rejecting any offer that does not adequately compensate you for your damages is crucial.
Your future life may depend on who you choose as your Whittier personal injury law firm.
Our law firm will negotiate settlement negotiations with insurance companies, insurance adjusters, or another responsible defendant.
We get clients maximum financial recovery for their pain, suffering, and economic loss claims.
By helping each person we represent receive the maximum compensation amount, we've developed a superb reputation as one of California's top-rated personal injury law firms.
No Win, No Fee - Contact Our Award-Winning Injury Law Firm in Whittier, CA
Have you been involved in a motor vehicle accident in Whittier, CA? Or do you believe you have a product liability case due to brake failure or food contamination? When you reach out to us, Arash Khorsandi, Esq., and the team at Arash Law will promptly assess your claims. We'll provide a complimentary review of your case, informing you about various areas of law and the standard procedures involved, all without any cost to you or your family.
If you're searching for a highly-rated personal injury law firm in Whittier, we are here to offer our services with the utmost professionalism. Our reputable firm is dedicated to defending your rights. Take the first step today by scheduling a free consultation. Contact us at (888) 488-1391 or click the "Do I Have A Case?" form on our website.
Get The Latest News from

The Best California Accident Law Firm Today