Lakewood

Truck Accident Lawyer
with over $500 Million Recovered in Compensation for Injury Clients.
You May Be Entitled to Compensation

Lakewood Truck Accident Lawyers

Big Results. Small Burden
Lakewood is a city that is home to
80,048 residents
. It is a city in Los Angeles County with border cities, including Hawaiian Gardens, Cypress, Cerritos, Bellflower, and Long Beach. The cities surround Lakewood in every direction. The city has major thoroughfares, including the San Gabriel River Freeway (I-65), Carson and South Streets, Del Amo Boulevards, Bellflower, and Lakewood. At any time of the day, drivers in Lakewood may encounter traffic. The more cars on the road, the more likely an accident will happen.
Lakewood residents know they share the road with large commercial trucks. All drivers, cyclists, and pedestrians must be careful when they travel. Despite carefully operating your vehicle, accidents happen daily in Lakewood. If you or a loved one have suffered an injury in a truck accident, contact the Lakewood truck accident lawyers at Arash Law, led by Arash Khorsandi, Esq.
The legal team at Arash Law, founded by famous attorney Arash Khorsandi, Esq., has decades of experience helping California residents recover more than $500 million in damages. Our lawyers understand that truck accidents are often more severe and catastrophic than typical traffic accidents. We are here to assist you as you recover from physical, emotional, and property damage. 
Contact us today at (888)-488-1391 or via chat to schedule a free, no-obligation case evaluation.
Paz v. Airfax Logistics (settled on 5/26/2020) – settlement in a case involving a client who was involved in a trucking accident and sustained a traumatic brain injury and other trauma.
– 
TINA ESHGHIEH
Why Are Truck Accidents More Dangerous?
Traffic accidents involving large trucks are more deadly than other crashes involving normal-sized vehicles. First, commercial trucks are massive. Many large trucks weigh over 10,000 pounds, and some even weigh nearly 25,000. The sheer weight of these vehicles makes collisions with them deadly.
Truck accidents usually involve more cars and pedestrians than normal traffic accidents. When a commercial truck crashes, it can take a lot of time for the truck to stop. The momentum can impact multiple vehicles and pedestrians, making sorting out the details of a large truck crash more difficult. A Lakewood truck accident lawyer can help you identify each responsible party and understand your legal rights.
California Truck Accident Statistics
California is not known for its safe roads. Beaten only to Texas, California has more fatal truck accidents annually than any other state nationwide. California averages about 113 fatal truck accidents each year. Around 200 to 300 truck drivers die yearly in commercial truck collisions.
Some accidents are not fatal. California also sees a staggering number of nonfatal truck accidents each year. Nearly 3,000 people suffer injuries in truck accidents every year in California.
You need an attorney if you or a loved one has suffered an injury after a truck accident. A Lakewood truck accident lawyer can help you understand and protect your legal rights.

Emperatriz Ayala
My husband had an accident 2 years ago, a 85 years old man hit him, the Arash law group works very well on my husband case that took 9 month and he won the case and my husband was happy with the results. A year later I got into an accident as well and I'm still waiting in my case is almost resolving and it's 9 months already. This people knows the law and they do their job right to help you out in getting the most for you to fight on your behalf. I strongly recommend the Arash Law firm they do things right in a efficient and professional manner.

Chris Zavala
Had a great experience with all the people at Arash law. Long story short was in a bad car accident. It was overwhelming and the whole process was a lot, but they kept me in the loop. They answered all my questions and gave me great advice. Couldn't be any happier. Would definitely recommend anyone looking for a personal injury lawyer. They'll guide you through the whole process!

Jill Smith
Having Arash Law handle my auto accident was the best decision I could have made. Everyone I interacted with was kind, professional and detail oriented. I am extremely happy with the outcome and would recommend them highly.

Joseph R. Porter
From start to finish, Arash Law firm is there every step of the way with close, constant, personal contact and attention. I never knew a Law firm could actually care so much for me as a person and what I was personally going through as well as the settlement I was going to recieve once my case was finally completed. Thank you to everyone at Arash Law for your ongoing support and communication. You are the ONLY firm I will ever recommend to someone who is need of a great attorny.

Monica Parra
I had an excellent experience with Arash Law. I will definitely recommend to my family and friends. I interviewed a few firms before deciding to work with Arash Law. What made my experience excellent was (i.e. head attorney being accessible to talk to and he answered all my questions and concerns, sensitive and thorough personel who completed in home intake & follow up process, being connected immediately to quality Physicians who addressed my injuries and recovery process, clear contract-read throughly to ensure its something you can commit to). Being in a car accident is a traumatic experience and I had a sense of peace knowing Arash Firm was walking with me throughout the whole process. Thank you Arash Firm for all your hard work and help. I am so grateful and appreciative for you all! 🙏 With Gratitude, Monica Parra
What Are Some Common Causes of Truck Accidents in California?
California is a large state, with thousands of people sharing the road daily. Accidents are bound to happen because of the large number of cars, motorcycles, bicycles, pedestrians, and commercial trucks on the road. Every case is unique, but there are some common reasons truck accidents happen in Lakewood and throughout the state. Common reasons for truck accidents include the following:
Unrealistic schedules and expectations 

Compensation based on consecutive hours of driving or that encourages faster speeds

Violation of

Federal Motor Carrier Safety Administration

regulations presented by the Department of Transportation 

Fatigued driving 

Driving under the influence of legal and explicit drugs or alcohol 

Improper lane changes 

Taking tight turns 

Reckless driving
If any of the above actions caused your accident with a commercial truck, you may be entitled to recover damages. A Lakewood truck accident lawyer can help you identify responsible parties and recover your losses after a truck accident.
However, there are times when the truck driver is not entirely at fault for the accident. Some common causes of driver-caused truck accidents include the following:
Abandoning a vehicle in a travel lane 

Driving between large trucks

Driving in a commercial truck's blind spot 

Unsafe passing 

Not slowing down when a truck starts to change lanes 

Improper merging 

Misjudging the speed of surrounding vehicles 

Not checking for the right lanes 

Abrupt lane changes 

Driving in "no-zones"
If you think that you caused an accident or contributed to causing the accident, don't worry. You may still be entitled to damages even if you were partially at fault for causing the crash. An experienced injury accident lawyer can help you determine and collect the damages you may be entitled to and defend your potential liability for causing the crash. It will be best if you never try to go against a trucking company or its insurance company alone.
How Can I Prevent an Accident With a Large Truck?
Sometimes accidents are inevitable, but there are some steps you can take to reduce your chances of getting into an accident with a commercial truck driver. Some steps you can take include the following:
Remember to create space between your vehicle and the truck. Commercial trucks have large blind spots. Remember that just because you can see the truck does not mean the driver can see your vehicle. Creating space can help you avoid a catastrophic accident. 

Remember that commercial trucks have restrictions. Simply because of the size and weight of the vehicle, commercial trucks have restrictions on how they turn and how quickly they can stop. For example, if a large truck is traveling at a speed of 65 miles per hour, it can take the truck the length of two football fields to come to a complete stop. 

Always pass on the left side of the vehicle. If you must pass a commercial truck, remember to pass it on the left side. The truck driver is more likely to see your approaching vehicle if you pass on the left side. 

Have some patience. Getting to your destination on time is important because your time is valuable. However, despite the importance of getting there, it is even more critical that you get there safely. If you share the road in Lakewood, having some patience when you see a large truck can save your life and the lives of others.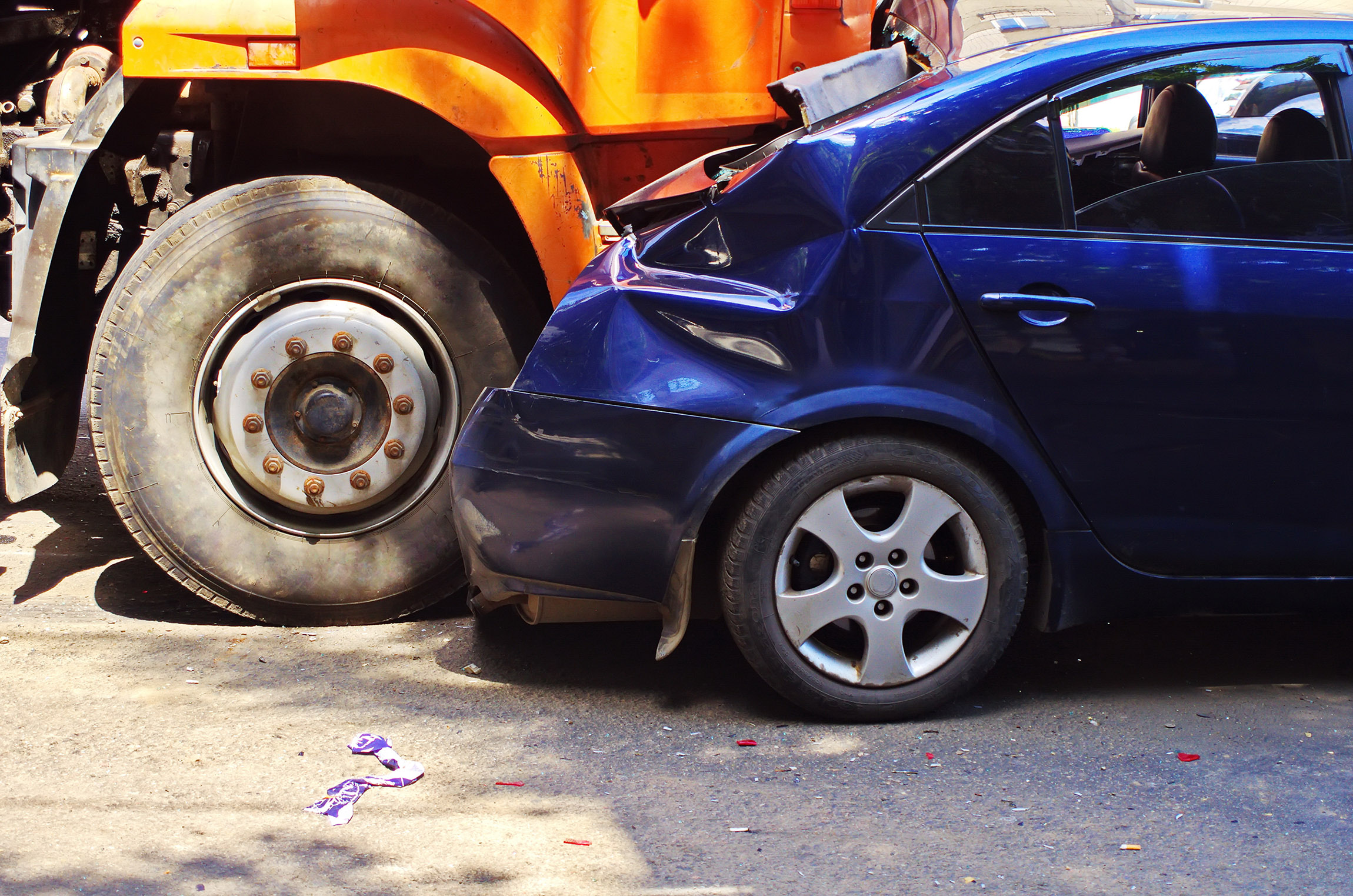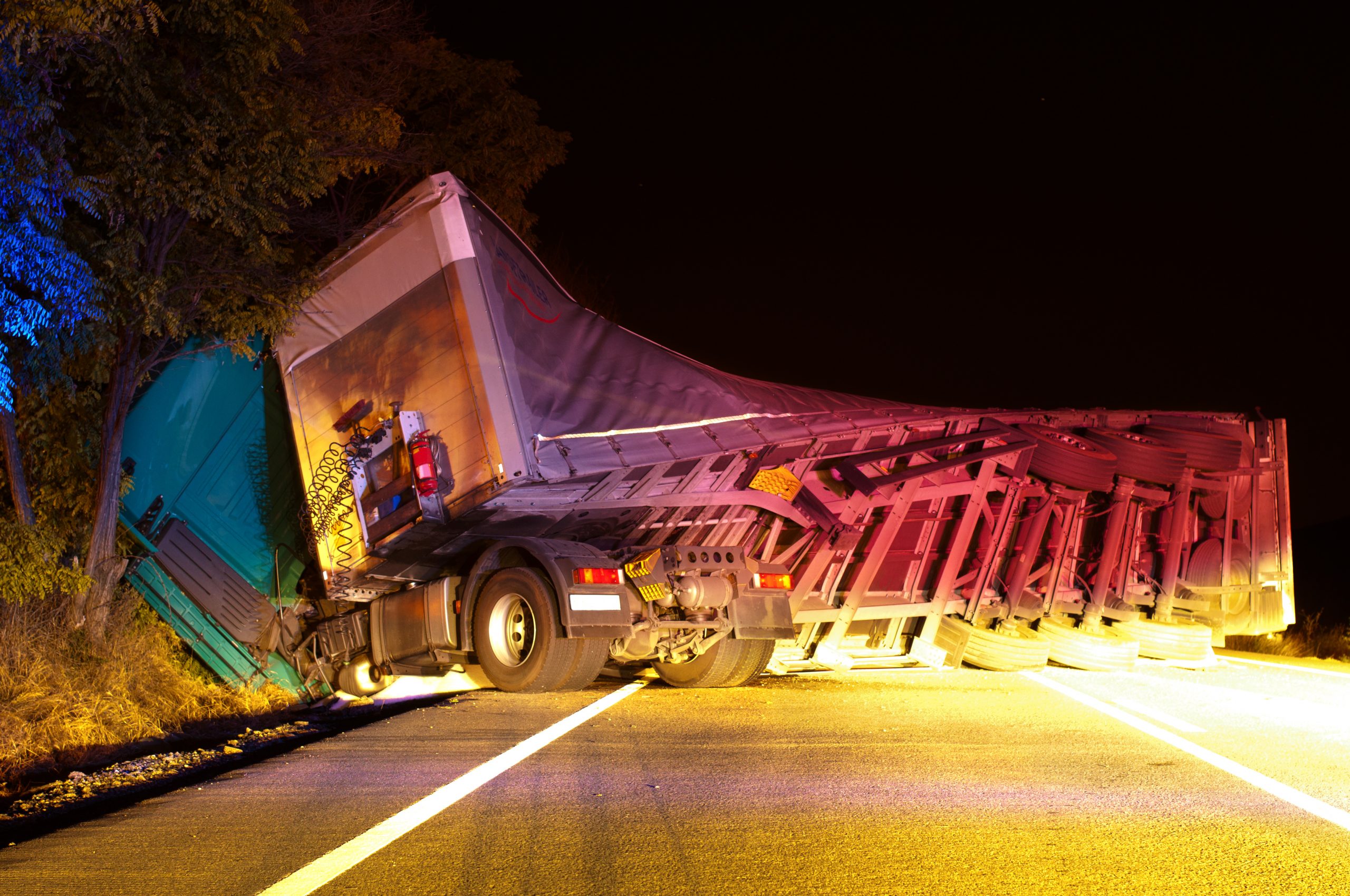 Common Damages Available in a Truck Accident Lawsuit
If you have a potential truck accident claim, you can recover compensatory damages. Damages are meant to replace your losses after an accident. You may experience much loss, especially if you collide with a large truck. Some examples of compensatory damages include:
Loss of consortium

Current and future medical bills

Cost of rehabilitative care and medical equipment 

Current and future lost income 

Loss of earning capacity 

Disfigurement 

Pain and suffering 

Repair costs
California law also allows an injured person to recover punitive damages in a few cases. Punitive damages are not awarded to compensate the victim. A court may award a plaintiff punitive damages to send a message to the defendant and the public. Your attorney will help you review your case and determine if punitive damages apply to your claim.
How Can I Preserve Evidence to Help My Case?
Preserving evidence after an accident is crucial to the success of your case. Collecting evidence as quickly as possible protects your legal rights after a crash. There are certain types of information you will want to bring to your consultation that can help your attorney determine if you have a valid legal claim or the value of your case. Some evidence to collect immediately includes:
Witness contact information

Accident report 

Pictures and videos of your injuries, property damage, and the scene 

Medical bills and medical records that contain your doctor's impressions or opinions about your injuries and prognosis
Why Should I Choose Arash Law to Represent My Injury Claim?
The legal team at Arash Law, under the guidance of Arash Khorsandi, Esq., is the best team for you if you have suffered an injury in a truck accident in Lakewood. Our team wants to ensure you are cared for and appropriately represented to get you the best outcome possible. We care about each of our clients and want to see them succeed.
Contact The Best Lakewood Truck Accident Lawyers Today!
It helps to move quickly after a truck accident. Insurance companies representing trucking and truck drivers have massive resources and will fight hard to avoid paying an injury claim. You need a legal team to protect yourself and your legal rights after a truck accident.
Traffic accidents involving large commercial trucks are more complex than typical accidents and can take longer to resolve. If you have suffered injuries in a truck accident, you may find yourself fighting an insurance company with one goal: to pay you little or nothing for your losses. If you choose to hire the legal team at Arash Law, you will never fight alone.
The lawyers at Arash Law, managed by Arash Khorsandi, Esq., have decades of experience helping accident victims across the state recover more than $500 million in compensation. We want to help you, too.
Our offices serve Lakewood, and surrounding areas, including Lynwood, Long Beach, Cypress, Downey, Compton, Rossmoor, La Palma, Los Alamitos, Norwalk, Cerritos, Signal Hills, Hawaiian Gardens, Artesia, Paramount, and Bellflower.
Contact us today at (888)-488-1391 or via chat to schedule a free, no-obligation case evaluation with one of our dedicated truck accident lawyers in Lakewood, California. We look forward to hearing from you!