Our Madera County Injury Law Firm

Doesn't Just Win,


We Win Big!
You May Be Entitled to Compensation

largest animal attack settlement in 2020 for California; client suffered Traumatic Brain Injury
– 
JUDD ROSS ALLEN
IF YES, You may be able to recover financial compensation. TELL US MORE: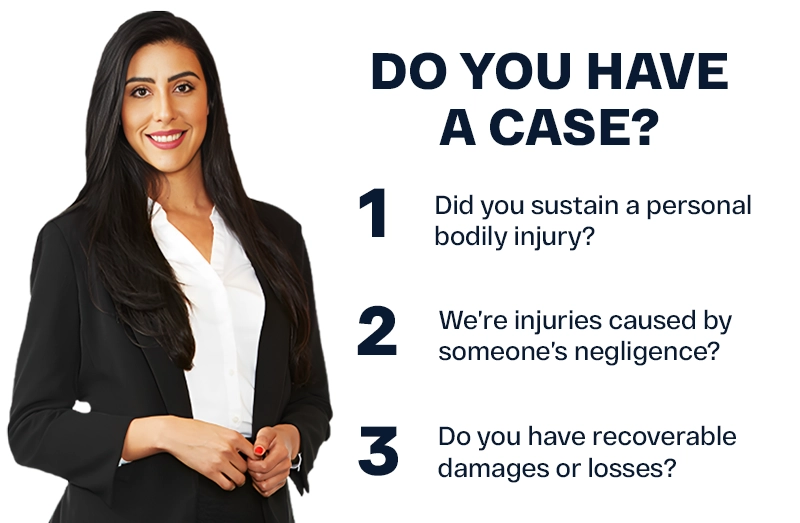 IF YES

, You may be able to recover financial compensation.

TELL US MORE:
The Most Prevalent Types of Cases Our Madera Personal Injury Law Firm Handles
Madera County's largest employers are hard-working individuals. Central Valley packing houses operate day and night, handling fruits and vegetables. Georgia-Pacific's constant activity throughout the season keeps the lumber industry humming. Additionally, the wine industry's popularity greatly increases the region's appeal.
While Madera County offers abundant opportunities, the bustling environment can pose natural hazards throughout the city. Injuries can happen anywhere, on any street in Madera. It doesn't matter if you're an employee, a driver, a shopper, or a pedestrian; people can get injured and need genuine support at any time.
We are here to assist various types of injury victims, and below is a partial list of the cases we can help with:
Car Accidents
Bicycle Accidents
Uber Accidents
Pedestrian Accidents
Truck Accidents
Dog Bites
Workplace Accidents
Wrongful Deaths
Motorcycle Accidents
Slip-and-Fall Accidents
Victims in Madera County can turn to our injury law firm for assistance in a wide variety of cases.
Madera County Accidents: A Look at the Most Common Injuries Suffered
Regardless of the cause of your accident in Madera County, your primary concern is your injuries. As a top-rated Madera injury law firm, we frequently assist clients who have experienced different traumatic injuries in highway accidents. Some of the most prevalent injuries our clients suffer include:
Broken bones
Cuts and lacerations
Head, neck, and spinal injuries
Internal bleeding and organ damage
Paralysis and nerve damage
Traumatic brain injuries
We understand the gravity of these injuries and have extensive experience handling trauma cases. Our team is dedicated to providing the legal assistance and support you need during this challenging time.
What to Do After a Personal Injury Accident in Madera County
Suppose you are involved in a car accident on Cleveland Avenue or slip in a puddle at Walmart in Madera. In that case, it is crucial to gather the necessary evidence to hold the responsible party accountable. Here are some steps to consider.
Immediately call 911, and paramedics will assess your condition. Seek medical attention promptly, even visiting the emergency room if necessary. After a traffic accident, contact the Madera Police Department or the California Highway Patrol and provide them with a comprehensive account of what you observed before the accident. This will help them prepare a collision report.
If you are physically able to do so, gather relevant details at the scene before they are cleared or cleaned up.
Take photographs that depict the cause of your fall or the factors that led to your injury. In the case of a car crash, document the damage to the vehicles, motorcycles, or bicycles involved. Capture images of any visible injuries and clothing damage. It is also critical to photograph the entire scene.
Obtain contact information from any witnesses present at the scene. Your Madera personal injury accident lawyer may use their testimony as valuable evidence.
Exchange contact and insurance information with all parties involved in the accident if the officers do not provide this information to you. Be cautious about what you say to other drivers. Statements like "I'm fine" or "My bad" could be manipulated by insurance companies to argue that you were not injured and were at fault.
Seek a medical evaluation from your doctor. It is essential to follow their recommendations, including attending physical therapy or visiting specialists, if advised.
Preserve any damaged clothing or personal property as evidence.
Contact our Madera County personal injury law firm as soon as possible. The earlier you involve a skilled attorney in investigating the incident, the better your chances of securing fresh evidence. This may include obtaining and preserving surveillance video footage, which could otherwise be erased.
Your attorney can expedite the submission of your claim, aiming for a fair settlement before medical bills strain your family. Taking these steps will help build a strong case, increasing the likelihood of a favorable outcome for your personal injury claim.
What Types of Damages Can You Claim in a Personal Injury Case?
Your personal injury law firm is committed to seeking the full extent of economic and non-economic damages you are entitled to as an injured party in Madera County. While the accident report will provide some parameters for the attorney to consider, additional information from the investigation or provided by you will play a crucial role in assessing the damages.
Economic damages are those with a measurable financial cost. Our attorneys will diligently work to help you recover damages from the negligent party's insurance company. These damages can be quantified based on their actual financial impact on you, allowing for a calculation of their worth.
Medication and medical equipment
Physical or occupational therapy
Hospital bills
Cost of ongoing treatment
Loss or damage to property
Loss of income
On the other hand, non-economic damages are more challenging to determine as they are based on the impact on your quality of life. Skilled and experienced personal injury lawyers in Madera, CA, understand the importance of accurately assessing the value of non-economic damages.
Loss of consortium
Physical pain
Emotional anguish
Post-traumatic stress disorder (PTSD)
Your attorney will consider these subjective factors and seek a settlement that reflects their impact on your life.
By thoroughly evaluating economic and non-economic damages, your personal injury law firm aims to ensure that you receive appropriate compensation that addresses the full extent of your losses and helps you move forward after the accident.
Don't Wait! Your Family Can Seek Compensation for Negligent Accidents Too
A strict confidentiality agreement between the personal injury attorney and the accident victim typically governs the attorney-client relationship in personal injury cases. However, it is essential to note that this standard arrangement may not apply.
Families of injured individuals may be included as clients in some cases. There is no limit to the number of claims that relatives can make in California, even in the absence of a fatality. In this way, the family members of those who have suffered harm due to negligence can seek justice and compensation.
In the event of negligence resulting in injury, it is imperative that you contact one of our attorneys. Our Madera County law firm offers free consultations to discuss your case and provide guidance and support. We are committed to protecting your rights and pursuing the compensation you deserve, and we understand the complexities of personal injury law.
Using our free consultation, you can better understand your legal options. You can also make informed decisions about your case. Do not hesitate to contact us as soon as possible to ensure your rights are protected. This will enable you to begin the process of seeking justice for your injuries.
Proving Fault for Your Settlement: Madera County Personal Injury Law Firm is Here to Help
Establishing fault is crucial when it comes to personal injury cases in Madera, CA, whether they involve minor lacerations or wrongful death suits. The following elements are involved in this process:
Duty of Care: Your professional lawyer at our Madera injury law firm will strive to prove that the negligent party had a duty of care. For example, in car accidents, the driver is expected to operate the vehicle safely, responsibly, and considerately.
Our role is to conduct thorough investigations, review relevant documents, interview witnesses, and ensure that the insurance company understands the gravity of the situation. You deserve this, especially after experiencing initial mistreatment from the insurer when reporting the incident.
Breach of Duty: A personal injury attorney must also prove that there was negligence on behalf of the negligent party, showing they failed to prevent the accident that caused the injury or death.
Causation: In Madera County personal injury cases, the lawyer must establish a clear link between the accident and your injuries. It is necessary to demonstrate that the medical attention you received was a direct result of the accident and was necessary for your recovery.
By addressing these elements clearly and logically, the attorneys at our Madera County injury law firm can build a strong case on your behalf. Establishing fault is essential to seeking compensation for your injuries and damages. Trust in our expertise to handle your case effectively and diligently.
Insurance Companies Calling? Here's How to Respond
When the auto insurance company becomes aware of an accident, a claims representative contacts you and requests a recorded statement. You should decline their request and direct them to your lawyer in such situations. This is especially true if you have already secured legal representation. Why? Innocent statements can be twisted or misconstrued to suggest that the accident was your fault or that your injuries are insignificant.
Furthermore, the claim adjuster may attempt to pressure you into accepting a settlement offer that is substantially lower than what you deserve based on the extent of your medical bills, lost wages, and other damages incurred.
By involving your lawyer and refraining from providing a recorded statement or accepting an inadequate settlement, you protect yourself from potential harm and increase your chances of obtaining fair and just compensation for your injuries and losses. Your lawyer will guide you through the negotiation process, ensuring that your rights are upheld and you receive the total compensation you are entitled to.
Experience the Winning Difference with Our Madera Injury Law Firm
Comprehensive Coverage: Arash Khorsandi Esq., founded the highly regarded statewide injury law firm Arash Law, which has received recognition from prestigious organizations in our sector for its exceptional track record.
Reliable Support: With a dedicated team of over 50 legal professionals, we provide unwavering support just a phone call away. Our round-the-clock availability, 365 days a year, ensures assistance whenever needed.
Personalized Attention: Each of our clients is assigned a dedicated case manager who will address your inquiries and guide you through every step of the legal process, ensuring your concerns are promptly addressed.
Established Experience: With over three decades of experience in the personal injury legal field, our firm has demonstrated stability and longevity. While competitors may come and go, we remain a trusted industry presence.
Integrity at the Core: Our respected law firm has cultivated a solid client base through compassionate service and unwavering integrity. We operate on a contingency fee basis, meaning you will only be charged if we secure a favorable outcome for your case. Your satisfaction and fair compensation are our primary goals.
Convenient Accessibility: We prioritize your convenience by offering flexible arrangements. Whether it's a free in-person consultation at your preferred location, be it your home, office, bedside, or one of our multiple office locations across California, we accommodate your schedule.
Top-tier Medical Resources: With a stellar reputation in the field of accidents and injuries, we have access to the finest doctors and medical teams throughout California. Regardless of your location—Los Angeles, Riverside, San Diego, or Orange County—we can connect you with specialists without upfront bills and fees. Your well-being is our utmost priority.
At our law firm, we pride ourselves on the qualities that set us apart. This ensures you receive exceptional legal representation, personalized care, and the highest chance of securing a favorable outcome in your injury case.
Contact Our Best Injury Law Firm in Madera County Today
Have you experienced a devastating incident? Suppose you have sustained a personal injury due to another party's negligence in Madera, California. In that case, our highly regarded law firm is here to help you secure the compensation you deserve from the relevant insurance company.
Our top-rated personal injury law firm in Madera County is dedicated to addressing your concerns throughout the entire claims process. We are prepared to provide legal representation during negotiations and in court. Our services extend beyond Madera County, covering areas such as Fresno, Modesto, Stockton, San Jose, Fremont, Bakersfield, Oakland, Sacramento, and San Francisco.
To initiate the process, we invite you to contact us at (888) 488-1391 and schedule a free consultation with our esteemed and award-winning attorneys. We are committed to understanding your unique circumstances and fighting for your rights to secure the compensation you deserve.
Record-Breaking Verdicts in the Following Areas of Practice
Get The Latest News from

The Best California Accident Law Firm Today