Our Plumas County Injury Law Firm

Doesn't Just Win,


We Win Big!
You May Be Entitled to Compensation

Get The Compensation You Deserve With

Plumas County's Top-Rated Injury Law Firm
Plumas County is a scenic region in Northern California known for its natural beauty and recreational opportunities. However stunning a place can be, accidents can still occur, causing severe injuries and disrupting the lives of individuals and families. Our top-rated Plumas County injury law firm can help you recover during these times of distress.
Arash Law, under the direction of Arash Khorsandi, Esq., takes great pride in offering unwavering support to injury victims during their most challenging times. Our dedicated team ensures that insurance companies and defense attorneys genuinely understand our clients' perspectives. The exceptional outcomes we achieve – including securing over $500 million in settlements – stand as a testament to our efforts.
Does v. California Farm (confidential) –settlement for a group of farmworkers who were killed when the car they were transported in to work flipped over in Merced County.
– 
BENNY KHORSANDI
IF YES, You may be able to recover financial compensation. TELL US MORE: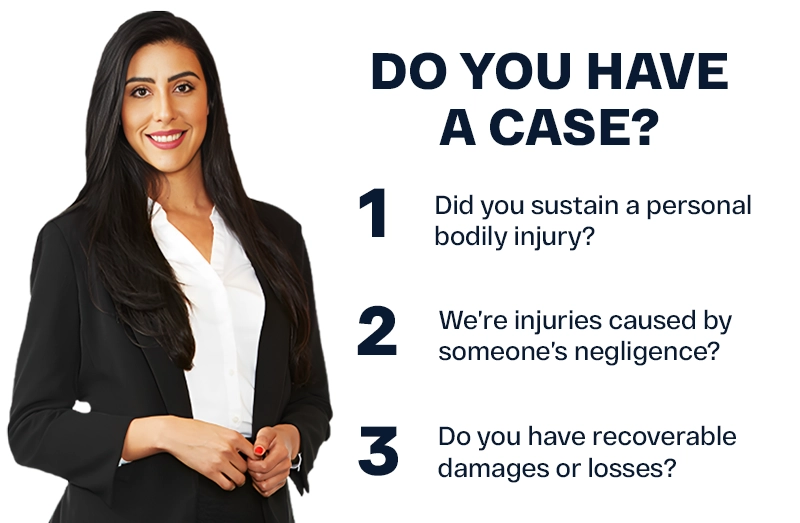 IF YES

, You may be able to recover financial compensation.

TELL US MORE:
What Types Of Cases Does Our Plumas County Injury Law Firm Handle?
Regarding personal injury cases, each situation is unique and requires the expertise of a seasoned professional with a track record of success in handling cases similar to yours. At our reputable injury law firm, we have a proven record of securing substantial settlements and favorable verdicts in a wide range of personal injury and wrongful death cases. Some of the cases we have successfully handled include:
Auto Accidents
Motorcycle Accidents
Truck Accidents
Pedestrian Accidents
Bus Accidents
Train Wrecks
Bicycle Accidents
Rideshare Accidents
Plane Accidents
Traumatic Brain Injuries
Spinal Injuries
Dog Bites
Premises Liability
Slip-and-Fall Accidents
Wrongful Death
By entrusting your case to us, you can have confidence that you are working with a legal team with the knowledge, experience, and dedication to pursue the best possible outcome for your situation.
What Damages Can You Recover from Your Personal Injury Claim?
In Plumas County personal injury cases, various damages can be pursued to seek compensation for harm suffered. Here are common types of damages:
Economic Damages: Tangible losses with a monetary value, including medical expenses, lost wages, property damage, and out-of-pocket expenses.
Non-Economic Damages: Subjective losses compensating for intangible impacts, such as pain and suffering, loss of enjoyment of life, loss of consortium, and disfigurement or permanent disability.
Punitive Damages: Awarded in exceptional cases involving heinous actions or intentional misconduct, aimed at punishing the defendant and deterring similar behavior.
Consulting with the top personal injury law firm in Plumas County will clarify the specific damages relevant to your case and the potential compensation you can pursue.
Personal Injury Settlement
Our client was the victim of a rear-end accident who was left injured and severely in pain. Arash Law was able to outshine other injury law firms when he searched online, and thankfully we were able to handle everything for our client from A to Z — All that he had to do was ask and focus on his recovery. Our client's life has changed forever, and the compensation received for the pain and suffering has opened paths for new lifelong opportunities.
Personal Injury Settlement
Our client was the victim of a rear-end accident who was left injured and severely in pain. Arash Law was able to outshine other injury law firms when he searched online, and thankfully we were able to handle everything for our client from A to Z — All that he had to do was ask and focus on his recovery. Our client's life has changed forever, and the compensation received for the pain and suffering has opened paths for new lifelong opportunities.
How to Prove Fault in a Personal Injury Case
Proving fault in a personal injury lawsuit in Plumas County requires four essential facts:
Duty of Care: The defendant is responsible for exercising a duty of care towards the plaintiff. This involves identifying the defendant and determining the level of reasonable care expected in the given situation that led to the injury.
Breach of Duty: It must be demonstrated that the defendant breached their duty of care either through intentional actions or negligence. Specific actions or inactions by the defendant must be identified as violations of their duty.
Direct Causation: The defendant's actions or negligence must be shown to be the direct cause of the damages suffered by the plaintiff. Only losses the defendant directly caused are eligible for inclusion in the personal injury claim, and an attorney can help calculate these damages.
Absence of Alternative Causes: It is crucial to establish that the plaintiff's damages resulted solely from the defendant's breach of duty and not from any other cause. Clear evidence of causation is necessary to demonstrate that the damages did not arise from another source.
Establishing Legal Liability in Personal Injury Cases
The first crucial step for an attorney in personal injury or wrongful death cases is determining the responsible party. Thorough research is conducted to understand the accident's circumstances, such as car collisions, medical malpractice incidents, animal bites, or injuries caused by defective products. Our Plumas County injury law firm employs skilled investigators to assist in this process, and during a free consultation, we can discuss if this applies to your case.
Elements of Legal Liability
After identifying potentially liable parties, successfully proving the elements of negligence becomes vital. Comprehensive documentation and thorough research are essential factors in winning cases in Plumas County.
Proving the Elements of Legal Liability
Several elements contribute to proving negligence, including police records, medical bills, expert witnesses, videos, pictures, and notes. It is important to note that wrongful death cases tend to be more complex, requiring extensive information gathering by the attorney.
Expert Witness Examination and Testimony
In certain situations, your lawyer may call upon expert witnesses to examine specific evidence, providing valuable insights into how the injuries occurred and how the opposing party displayed negligence.
Once all the evidence has been gathered, your attorney can proceed with filing the legal claim. This may involve interviewing the defendant, examining their phone records, and reviewing other relevant reports to strengthen the case. Negotiations can be conducted in collaboration with the opposing party's lawyer if feasible.
By understanding these processes and working closely with a seasoned personal injury law firm, you can effectively establish legal liability and pursue the compensation you deserve.
How Long Can I File a Personal Injury Lawsuit in Plumas County?
When constructing your personal injury case, it is essential to understand the concept of the "statute of limitations." This term refers to the specific deadline by which you must file a lawsuit. The statute of limitations holds great significance because, in certain circumstances, reaching a settlement agreement with the involved parties may prove challenging. Should this occur, you may choose to initiate a lawsuit to pursue the rightful compensation you deserve. However, being mindful of the statutory deadline is crucial, as allowing it to pass can impede your ability to sue the other party.
According to California Code of Civil Procedure (CCP) 335.1, you generally have a two-year window from the date of injury to file your personal injury lawsuit. The same timeframe applies if you file a wrongful death lawsuit, starting from the date of your loved one's passing. It is important to note that specific situations, such as suing a government agency, may impact the deadlines in personal injury or wrongful death cases.
To ensure you meet the necessary deadlines and protect your rights, seeking guidance from an experienced injury law firm in Plumas County is crucial. We can provide tailored advice that suits your particular circumstances and assist you in navigating the complexities of your personal injury or wrongful death claim within the required timeframe.
Are you in Plumas County? Search For "The Best Injury Law Firm Near Me" – You'll Find Us!
Arash Law, under the direction of Arash Khorsandi, Esq., stands out as one of California's most well-known and successful injury law firms. With a legal team of over 100 dedicated professionals, we are committed to delivering unparalleled customer service and outstanding results. Our highly skilled trial attorneys have secured multimillion-dollar verdicts and settlements in cases involving catastrophic injuries and wrongful deaths.
We understand the significance of your case and are devoted to obtaining compensation for victims harmed by the negligence of others. We recognize that injuries and accidents can be life-altering events, necessitating the best medical attention and care from experienced professionals. We aim to ensure you receive the necessary medical treatment to restore your health and happiness.
With a track record of successfully recovering over 500 million dollars for victims of car, truck, motorcycle, Uber, Lyft, bicycle, pedestrian, and other accidents, our injury law firm has been fighting for the rights of Plumas County residents and their families for decades.
Serving clients in Plumas County and surrounding postal codes such as 95915, 95923, 95934, 95947, 95956, and many more, our injury law firm is here to assist you. Additionally, we can extend our help to accident victims in nearby cities, including Sacramento, Stockton, Modesto, Oakland, San Francisco, Fremont, San Jose, Fresno, and Bakersfield.
Do I Need the Help of a Personal Injury Law Firm in Plumas County?
When you experience a personal injury, seeking compensation for medical expenses, lost wages, and the pain and suffering you endure becomes crucial. However, navigating the legal process and ensuring justice is served often requires the expertise of an experienced attorney. We offer invaluable assistance and direction at Arash Law, under the direction of Arash Khorsandi, Esq., to significantly increase the value of your case.
As a reputable personal injury law firm, we offer the following services:
Handling all communication related to your claim or case: We take charge of all interactions with insurance adjusters, relieving you of the stress and pressure associated with these conversations. Our attorneys are well-versed in the tactics used by insurance companies and ensure that your rights are protected throughout the process. This allows you to focus on your recovery without the added burden of dealing with insurance companies directly.
Assisting you in finding quality medical treatment: Besides providing legal representation, we go above and beyond to help you access the necessary medical care for your recovery. Our firm offers invaluable guidance in understanding your injuries and navigating the healthcare system. We ensure you receive the care you need while helping you address the financial aspects of medical treatment.
Building a strong case for maximum compensation: We have earned a reputation for creating compelling demand packages that prompt insurance companies to offer fair settlements prior to trial. This approach saves you time and money by securing your compensation sooner. When presenting a demand, we ensure that the insurance company takes notice. In cases where adequate compensation is not offered, we are fully prepared to advocate for your rights in court, seeking justice through a jury trial.
Winning is the Only Option: No Win, No Fee Legal Services
Are you questioning the value of hiring an injury law firm and whether it's worth the investment? In California, most personal injury attorneys operate on a contingent fee basis. This means you will only pay legal fees if we successfully win your case and secure compensation for your injury. Our fees are calculated as a percentage of the amount we recover on your behalf.
Contingent fees exist to ensure that individuals who have suffered injuries can pursue fair compensation without the burden of upfront legal costs. This fee structure allows injured Californians to access legal representation without financial worry.
In most personal injury cases, the fee is typically set at 33 percent, roughly one-third of the net settlement. However, the law may require a different fee arrangement, such as a contingency fee, in certain circumstances. The specific fee arrangement will be thoroughly discussed and outlined in our agreement at the outset of your case.
By working with us, you can rest assured that our fees align with the outcome of your case, making legal representation accessible and removing any concerns about upfront payments.
Let Us Handle the Insurance Hassle While You Focus on Recovery
Our personal injury law firm possesses extensive knowledge and expertise in handling personal injury cases, equipping us with the necessary strategies to maximize your chances of success.
We understand the intricacies of dealing with insurance companies and negligent parties, enabling us to secure fair settlements on your behalf.
Rest assured that our firm fully abides by the legal requirements and obligations that govern the attorney-client relationship. When you hire our services, you can expect all the essential elements that any reputable law firm must provide, ensuring a professional and ethical partnership throughout your case.
Experience The Best Legal Representation. Contact Our Plumas County Injury Law Firm Today!
At our Plumas County injury law firm, we prioritize personal attention and exceptional client service. We firmly believe in treating each client as an individual, not just a number. If you have any questions or concerns, please contact us without hesitation. We are committed to promptly returning your calls and emails, providing thorough answers to your inquiries, and keeping you informed throughout the entire process.
Our dedicated attorneys will conduct a comprehensive investigation of your accident – leaving no stone unturned – to build a compelling case before commencing settlement negotiations. We understand the importance of a strong foundation for your claim.
Record-Breaking Verdicts in the Following Areas of Practice
Get The Latest News from

The Best California Accident Law Firm Today