Prynsess Brazzle Commemorated With a Rainbow Halo
Pryness Brazzle was a 22-year-old woman who was killed by a hit-and-run driver at the intersection of Pacific and Rose Avenues on August 22, 2021. Pryness was a Georgia native who went to Los Angeles with a mission; she wanted to help people experiencing homelessness. Unfortunately, she met her unexpected demise when she was struck by a hit-and-run driver last August.
Halos were installed all over the city by the Los Angeles Department of Transportation (LADOT) to commemorate hit-and-run accident victims like Pryness. The halos were placed to mark the locations where irresponsible drivers killed these innocent victims.
What Do These Halo Rainbows Symbolize?
"Rainbow halos" have been installed over the greater Los Angeles area. The sun shines through these rainbow-colored discs, which are positioned so that they let the light shine through them. These rainbow halos are erected in places where people have been killed on the road.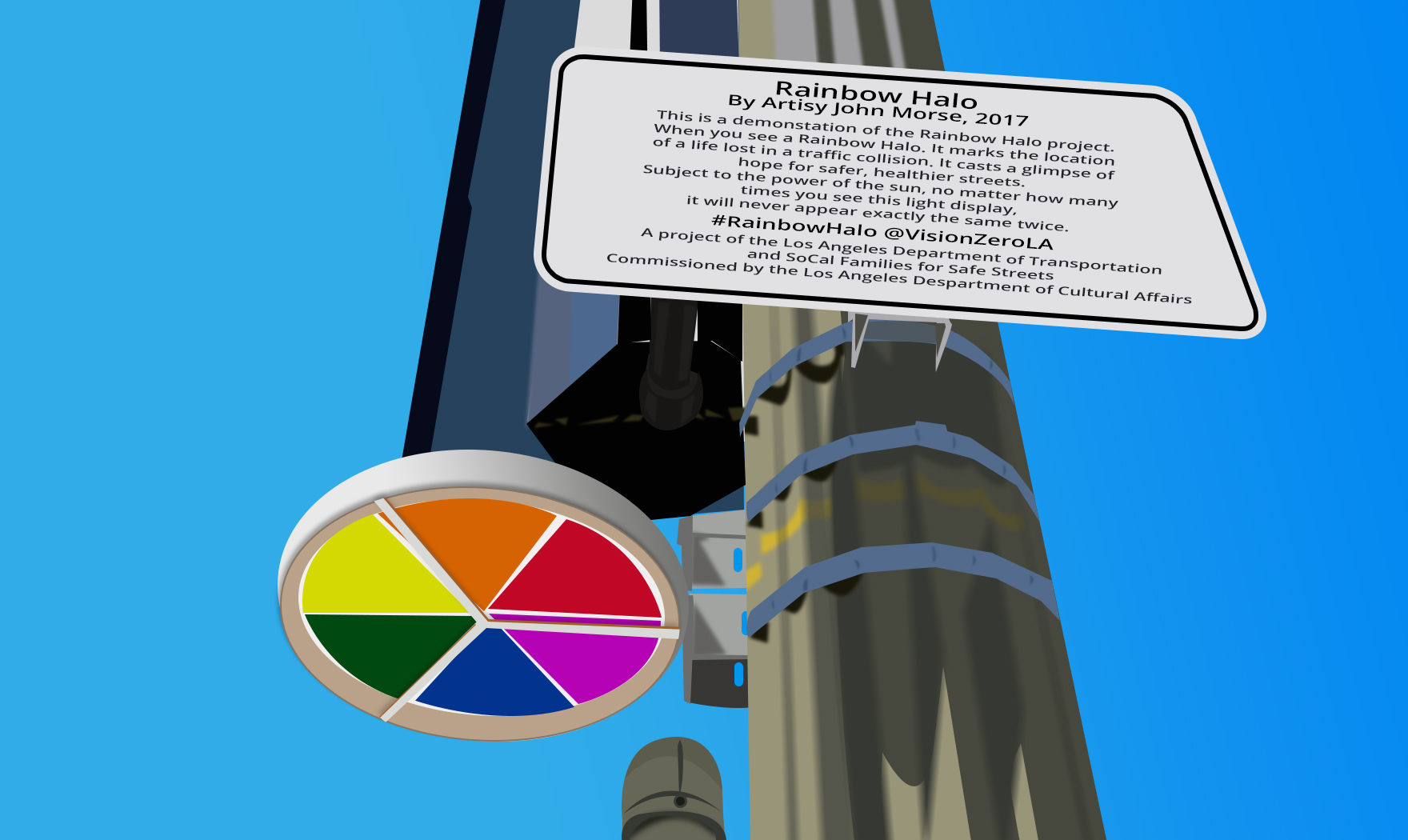 Photo Credits:
· Image - LADOT
A halo was placed at the intersection of Woodman Avenue and Addison Street in Sherman Oaks, California, to commemorate a jogger killed there when he was sixteen years old. The victim was a Notre Dame High School cross country athlete. When he was struck and killed while out for a jog, his potential future was ended.
Collaboration between city departments, artists in residence, and non-profit groups created this art project. A partnership between LADOT and the Department of Cultural Affairs (DCA) allows artists to work on projects relevant to Vision Zero, the global initiative to eradicate traffic-related violence. The haloes were designed by an artist named John Morse. A sad but hopeful message hides behind a stunning piece of public art in Los Angeles: too many people are killed on the city's roads every day.
The damages caused by careless drivers must be compensated. Those responsible for allowing deadly conditions to persist on our roads must be held accountable. This is the only way to ensure that our roads are safe for everyone in the future. Southern California Families for Safe Streets and Los Angeles Walks, two non-profit organizations, worked with the city and the artist on the project. The first halo was put in place in 2019 and is now operational.
SoCal Families for Safe Streets
Approximately 250 people are killed, and 1,000 are badly injured in traffic collisions in Los Angeles each year. SoCal FSS (Southern California Families for Safe Streets) is a collection of people who have lost a loved one or survived a serious traffic collision.
SoCal FSS strives to increase awareness of this tragedy and offers sympathy and avenues for action to people who share this grief. It is a project of Los Angeles Walks, a non-profit organization based in Los Angeles, California. The installation of John Morse's rainbow halos results from the collaboration between the city's Department of Cultural Affairs and the Department of Transportation.
While some have already been erected, city officials have stated that they hope to have 100 memorials honoring the lives lost in traffic accidents across the city by the end of the year. Families whose loved ones have been killed or gravely injured by a driver are being consulted by the Los Angeles Department of Transportation (LADOT) to select the locations for the rainbow halos. The rainbow halos are seen as a physical sign that street safety improvement are needed to prevent traffic deaths.
Beacon of Hope for a Safer Future
Accountability is the first step. Road users must all do their part to ensure the safety of the roadways, from drivers to pedestrians to bicyclists. Distracted driving, driving while intoxicated, and other careless behaviors on the road must be avoided at all costs.
Although it is not against the law in California, "lane splitting" can be extremely hazardous. The DMV's general lane-splitting guidelines should be followed by motorcycle riders to ensure that they do so as safely as possible. People on bicycles, especially pedestrians, need to be aware of their surroundings.
Unfortunately, drivers have a hard time seeing pedestrians and bicyclists on the road, especially at night. Walking or biking at night requires the wearing of light-colored clothing. Make your presence known using reflective tape (or if you're biking, your bell or headlight).
Eye contact and hand signals are the best ways to let drivers know where you'll be going next. Always be ready to halt at the drop of a hat. Prepare yourself to get out of the way when a driver fails to yield the right of way (even if it is yours).
Those guilty of causing an accident must be held accountable. Making an insurance claim is a way to face the consequences of one's reckless driving. These personal injury claims protect a victim's entitlement to compensation, but they also serve as a deterrent for future acts of negligence. Accidents can be avoided in the future, saving lives.