A 51-year-old man was seriously hurt after a hit-and-run driver struck his scooter at Highway 12 on Thursday afternoon, July 1.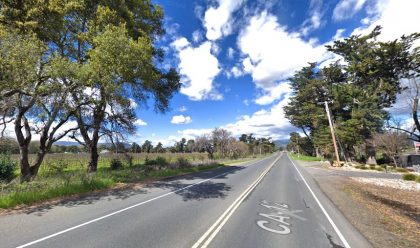 According to the initial reports from local authorities, the accident transpired at around 3:30 a.m. at Highway 12 and Highway 101. The victim entered the freeway in his 200y6 JMStar 150 cc scooter and attempted to merge from the onramp into the No. 2 lanes of eastbound Highway 101.
Unfortunately, as the man tried to make a lane change, a white Nissan pickup suddenly struck him. The Nissan driver did not stop at the scene and drove away. Due to the severity of the impact, the man was ejected from his scooter, and the scooter slid for approximately 100 feet.
The man riding the scooter sustained major injuries from the accident. He was rushed to Providence Santa Rosa Memorial Hospital for treatment. The vehicle that struck the man was described to be a Nissan pickup, possibly a Titan or Frontier. It was last seen heading east on Highway 12.
An investigation of the case is currently underway. Witnesses that can give additional details about the accident are urged to call Officer Montgomery at the Santa Rosa Area CHP Office at 707-588-1400.

Hit-and-Run Scooter Accident Statistics
Electric scooters have become a popular alternative mode of transportation in California. They have quickly become one of the most convenient and inexpensive methods of traveling short distances across our state's major cities. Unfortunately, they have also caused many serious injuries, and the number of accidents is undoubtedly rising.
It is estimated that approximately 249 emergency room visits were made in connection with standing electric scooters between September 1, 2017, and August 2018, according to medical data collected by two UCLA hospitals located in Los Angeles and Santa Monica. These patients were either struck by cars or fell off their electric scooters, which happened to the majority of them. An electric scooter accident can result in severe injuries such as dislocations, bone fractures, lung contusions, soft-tissue injuries, and a laceration of the spleen or splenic laceration.
Personal Injury Attorney for Victims of Hit-and-Run Scooter Accidents in Sonoma County
If you suffer a personal injury resulting from another person's carelessness, you have the legal right to seek compensation for your losses. It is possible to lose your legal rights if you do not seek the advice of an experienced personal injury attorney. Getting legal advice as soon as possible after any type of accident, including an e-scooter accident, is critical to your recovery.
Our attorneys from Arash Law can give you the legal guidance you need when navigating your claim. Arash Law has recovered more than $500 million in compensation on behalf of our clients to date. We have offices in several California cities, including San Francisco, Riverside, San Jose, San Diego, Sacramento, Sherman Oaks, etc. In addition, we provide legal services in several different languages. Call Arash Law at (888) 488-1391 or send us an email today to schedule your free, no-obligation fatal car accident case review.