An unidentified woman was killed after a deadly pedestrian accident in Porterville on Thursday morning, July 29.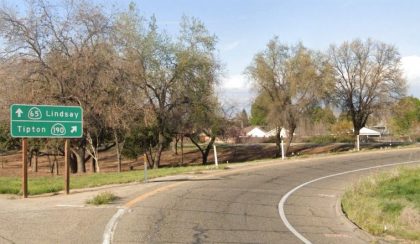 According to the initial reports from the Porterville Police Department, the accident happened shortly before 5:00 a.m. on Highway 190 in Porterville. The 43-year-old woman exited her vehicle and was attempting to head southbound on the highway when an eastbound vehicle suddenly struck her.
Emergency personnel then arrived at the scene and immediately rushed the woman to an area hospital, where she later died. The driver that struck the woman remained at the scene and was cooperative. It was unclear what caused the driver to struck the victim.
Information about the accident is limited at the moment. Drugs and alcohol were not suspected to be factors in the accident. The identities of the involved parties have not been disclosed. Local authorities are further investigating the case.

Fatal Pedestrian Accident Statistics
Pedestrian accidents are more likely to result in death than other types of accidents because pedestrians are unprotected compared to a collision involving two motor vehicles in which both sides are protected not only by seatbelts and airbags but also by a multi-ton vehicle. Pedestrian fatalities in the U.S. have become a growing concern over recent years. Pedestrian deaths have increased by 27 percent from 2007-2016, while other traffic-related deaths decreased by 14 percent.
Pedestrian accidents often lead to severe injuries and even death to those unlucky enough to be involved in such an accident. Common injuries resulting from pedestrian accidents are head trauma like concussions or brain bleeds, traumatic brain injuries, and many other debilitating injuries. Some common reasons for pedestrian accidents are negligent driving, speeding, and drivers failing to yield to pedestrians.
Tulare County Wrongful Death Attorney for Victims of Fatal Pedestrian Accidents
The grief and sorrow that the victim's family is currently experiencing may lead them to make unwise decisions on their case. This is why hiring an experienced Tulare County wrongful death attorney is highly recommended. An attorney can help the victim's family file a wrongful death claim which can allow them to seek compensation for the damages the accident has caused them. These damages can include loss of income, funeral expenses, pain and suffering, and emotional distress.
Our attorneys from Arash Law will vigorously fight for their client's rights and best interests while ensuring that the liable party will be held accountable for their negligence. With many decades of experience in settlement negotiations and litigation, the California pedestrian accident lawyers at Arash Law know what it takes to succeed in California pedestrian accident claims. We will tailor our legal strategies to the unique circumstances of your case.
Our attorneys will compile evidence, talk to eyewitnesses, and possibly consult expert witnesses to ensure your claim is as strong as possible before we enter settlement negotiations. We can also handle talks with the insurance company, calculate your damages, and use proven legal strategies during settlement negotiations and potential litigation. Call our hotline now at (888) 488-1391 for a FREE Consultation or pay us a visit in one of our offices in Los Angeles, Sacramento, San Francisco, Riverside, Orange County, and San Diego.