Our Vallejo Injury Law Firm

Doesn't Just Win,


We Win Big!
You May Be Entitled to Compensation

Trust Vallejo's Best

Personal Injury Law Firm To Get You The Compensation You Deserve
Vallejo is a vibrant city that welcomes people from all walks of life and offers a plethora of opportunities for a fulfilling life. With its diverse community, cultural richness, and scenic surroundings, the city has become a sought-after destination for residents and visitors alike. However, like any bustling urban area, Vallejo residents are not immune to accidents and the potential for personal injury. During these challenging times, you can trust Vallejo's best personal injury law firm to get you the compensation you deserve.
Whether it's a car accident on the busy streets or a slip-and-fall incident at a local establishment, unforeseen accidents can disrupt the lives of individuals and cause physical, emotional, and financial distress. At Arash Law, under the supervision of Arash Khorsandi, Esq., we take pride in providing personalized attention and support to our clients in Vallejo. We understand that each case is unique and requires tailored legal solutions. Our injury law firm prioritizes clear and open communication, ensuring that you are informed at every step of the legal process and that your questions and concerns are addressed promptly.
With decades of experience and a track record of successfully settling and litigating thousands of cases, we possess the expertise and resources necessary to secure substantial compensation for you. Take the first step towards justice by calling (888) 488-1391 today!
SM v. Doe Defendant (settled on 10/14/2020) – settlement in a case involving a client who sustained a spinal cord injury and mild traumatic brain injury when he fell off a roof. The team at Arash Law secured an additional $610,000 as part of the third party settlement.
– 
TINA ESHGHIEH
IF YES, You may be able to recover financial compensation. TELL US MORE: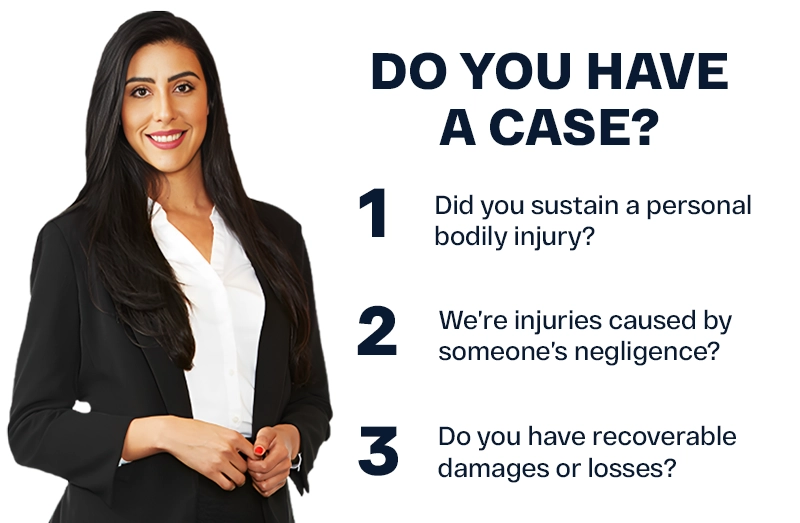 IF YES

, You may be able to recover financial compensation.

TELL US MORE:
Beware of These Dangerous Roads in Vallejo, California
Even in the most secure cities and with stringent precautions, accidents can still occur. Therefore, it is crucial to stay informed if you find yourself involved in an accident.
Certain intersections have been identified as particularly hazardous in the city of Vallejo. It's essential to be aware of these locations:
Mini Drive at Sonoma Boulevard and State Route 29
Diana Drive at Mini Brive
Redwood Street at CA-29
Admiral Callaghan Lane at Redwood Parkway
Admiral Callaghan Lane at Rotary Way
Broadway Street at Sereno Drive
Redwood Street at Tuolumne Street
Admiral Callaghan Lane at Humboldt Street and Tennessee Street
Curtola Parkway at Lemon Street
Alameda Street at Tennessee Street
By being knowledgeable about these high-risk intersections, you can exercise extra caution and take appropriate measures to prevent accidents.
What is a Personal Injury Law
Personal injury law falls under civil law and is specifically designed to compensate individuals who have suffered injuries or experienced social wrongs. In such cases, the victim initiating the legal action is known as the "plaintiff," while the individual or entity being sued is referred to as the "defendant." A surviving family member of the deceased can also file a wrongful death suit on the victim's behalf in cases where the accident results in death.
Personal injury law covers a wide range of factors and topics. If you or a loved one have been injured in any way, it is advisable to seek guidance from a Vallejo personal injury law firm that can assess your situation and advise you on the right course of action.
In some cases, multiple parties may bear responsibility for the accident that caused the plaintiff's injuries. The plaintiff may bring lawsuits against all responsible parties, or one defendant may claim that another person or group shares the blame, leading to their involvement in the lawsuit as a cross-defendant.
Since the plaintiff is the one bringing the legal action against the defendant, they bear the burden of proving their case. The burden of proof in personal injury cases is generally lower than in criminal cases, even if other aspects remain the same. This distinction exists because civil liability is generally considered less blameworthy, and the penalties in civil cases are typically less severe than those in criminal cases.
In civil personal injury cases, the focus is primarily on obtaining monetary compensation from the defendant rather than seeking punishment in the form of imprisonment or other criminal penalties. If you have suffered an injury, it is essential to consult with a Vallejo personal injury law firm to understand the potential compensation you may be eligible for.
Personal Injury Settlement
Our client was the victim of a rear-end accident who was left injured and severely in pain. Arash Law was able to outshine other injury law firms when he searched online, and thankfully we were able to handle everything for our client from A to Z — All that he had to do was ask and focus on his recovery. Our client's life has changed forever, and the compensation received for the pain and suffering has opened paths for new lifelong opportunities.
Personal Injury Settlement
Our client was the victim of a rear-end accident who was left injured and severely in pain. Arash Law was able to outshine other injury law firms when he searched online, and thankfully we were able to handle everything for our client from A to Z — All that he had to do was ask and focus on his recovery. Our client's life has changed forever, and the compensation received for the pain and suffering has opened paths for new lifelong opportunities.
Proving Fault in a Personal Injury Case in Vallejo, California
To ensure a successful personal injury claim, you must establish four essential factors:
Duty of care: Identifying the defendant and establishing the duty of care they owe you is crucial. This involves determining the level of reasonable care and caution expected in the specific situation that led to your injury. For example, in California, all drivers have a duty of care to avoid driving under the influence of drugs or alcohol.
Breach of duty: It is necessary to demonstrate how the defendant violated their duty of care through intentional or negligent actions. This can be proven by showing specific actions or a failure to act. For instance, if a driver were using their cell phone while driving, it would constitute a breach of their duty to operate the vehicle attentively.
Causation: Direct causation must be established, linking the defendant's actions to the damages you have suffered. It is essential to prove that your losses were caused directly by the defendant's conduct in order to file a personal injury claim. Your attorney can help calculate and document these damages.
Absence of alternative causes: It is critical to establish that your damages solely resulted from the defendant's breach of duty and not from any other cause. This requires demonstrating a clear and direct connection between the defendant's actions and the damages you have experienced, ruling out other potential factors.
By meeting these requirements, a personal injury claim has a much higher chance of success. An experienced Vallejo personal injury law firm can help gather physical evidence from the incident scene and obtain statements from eyewitnesses who witnessed your injury. They may also collaborate with expert witnesses, such as accident reconstruction specialists, to provide valuable insights and support your case, particularly in car accident situations.
Types Of Vallejo Personal Injury Cases We Handle
Our reputable injury law firm in Vallejo is dedicated to assisting individuals in various types of accidents, extending beyond car accidents. Here are some additional areas where our firm can help:
Auto Accidents
Truck Accidents
Bus Accidents
Train Wrecks
Bicycle Accidents
Rideshare Accidents
Plane Accidents
Traumatic Brain Injuries
Spinal Injuries
Premises Liability
Slip-and-Fall Accidents
We also handle cases involving nursing home abuse, workplace accidents, landlord liabilities, childcare injuries, and more. If you have suffered injuries in an accident not mentioned above, please don't hesitate to contact us. We are here to discuss your situation and explore how we can help you obtain the justice and financial compensation you deserve for your economic and non-economic damages.
What Are The Damages You Can Recover From Your Personal Injury Case
Many injury accident victims often ask about the average settlement value for an accident in Vallejo. However, it's imperative to note that there is no standard value for car crashes or other personal injury cases. Each client's situation is unique, and the specific details of your case will determine the potential value of your claim. Be cautious of car accident settlement value calculators claiming to provide accurate estimates of your case's worth, as actual computations often need more information to provide an accurate assessment.
However, most injury accident claims seek compensation for various factors, including:
Emergency medical care
Hospital stays
Medical testing and imaging
Surgeries and other medical treatments
Medications and necessary medical devices
In-home or residential care
Physical therapy and rehabilitation
Lost wages
Lost benefits and missed opportunities
Personal property damage
Additionally, you may be entitled to seek compensation for non-economic damages, which can include:
Diminished quality of life
Reduced earning capacity
Emotional trauma
Pain and suffering
Permanent injuries and scarring
Partial or full disability
An experienced Vallejo injury law firm can help you estimate your claim's potential value accurately. We can guide you through the legal process, evaluate the specifics of your case, and recommend the most appropriate course of action to pursue fair compensation.
What If My Accident Involved A Drunk Driver?
If your accident involved a drunk driver, it is important to understand that operating a vehicle under the influence of alcohol or drugs is a clear act of negligence. However, simply acknowledging this fact may provide little solace to those who have experienced trauma or the loss of a loved one in an alcohol-related traffic accident. Holding the responsible party accountable and seeking compensation for your damages becomes crucial in such cases.
The motorist convicted of driving under the influence of drugs or alcohol bears the responsibility of covering all the damages you have suffered. Our Vallejo injury law firm specializes in helping locals who have suffered injuries in car accidents caused by drunk drivers. Our dedicated team is committed to advocating for your rights and ensuring that you receive the full compensation you deserve for the physical, emotional, and financial losses you have endured.
Can I Still Recover Damages In A Hit-And-Run Accident?
In the unfortunate event of a hit-and-run accident in Vallejo, seeking compensation for your injuries and damages is possible if you have uninsured motorist coverage. Uninsured motorist coverage is an optional auto insurance policy typically provided by your car insurance carrier. It can prove invaluable when you are involved in a hit-and-run accident or collide with a driver lacking bodily injury liability coverage. In such cases, your uninsured motorist coverage can provide the means to receive damages for your losses.
Enhancing Your Personal Injury Claim: Key Steps to Strengthen Your Case in Vallejo, California
After sustaining an injury, it is crucial to take the necessary steps to ensure the accountable parties are held responsible, as they may attempt to deny their liability in the accident. Strengthening your claim is essential, and the following measures can significantly contribute to that:
Document the sequence of events leading to your accident as accurately as possible, including details such as the location, weather conditions, and lighting.
Capture time-stamped photographs of the accident scene before any attempts are made to rectify the hazard that caused your injury.
Request a copy of the incident report if one was filed.
Gather the contact information of any witnesses present at the scene.
Seek immediate medical attention for your injuries.
Contact a reputable Vallejo injury law firm to discuss the appropriate steps to pursue your claim.
Following these key actions can strengthen your case and protect your rights. Consulting with a trusted Vallejo injury law firm will provide you with the guidance and support needed to navigate the legal process effectively.
Looking For "The Best Injury Law Firm Near Me" in Vallejo, California? – Your Search Ends Here!
As a prominent Vallejo injury law firm, we have earned a reputation for our exceptional legal services and thriving practice in California. Our firm comprises a skilled team of over 100 legal professionals dedicated to providing unparalleled customer service and delivering outstanding results. With a focus on catastrophic injury and wrongful death cases, our sought-after trial attorneys have secured multimillion-dollar verdicts and settlements for our clients.
Arash Law, under the direction of Arash Khorsandi, Esq., consistently wins honors and awards from illustrious business figures and prestigious attorney associations. We take pride in our continuous success and have been honored with recognitions such as Premier Lawyer of America's 2019 Top 40 Under 40.
Unlike other firms that make empty promises, we are fully prepared to fight for you and take your case to trial. When you choose our firm, you can expect personalized attention from a designated lawyer who will guide you through every step of the legal process. We handle personal injury, car accident, dog bite, and lemon law cases on a contingency fee basis, ensuring that we only get paid when you receive the compensation you deserve.
At our Vallejo injury law firm, we understand the importance of your case. While we cannot reverse an injury or bring back a loved one, we are committed to seeking justice and obtaining fair compensation for victims of negligence. Your case holds significant value to us, and we will tirelessly advocate for your rights.
In addition to serving clients in Vallejo, we also assist individuals in neighboring areas, including Oakland, San Francisco, Fremont, Sacramento, Stockton, San Jose, Modesto, Fresno, and Bakersfield. We are dedicated to helping those in need access our top-notch legal representation and support.
Contingency Fee Basis: Managing Personal Injury Cases with Ease
Our personal injury law firm will handle your accident case on a contingency fee basis. Under a contingency fee agreement, our injury lawyers will not get paid unless we recover fair financial compensation in your case.
Working for you and your family is our philosophy. Your energy should be focused on getting well because recovery is essential. While medical teams help restore you to your condition before the accident, our law office will work together to get you the highest possible outcome. This is what you and your family deserve.
The attorneys at our personal injury law firm in Vallejo will get to know you and your family well. We need to know your background, dreams, and struggles. This way, our legal team can better present your case to the insurance company or jury. Nothing inspires us more than helping Vallejo residents and their families find the positives in what could have been a financial, medical, and emotional disaster.
Pursue Justice With Our Award-Winning Personal Injury Law Firm in Vallejo, CA – Contact Us Today!
If you or a loved one has been injured in a car accident, seeking legal guidance from someone who understands the complexities of personal injury claims is crucial. Our award-winning Vallejo personal injury law firm is here to offer you the support and guidance you need to navigate the legal process.
We understand that a car accident can cause physical and emotional pain, leaving you overwhelmed and uncertain about the future. Our team of experienced injury lawyers is here to provide free, friendly advice to help you make informed decisions about your potential claim.
To begin your journey to justice, please contact us today to schedule a free consultation at (888) 488-1391.
Get The Latest News from

The Best California Accident Law Firm Today