Many bicyclists commonly believe that traffic accidents involving bicycles are always the fault of other parties, such as drivers of motor vehicles, but the truth is that insurance companies are often far more skeptical in their handling of these types of claims. It is not uncommon for an insurer to conclude that a bicyclist was actually the party who was responsible for causing an accident. It's important to understand your rights and options if you are involved in a bicycle accident. Arash Law can help you navigate the complexities of comparative negligence laws in California.
When a bicyclist suffers injuries in any kind of traffic accident in California, they are going to want to be sure that they seek legal representation without delay because no person should try and handle a bicycle accident case on their own. When you hire a skilled personal injury attorney to handle your bicycle accident case, they can investigate the accident and also effectively negotiate with an insurance company to help a person obtain all of the financial compensation to which they are entitled.
Call us today for a free consultation to find out if bicyclists are partly to blame for traffic accidents.
How Bicycle Laws Can Affect Fault and Liability in Traffic Accidents
People who ride bicycles can feel an enormous sense of freedom while they are on the road, but California enforces a number of strict rules for cyclists. California Vehicle Code § 21650 establishes that bicyclists must travel on the right side of the roadway in the direction of traffic, except when they are passing, making legal left turns, riding on one-way streets, riding on roads that are too narrow, or when the right side of the road is closed due to construction.
Obeying the rules when sharing the road is very important for bicyclists because violations of state traffic laws can impact liability in these cases. Worse yet, some bicyclists can instead be the ones to be found liable for causing some accidents. If you or someone you know has been in a bicycle accident, contact Arash Law today to schedule a free consultation. Our experienced bicycle accident lawyers can help you understand your legal options and determine whether bicyclists are partly to blame for traffic accidents.
When Is an Accident the Fault of a Bicyclist?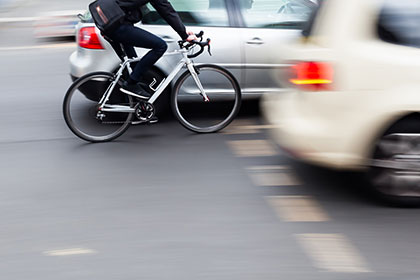 When a bicycle accident involves a bicycle and a motor vehicle, it is typically the driver of the motor vehicle who will be liable because there is an inherent presumption that drivers have far more protection afforded to them than bicyclists, and there is thus a greater obligation to avoid accidents. Bicyclists can be at fault in certain cases, however, such as instances of bicyclists ignoring traffic signals, riding on the wrong side of the street, or otherwise acting negligently.
If a bicyclist is allegedly at fault for causing an accident with a motor vehicle, then the bicyclist may be unable to recover any compensation from the driver. Drivers are once again held to a higher standard in these cases because bicyclists are more likely to suffer traumatic brain injuries or worse, but liability for bicycle accidents can often be very complicated, especially when insurance companies get involved.
California is a purely comparative fault state, meaning that all traffic accident victims are entitled to recover compensation, even when they were primarily at fault for their accidents. Under comparative fault, a person's award can also be reduced by their percentage of fault.
Comparative fault differs significantly from states using contributory negligence because such states may prohibit people from recovering any compensation when they contributed to their accidents in any way. All bicycle accident victims need to understand how state laws operate in the jurisdictions where they plan on filing claims.
Examples of Negligent Cycling Behaviors
It is again important to remember that virtually all states in the nation have laws relating to bicycles on their books, so bicyclists have to ride in accordance with state law. Bicyclists performing illegal maneuvers can have far more difficulty obtaining compensation for motor vehicle accidents.
Some of the most common examples of bicyclist negligence include the following:
Stopping or rolling through stop signs
Riding the wrong way on a one-way street
Not riding in the bike lane
Running a stop sign or red light
Riding on the wrong side of the street
Turning abruptly into traffic
Riding against the direction of traffic
Failure to follow traffic rules at intersections
Failure to yield
Disregarding helmet use
Abrupt turns without giving a signal
Failing to use proper turn indicators or hand signals
Riding a bicycle under the influence of alcohol or drugs is the same as driving under the influence (DUI) offense for drivers or motor vehicles, although it is less likely to result in a criminal case. A bicyclist who was operating under the influence can also be more likely to be accused of being negligent, and NHTSA states that 20 percent of the bicyclists killed in 2018 had blood alcohol concentrations (BACs) of 0.08 or higher, with alcohol use by either a bicyclist, a driver, or both reported in 37 percent of fatal crashes.
It is important for people also to understand the "tender years" doctrine, under which children will be incapable of contributory or comparative negligence. A motor vehicle driver will always be presumed liable in an accident involving a child bicyclist.
The law essentially provides that young children cannot be expected to exercise the normal standard of care on roads as adults. The "tender years" doctrine customarily applies to children four years of age and under.
Negligence and Shared Fault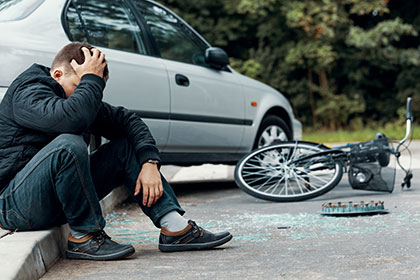 Virtually all accidents involving bicycles are also going to involve allegations of negligence on the part of one party involved in the accident, and it will usually be a matter of insurance companies trying to sort out competing claims to determine who should be held at fault for an accident. The bottom line will ultimately be that all people operating vehicles on the road, whether they are cars or bicycles, will owe a duty of reasonable care to all other people using the road. A failure to exercise reasonable care, such as violating a traffic law, can be negligence when the act causes injury to another party.
In bicycle-car collisions, any kind of traffic violation by either party involved in the crash will likely be a critical factor in determining fault because the traffic violation often ends up being the cause of the accident. It can be difficult for some people to prove traffic violations, so it can be important to work with a well-known pedestrian injury or bicycle accident lawyer who can either secure witnesses or local video that shows a traffic violation occurred.
The ability to recover compensation in these kinds of bicycle accident cases often depends on whether a person is seeking damages in a state that practices contributory negligence as opposed to comparative negligence. The system in play can make a big impact on whether a person can recover anything at all.
Contributory Negligence
In states practicing contributory negligence, a person cannot recover anything when they are at fault for an accident in any way. Even a person who was only 1 percent at fault is still prohibited from recovering compensation.
Only five states practice contributory negligence:
Alabama
Maryland
North Carolina
Virginia
The District of Columbia (Washington, D.C.)
Comparative Negligence
A comparative negligence system means that all parties are directly responsible for their proportion of an accident. In other words, a person who is 70 percent responsible for an accident can still seek damages, but their award of $100,000 will be reduced by $70,000, and they will receive $30,000.
Comparative negligence may be pure in some states, but many others have limits under which people cannot pursue compensation if they are too much at fault. Others make distinctions between slight negligence and gross negligence.
States practicing pure comparative negligence include:
Alaska
Arizona
California
Florida
Kentucky
Louisiana
Mississippi
Missouri
New Mexico
New York
Rhode Island
Washington
Multiple states invoke a 50 percent bar rule under which people cannot file claims when they are 50 percent or more at fault for an accident. The 50 percent bar rule states include:
Arkansas
Colorado
Georgia
Idaho
Kansas
Maine
Nebraska
North Dakota
Oklahoma
Tennessee
Utah
West Virginia
Other states have a 51 percent bar rule, meaning people cannot file claims when they are 51 percent or more at fault. These states include:
Connecticut
Delaware
Hawaii
Illinois
Indiana
Iowa
Massachusetts
Michigan
Minnesota
Montana
Nevada
New Hampshire
New Jersey
Ohio
Oregon
Pennsylvania
South Carolina
Texas
Vermont
Wisconsin
Wyoming
South Dakota has an older version of comparative negligence known as the slight-gross rule, under which negligence is examined as a matter of being slight in comparison to another person's negligence, although percentages of responsibility are not assigned. A person will only recover damages from another party when their negligence was slight in comparison to the other party's. This raises an important question for bicyclists and motorists alike: are bicyclists partly responsible for traffic accidents, or are they unfairly blamed for accidents caused by motorists' negligence?"
Get Legal Help After a Bicycle Accident: Are Bicyclists Partly to Blame for Traffic Accidents?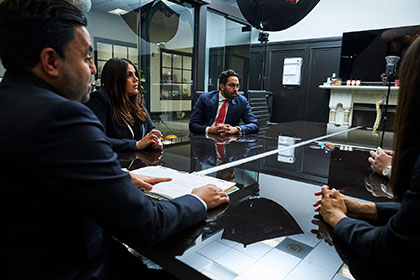 If you recently sustained serious injuries or your loved one was killed in a bicycle accident, do not wait another moment to get legal counsel because you will not want to deal with an insurance company on your own. The key question is, are bicyclists partly to blame for traffic accidents? Arash Law, founded and spearheaded by famous attorney Arash Khorsandi, Esq., can immediately step in for your case and begin investigating what happened and securing the evidence you will need to present a case in court for damages that we can help you obtain.
Call (888) 488-1391 or contact our respected California bicycle accident attorneys online to set up a free, no-obligation consultation.