Our Mariposa County Injury Law Firm

Doesn't Just Win,


We Win Big!
You May Be Entitled to Compensation

Located in the heart of California, Mariposa County boasts breathtaking natural landscapes and a close-knit community. Unfortunately, accidents and personal injuries can occur even in this serene environment, leaving individuals and families grappling with physical, emotional, and financial burdens.
In times of distress, it is essential to have an award-winning injury law firm in Mariposa County by your side—a team that understands the unique challenges of the local area and is dedicated to fighting for justice and fair compensation.
Our Mariposa County injury law firm specializes in handling a wide range of injury cases, including trucking accidents, animal attacks, car accidents, motorcycle accidents, medical malpractice, workers' compensation, and child victim acts. 
We firmly believe that concerns about expensive legal fees should never hinder you from seeking justice when you've suffered harm due to someone else's negligence. That's why we operate on a contingency fee basis, ensuring you only pay us if we win your case.
With a deep understanding of the legal framework, our firm stays up-to-date with the latest laws, regulations, and court precedents. This allows us to provide highly effective legal representation tailored to your unique circumstances. If you've experienced an injury in Mariposa County, we urge you to contact us at (888) 488-1391.
SM v. Doe Defendant (settled on 10/14/2020) – settlement in a case involving a client who sustained a spinal cord injury and mild traumatic brain injury when he fell off a roof. The team at Arash Law secured an additional $610,000 as part of the third party settlement.
– 
TINA ESHGHIEH
IF YES, You may be able to recover financial compensation. TELL US MORE: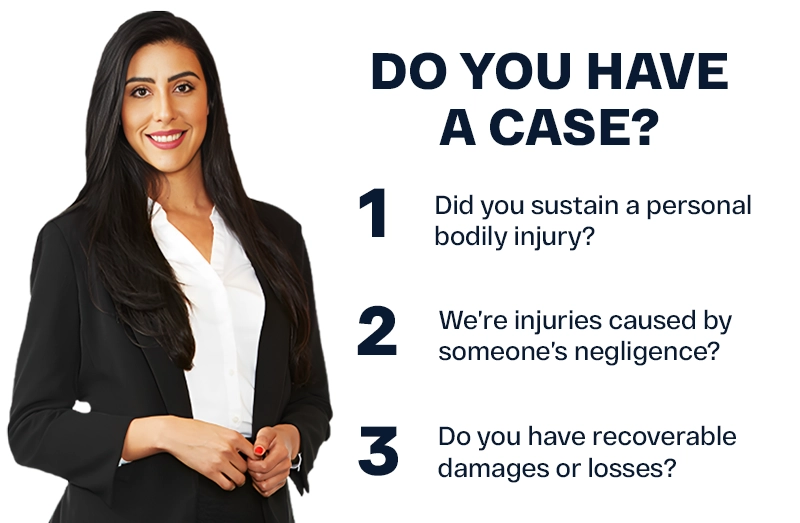 IF YES

, You may be able to recover financial compensation.

TELL US MORE:
Understanding Mariposa County's Injury Law
While it's common to experience a mishap or an unlucky moment, it's possible to experience a devastating injury that can impact many different areas of your life. Personal injury law, or tort law, allows an injured party to file a lawsuit and be paid for damages from the injury. A personal injury lawyer can help you understand how these cases work and where your injury claim fits.
Personal injury law covers several situations. These include both unintentional and intentional acts that harm one or more parties. Personal injury law applies to situations like:
Defective products: Items such as consumer products, medical devices, and vehicle components are made to help the user, but unfortunately, that's not always the case. If a manufactured product unexpectedly harms someone, they can file a personal injury claim.
Injured? Search For "The Best Injury Law Firm Near Mariposa County" - You'll Find Us!
Our firm is a prominent and successful injury law firm in Mariposa County, boasting a team of skilled and dedicated attorneys. We take great pride in offering exceptional customer service and consistently delivering outstanding results for our clients. Our highly sought-after trial attorneys have a proven track record of securing multimillion-dollar verdicts and settlements in cases involving catastrophic injuries and wrongful deaths.
Under the leadership of Arash Khorsandi, Esq., Arash Law has earned prestigious awards and recognition from esteemed industry leaders and renowned attorney associations year after year. Being honored as Premier Lawyer of America's 2019 Top 40 Under 40 further highlights our ongoing success in winning cases.
With our extensive experience, unwavering dedication, and impressive track record, you can have complete confidence in our firm's ability to fiercely advocate on your behalf and guide you through the complexities of your case. We are here to provide continuous support, fight for your rights, and work tirelessly to achieve the highest possible outcome for your situation.
What Makes Our California Injury Attorneys the Best?
Arash Law is a highly esteemed Mariposa County injury law firm led by Arash Khorsandi Esq., recognized with numerous awards and accolades. With a dedicated team of over 100 legal professionals, we provide reliable and accessible support, available 24/7, every day of the year.
Each client is assigned a case manager who provides personalized assistance throughout the process.
With over four decades of combined experience, our firm offers stability and a lasting commitment. Our integrity is reflected in our contingency fee structure, where we only charge if we win and prioritize your compensation. We offer flexibility by providing in-person consultations at your preferred location, and prioritize your health by connecting you with top medical professionals without upfront costs.
Personal Injury Settlement
Our client was the victim of a rear-end accident who was left injured and severely in pain. Arash Law was able to outshine other injury law firms when he searched online, and thankfully we were able to handle everything for our client from A to Z — All that he had to do was ask and focus on his recovery. Our client's life has changed forever, and the compensation received for the pain and suffering has opened paths for new lifelong opportunities.
Personal Injury Settlement
Our client was the victim of a rear-end accident who was left injured and severely in pain. Arash Law was able to outshine other injury law firms when he searched online, and thankfully we were able to handle everything for our client from A to Z — All that he had to do was ask and focus on his recovery. Our client's life has changed forever, and the compensation received for the pain and suffering has opened paths for new lifelong opportunities.
Types Of Injury Cases Handled by Our Personal Injury Law Firm at Mariposa County
Our esteemed injury law firm in Mariposa County is equipped to handle diverse cases, ensuring comprehensive legal representation for individuals who have suffered injuries due to others' negligence. With a deep understanding of personal injury law and a commitment to protecting our client's rights, we handle various types of cases, including:
Car Accidents: Our experienced lawyers assist clients injured in car accidents caused by reckless driving, distracted driving, drunk driving, or other forms of negligence. We seek compensation for medical expenses, property damage, lost wages, and pain and suffering.
Motorcycle Accidents: We provide dedicated representation to motorcycle accident victims, helping them navigate the complex legal process and seeking fair compensation for their injuries, rehabilitation costs, and other related damages.
Trucking Accidents: Given the severity of trucking accidents, our firm has the expertise to handle cases involving commercial trucks, ensuring that victims receive the compensation they deserve for their injuries, loss of income, and long-term rehabilitation needs.
Pedestrian and Bicycle Accidents: Our lawyers advocate for pedestrians and bicyclists who have been injured in accidents caused by negligent drivers. We work diligently to hold responsible parties accountable and pursue maximum client compensation.
Premises Liability: If you have sustained injuries due to hazardous conditions or inadequate maintenance on someone else's property, such as slip-and-falls, negligent security incidents, or dog bites, our skilled attorneys can help you seek compensation for your injuries and related expenses.
Medical Malpractice: Our firm handles complex medical malpractice cases, representing individuals who have suffered harm due to medical professionals' negligence. We diligently pursue compensation for medical expenses, lost wages, ongoing care needs, and other damages caused by medical errors.
Product Liability: When individuals are injured caused by defective or dangerous products, our lawyers offer guidance and representation, holding manufacturers, distributors, and sellers accountable for the harm caused and seeking appropriate compensation.
Wrongful Death: In the devastating event of a wrongful death caused by someone else's negligence or intentional actions, our compassionate attorneys provide support to grieving families. We seek justice and pursue compensation for their loss, including funeral expenses, loss of income, and emotional distress.
If you have suffered injuries in any of these or related circumstances, we are here to provide the legal guidance and representation you need to seek justice and fair compensation.
What Factors Affect the Value of Your Personal Injury Claim?
If you have been involved in an accident in Mariposa County, you can recover damages for your losses. You may be eligible for economic and non-economic damages depending on the accident details.
Economic damages aim to compensate for financial losses incurred due to the accident, including:
Lost wages
Loss of earning capacity
Loss of employment benefits
Medical expenses
Property damage
Non-economic damages are intended to compensate for losses that are challenging to quantify in monetary terms. These may include:
Pain and suffering
Emotional distress
Loss of consortium (damage to personal relationships)
Loss of life enjoyment
Loss of reputation
In some instances, punitive damages may also be awarded. Punitive damages are granted when there is gross negligence or intentional wrongdoing. They serve as a form of punishment for the responsible party and as a deterrent against similar misconduct in the future.
Wrongful Death Damages: Helping Families Find Closure After a Tragic Loss
In Mariposa County, wrongful death is recognized as a form of personal injury suffered by the family when a loved one dies in an accident.
Damages in wrongful death cases may include:
The deceased person's potential earnings over their lifetime.
The emotional distress and grief experienced by the family due to the tragic loss of their loved one.
The absence of the deceased person's love, guidance, and support.
The loss of the physical relationship between the surviving spouse or partner and the deceased individual.
How Do You Prove Negligence in a Personal Injury Claim in Mariposa, CA?
To prove negligence in a personal injury claim in Mariposa, CA, you need to establish the following elements:
Duty of Care: Show that the responsible party owes you a duty of care. This means they are legally obligated to act reasonably and prevent harm to others in similar circumstances.
Breach of Duty: Demonstrate that the responsible party breached their duty of care. Provide evidence that they failed to meet the expected standard of care or engaged in negligent behavior.
Causation: Establish a causal link between the breach of duty and your injuries. Demonstrate that the responsible party's negligent actions directly caused or contributed to your injuries or damages.
Damages: Present evidence of the actual damages you have suffered as a result of the negligence. This can include medical records, bills, photographs, witness statements, and other relevant documentation.
What Steps Can I Take to Strengthen My Personal Injury Claim in Mariposa County?
To strengthen your personal injury claim in Mariposa County, consider the following steps:
Seek Immediate Medical Attention: Obtain prompt medical care for your injuries. This ensures your well-being and creates a documented record of your injuries and treatment.
Preserve Evidence: Preserve any evidence related to your accident and injuries. Take photographs of the accident scene, your injuries, and property damage. Gather contact information from any witnesses present.
Document Incident Details: Write down a detailed account of the incident while it is still fresh in your memory. Include information such as date, time, location, weather conditions, and what happened leading up to the accident.
Obtain Police or Incident Reports: If applicable, obtain a copy of any police or incident reports filed at the scene. These official documents can provide crucial information and support your claim.
Maintain Medical Records: Keep a record of all medical treatments, medications, and healthcare providers involved in your recovery. This documentation will demonstrate the extent of your injuries and the expenses incurred.
Consult with an Experienced Attorney: Seek legal representation from an experienced personal injury attorney in Mariposa County. They can provide guidance, evaluate your claim, and build a strong case on your behalf.
Communicate Conservatively: Be cautious when discussing your accident or injuries, especially with insurance adjusters. Avoid making statements that could be used against you later.
Follow Medical Advice: Adhere to your healthcare provider's treatment and follow-up care recommendations. The defense may claim you caused your injuries by failing to do so.
Keep Records of Expenses: Maintain records of all expenses related to your injury, such as medical bills, prescription costs, transportation expenses, and any other out-of-pocket costs incurred.
Stay Organized: Keep all documents, receipts, and communications related to your case organized and easily accessible. This will help you stay prepared and provide the necessary information when needed.
Remember, every personal injury claim is unique. It is crucial to consult with a qualified personal injury law firm in Mariposa County that can provide personalized advice based on the specific details of your case.
Statute of Limitation for Personal Injury Claim in Mariposa County
In California, personal injury cases have a statute of limitations of two years from the date of the accident or injury. If the two-year period passes, the court typically dismisses the case. However, there are exceptions to the statute of limitations.
The statute of limitations may be extended for minors until they turn eighteen. If the injured person was mentally impaired, the statute of limitations may be extended until they are no longer considered impaired. Additionally, if the injury or its cause was not initially known, the statute of limitations may be prolonged until the discovery of the injury.
It is important to consult with an experienced personal injury attorney to understand your case's specific statute of limitations and any applicable deadlines for filing a lawsuit.
Schedule a Free Consultation With Our Award-Winning Personal Injury Law Firm in Mariposa County Today!
When you need a reliable and efficient personal injury attorney, our Mariposa County injury law firm is here to help. We have a proven history of achieving favorable outcomes and pushing unyielding insurance companies to fair settlement negotiations. Our lawyers have the knowledge and expertise to advocate for your rights and secure the maximum compensation possible.
To discuss your case with one of our lawyers, contact us online by filling out the form "Do I have a case?" or call us at (888) 488-1391 to arrange a free consultation. Don't delay—make this important call today.
Record-Breaking Verdicts in the Following Areas of Practice
Get The Latest News from

The Best California Accident Law Firm Today