Our Monterey Park Injury Law Firm

Doesn't Just Win,


We Win Big!
You May Be Entitled to Compensation

Powerhouse Personal Injury Law Firm

Protecting the Injured in Monterey Park
In the event that you or your loved ones have been harmed by someone else's negligence or by any accident in Monterey Park, you undoubtedly have many questions. In order to protect your rights and avoid having to pay for your lost wages and medical expenses after suffering a personal injury in Monterey Park, you should speak with an attorney. Accidents involving personal injury occur every day. To arrange a free case evaluation with a Monterey Park personal injury law firm, call Arash Law at (888) 488-1391 or complete our online form to get started.
As of 2023, over 57,066 people currently reside in Monterey Park, according to the latest research conducted by the
World Population Review
. With three major freeways crossing the city, Monterey Park provides easy access north-south and east-west to all of Southern California. Its proximity to downtown Los Angeles also gives Monterey Park access to various public transportation options for convenience. However, accidents can also be expected with a busy population up and about.
Our Monterey Park personal injury law firm can handle any kind of Monterey Park accident or injury, whether a car or truck accident, a dog bite, a DUI accident, a slip and fall, a premises liability, a workplace accident, and many more, we've got you covered.
With more than a decade's worth of experience in California personal injury cases, our personal injury law firm in Monterey Park will vigorously fight for your legal rights and work to get you the best possible settlement amount you deserve.
Does my claim have any grounds? How will the proceedings take place? Is my case worth anything? The personal injury law firm of
Arash Law
, founded by the renowned
Arash Khorsandi, Esq.
, can assist you in navigating the legal system, and we're here to help you answer these questions.
We have
won over $500 Million for clients
in verdicts and settlements all over California. If you cannot visit us for the initial consultation, the legal team of our Monterey Park injury law firm will come to you. We are open to receiving calls around the clock.
Settlement in a Wrongful Death Motor Vehicle Accident – largest Wrongful Death Settlement in Monterey County in 2020 – Top 20 Wrongful Death Settlement in California for 2020;
– 
JUDD ROSS ALLEN
IF YES, You may be able to recover financial compensation. TELL US MORE: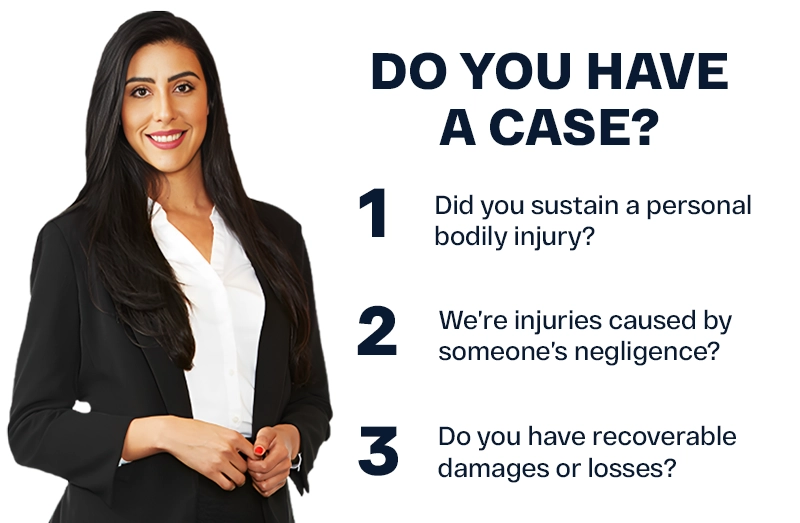 IF YES

, You may be able to recover financial compensation.

TELL US MORE:
Frequently Occurring Incidents That Result In Verdicts Or Settlements
While every situation is unique, some common accidents lead to lawsuits. Accident injuries and psychological trauma resulting from an accident that was either caused by a negligent party or made worse by one are covered by personal injury law. Personal injury lawsuits are frequently the result of distracted, texting, or reckless drivers causing accidents on California roads, and Monterey Park is no exception to that. It is the responsibility of all businesses, employers, and landlords to provide their customers, workers, and tenants with a reasonably safe environment.
You might be eligible for financial compensation if you fell on an unmarked wet floor in a store, were hurt at work, or fell down a defective staircase in your apartment building. The city might be responsible if you were hurt due to poor sidewalk maintenance or subpar police work. From routine collisions to intricate tort cases that hold large companies accountable for their deeds, the Monterey Park personal injury law firm of Arash Law is prepared to defend your rights.
What Do I Do In The Event Of A Monterey Park Accident?
Don't panic. Stay on the scene and be sure everyone is okay. Before checking others, check yourself for injuries. Avoid admitting fault and remain calm.
Find a safe place. Move somewhere safe if possible, contact authorities, and wait.
Call 911. Call the police and emergency services to report your accident. Unless your incident was minor, without any injuries or property damage, you should make the call. Authorities can record, gather, and document the incident.
Exchange information. Exchange titles, telephone numbers, and insurance information with the others involved in the accident if possible. Take photographs of everything necessary and other vital details if you can.
Don't admit fault. Stick only to what occurred when talking with a police officer. Be as detailed as possible in describing the collision or any accident.
Get medical attention. Visit the hospital or your primary doctor immediately. Immediate medical care can decrease the damage you suffer from injuries. Tests can identify internal injuries that may not show symptoms.
Inform your insurance company. The majority of insurance companies have deadlines for reporting accidents. Immediately report your incident by calling and following the agent's instructions.
Speak to insurance adjusters. The other party's insurer might call you within a day of your accident. The claims adjuster may ask you questions but don't provide more information than necessary. A lawyer specializing in your case should be consulted before recording a statement or accepting an insurance settlement.
Keep essential documents. Organize accident-related files. Any other files you have collected about the incident should be included in your file, such as your police report, medical bills, information about the other driver, and injury treatment programs.
Call the best Monterey Park personal injury law firm. Our free consultations allow you to talk freely about your accident without risk or obligation. We can assess the strength of your case, represent you in negotiations with insurance providers, and help you submit a personal injury claim if needed.
Injuries We Handle In Our Monterey Park Personal Injury Law Firm
Among the many things that distinguish our personal injury law firm from other Monterey Park law firm practices is our dedication to our connection with our clients and conducting a comprehensive investigation into every case we take on. Regardless of the severity of your injuries and the perceived complexity of your case, we will carefully prepare so that, when settlement negotiations begin, your claim is as strong as possible. Among the kinds of accident cases we the following, but we are not limited to:
Which Circumstances May Be Reasons for a Personal Injury Lawsuit?
Personal injury claims can be filed for the following reasons:
Negligence is the underlying cause of most personal injury cases. A negligent act is failing to exercise the same level of caution that a reasonable person would in the same situation. Failure to exercise this sort of caution can result in consequences. For example, driving under the influence of alcohol or using a phone while driving led to an accident.
Liability under strict liability refers to the defendant's responsibility regardless of their intentions or mental state at the time of the incident. Claims for faulty products are typically subject to strict liability. It is possible for a manufacturer to be held responsible if a defective product causes harm to a third party, even if they have no malicious intent.
Proving Negligence for Personal Injury Claims
For a negligence claim to be successful, injured parties must prove all four elements listed below:
Duty of Care – In light of the circumstances, were you obligated to take care of yourself? For instance, motor vehicle drivers are responsible for observing traffic laws. Did you follow them?
Breach of Duty – Was the defendant's behavior violating their duty?
Causation – What did the defendant do to cause the accident?
Damages – Did the defendant's actions harm you in any way?
Your claims can be proven with the following examples, depending on the circumstances.
Official Records and reports from the Police
All of your injury-related medical records
Eyewitness accounts and testimonies
Damaged property
Footage from traffic cameras, surveillance cameras, and bystander cameras
Images and footage of the collision scene, along with your injuries
Expert witness or medical testimony to support your claims
An incident report written by a company following a slip and fall or other similar incident, and many more
To determine the reason behind your accident, a Monterey Park personal injury law firm can collect and evaluate any of these kinds of evidence.
Our Personal Injury Law Firm in Monterey Park Can Help
The vast majority of people who have suffered a personal injury or wrongful death in their family have never filed a tort claim. It is especially difficult when you have been dealing with the pain and the weight of the accident while doing paperwork, calculating your damages, negotiating with the necessary insurance companies, and many more.
That is where we can help you. As a seasoned personal injury law firm in Monterey Park, Arash Law can handle these tasks on your behalf so you can stay focused on your well-being and recovery. The following are just a few ways our Monterey Park accident lawyers can help:
Gathering Evidence
The quality of the evidence you provide to establish liability and damages will ultimately determine how your case is resolved. Having worked in the legal field for more than a decade, our personal injury law firm is familiar with the evidence required to support your claim. We will immediately examine your case, preserving any surveillance footage, official statements, and other supporting documentation.
Interviewing Witnesses
If someone witnessed the incident that resulted in your injury, their testimony may be able to assist in establishing liability. It is crucial to speak with witnesses as soon as possible because they may eventually forget important information or experience changes that affect their memory of what happened.
Negotiating with the Insurer
Your lawyer's approach when negotiating with the insurance company can ultimately make or break your case. A thorough grasp of the law, meticulous examination of pertinent insurance policies, and the gathering of all relevant evidence are strategies employed by the most skilled attorneys to gain the upper hand. Our personal injury law firm in Monterey Park knows what it takes to come out on top in negotiations with opposing parties based on our experience helping thousands of clients with their personal injury claims.
Estimating the Worth of Your Claim
A Monterey Park personal injury law firm can help you ensure that all potential damages, including future and non-economic damages, are considered. You might even be eligible for punitive damages, which are meant to hold the defendant accountable for oppression, fraud, or malice, depending on the specifics and evidence found in your case.
Getting Ready for Trial
You will want an experienced litigator on your side if the other party refuses to cooperate and your case ends up in court. In addition to our constant goal of assisting clients in obtaining just settlements out of court, our Monterey Park personal injury law firm also possesses the resources and experience needed to aggressively defend your interests in court if called upon.
What Can I Claim When I File A Personal Injury Lawsuit?
You can file a claim for three types of damages in Monterey Park: economic, non-economic, and punitive. Economic and non-economic damages are compensatory damages. The court orders these types of damages to recompense your sustained physical, emotional, and financial damage.
Medical Expenses – You can be compensated for medical stays, surgeries, prescription drugs, follow-up visits, home health care, and other medical expenses.
Loss of Income – You can be compensated for your inability to work. This can refer to any pay or benefits you were not able to receive from your job while you were recovering from an injury and awaiting the ability to return to work.
Diminished earning capacity – This compensates you for the wages you expected to earn throughout your career but now cannot earn.
Extra costs – You can be compensated for any costs incurred if your injuries require hiring a housekeeper, a caregiver, or anyone else.
In addition to monetary losses, you may have suffered physically and mentally due to:
Disfigurement or scarring – You may be entitled to compensation for any sufficiently noticeable, excruciating, or incapacitating mark.
Disability – refers to the complete or partial incapacity to use any body part that limits your ability to perform daily tasks normally.
Loss of consortium – This can involve, among other things, a shift in marital relations or a loss of emotional support due to the accident.
Anguish and Suffering – The injury may have caused you physical distress and emotional trauma that may be compensable.
In addition to compensatory damages, punitive damages or exemplary damages are court orders that punish the defendant. Despite the difficulty of obtaining punitive damages, a court may do so in severe negligence and intentional acts.
Who Will Pay For My Injuries, And How Much Are My Claims Worth?
The specifics of your claim and the accident's circumstances will play a major role in determining this. Your lawyer from a Monterey Park personal injury law firm will examine your case to ascertain all potential causes and sources of liability.
Other potential sources of liability may become apparent once the cause has been determined. For instance, not all blame for an automobile accident lies with the defendant. It might be established that a traffic light malfunctioned, an incorrectly performed repair by a mechanic, or a defective vehicle component was the cause.
Paying for your injuries may fall under multiple liability in certain situations. For this reason, it is essential to work with a Monterey Park personal injury law firm.
Fight For Justice In Monterey Park With A Personal Injury Law Firm That Cares
We understand how stressful a serious injury or death in the family can be, both emotionally and financially. Our Monterey Park personal injury law firm is a voice for those who have suffered due to another's negligence or wrongful act. We are very proud of this, and we are here to help you. Contact Arash Law at
(888) 488-1391
or complete our "
Do I Have a Case?
" form to speak with a member of
our team
about your case during your free consultation. Justice is just a phone call away.
We also assist accident victims in nearby Monterey Park, including Alhambra, Bell, East Los Angeles, El Monte, Maywood, Montebello, Pasadena, Pico Rivera, Rosemead, San Gabriel, San Marino, South El Monte, South Pasadena, and Temple City.
Record-Breaking Verdicts in the Following Areas of Practice
Get The Latest News from

The Best California Accident Law Firm Today