One unidentified person was killed after a suspected DUI accident in Galt on Sunday morning, July 18.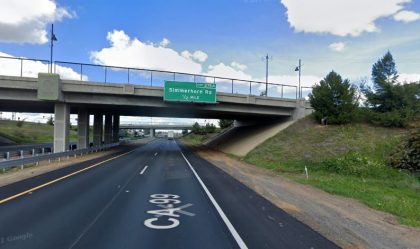 According to the initial reports from the California Highway Patrol, the accident happened at approximately 5:15 a.m. on Highway 99, north of Galt. A 25-year-old man identified as Esteban M. was driving his 2005 Ford Mustang southbound on Highway 99 when he made an unsafe turn.
He then collided with the central wall and caused large debris to scatter throughout the north-facing lane. Shortly after, a 63-year-old woman heading northbound in her Toyota Corolla hit a piece of metal from the debris in the first collision. The woman then pulled over in the right-hand shoulder.
Another older woman driving a Chevrolet Malibu also struck metal from the debris in the earlier crash. She pulled her car over behind the Toyota Corolla. The Chevrolet driver got out of her car to talk to the Toyota Corolla, possibly asking for information on what happened.
As the Chevrolet driver was about the return to her car, a 43-year-old man driving a Toyota Camry struck the woman. The Camry driver initially attempted to avoid the debris on the road but eventually lost control of his vehicle and hit the Chevrolet driver.
Unfortunately, the Chevrolet driver was killed in the accident. Her identity has not been disclosed. Authorities later determined that Esteban M., the Ford Mustang driver from the initial crash, was under the influence at the time of the accident.
He was booked in Sacramento County Jail on suspicion of drunk driving. The Camry driver that struck the woman remained at the scene and cooperated with local authorities. A further investigation is currently underway.

Fatal DUI Accident Statistics
Drunk driving is one of the most dangerous actions a driver can take. It may endanger not only their lives but also other drivers. Sadly, the number of DUI accidents has risen in recent years. In the U.S., drunk driving is one of the leading causes of car accidents and fatalities. In 2018 alone, there were 10,511 deaths attributed to drunk driving accidents. Every day, approximately 30 Americans die in drunk driving accidents, according to the NHTSA.
Drunk driving accounts for roughly 29% of all fatal car accidents in the U.S. Approximately 61% of these drivers have a BAC of.08 or higher. DUI crashes are far more likely to result in serious injuries. Because impaired drivers are more prone to reckless or dangerous driving. Many DUI accidents involve high speeds.
Wrongful Death Attorney for Victims of Fatal DUI Accidents in Sacramento County
Suddenly losing a loved one due to a fatal DUI accident can be quite devastating for the victim's family. The victim's family is encouraged to pursue a wrongful death claim while waiting for the official investigation results. Drunk drivers must be held accountable for their reckless actions. DUI victims need justice.
Our firm is dedicated to helping injured victims maximize their compensation to pay medical bills and support their families. At Arash Law, our California drunk driving accident attorneys are influential, aggressive advocates for DUI accident victims. If your loved one was killed in a drunk driving accident in California, please do not hesitate to contact our legal team for legal guidance.
If you have any questions or concerns, don't hesitate to contact one of our offices in Los Angeles, Sacramento, San Francisco, Riverside, Orange County, or San Diego. You can also reach us at (888) 488-1391 for a free consultation with one of our attorneys.