Two people were killed while four others were hurt after a major multi-vehicle crash on the Gaviota Coast on Thursday morning, July 15.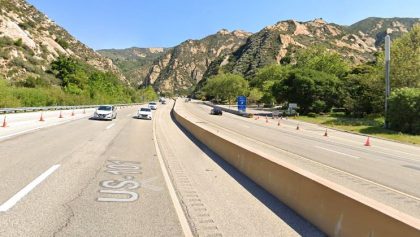 The deadly collision occurred around 8:00 a.m. on Highway 101 on Gaviota Coast, west of Goleta Valley. A 2003 Ford Expedition carrying three passengers reportedly crossed the north and southbound lanes of Highway 101. The Ford then collided with several other vehicles.
The Ford Expedition was initially traveling northbound when the driver lost control of her vehicle, turned left into the left-hand lane, and crashed into the passenger front side of a 2017 Ford F-450. The Ford Expedition then continued to travel across the left-hand lane and through the median and collided with several southbound lanes. The Ford collided with a 2017 Honda Accord and a 2017 Honda Accord.
A 2017 Chevy Bolt and a 2017 Toyota Tundra pickup truck attempted to avoid the Ford Expedition. However, the Bolt was unable to avoid the Ford totally, and the two vehicles collided. The Ford Expedition then came to a stop, partially blocking the right-hand southbound lane as it faced south.
The two passengers in the Ford Expedition sustained fatal injuries and were pronounced dead at the scene. Four other people sustained varying degrees of injuries and were taken to an area hospital for treatment. No arrests have been made at the moment. Local authorities are further investigating the case.

Fatal Multi-Vehicle Collision Statistics
The number of victims of motor vehicle-related accidents in the U.S. has increased immensely throughout the years. The National Safety Council (NSC) reports that an estimated 38,000 people were killed in U.S. motor vehicle accidents in 2019. Car accidents can be life-changing and traumatic. Because cars are so common in our lives, drivers frequently overlook how dangerous they can become and how serious, even fatal, car accidents can occur.
Multi-vehicle collisions are just one type of car accident. This type of accident usually occurs when three or more cars are involved in the accident. They commonly stem from a "chain-reaction" crash, wherein one vehicle will bump into another, causing it to crash into other cars on the roadway potentially. These types of crashes are commonly caused by drunk driving, speeding, and distracted driving.
Santa Barbara County Wrongful Death Attorney for Victims of Fatal Multi-Vehicle Collisions
When a car accident occurs, the victims, their families, and the entire community are often devastated. Losing a loved one from a fatal multi-vehicle collision can be quite devastating and painful for the victim's family. Cases like this can be extremely complicated, as multi-vehicle collisions involve several parties, which is why it is critical to seek the advice of an experienced attorney.
After a deadly collision, an experienced fatal car accident lawyer can serve as your legal guide and a trusted advocate. Your catastrophic car accident lawyer can construct a robust case for you and fight to receive fair financial compensation for your immense losses on your behalf.
Arash law is here to assist victims of similar cases in obtaining the justice they are entitled to. We have experienced attorneys and resources that can assist you in obtaining a favorable outcome in your case. Visit our offices in Los Angeles, Sacramento, San Francisco, Riverside, Orange County, and San Diego for more information and inquiries. You can also schedule a FREE consultation by calling (888) 488-1391.