A 61-year-old man identified as Lois S. was killed after a deadly head-on motorcycle collision in Oakdale on Wednesday night, August 11.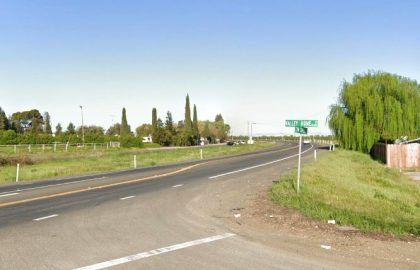 The fatal collision transpired at around 10:00 p.m. on Highway 120 near Valley Home Road in Oakdale. An eastbound Toyota Prius was attempting to pass a pickup truck towing a trailer when the driver drifted into the westbound lanes.
The Toyota Prius then collided head-on with a westbound Kawasaki Vulcan. The rider was ejected from the motorcycle while the Prius spun out of control until it overturned on the roadway.
Unfortunately, the motorcycle rider was killed in the accident. She was pronounced dead at the scene. She was wearing a helmet at the time of the collision.
The other driver was uninjured in the mishap. She was identified as 65-year-old Trisha L. from Jamestown. The Prius driver remained at the scene and cooperated with authorities.
Neither drugs nor alcohol was considered a factor in the accident. The case is currently under investigation. Witnesses that can give more information about the accident are urged to contact the California Highway Patrol at 209-545-7440.

Fatal Motorcycle Accident Statistics
Motorcyclists are one of the most vulnerable users on the road. Motorcycle riders have 16 times the risk of injury and 35 times the risk of a fatal crash compared to car passengers. Sadly, motorcycle accidents have been increasing at an alarming rate throughout the country. According to the National Highway Traffic Safety Administration's National Center for Statistics and Analysis, approximately 5,286 motorcyclists were killed in the U.S. in 2016.
Although helmets were proven to be 37% effective in preventing fatal head injuries, it is not enough to protect motorcyclists from other serious injuries. Motorcyclists are still vulnerable to road rash, broken bones, and spinal cord injuries. Common causes of motorcycle accidents are distracted driving, speeding, drunk driving, reckless driving, bad weather, wrong-way driving, and failure to observe traffic laws.
Stanislaus County Wrongful Death Claim for Victims of Fatal Motorcycle Accidents
Motorcycle accidents often lead to serious property damage and life-threatening injuries. Unfortunately, not everyone can survive a motorcycle accident. The victim's loved ones are encouraged to pursue a wrongful death claim after losing a loved one from a deadly traffic accident.
The wrongful death claim will allow the victim's family to seek compensation for both the economic and non-economic damages the accident has caused them. While nothing can reverse the damage incurred in a motorcycle accident, the civil courts offer a financial remedy to injured parties. After a motorcycle crash, speak to an experienced injury attorney immediately.
A claim can provide closure for your family and provide cash compensation for your losses. Arash Law genuinely sympathizes with those who have lost family members or spouses as a result of negligence. We want to assist you in making the most of your wrongful death claim in California. For a free introductory consultation, please contact our Arash Law attorneys. Contact us online or by phone at (888) 488-1391.