Anaheim

Truck Accident Lawyers
with over $500 Million Recovered in Compensation for Injury Clients.
You May Be Entitled to Compensation

Anaheim Truck Accident Lawyers who

Turn Injured Victims Into Victors
Hurt in an Anaheim truck accident? The most trusted Anaheim truck accident lawyers at Arash Law are just a phone call away. Call (888) 488-1391 or contact us online to schedule a completely free consultation that will allow us to review your case and discuss all of your legal options. 
Anaheim is located just outside of Los Angeles in California and is the second-largest city in Orange County in terms of land area. The size of the city makes it a common destination for all kinds of commercial trucks, which means that people driving in and around Anaheim frequently encounter these vehicles while they are on the road.
Commercial truck drivers have to use a considerable degree of caution in operating their vehicles, and even minor errors have the potential to cause serious and possibly deadly wrecks. When any person is involved in a car accident that involves a commercial truck, it will be important for them to retain legal counsel without delay. 
An experienced Anaheim truck accident lawyer will help a person understand all of their options relating to financial recovery following a crash. People need to understand that insurance companies for large trucks will try very hard to settle these cases outside of court as soon as possible, and most of the settlement offers they extend are well below what people are actually entitled to.
Arash Law, founded by famous attorney Arash Khorsandi, Esq., has recovered more than $500 Million for its clients, and our firm does not charge people anything until we win or settle their case.
Verdict for a client who was sideswiped by a commercial truck
– 
JUDD ROSS ALLEN
Truck Accident Statistics in Anaheim
According to the California Statewide Integrated Traffic Records System (SWITRS), Orange County had 336 injury truck crashes and 18 fatal truck crashes in 2019, which was the lowest injury total dating back to 2015 but the second-highest fatality total besides the 19 people killed in 2018. The Federal Motor Carrier Safety Administration (FMCSA) reported that 4,842 large trucks were involved in fatal crashes, 45,900 were involved in injury crashes, and 86,618 were involved in tow-away crashes in 2020.
Single-vehicle crashes, which included crashes involving a bicyclist, pedestrian, or non-motorized vehicle, accounted for 22 percent of all fatal crashes, 16 percent of all injury crashes, and 24 percent of all property damage-only crashes involving large trucks in 2020. A majority (62 percent) of fatal large truck crashes involved two vehicles.
Fatal crashes involving large trucks occurred most often in rural areas and on Interstate highways. About 54 percent of all fatal crashes involving large trucks occurred in rural areas, 27 percent occurred on Interstate highways, and 13 percent fell into both categories by happening on rural Interstate highways.
The 13.49 fatal large truck crashes per million people in the United States in 2020 was a 27 percent increase from 10.6 in 2010. There was an average of 1.12 fatalities in fatal crashes involving large trucks.
Common Causes of Anaheim Trucking Accidents
The most common cause of truck accidents usually relates to driver error. Drivers can be at fault for a number of actions. Frequent causes include:
Driver fatigue
Driving under the influence (DUI) of alcohol or drugs
Distracted driving
Speeding
Reckless driving
Unsafe lane changes
Tailgating
Road rage
When a person hires an Anaheim truck accident attorney, they can conduct an independent investigation into the cause of the wreck. When a truck driver does appear to be at fault, it may be possible that the truck driver's employer bears responsibility for the crash.
Trucking companies and numerous other parties can all be liable for truck accidents, depending on the facts of the case. People often have the right to hold multiple parties accountable for a truck accident, it is important for everybody to understand their legal rights in these situations.

Emperatriz Ayala
My husband had an accident 2 years ago, a 85 years old man hit him, the Arash law group works very well on my husband case that took 9 month and he won the case and my husband was happy with the results. A year later I got into an accident as well and I'm still waiting in my case is almost resolving and it's 9 months already. This people knows the law and they do their job right to help you out in getting the most for you to fight on your behalf. I strongly recommend the Arash Law firm they do things right in a efficient and professional manner.

Chris Zavala
Had a great experience with all the people at Arash law. Long story short was in a bad car accident. It was overwhelming and the whole process was a lot, but they kept me in the loop. They answered all my questions and gave me great advice. Couldn't be any happier. Would definitely recommend anyone looking for a personal injury lawyer. They'll guide you through the whole process!

Jill Smith
Having Arash Law handle my auto accident was the best decision I could have made. Everyone I interacted with was kind, professional and detail oriented. I am extremely happy with the outcome and would recommend them highly.

Joseph R. Porter
From start to finish, Arash Law firm is there every step of the way with close, constant, personal contact and attention. I never knew a Law firm could actually care so much for me as a person and what I was personally going through as well as the settlement I was going to recieve once my case was finally completed. Thank you to everyone at Arash Law for your ongoing support and communication. You are the ONLY firm I will ever recommend to someone who is need of a great attorny.

Monica Parra
I had an excellent experience with Arash Law. I will definitely recommend to my family and friends. I interviewed a few firms before deciding to work with Arash Law. What made my experience excellent was (i.e. head attorney being accessible to talk to and he answered all my questions and concerns, sensitive and thorough personel who completed in home intake & follow up process, being connected immediately to quality Physicians who addressed my injuries and recovery process, clear contract-read throughly to ensure its something you can commit to). Being in a car accident is a traumatic experience and I had a sense of peace knowing Arash Firm was walking with me throughout the whole process. Thank you Arash Firm for all your hard work and help. I am so grateful and appreciative for you all! 🙏 With Gratitude, Monica Parra
When Truck Accidents Happen Because of Other Causes
While truck drivers are often at fault for causing truck accidents, there are situations in which the truck driver is free from blame because it is actually some other party that bears responsibility. It is again important for people to work with an experienced Anaheim truck accident lawyer who will know how to investigate a crash to determine the appropriate liable parties by examining police reports, speaking to eyewitnesses, and reviewing truck driver logs.
It is never out of the question that a third party, such as another motor vehicle driver, was at fault for causing a truck accident. There is also a very common issue involving a truck malfunctioning because of a mechanical issue, and liable parties in these cases might include parts manufacturers, mechanics, or other maintenance providers.
Common Kinds of Truck Accident Injuries
There is little doubt that the size of commercial trucks often means that people involved in collisions with these vehicles are going to suffer serious injuries. People hospitalized for tremendous lengths of time, and there can often be several months, years, or even lifetimes of additional treatment that is required.
Common kinds of truck accident injuries often include, but are not limited to:
Fractures or broken bones
Concussions
Crush injuries
Closed head injuries
Back injuries
Knee injuries
Leg injuries
Neck injuries
Arm injuries
Neck injuries
Internal injuries
Skull fractures
Traumatic brain injuries (TBIs)
Spinal cord injuries
Permanent nerve injuries
Amputations
Paralysis
Severe burn injuries
Occupational illnesses
Lacerations
Wrongful death
California only allows a person two years from the date of their accident to commence a legal action to recover damages, although an injury that is not immediately discovered may lead to a lawsuit being filed within one year of the date the person discovers the injury. While two years can sound like a long time to some people, it is actually a very short window of time, and it is important to get legal help as soon as possible so an attorney can do the necessary legwork before any legal action is taken.
Representatives from insurance companies representing large trucks will attempt to contact truck accident victims and get them to accept lowball settlement offers. People should exercise tremendous caution in dealing with these agents, as they may also claim that they need a recorded statement to proceed with handling their case, but recorded statements are often a common trick insurers utilize to try and get people to make damaging admissions that harm their cases unknowingly.
A person will always be best served by hiring an Anaheim truck accident lawyer to handle all communications with insurance companies on their behalf because an attorney knows how to deal with these parties and minimize any damage to a case. Arash Law, founded by famous attorney Arash Khorsandi, Esq., frequently helps people involved in all kinds of truck accidents and knows how to fight to recover as much compensation as possible in these cases.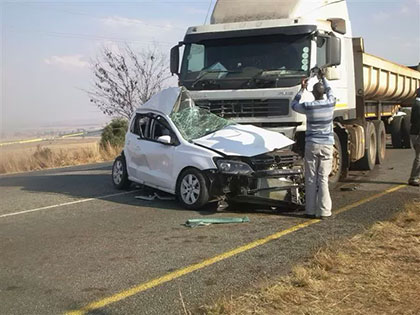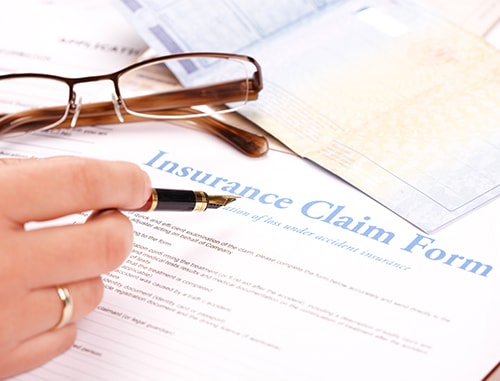 How Insurance and Liability Work in Truck Accident Cases
The California Department of Motor Vehicles (DMV) states that insurance or financial responsibility is required for every vehicle operated or parked on California roads. The acceptable forms of insurance are a motor vehicle liability insurance policy, a cash deposit of $35,000 with the DMV, a DMV-issued self-insurance certificate, or a surety bond for $35,000 from a company licensed to do business in California.
The minimum liability insurance requirements under California Insurance Code § 11580.1b are $15,000 for injury or death to one person, $30,000 for injury or death to more than one person, and $5,000 for damage to property. California also requires all commercial vehicles entering California to have proof of financial responsibility, with levels of liability insurance varying from $300,000 to $5 million combined single-limit coverage, depending on the type of vehicle and the property being transported.
When a person has a truck accident case, they may be entitled to compensatory damages, which are usually a combination of economic and non-economic damages. Economic damages refer to actual costs that can be calculated and proven, while non-economic damages are much more subjective.
Common kinds of economic damages include medical bills, lost income, and property damage. Non-economic damages often include pain and suffering, emotional distress, and disability.
California Civil Code § 3294 also allows for punitive damages, which are usually awarded more to punish negligent parties specifically for oppression, fraud, or malice. Malice is defined as conduct intended by a defendant to cause injury to a plaintiff or despicable conduct carried on by a defendant with a willful and conscious disregard for the rights or safety of others; oppression is defined as despicable conduct subjecting a person to cruel and unjust hardship in conscious disregard of that person's rights, and fraud is defined as intentional misrepresentation, deceit, or concealment of a material fact known to a defendant with the intention on the part of a defendant of thereby depriving a person of property or legal rights or otherwise causing injury.
Driver Qualification Impact
Both the federal government and California enforce various regulations relating to commercial trucks. One of the most important regulations truck drivers are expected to comply with are the FMCSA Hours of Service rules, which provide that property-carrying drivers can drive up to 11 hours after 10 consecutive hours off duty and passenger-carrying drivers can drive up to 10 hours following eight consecutive hours off duty.
Property-carrying drivers cannot drive after the 14th consecutive hour after coming on duty following 10 consecutive hours off duty, and passenger-carrying drivers cannot drive after having been on duty for 15 hours following eight consecutive hours off duty. Truck drivers are allowed to extend the maximum driving time and on-duty limit by up to two hours when adverse driving conditions are encountered.
It is also important to note that truck drivers with poor driving records can also make employers liable for damages in certain cases. Violations by truck drivers are supposed to be reported to the state in accordance with federal law.  
When the Truck Driver is at Fault
While truck drivers can often be found to be at fault for causing accidents, holding them liable can often be a fruitless endeavor because many truck drivers do not have the financial resources necessary to pay any large judgments. It is imperative for people to have legal representation that can examine additional parties that can be liable as well, so there will be a better chance of actually recovering any damages that are awarded.
There are several claims that can arise in a truck accident case, such as negligent hiring when an employer hires a truck accident driver despite a history of problematic driving incidents, such as DUI arrests. There can also be negligent entrustment, negligent supervision, or negligent retention issues.
When Trucking Companies Are Responsible
Employers are liable for the actions of their employees, so long as the actions fall within the scope of their jobs. Even when a truck driver is negligent in causing an accident, the trucking company employing the driver can also be responsible for damages.
A trucking company needs to be sure it is only hiring qualified drivers, and every company needs to be diligent in performing adequate background checks. Trucking companies must also train their employees and continue to provide ongoing training when necessary, and trucking companies can be held liable for not upholding these responsibilities.
Most trucking companies are going to have insurance companies ready to represent them in these cases, and insurers are all but certain to try and reach out to victims to try and close the cases as soon as possible. You generally want to avoid saying anything to an insurer for a trucking company because they are going to do whatever they can to try and hurt your case or pay you much less than you are actually entitled to.
The bottom line is that trucking companies typically share liability with drivers for causing truck accidents. A person will want to be certain they have the help of an Anaheim truck accident lawyer when they are dealing with these situations.
Holding Negligent Parties Accountable
Truck accident cases end up being resolved through settlements with insurance companies because both sides believe it is easier to settle a case than risk going to trial, which can be prohibitively expensive in many cases. There are situations, however, in which an adequate settlement cannot be negotiated and a person is forced to file a lawsuit to take the case to court.
People need to take certain steps to help protect their rights to compensation in these cases, with the first one being the need to seek medical attention as soon as possible after a crash. You will want to have a doctor or other medical professional perform a complete evaluation of your condition and document any injuries you suffered in your crash.
People should also be sure to exchange relevant information with truck drivers so they know who the insurance company involved is. When there are witnesses to an accident, a person should try to get contact information from those parties as well.
Can I Sue for Being Hit by a Truck?
Truck accidents are not limited only to collisions with other vehicles, as it is always possible for injured parties to include other road users, such as bicyclists or pedestrians. Anyone who suffers injuries because of a truck accident will have the right to pursue compensation for their losses.
It is again important for people to seek medical attention as soon as possible after a truck accident because waiting days or weeks to visit a doctor can often lead to an insurance company being unwilling to pay a person anything. People should remember that many injuries involve delayed symptoms, meaning a person who feels fine after a truck accident may still have suffered an injury they are not even aware of.
Do not wait to get in touch with Arash Law after a truck accident, as we can advise you on all of the steps you need to take to protect your legal rights. Our firm knows what the most effective strategies are for handling these types of cases, and we will be sure to help you do everything you need to do.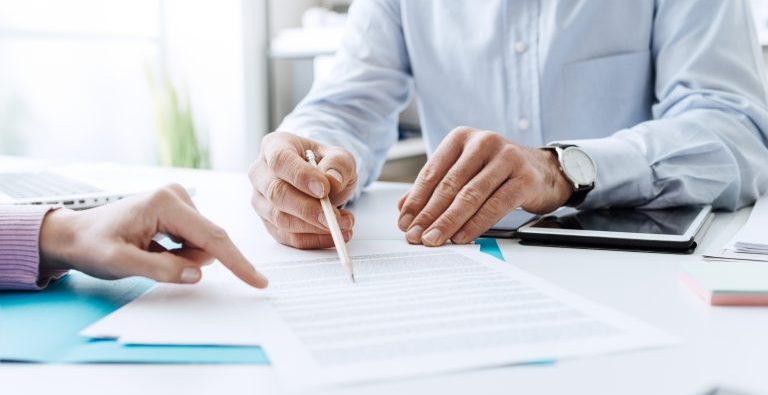 Settlement in a case where a client was injured while unloading commercial truck; client sustained crush injuries to legs
– 
JUDD ROSS ALLEN
Types of Compensation for Truck Accidents
Under the guidance of Arash Khorsandi, Esq., Arash Law helps people recover all of the compensation they are entitled to after a truck accident.
Some of the most common kinds of economic and non-economic damages in these cases include, but are not limited to:
Medical bills
Physical therapy costs
Lost income
Property damage
Mental anguish
Disfigurement
Long-term physical pain and suffering
Loss of consortium
Loss of function
Care for a permanent disability
Alterations to a home to accommodate a person's needs
What Can an Anaheim Truck Accident Lawyer Do for Me?
Make no mistake, an insurance company for a truck driver or trucking company is highly likely to tell you that you do not need to hire an attorney because the insurer is going to make sure you are taken care of. Such reassurance is always an empty promise because the insurance company is only concerned with preserving its bottom line by paying you as little as possible.
In contrast, Anaheim truck accident lawyers are going to handle your case on a contingency fee basis, which means that you will not pay them anything unless they win or settle your case. If the attorney does not recover anything, they do not get paid.
A reputable Anaheim truck accident lawyer is going to be of major help to you because they can collect all of the necessary evidence to help make your truck accident claim a success. They can also defend you against any efforts by a trucking company to discredit you and minimize the seriousness of your injuries.
An attorney knows how to pursue financial compensation on your behalf. They can hire accident reconstruction specialists, investigators, or other expert witnesses to help make your case as strong as possible.
Let Our Trusted Anaheim Truck Accident Lawyers Help You
Large truck accidents are a continuous problem nationwide, and California is far from being the exception. Commercial trucks regularly have to travel through the state for various deliveries, so many people are at risk of being involved in a truck crash.
As soon as any person is involved in a commercial truck accident, insurance companies for the truck driver and related parties are going to work to get people to settle their cases for much less than they need and deserve. A person will want to be sure they are working with an experienced Anaheim truck accident lawyer in these situations.
Arash Law, led by Arash Khorsandi, Esq., have extensive experience handling all kinds of commercial truck accident cases, as we have a team of more than 50 lawyers with decades of legal experience and have recovered more than $500 Million for our clients. We know how to resist insurance company demands for lackluster settlements, and we can negotiate a full and fair settlement amount that will actually cover every cost you encounter.
We cover all of Anaheim as well as the rest of Orange County, including the following cities Santa Ana, Irvine, Newport Beach, Laguna Beach, San Clemente, and more. Available 24/7 to come to your need, we also have offices all over the State of California. Call (888) 488-1391 or contact us online right now to set up a free consultation so we can review your case and determine the next steps in your case.