One person was seriously hurt after a bicycle accident at an intersection in Bakersfield on Tuesday afternoon, August 10.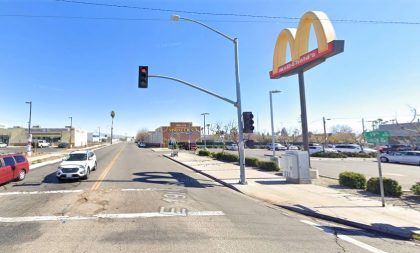 The accident occurred at the intersection of Union Avenue and 19th Street in Bakersfield at approximately 4:36 p.m. The bicyclist was reportedly heading westbound the crossed the road on a red light. Meanwhile, a vehicle passing through the intersection on a green light struck the bicyclist.
The bicyclist was seriously injured as a result of the mishap. He was rushed to an area hospital for treatment. The driver that struck the bicyclist remained at the scene and cooperated with authorities. She was uninjured from the accident.
Drugs, alcohol, and speeding were not considered factors in the accident. The crash is under further investigation. Witnesses that can give additional information about the accident are urged to contact the Bakersfield Police Department at 661-327-7111.

Bicycle Accident Statistics
Riding a bicycle has become a popular alternative for people traveling short distances. However, there are certain dangers that bicyclists must deal with daily. Bicyclists in America face numerous dangers on the roads. The United States has a higher rate of traffic fatalities and injuries than most other countries. According to preliminary NHTSA estimates, 846 cyclists were killed in traffic accidents in the United States in 2019.
Cyclists account for nearly 2% of all fatalities in motor vehicle crashes in the United States each year (pedal cyclists). In 2018, 871 bicyclists died, the most in a single year since 1988. Cyclist deaths account for 4% of all auto accidents in California. This is more than twice the national average, putting California first in the country in terms of cyclist deaths.
There are several reasons why bicycle accidents occur. Common reasons are drivers failing to yield the right of way, drivers failing to check for bikes before pulling out, drivers running a stop sign or a red light, and distracted driving.
Personal Injury Attorney for Victims of Bicycle Accidents in Kern County
Bicycle accidents often result in serious injuries that can take months to years of treatment. This can result in expensive medical bills and lost wages. Common bike accident injuries include broken bones, road rash, head and brain injuries, crush injuries, and internal organ damage. If you or someone you love was recently involved in a bicycle accident in California, come to Arash Law. We have experience representing clients in these scenarios.
Don't put off speaking with an attorney after an accident. Regardless of the severity of your injuries, you have the right to speak with an experienced personal injury lawyer about your compensation options. You will most likely be able to recover from your medical bills, pain and suffering, property damage, and other expenses.
The experienced personal injury attorneys at Arash Law are different from personal injury attorneys at other firms in the careful attention we give to each case and the meticulous preparation that goes into building every client's best case. As a result of this philosophy and approach, we have been able to successfully recover for our clients in the form of both sizeable settlements and jury verdicts on behalf of a large percentage of our clients. For inquiries and concerns, you may visit our offices in Los Angeles, Sacramento, San Francisco, Riverside, Orange County, and San Diego, or give us a call at (888) 488-1391 for a FREE Consultation.