One person was killed after a fatal pedestrian accident in San Rafael on Tuesday morning, May 18.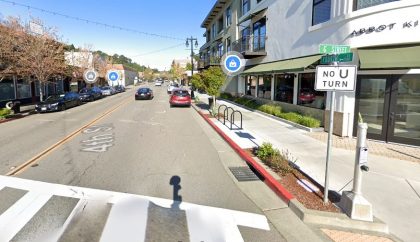 The accident happened at approximately 8:00 a.m. in the area of Fourth and G Streets in San Rafael.
The pedestrian was reportedly walking west on a crosswalk when he/she was struck by a passing vehicle at the intersection. The driver that struck the pedestrian remained at the scene and cooperated with local authorities.
Officers arrived at the scene and attempted to perform life-saving measures on the victim. Unfortunately, the pedestrian later succumbed to their injuries and was pronounced dead at the scene.
The San Rafael Police Department is further investigating the accident. People that can provide additional information about the accident are urged to call the San Rafael Police Department (415)485-3000.

Fatal Pedestrian Accident Statistics
Pedestrian accidents often lead to severe injuries and even death to those who are unlucky enough to be involved in such an accident. Unfortunately, pedestrians currently make up a large percentage of traffic fatalities in the past 33 years. According to the Governors Highway Safety Association, pedestrian fatalities in the U.S. have increased by 27 percent from 2007-2016, while other traffic-related deaths decreased by 14 percent.
Pedestrians are completely defenseless and vulnerable in the event of someone else's negligence in the circumstances in which most pedestrian accidents occur. Common injuries resulting from pedestrian accidents are head trauma like concussions or brain bleeds, traumatic brain injuries, and many other debilitating injuries. Many pedestrian accident injuries can result in either functional impairments or long-term conditions.
Wrongful Death Attorney for Victims of Fatal Pedestrian Accidents in Marin County
A California wrongful death lawsuit must also be brought within two years of the date of the accident. A family member is precluded from bringing a wrongful death lawsuit if it is not filed within that time period. This is why it is important to immediately hire an experienced wrongful death attorney to help you with your claim.
Our lawyers from Arash Law are available 24/7 to help. A pedestrian accident lawyer from Arash Law will help you stay one step ahead of the insurance company or responsible party and avoid mistakes that would jeopardize your claim. Our attorneys will also perform an immediate investigation to gather evidence while it is still available.
We can also handle talks with the insurance company, calculate your damages, and use proven legal strategies during settlement negotiations and potential litigation. Don't delay, and contact our firm today at (888) 488-1391 for a FREE Consultation with a wrongful death attorney.