Our Napa County Injury Law Firm

Doesn't Just Win,


We Win Big!
You May Be Entitled to Compensation

Napa County's

Trusted Injury Law Firm with a Proven Track Record of Success
Renowned for its wineries, breathtaking landscapes, and thriving tourism, Napa County attracts millions of visitors yearly for weddings, romantic getaways, and wine tastings. Unfortunately, the influx of people can also contribute to a higher risk of serious accidents.
During these challenging times, it is crucial to have a reliable injury law firm in Napa County assist you and provide legal guidance to ensure you receive the compensation you deserve. This is especially important in serious accidents, as the consequences can be long-lasting and life-altering.
Arash Law, under the direction of Arash Khorsandi, Esq., takes great pride in offering unwavering support to people during some of their most difficult times. Our dedicated team goes the extra mile to ensure that insurance companies and defense attorneys genuinely understand our clients' perspectives. The outcomes we achieve stand as a testament to our commitment and dedication.
Our injury law firm in Napa County represents clients in various personal injury cases. Whether you've been involved in trucking accidents, experienced animal attacks, suffered from car or motorcycle accidents, encountered medical malpractice, or faced workers' compensation issues, we are here to fight for your rights.
Don't let concerns about high attorney fees prevent you from seeking the justice you deserve when someone's negligence has caused you harm. We operate on a contingency fee basis, meaning there are no legal fees unless we successfully win your case. Call us at (888) 488-1391 to start the process today.
Our client was driving with his wife and son on a two-lane highway when a drunk driver crossed the double yellow lines, causing a head-on collision that claimed the life of a loving wife and mother.
– 
ARASH KHORSANDI
IF YES, You may be able to recover financial compensation. TELL US MORE: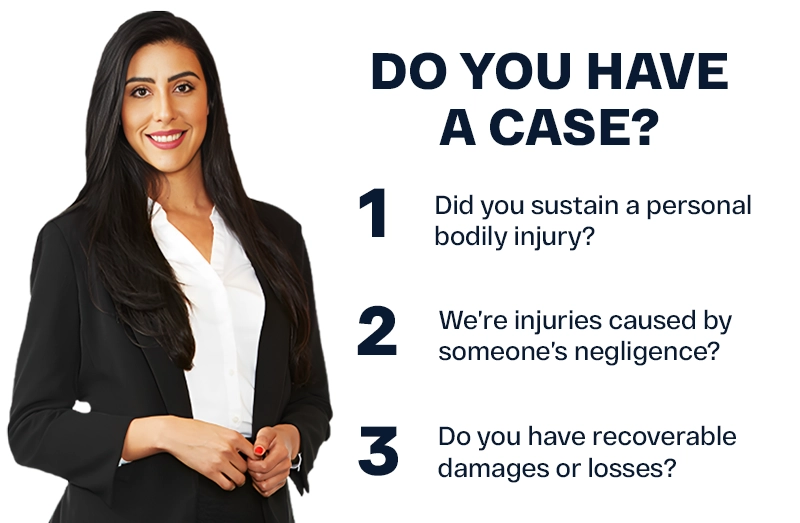 IF YES

, You may be able to recover financial compensation.

TELL US MORE:
Proving Negligence in a Personal Injury Case in Napa County
Personal injuries in California encompass various incidents caused by negligence or intentional misconduct. To succeed in your claim, you must establish four key facts:
The defendant owed you a duty of care, which our injury law firm can help identify.
The defendant breached their duty intentionally or negligently, requiring evidence of their actions or inactions.
The defendant's actions directly caused measurable damages, which we can help calculate for your claim.
The damages resulted solely from the defendant's breach of duty, not from any other cause.
Meeting these requirements increases the likelihood of success. Our experienced injury law firm in Napa County will assist you in gathering evidence, including physical evidence and eyewitness statements. We may consult expert witnesses, such as accident reconstruction experts, to effectively support your case.
Our Injury Law Firm Tackles a Wide Range of Personal Injury Cases
Napa County experiences a significant number of accidents each year, making it clear that anyone may unexpectedly require the services of a personal injury law firm at any time. When such circumstances arise, having one of the leading Napa personal injury law firms by your side can provide invaluable support and ease your challenges.
Our personal injury law firm in Napa County has years of experience working on claims involving:
Auto Accidents
Truck Accidents
Bus Accidents
Train Wrecks
Rideshare Accidents
Plane Accidents
Traumatic Brain Injuries
Spinal Injuries
Dog Bites
Slip-and-Fall Accidents
Common Injuries After an Accident in Napa County
Under the leadership of Arash Khorsandi, Esq., the legal team at Arash Law has extensive expertise in advocating for the rights of individuals who have suffered a broad range of injuries. Various factors contribute to the severity and specific consequences of injuries arising from motor vehicle accidents, slip-and-falls, and other incidents.
Consider, for example, the repercussions of a dog bite. Such an incident can result in a superficial yet excruciating laceration, leaving a noticeable scar. Alternatively, it can cause profound damage to deep tissues and lead to permanent nerve impairment, significantly impacting an individual's ability to support their family and maintain their quality of life. Here are some common injuries frequently encountered by victims:
Broken Bones
Severe Lacerations
Muscle, Tendon, and Ligament Injuries
Traumatic Brain Injuries (TBI)
Neck Injuries and Whiplash
Back Injuries
Spinal Cord Injuries
Crush Injuries
Catastrophic and Surgical Amputations
Burns
Scarring and Disfigurement
Post-Traumatic Stress Disorder (PTSD)
When you sustain injuries in an accident, receiving the highest quality medical care is paramount. Our injury law firm is dedicated to assisting you in accessing the top medical specialists who can provide the care you need. We understand that the arrival of medical bills can be overwhelming, even with health insurance coverage, as they can often reach astronomical amounts.
To alleviate the financial burden, we proactively negotiate with medical providers on your behalf. We aim to reduce the amount you owe, establish feasible payment plans, or arrange for liens when necessary. We strive to protect you from facing collections and provide guidance when immediate payment is impossible. Your well-being and financial stability are our top priorities.
Filing an Insurance Claim After an Auto Accident in Napa County
Car accidents are a common cause of personal injury claims in California. Before initiating civil claim proceedings, it is necessary to file an insurance claim against the at-fault driver.
California law mandates drivers to carry auto insurance that meets the state's minimum coverage requirements, which include:
A single person is covered for $15,000 in bodily injury liability
A single accident is covered by up to $30,000 in total accident liability
Property damage liability coverage of $5,000
While not legally required, obtaining uninsured or underinsured motorist coverage is encouraged. When an underinsured driver causes an accident, this coverage comes into play. The coverage kicks in when a negligent driver causes an accident. It is crucial to collect the at-fault driver's insurance information immediately after the accident and notify your own insurance company, regardless of fault.
Our Napa County injury law firm assists with auto insurance claims, ensuring a smooth process. Dealing with insurance companies can be stressful, but we can guide you. Reporting accidents and filing claims have strict timelines, so seeking legal counsel is recommended. We handle claim filing and dispute resolution and strive to maximize your settlement. If damages exceed the at-fault driver's insurance coverage or no insurance is available, our experienced Napa County personal injury firm helps build a case for pursuing compensation from the responsible parties.
Damages You Can Recover From A Personal Injury Case in Napa County
In Napa County and throughout California, the damages you can recover in a personal injury case are based on the actual harm you have suffered, not speculation. There are three types of damages that accident victims may be entitled to:
Economic damages: These include quantifiable losses such as hospital bills, ongoing treatment costs, medication expenses, property damage, income loss, and other financial impacts resulting from the accident.
Non-economic damages: These compensate for less tangible losses like pain and suffering, emotional distress, anxiety, PTSD, loss of companionship, disfigurement, and other factors that affect your quality of life.
Punitive damages: If the responsible party acted recklessly or maliciously, punitive damages might be awarded to punish them and discourage similar behavior. These damages are not meant to compensate the victim directly but to hold the defendant accountable.
The damages you may receive depend on the details of your claim, the defendant's behavior, and your attorney's presentation of your case. To understand your legal options and seek appropriate compensation, consult our trusted personal injury law firm in Napa County.
Proven Ways to Strengthen Your Personal Injury Claim
In the event of an injury, it is imperative to take appropriate actions to hold responsible parties accountable, as they may attempt to deny their involvement in the accident. You should take specific steps to strengthen your claim in Napa County.
Seek Immediate Medical Attention: Prioritize your health and well-being by seeking prompt medical treatment, even for minor injuries. This establishes a record of your injuries and supports your claim.
Preserve Evidence: Gather and preserve relevant evidence, such as photographs of the accident scene, property damage, or witness statements. This documentation strengthens your case.
Document Injuries and Damages: Keep track of medical treatments, medications, and therapies. Take photos of visible injuries and maintain a journal detailing the impact on your daily life.
Report the Incident: Notify the appropriate authorities, such as the police or property owner, depending on the situation. Obtain copies of incident reports or documentation.
Follow Medical Advice and Treatment: Adhere to prescribed medical treatments and attend all appointments. Compliance demonstrates reasonable efforts to mitigate damages.
Avoid Discussing the Case: Refrain from discussing case details with anyone other than your attorney. Statements made to others, including on social media, can be used against you.
Cooperate with the Investigation: Stay responsive and cooperative with your lawyer and any investigators involved. Provide requested information and documentation promptly.
Consult with a Personal Injury Law Firm: Seek guidance from a reputable personal injury law firm in Napa County. We can assess your claim, gather evidence, negotiate with insurance companies, and navigate the legal process on your behalf.
Deadline for Filing a Personal Injury Lawsuit in Napa County
California's statute of limitations for personal injury claims is strictly set at two years, allowing you a limited window to file a lawsuit following an accident, barring specific exceptions. The court may only accept your claim if you file a lawsuit within this timeframe.
Given the significance of this time limit, it is crucial to reach out to a personal injury law firm immediately following your accident. With the assistance of experienced professionals, you can protect your rights and explore your legal options quickly.
Our experienced legal team of over 100 professionals is committed to providing comprehensive support throughout your legal journey. We handle every aspect of your case, allowing you to focus on your recovery and well-being.
As a leading injury law firm in Napa County, we have a proven track record of excellence in advocating for individuals like you. We believe in fighting for justice beyond financial compensation, recognizing your worth and value as a human being. You can rely on our unwavering dedication to support your cause and pursue the compensation you deserve.
Are You Injured in Napa County? Let Our Award-Winning Injury Law Firm Help You
Arash Law, under the direction of Arash Khorsandi, Esq., has a successful track record, having recovered over $500 million for accident victims, including those involved in car, truck, motorcycle, Uber, Lyft, bicycle, pedestrian, and other accidents. Our dedicated attorneys have been champions for Californians and their families for decades.
Year after year, Arash Law and our esteemed team, under Arash Khorsandi's guidance, receive recognition through prestigious awards from industry leaders and esteemed attorney associations. We take pride in our continuous success, including being named Premier Lawyer of America's 2019 Top 40 Under 40.
When you contact our injury law firm, you will have a dedicated lawyer assigned to your needs throughout the entire process. We handle personal injury cases on a contingency fee basis, meaning we only get paid when you get paid.
Your case holds immense importance for us. We are committed to securing compensation for victims who have suffered due to the negligence of others. While we cannot undo an injury or bring back a loved one, we can help you pursue the compensation you deserve. Rest assured that your case is of the utmost significance to us.
Can I Afford an Injury Law Firm in Napa County?
Most personal injury lawyers work on a contingency fee basis, meaning they only get paid if you do. This arrangement allows you to hire an attorney even if you don't have the cash to pay anything upfront. It also aligns your interests with your lawyer's, as you both want the case to be resolved for as much money as possible as quickly as possible.
If you have been hurt in an accident, don't let your fear of substantial legal bills hold you back. When you hire our injury law firm in Napa County, you will only pay us a dime if we get money for you. Call us today to schedule a free consultation and learn more about your legal rights.
What Makes Our Injury Law Firm in Napa County The Best?
We prioritize convenience and efficiency in our legal services, ensuring a smooth and hassle-free experience for our clients. Here's how we achieve that:
Free and Confidential Consultations: We offer consultations over the phone or via teleconference, eliminating the need for a face-to-face meeting. We understand the importance of discussing your case promptly and conveniently, especially considering the limited time to pursue legal action in California.
Electronic Signing of Legal Documents: Our clients can conveniently sign retainer agreements, settlement agreements, and other legal documents electronically using E-Sign technology. This ensures a seamless and secure process, adhering to social distancing guidelines.
Text and Email Updates: We keep you informed throughout the legal process, providing regular updates via text and email. You also have the option to call us with any inquiries regarding the progress of your case.
Aggressive Negotiation: Our attorneys are skilled negotiators and litigators who will vigorously advocate for your best interests. Whether in our office, on our laptops, or over the phone, we are committed to securing maximum compensation for you to facilitate your recovery.
Direct Transfer of Compensation: To expedite the completion of your case, if you receive a compensation award, we can arrange for the funds to be directly transferred to your bank account, eliminating the need for a physical check.
By leveraging technology and providing open communication channels, we strive to make the legal process efficient, convenient, and transparent for our clients, particularly during these uncertain times.
Get the Compensation You Deserve! Contact Our Trusted Injury Law Firm in Napa County Today
Following an accident, it's typical for people to receive subpar offers from the at-fault party's insurance company. That's where our personal injury law firm comes in. We are dedicated to ensuring you receive the total compensation you deserve.
As a steadfast advocate for accident victims in Napa County, our firm will fearlessly take on the insurance company on your behalf, securing a favorable outcome. Schedule a free consultation by calling (888) 488-1391, and let us fight for your rights.
Record-Breaking Verdicts in the Following Areas of Practice
Get The Latest News from

The Best California Accident Law Firm Today