Our Pomona Injury Law Firm

Doesn't Just Win,


We Win Big!
You May Be Entitled to Compensation

Pomona's Leading Personal Injury Law Firm

Ready To Fight Aggressively For Your Rights
When accidents occur, the consequences can be devastating, leaving individuals and families grappling with physical, emotional, and financial burdens. Pomona City's leading personal injury law firm is ready to fight for the rights of those who have suffered injuries due to others' negligence. With our extensive legal expertise, dedication to justice, and unwavering commitment to our clients, we serve as a trusted ally in navigating the complexities of personal injury cases.
For years, Arash Law, under the leadership of Arash Khorsandi, Esq., has been at the forefront of advocating for the rights of accident victims in Pomona. Our esteemed injury law firm has a proven track record of securing over $500 Million in compensation for a wide range of accident cases, including car, truck, motorcycle, Uber, Lyft, bicycle, pedestrian, and more. Our unwavering commitment lies in providing our clients with empathetic and dedicated legal representation. With our experienced team of injury attorneys, we will vigorously fight to ensure you receive the rightful compensation you deserve.
If you or a loved one is injured due to another's carelessness in Ponoma City, reach us at (888) 488-1391 or click "Do I Have A Case?" to schedule a free consultation with one of our experienced attorneys.
SM v. Doe Defendant (settled on 10/14/2020) – settlement in a case involving a client who sustained a spinal cord injury and mild traumatic brain injury when he fell off a roof. The team at Arash Law secured an additional $610,000 as part of the third party settlement.
– 
TINA ESHGHIEH
IF YES, You may be able to recover financial compensation. TELL US MORE: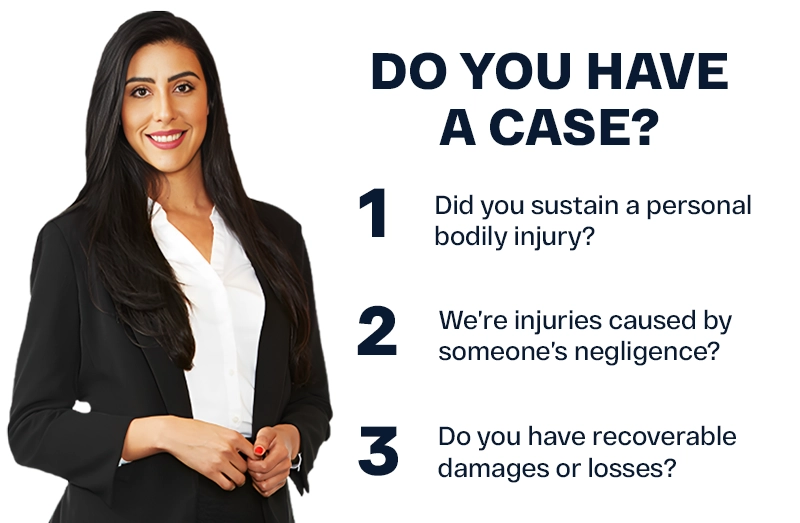 IF YES

, You may be able to recover financial compensation.

TELL US MORE:
Holding Negligent Drivers in Pomona Accountable for Their Actions
Navigating the congested freeways of Pomona presents its fair share of challenges for drivers. However, when negligent driving becomes a part of our community's daily life, it exacerbates the situation.
At our dedicated Pomona injury firm, our team of car, truck, and motorcycle accident lawyers represents individuals who have suffered injuries due to the negligence of drivers engaging in the following behaviors:
Disregarding traffic signs or signals and evading the laws that govern our roads
Succumbing to distractions caused by phones, such as texting, emailing, and browsing the internet
Behaving recklessly or exceeding speed limits
Operating vehicles under the influence of alcohol or drugs
Regardless of the circumstances surrounding your injury, whether on city streets, freeways, or within residential areas, our Pomona personal injury law firm is eager to investigate your claim today.
Types Of Accidents We Handle In Pomona City
Personal injuries in Pomona are not solely the result of car accidents. Our injury law firm in Pomona is fully equipped to assist you in obtaining compensation for injuries from any accident. Through personal injury lawsuits, we have helped clients in circumstances similar to yours win substantial compensation.
We worked tirelessly on cases involving:
Auto Accidents
Motorcycle Accidents
Truck Accidents
Pedestrian Accidents
Bus Accidents
Train Wrecks
Bicycle Accidents
Rideshare Accidents
Plane Accidents
Traumatic Brain Injuries
Spinal Injuries
Dog Bites
Premises Liability
Slip-and-Fall Accidents
Wrongful Death
Other Personal Injuries
Personal Injury Settlement
Our client was the victim of a rear-end accident who was left injured and severely in pain. Arash Law was able to outshine other injury law firms when he searched online, and thankfully we were able to handle everything for our client from A to Z — All that he had to do was ask and focus on his recovery. Our client's life has changed forever, and the compensation received for the pain and suffering has opened paths for new lifelong opportunities.
Personal Injury Settlement
Our client was the victim of a rear-end accident who was left injured and severely in pain. Arash Law was able to outshine other injury law firms when he searched online, and thankfully we were able to handle everything for our client from A to Z — All that he had to do was ask and focus on his recovery. Our client's life has changed forever, and the compensation received for the pain and suffering has opened paths for new lifelong opportunities.
Seeking Compensation for Your Injuries After an Accident in Pomona, California
Life can take an unexpected turn in seconds due to accidents and injuries. The aftermath often includes daunting medical bills, arduous physical recovery, and overwhelming emotional trauma. The impact can be devastating if you find yourself unable to work and face financial strain.
However, filing a personal injury claim with our law firm can provide vital compensation during this critical time. Through a personal injury lawsuit, you have the opportunity to recover these types of damages, including:
These are tangible and quantifiable losses with a monetary value. Economic damages may include:
Hospitalization expenses
Surgical procedures
Medication costs
Rehabilitation needs
Nursing care requirements
Essential medical devices
Property damage
Lost wages
Diminished earning capacity
Non-economic damages, which are inherently subjective and cannot be assigned a precise monetary value, compensate for intangible losses and their profound impact on the injured individual's quality of life. Examples of non-economic damages may include the following:
Pain and suffering
Loss of enjoyment of life
Loss of consortium
Disfigurement or permanent disability
Punitive damages may be granted in extraordinary circumstances where the defendant's actions demonstrate extreme wrongdoing or intentional misconduct. These damages punish the defendant and act as a deterrent against similar behavior in the future. It's important to note that punitive damages are typically reserved for exceptional cases and are not awarded in every personal injury lawsuit.
The period following an accident in Pomona can be immensely challenging and stressful. Pursuing a personal injury claim can alleviate some difficulties while striving to regain your well-being. Trust our dedicated Pomona injury law firm to support you on your path to recovery.
If you have lost a loved one due to an accident, injury, or illness caused by someone else's negligence, you may have grounds to file a wrongful death lawsuit. By working with an experienced injury law firm in Pomona, you can pursue compensation for various damages, including:
Medical expenses incurred by your loved one
Funeral and burial or cremation costs
Loss of financial support resulting from untimely death
Loss of parental guidance and companionship
Taking the Right Steps After an Injury: Building a Strong Claim Together with Our Experienced Pomona Injury Law Firm
When you've been injured, it is crucial to take the necessary steps to ensure that the responsible parties are held accountable, even if they attempt to refute their responsibility for the accident. Our skilled injury law firm, Arash Law, under the direction of Arash Khorsandi, Esq., is here to guide you through a few crucial steps that will strengthen your claim:
Document the details: Recall the sequence of events leading up to your accident as best you can. Include details like the location, lighting conditions, and any relevant factors, such as wet surfaces. This will help paint a clear picture of what happened.
Capture the scene: Take time-stamped photos of the accident site before any potential hazards are rectified. These visual records can be valuable evidence supporting your case.
Gather incident reports: Request a copy if an incident report is available. This document can provide additional documentation of the accident.
Collect witness information: Record the contact details of any witnesses at the scene. Their testimonies could play a significant role in supporting your claim.
Prioritize your well-being: Seek prompt medical attention for your injuries. Your health and recovery are paramount; documenting your medical treatment will also contribute to your case.
Consult a trusted injury law firm: Contact our experienced personal injury law firm to discuss the best way forward with your claim. We will provide expert advice tailored to your situation, helping you navigate the legal process effectively.
Remember, you don't have to face this journey alone. Our dedicated law firm is here to support you every step of the way and work together to build a strong claim on your behalf.
Deadlines for Filing Personal Injury Claims in Pomona, CA
When building your personal injury case, your legal team may discuss the importance of the "statute of limitations." This term refers to the specific deadline within which you must file a lawsuit.
The statute of limitations is crucial because, in certain instances, parties involved may fail to reach an agreement regarding an insurance settlement. If this occurs, you may opt to initiate a lawsuit to pursue the compensation you deserve. However, it is essential to be mindful of the statutory deadline, as allowing it to pass may hinder your ability to sue the other party.
According to California Code of Civil Procedure (CCP) 335.1, you generally have two years from the date of injury to file your personal injury lawsuit. The same deadline applies if you are filing a wrongful death lawsuit, but in that case, it would be two years from the date of your loved one's passing. It's important to note that certain circumstances – such as suing a government agency – may impact the deadlines in personal injury or wrongful death cases.
To ensure you meet the necessary deadlines and protect your rights, you must consult with an experienced injury law firm in Pomona. We can provide specific guidance tailored to your situation and help you navigate the complexities of your personal injury or wrongful death claim within the required timeframe.
Dealing With The Insurance Companies
When processing your claim, it's vital to understand that dealing with the at-fault driver's insurance provider can be a complex and challenging task. As a result, it is in your best interests to rely on the knowledge of our reputable injury law firm, Arash Law, under the direction of Arash Khorsandi, Esq. We have the knowledge and experience to navigate this complex terrain on your behalf. Profits are the primary motivator for insurance companies, and they have a variety of strategies at their disposal, including:
Insurance companies often attempt to undervalue your claim by downplaying the severity or value of your injuries. However, our highly skilled injury attorneys are well-versed in ensuring your case receives the maximum compensation it deserves.
The insurance company may try to place some or all of the blame on you for the accident. But with our dedicated car accident attorneys by your side, we will build a solid case to counter such tactics and protect your rights.
3
Challenging Preexisting Conditions or Prior Accidents
The insurance company might argue that your injuries are related to a preexisting condition or a previous accident. While you will need to give the insurance company the necessary medical records, our skilled Pomona accident lawyers at Arash Law, under the direction of Arash Khorsandi, Esq., will expertly manage the exchange process and make sure they only receive the records they require.
4
Discrediting Your Pain and Injuries
The insurance company may attempt to deny that your pain and suffering are directly attributable to the car accident in question. However, our attorneys are well-versed in countering such tactics and can help dispel any doubts about the cause of your injuries.
The truth is that you were injured due to someone else's negligence, and you deserve fair compensation for your injuries. With our trustworthy Pomona injury law firm by your side, you can rest assured that we will skillfully negotiate with the insurance company to achieve a just resolution to your claim.
Injured in Pomona? Search For "The Best Personal Injury Law Firm Near Me," and You'll Find Us!
Our injury law firm in Pomona is widely recognized for delivering exceptional customer service and outstanding results. With a dedicated team of over 100 legal professionals, our firm stands at the forefront of the industry. Our renowned trial attorneys at Arash Law, under the direction of the esteemed Arash Khorsandi, Esq., have obtained multimillion-dollar verdicts and settlements in cases involving catastrophic injuries and wrongful death.
Year after year, our accomplished team receives prestigious accolades and recognition from distinguished industry leaders and esteemed attorney associations. Continuous success in winning cases has earned us accolades, such as being named Premier Lawyer of America's 2019 Top 40 Under 40.
We specialize in vehicle accidents and all forms of personal injury. The firm's unparalleled track record in assisting dog bite victims, motorcycle accidents, and car crashes speaks for itself. We aim to secure the largest possible settlement for your legal case, ensuring you receive the justice and compensation you deserve.
We proudly help clients in various areas near and around the city. Whether you're located in Anaheim, Riverside, Santa Ana, San Bernardino, Los Angeles, Glendale, Long Beach, San Diego, or Chula Vista, we provide exceptional legal representation. We also service the following surrounding postal codes: 91750, 91765, 91766, 91767, 91768, and 91769.
How Can a Personal Injury Law Firm in Pomona Help?
Our Pomona injury law firm has a team of skilled attorneys with the expertise to handle complicated claims, navigate relevant laws and procedures, and effectively negotiate with at-fault parties and insurance companies to secure the compensation you deserve. Here's a breakdown of what you can anticipate when you choose our firm to handle your case:
Take advantage of our complimentary initial consultation, where you can familiarize yourself with our firm and our approach to handling your case. At the same time, our attorneys will evaluate the strength of your claim based on the specifics of your situation. The information exchanged during this meeting will guide the subsequent stages of your case.
Rest assured that we will conduct a comprehensive investigation into your accident and injury, leaving no stone unturned. Our diligent process may involve scrutinizing police and medical reports, analyzing visual evidence such as photographs and videos, consulting with expert professionals, engaging in discussions with law enforcement personnel and witnesses, and conducting thorough legal research. Our objective is to uncover compelling evidence that supports your claim.
Recognizing that insurance companies often attempt to deny or diminish your rightful compensation, we will fiercely advocate on your behalf. Rejecting inadequate settlement offers, we will adopt an assertive approach and employ persuasive legal arguments to compel insurance companies and at-fault parties to come to the negotiation table. By leveraging the evidence and information gathered during our investigation, we will effectively establish fault and seek a fair settlement that aligns with your best interests.
If the settlement offers fall short of your expectations, we are prepared to proceed to trial without hesitation. Insurance companies operating in Pomona know our formidable reputation within the courtroom. With our deep understanding of trial tactics and the ability to connect with juries, we will tenaciously fight to secure the award you deserve.
By entrusting your personal injury case to our dedicated Pomona injury law firm, you can be confident that you have a highly skilled team of professionals committed to safeguarding your rights and pursuing the maximum compensation you are entitled to.
Can I Afford To Hire an Injury Law Firm in Pomona?
Is hiring an injury lawyer worth the cost? The good news is that most of California's personal injury attorneys, including our firm, work on a contingent fee basis. This means you won't have to pay any legal fees unless we successfully win your case and secure compensation for your serious injury. Our legal fees are calculated as a percentage of the amount we recover for you.
Contingent fees are designed to make legal representation accessible to everyone, as most people cannot afford to pay an attorney hourly. With this arrangement, you can seek fair compensation without the added worry of paying for legal services upfront.
In personal injury cases, the fee structure is set at 33 percent, or approximately one-third, of the net settlement. In some cases, such as those requiring a sliding contingency fee, the arrangement may be different. We will discuss and clarify all fee arrangements as part of our agreement at the beginning of your case.
Contact The Best Injury Law Firm In Pomona Today!
At our injury law firm, we don't make empty promises – we're prepared to fight for you and take your case to trial if necessary. When you reach out to us, you'll be assigned a dedicated lawyer to serve your needs throughout the process. We handle all personal injury cases on a contingency-fee basis, regardless of whether you have suffered harm in a car accident, a dog bite, or other injuries caused by another person's negligence. This means that we only get paid when you get paid!
Your case holds immense importance for us. We aim to secure the compensation you deserve as a victim of someone else's negligence. While we can't reverse your injury or bring back a loved one, we can help you seek the financial recovery you need. We understand the significance of your case and are fully committed to advocating for your rights.
If you've suffered an accident in Pomona, don't hesitate to reach out. Contact our Pomona accident injury law firm today at (888) 488-1391 to discover the benefits of filing a personal injury claim for damages.
Get The Latest News from

The Best California Accident Law Firm Today