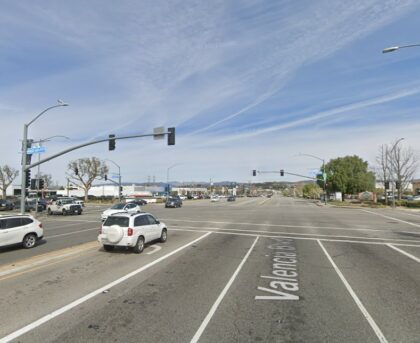 At least one person was killed following a multi-vehicle crash in Santa Clarita on Thursday evening, June 1, 2023.
According to the California Highway Patrol, the four-vehicle collision was reported at approximately 9:30 p.m., and authorities responded to the scene at Valencia Boulevard and the northbound freeway near Magic Mountain Parkway.
At least one vehicle, including a trailer and a BMW, reportedly collided with a utility pole, blocking the Valencia Boulevard on-ramp. Officials said at least one victim was declared dead at the scene.
At this point, no additional information has been revealed, and it is unknown whether alcohol or drugs played a role in the collision.
Anyone with information is strongly encouraged to contact the police immediately. The collision investigation continues.

Dedicated Car Accident Lawyers in Santa Clarita, Los Angeles County
Serious car accidents are difficult to recover from. Long-term injuries can result in tens of thousands of dollars in medical bills. The majority of insurance companies will give you as little money as possible. Settlement offers from insurance companies may be unfair.
Our award-winning Los Angeles County car accident lawyers at Arash Law, led by Arash Khorsandi Esq., have the recognition and vast experience to advocate for accident victims, with awarded compensation totaling $500 million as of yet.
Contact (888) 488-1391 or complete the "Do I Have a Case?" form on our website to schedule a free consultation with one of our lawyers.
What To Do After A Car Accident
Automobile accidents can be traumatic and confusing. Psychological and monetary consequences may accompany physical injuries. Understanding what you should do after a car accident is important to protect your legal rights, maintain your safety, and recover from your injuries. As a result of a car accident, the following steps should be taken:
Examine for injuries: Check yourself and others for injuries first. If you require medical assistance, dial 911.
If feasible, move your vehicle to a secure location, such as the road shoulder.
Contact the management: Notify law enforcement or the state highway patrol of the accident.
Provide the other drivers involved in the accident with your insurance and contact details.
Photograph the accident scene, including any damaged vehicles and injured parties.
Collect witness information: obtain the contact information of accident witnesses.
Notify your insurance company: Notify your insurance company immediately of the accident.
If you have been injured or damaged property, consider contacting a California car accident attorney.
Multi-Vehicle Aaccident Statistics
In the United States, automobile accidents are the primary cause of accidental death and injury. Automobile accidents cause 10 million injuries and fatalities annually.
The National Safety Council reports traffic fatalities rose by 8.3% in 2020. In 2019, 39,117 individuals were killed in motor vehicle accidents. In the following year, 42,338 people died.
California automobile accidents claimed the lives of 3,847 people in 2020. There were 1,587 fatalities caused by multiple vehicles in 41% of all fatal accidents. The majority of fatalities occurred in one-vehicle accidents.
Adopt a defensive style of driving to avoid becoming a statistic.