WHO on Traffic Deaths 2021
The World Health Organization (WHO) – despite two years of concentration on a worldwide pandemic – has continued to focus on its traditional interests in other significant risks to human health around the world. Of particular interest among these offerings is WHO's 2021 report on injuries in road traffic. 
Injuries in road traffic have a surprisingly large impact on world health and economics. 
Well more than a million people die each year from injuries sustained in traffic injuries.

Between 20 and 50 million more suffer injuries but live on, often with permanent disabilities.

These injuries cost most countries as much as 3% of their gross domestic product each year. 

The majority of those who die are pedestrians, cyclists, and motorcyclists.

Nine of ten of these deaths happen in low- and middle-income countries that only have just over half of the world's vehicles.

Road traffic injuries are the leading cause of death for those aged 5 to 29.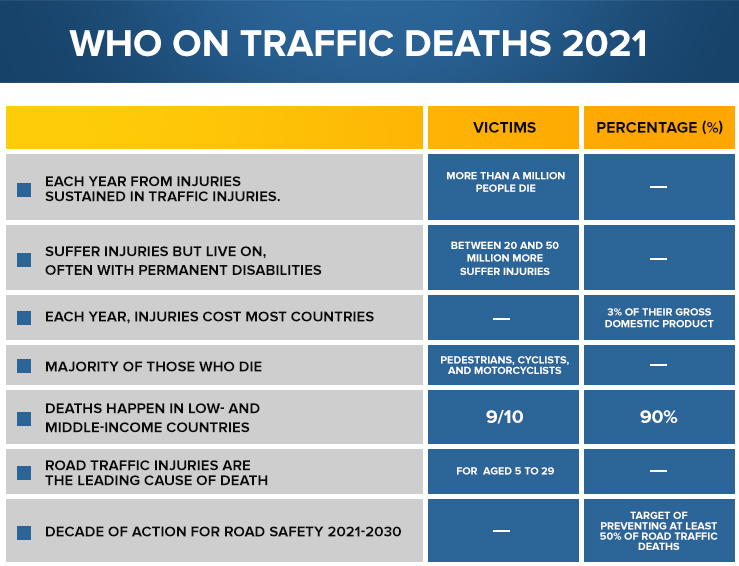 Who Are the Likely Victims?
WHO classifies potential victims by age, gender, and socioeconomic status. The vast majority (more than 90%) of road traffic accident deaths happen in countries of lower economic status, particularly throughout the African continent. Even in higher-income countries, traffic injuries happen most often to the poorer members of society. Interestingly, from a very young age, victims of fatal road accidents are most likely to be males under 25, who are nearly three times as likely to die in a car accident than young women. Finally, road accidents are the leading cause of death of males and females from age 5 to 29. 
Children present such a high risk of road traffic injury and death for several reasons. First, children's inherent limited physical, cognitive, and social skills make them more vulnerable than most adults. Further, because they are small, they can be difficult to see in traffic and may also find it hard to see dangers presented by the traffic. Moreover, their not-fully developed muscular/skeletal systems make them more vulnerable to severe injury, particularly head injuries, than adults.
Children also have difficulties understanding, seeing, and even reading the signs and signals present in road traffic. Finally, children are impulsive when very young and risk-takers when reaching adolescence, both factors that increase the risk of injury and death in traffic accidents. 
What Are the Common Risks?
Several common risk factors predict when and where fatal road traffic accidents will occur. 
Distracted Driving

Distracted driving encompasses a lot of different behaviors. However defined, it is probably the fastest-growing cause of traffic accidents in the world.  Any of these various distractions can result in impaired driving.

Mobile Devices


According to the US Department of Transportation (

DOT

), more than thirty countries have made it illegal to use a handheld device while driving. Countries are also increasing the penalties for such offenses. For example, the

United Kingdom

has recently doubled its fines and points for first offenders.  The US does not have a national law, but state penalties range as high as a $750 fine in Utah, which can be accompanied by three months in jail. 

Other Distractions


Although not as universal as handheld devices, other distractions can also contribute to road accidents. People eat and apply makeup while driving. As with their handheld devices, drivers adjust or react to GPS and music devices, taking their eyes away from the vehicle. Even conversation on hands-free devices or with other passengers, particularly among younger drivers, can be sufficiently distracting to cause an accident. 

Exceeding the Speed Limit


When a driver's speed increases, the likelihood of a crash and the severity of injuries in that crash rise geometrically. Just a one percent increase in speed quadruples the risk of traffic death and triples the serious injury risk. Similarly, the death risk for pedestrians hit by the front end of a vehicle more than quadruples when the speed goes from 30 mph to 40 mph. Indeed, at 40 mph, the risk of death for occupants of cars in side-impact collisions is 85%. In other words, speed really does kill.

DUI/DWI


Driving while under the influence of alcohol or drugs significantly increases the risk that a crash will result in death or severe injury. With alcohol, for example, even a very low Blood Alcohol Content (BAC) increases the risk, while that risk is significantly higher with a BAC of 0.04 or higher (half the legal limit in most US states). The risks from drug usage are less consistent and depend to a great extent upon the drug being used or abused. 

Failure to Use Protective Equipment


Over the decades, manufacturers have created, and many governments have mandated the use of various protective devices for those operating motor vehicles. Use of any or all of these can greatly reduce the risk of death or injury in traffic accidents. For example, the use of child seats can reduce deaths of children in traffic accidents by more than half. In the same way, seat belt usage cuts the risk of death in the front seat by half and by a quarter in the back seat. Finally, for those on motorcycles, wearing a helmet can nearly halve the risk of death and reduce the risk of head injuries by nearly three-quarters. 

Unsafe Roads and Vehicles


To prevent traffic accidents, and particularly to protect vulnerable parties on the road, the design must be such as to provide safe spaces for pedestrians, the disabled and elderly, children, and those operating bicycles and motorcycles. Providing facilities such as footpaths, wide shoulders, bike lanes, and well-marked intersections can all work to reduce traffic accidents. Likewise, building safer vehicles and maintaining them in a safe operating condition can play a vital role in reducing death and injury in traffic accidents. UN regulations suggest that countries require vehicles to meet front and side-impact standards and to require airbags and seatbelts in all vehicles.

Care After an Accident


Delays in providing care and deficiencies in the care provided when it does arrive both increase the severity of road accident injuries and the likelihood of fatalities. Providing better and faster access to medical care after an accident, along with providing better training programs for those offering the care, could go a long way toward reducing these results.

Poor Law Enforcement


Effective enforcement of existing laws relating to restraints, use of mobile devices, speeding, and DUIs would create substantial progress toward reducing the number of injuries and deaths in road accidents each year. Laws at the national, state, or provincial, and local levels should be realistically enforced with clear and effective penalties. Finally, laws should be regularly reviewed and updated to ensure that all risk-related behavior is encompassed.
How Can We Change This Picture?
First and foremost, governments must act to address road safety as a national priority. Coordinated actions by legislatures, law enforcement, road engineers, road designers, and those who operate national health systems can create an environment in which road safety is more adequately addressed throughout the world, with a concomitant reduction in injury and death. 

How Is WHO Helping?
WHO is actively reaching out to provide a variety of assistance in addressing road traffic injuries. 
Technical Support


WHO recognizes the systemic nature of the road accident problem and therefore offers technical assistance to member countries across various sectors. It assists in road safety policy development and the implementation and evaluation of such plans. WHO also works with international partners in targeted countries to reduce injuries and death. It has also released a road safety package, Save LIVES, which focuses on speed management, leadership, infrastructure design, law enforcement, and vehicle safety.
Save LIVES offers six strategies and twenty-two interventions intended to address the noted risk factors. Released in 2017, Save LIVES'  initial target was to cut death and injury from road accidents in half by 2020; it continues to be a useful guide for improving traffic safety today. It now seeks to halve death and injury from road accidents by 2030.
Working on cooperation with Johns Hopkins, WHO has also released an online training program for road safety legislation. Organized into four modules, the course teaches about road safety facts, the importance of road safety laws, evidence on some of the key risks and post-crash responses, and how to advocate for change. Accessible online in a go-at-your-own-speed system, the course is valuable in assisting with implementing change in member nations.

Leading the Decade of Action

WHO has been the lead agency for the past decade in the drive for better road safety in its member nations. First adopted in 2011, the Decade of Action for Road Safety program was reapproved in September 2020, proclaiming an additional Decade of Action with the goal of preventing at least 50% of deaths and injuries by 2030. It is expected that the new Decade will build upon and consolidate the successes of the first Decade.The Decades have focused on advocating for road safety, compiling lists of best practices in prevention, data collection, and trauma care, sharing information on reducing risks, and drawing attention to the need for increased funding. WHO has also produced four Global Status reports on road safety; these reports represent the official tool for monitoring progress in the Decade of Action.

In addition, the 2030 Agenda for Sustainable Development has set targets for reducing road accident deaths over the next decade. 
How Arash Law Is Helping
Long a leader among car accident lawyers in California, with decades of experience helping victims of accidents, Arash Law is involved in counseling clients and potential clients about road safety and what to do after an accident. With offices throughout California, Arash can bring its long experience and thorough knowledge of handling accidents to your case. Contact us today!