Amazon Has a Workplace Injury Epidemic
Amazon is a major employer in California. At warehouses throughout the state, workers race the clock to fill hourly quotas, and this pace has been proven to lead to injuries. Workers who are injured while on the job have the legal right to be compensated for their losses.

Your employer will not advise you of these legal rights since it is in their interest to pay as little as possible and get you back to work as soon as they can, which is why it is important for injured workers to protect their own legal rights by hiring a personal injury lawyer. Amazon has a workplace injury epidemic, so it is important for workers to protect their legal right to compensation.

Doing so not only ensures that your medical bills will be paid – it also holds Amazon accountable for dangerous working conditions and helps make the workplace safer for other workers in the future. Learn more about the workplace injury epidemic at Amazon, workers' legal rights, and what you should do if you suffer an injury while on the job.

The Troubling Numbers at Amazon
Amazon's quota has been known to be problematic for some time now. In fact, a recent California labor law was enacted specifically to target Amazon's quota problems. (The new law prohibits employers from creating quotas that interfere with an employee's legal right to take breaks.) Missed bathroom breaks are just one problem that occurs when quota requirements are set too high.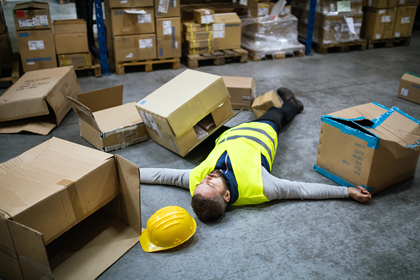 According to The Atlantic, a study of three Amazon fulfillment centers across the U.S. found that they had an injury rate more than double the national average for the warehousing industry. They spoke with one injured worker whose fulfillment center had four times more injury reports in a year than the national average. Today, the woman is in a miserable state of constant pain and trying to find any type of work she can perform with these injuries (which are unlikely to ever get better).

CBS News also reports that Amazon workers have the highest warehouse injury rate in the industry. In fact, the BBC reports that its average injury rate is a whopping 80 percent higher than its competitors. As we have seen, this rate is even higher at certain Amazon fulfillment centers with especially high volume.
CNBC found that worker injuries were highest during peak times, such as the holiday season and Prime Day. Employees were required to scan 400 items per hour instead of the 100 per hour quota at other facilities. These brutal quotas have very real consequences. The injury rates are not just numbers on a spreadsheet. They represent very real – and often permanent – losses to workers and their families.
Amazon Protects Its Own Interests, Not Employees' Legal Rights
Any workers' compensation claim represents a conflict of interests between an employee and an employer. Employees file these claims against the employer's insurance policy because the employer is required to cover the costs associated with on-the-job injuries. However, this requirement means that it is in an employer's interest to pay as little as possible and that an employer will not be out to protect their workers' legal rights.
When push comes to shove, an employer will protect its own legal interests, and employees must be prepared to fight for their own legal rights. Though every employer has a conflict of interest surrounding personal injury claims, many employers do make diligent efforts to keep their workplaces as safe as possible. Amazon does not have a good history on this issue.

The high injury rate at fulfillment centers has been documented for years. Unfortunately, many employees have not been made aware of this fact and suffered preventable injuries as a result. A CNBC report even found that Amazon may have downplayed its own injury statistics, allowing it to satisfy OSHA and other government regulators, keep good publicity for the company, and continue showing cheery ads about the fun times enjoyed while working at Amazon.

These actions have had devastating consequences for thousands of injured workers. These injury victims have legal rights that will not be protected by Amazon. Injured workers need their own accident lawyers who fight back against Amazon's powerful legal team.

Injured Workers Have Legal Rights
So what are an injured worker's legal rights? There are different types of legal claims that provide compensation for many different losses caused by a work-related injury. What follows are three of the most common types of legal claims in work injury cases.
Workers Compensation Claims
The law requires employers to pay for the financial losses associated with a work-related illness or injury. To ensure there are funds available, the law also requires employers to carry workers' compensation coverage or provide proof of financial responsibility in other ways. Large companies like Amazon carry large workers' compensation policies with high amounts of coverage.
Unfortunately, their insurance carriers are also highly skilled at paying as little as possible on workers' compensation claims – or even denying them altogether. Workers need their own attorney to review the claim and ensure they are receiving all payments they are owed.
Workers' compensation must cover all medical bills that are related to the injury. It must also cover a set portion of lost wages. As you can see, there are some losses that are not covered by workers' compensation, illustrating why it is important to consult with your own lawyer and see if you have any other legal claims.
Personal Injury Claims
A personal injury claim is filed against an individual or business whose negligence caused your injuries, which is different from a workers compensation claim, which is no-fault. (That means your employer must pay for your medical bills regardless of who caused the injury.) In a personal injury claim, your lawyer must prove that the defendant's negligence was the cause of your injuries, making it more difficult to prove your claim.
It also entitles you to additional compensation. Personal injury victims are entitled to compensation for all their medical bills, all their past, and future medical expenses, and all the pain and suffering associated with their injuries. In most cases, an injured worker must choose between filing a workers' compensation claim and a personal injury claim against their employer. (There are a few exceptions, but these are rare.)
Personal injury claims usually take longer to resolve, but they also result in full compensation. Be sure you consult with a workplace injury attorney before filing either type of claim against your employer. You could also have a personal injury claim against a third party. In this case, you would have the right to file both a personal injury claim against your employer and a personal injury claim against a third party.
Products Liability Claims
Third-party claims can be rare in workplace injury cases. Usually, they are the result of defective machinery or safety equipment. For example, if a ladder collapsed despite being properly set up, the collapse could result in a claim against the manufacturer. Heavy machinery – like balers – can also cause serious injuries when the machine malfunctions.
In these scenarios, the injured worker might have a products liability claim against the manufacturer of the defective equipment. Strict products liability is a legal rule that holds manufacturers accountable for any injuries caused by defects in their products. The manufacturer does not have to be negligent. As long as the product is being used as intended, an injured user has a claim against the manufacturer.
What Amazon Workers Should Do After a Job-Related Injury
Since employers do not protect employee rights, it is up to workers to protect their own legal interests after a workplace accident. Follow these important steps to protect your legal rights as much as possible.
1.) Get Immediate Medical Attention.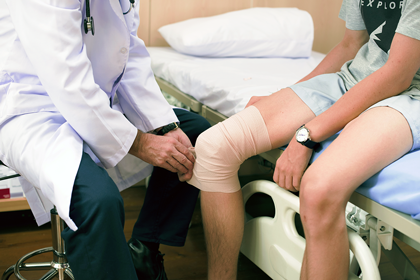 It is important to see a doctor as soon as possible after any type of workplace accidents. Even if you are not in pain right away, you could still have serious internal injuries. You could also have latent injuries that do not show up for hours – or even days. Only a qualified medical professional can determine what injuries you have and how they should be treated.
The sooner treatment is started, the better your prognosis is likely to be. Many injury victims are worried about the cost of their medical bills. Injured workers are entitled to compensation for any medical bills that are related to a work accident, regardless of who was at fault for causing the injury. Your regular health insurance carrier (including Medicare or Medicaid) is also required to cover medical bills under your contract.
If you are worried about paying for medical care, speak with your injury lawyer about your options, but do not delay getting the treatment you need. Delays can make it more difficult to recover from your injuries. Delays in treatment can also complicate your legal claim and prevent you from getting the full compensation you deserve.
2.) Consult With an Injury Attorney.
As you can see, it is important to get legal advice from your own attorney as soon as possible. Your legal rights are placed in jeopardy as soon as an accident occurs on the job. Your employer is protecting its own legal interests, so you must protect yours. You do not have to take advice from your employer or HR department about your workers' compensation claim.
You should only take legal advice from an attorney who is on your side. Your work accident lawyer will also handle all communications about your claim with the insurance companies, the employer's legal team, and even the HR department if necessary. Doing so protects you from accidentally saying anything that could hurt your injury claim.
3.) Follow Through With All Recommended Medical Treatments.
Your doctors will make many different recommendations for treating your injuries. It is important that you follow this advice. Be sure to see any chiropractors, physical therapists, or other treatment providers to whom you are referred. Following their recommendations will not only give you the best possible chances of recovery but also protects your legal rights.
If you do not complete your recommended treatment, the insurance company can try to argue that you made your own injuries worse, which could justify limiting the compensation you could receive. Follow through with any treatment recommendations in order to protect both your health and your legal rights.
4.) Document All The Ways That Your Injuries Have Affected Your Life.
There are many ways that a personal injury affects your life. With detailed evidence of these losses, you will have a stronger case and be in a better position to get the compensation you deserve. For example, victims suffer physical pain from their injuries. If you can describe this pain in detail to a jury, they will understand your pain better. Did you lose sleep or miss work?
Did you have fights with your loved ones because you were sleep-deprived and in pain? Did the discomfort prevent you from taking part in your usual hobbies or workout routine? Did you miss major life events, like a graduation or wedding? These are the details that support your claim for pain and suffering. By keeping a journal, taking photographs, and documenting the effects of your injuries in other ways, you will help your attorney present a strong case for fair compensation for your pain and suffering.
Experienced, Aggressive California Injury Lawyers for All Work Injuries
The best "workplace injury lawyers near me" are right here at Arash Law. Our skilled workplace accident attorneys have decades of experience. Our legal team has also collected over 200 million dollars for clients across the Golden State. Our experienced legal professionals serve clients in Los Angeles, San Francisco, Riverside, Bakersfield, Santa Barbara, San Jose, San Diego, Fresno, Sacramento, Sherman Oaks, and throughout California.
Workers across the Golden State trust our team to protect their legal rights after all types of workplace injuries. Call (888) 488-1391 today to schedule your free consultation. By fighting for your legal right to compensation, you are holding employers accountable for dangerous working conditions and helping to make the workplaces of California safer for everyone.