The Insurance Information Institute reports that dog bite injury cases account for 1/3 of all claims made on homeowner's insurance liability policies. In addition, settlements and jury verdicts from dog bite lawsuits resulted in settlements exceeding $356 million in 2007. In an updated 2019 report, 2018 California had the largest number of claims (2,166) in the U.S., and the highest average cost per claim at $45,543, totaling over $98.6 Million.
However, the cost of a dog bite to a victim could be far worse than a monetary loss- disfigurement, scarring, fractured bones, or even death could result from a dog bite. If you have been injured by a dog and are thinking about getting a dog bite lawyer, it is helpful to know the average settlement for these cases.
California Dog Bite Laws
Every state follows its own statutes when someone's dog bites another person. California law Section 3342 outlines the legal processes in a dog bite case. It states that the owner of a dog is liable for damages a person suffers due to a bite from the dog in a public place or a private place that the person was lawfully within. This is the case regardless of the owner's knowledge of the dog's violent tendencies.
The "owner" can be anyone in charge of controlling the dog at the time of the attack. There is an exception in which the bitten person could not file a claim – such as when the dog was performing police or military work at the time of the bite.
What is the Average Settlement for Dog Bite Cases?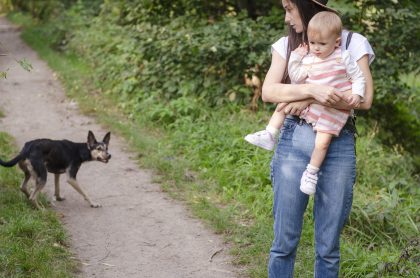 While the appropriate settlement for dog bite cases varies depending on the severity of the attack, the average settlement in 2007 according to the Insurance Information Institute was around $24,500.
This represents an increase from previous years and indicates that the appropriate settlements are on the rise, in part because of rising medical costs. Damages for dog bite cases include monetary compensation for medical bills, lost wages, pain, and suffering, and emotional distress.
If a dog has injured you, the severity of your injuries will affect your settlement as well. For example, in one case where a Santa Rosa woman lost her nose to the bite of a bulldog while she was walking her children to school, the woman and her family were awarded a combined $1 million settlement.
Permanent disfigurement, scarring, and broken bones can all add to the amount of damages you are awarded. It is also important to retain an experienced dog bite lawyer to make sure your rights are protected to the fullest extent of the law.
3342.(a) The owner of any dog is liable for the damages suffered by any person who is bitten by the dog while in a public place or lawfully in a private place, including the property of the owner of the dog, regardless of the former viciousness of the dog or the owner's knowledge of such viciousness. A person is lawfully upon the private property of such owner within the meaning of this section when he is on such property in the performance of any duty imposed upon him by the laws of this state or by the laws or postal regulations of the United States, or when he is on such property upon the invitation, express or implied, of the owner.
The Average Settlement for Homeowners Reached Over $32,000 in 2014
According to Insurance Journal, One factor is the rising costs of medical care. Once your medical bills are tallied up, home insurance companies take those costs and, if the courts decide in favor of the plaintiff, pay you for the total. Sometimes you can receive more than the cost of medical bills for your dog bite case. If you've had to miss work and lose wages, that can impact the amount of the settlement. Additionally, emotional distress can also increase the amount of your settlement.
Is It Different if a Support Dog Bites Me?
Emotional support animals are not obligated to have the equivalent level of training as service animals, therefore people can get hurt when a dog or animal becomes aggressive in public. More than ever, Americans are conscious of and supportive of the problems confronting people with disabilities. There are several laws in place meant to protect people with disabilities from discrimination and to assure that their needs are covered. if a dog or other support animal hasn't been appropriately trained and hurts another person, the owner of the animal should be held liable.
What Do You Need To Prove To Recovery?
Under California law, victims are afforded extensive protection from dog bites. California Civil Code section 3342 imposes strict liability on dog bite owners, which means that you do not need to prove the owner was negligent or that the dog had a history of biting to recover from your damages. All you have to prove is that the dog injured you either in a public place or while you were a guest on the property and you may be able to recover your damages.
When and Where Are Bites Most Common?
The number of reported animal bites varies by geography and season. Historically, dog bites are more common in warmer months. However, in 2009, there did not appear to be any seasonal pattern among reported dog bites, while cat bites were more prevalent in the warmer months. Nonetheless, it is important to remember that animal bites can happen anytime and anywhere and that you should report a bite when it occurs.
What to Do After a Dog Bite Injury
Dog bites are often violent and hectic events, sometimes with more than one dog attacking the victim. If the victim survives the attack, he or she will likely have puncture wounds, scratches, or crush injuries. If the dog's vaccinations were not up-to-date, the dog bite victim may have to receive a rabies shot or other treatments to avoid infection.
Puncture wounds from dog bites can be very painful and take weeks to heal. The most important thing to do after a dog attack is to seek medical attention. The faster doctors treat these injuries, the better your prognosis may be.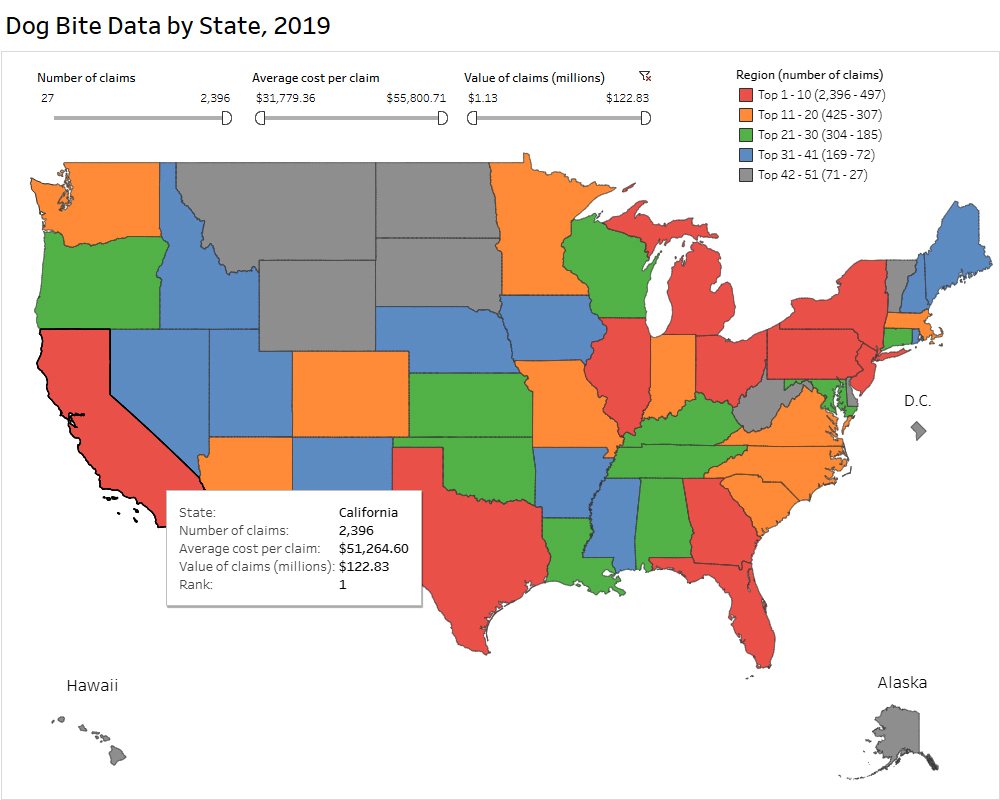 What to do if you are bitten or attacked by a dog:
Protect Yourself
Put your purse, bag, or jacket between you and the dog.
If you are knocked down, curl into a ball with your head tucked in and your hands over your ears and neck.
Wash Wounds with Soap and Water
When you get to a safe place, immediately wash wounds with soap and water. Seek medical attention.
For minor wounds:
Wash the wound thoroughly with soap and water.
Apply an antibiotic cream.
Cover the wound with a clean bandage.
See a healthcare provider if the wound becomes red, painful, warm, or swollen; if you develop a fever; or if the dog that bit you was acting strangely.
For deep wounds:
Apply pressure with a clean, dry cloth to stop the bleeding.
If you cannot stop the bleeding or you feel faint or weak, call 911 or your local emergency medical services immediately.
See a healthcare provider as soon as possible.
When to See a healthcare provider after a dog attack in California:
If the wound is serious (uncontrolled bleeding, loss of function, extreme pain, muscle or bone exposure, etc.).
If the wound becomes red, painful, warm, or swollen, or if you develop a fever.
If you don't know if the dog has been vaccinated against rabies.
If it has been more than 5 years since your last tetanus shot and the bite is deep.
Dog Bite Prevention Tips
Spay or neuter your dog to reduce aggression.
Never leave infants or small children alone with any dog, even with a smaller dog.
Properly socialize and train any dog entering the home.
Immediately seek professional advice (e.g. veterinarian, animal behaviorist, animal trainer) if the dog develops aggressive or undesirable behaviors.
Do not play aggressive games with your dog (e.g. wrestling, tug-of-war).
Keep your dog on a leash when it is off your property.
Teach children basic safety around dogs and review regularly
Dog Bite Prevention Tips and Lessons for Children
Never approach an unfamiliar dog.
Never run from a dog and scream.
Remain motionless when approached by an unfamiliar dog (e.g. "be still like a tree").
If knocked over by a dog, roll into a ball and lie still (e.g. "be still like a log.")
Never play with a dog unless supervised by an adult.
Immediately report stray dogs or dogs acting strangely to an adult.
Avoid direct eye contact with dogs.
Do not disturb a dog who is sleeping, eating, or caring for puppies.
Do not pet a dog without allowing it to see and sniff you first.
If bitten, immediately report the bite to an adult.
What Happens When an Animal Bite Is Reported?
Details about the animal bite are collected including: when and where the bite happened, and information about both the victim (i.e., health status) and biting animal (i.e., species, breed, circumstances of the bite, the current location of the animal).
What Are the Most Commonly Reported Bites?
Most reported bites are caused by dogs and cats. In 2009, there were 7,623 reported bites from dogs and 939 reported bites from cats in Los Angeles County. These reported bites are likely underestimates because animal bites in Los Angeles County are underreported. It is estimated that 1.5% of the U.S. population is bitten by a dog each year. Assuming a similar pattern for Los Angeles County, an estimated 150,000 dog bites would have occurred in 2009, but only 5% of the estimated amount was reported.
Report the Dog Bite – To Your Local Animal Control, Then a Dog Bite Lawyer
You should speak to a personal injury attorney to get more details about proving your case and about evaluating any settlement offer from a dog owner or insurance company. A skilled California dog bite lawyer can ensure you get the full amount of damages you are entitled to under the law.
Because anyone who is bitten by a dog is at risk of getting rabies, consider contacting your local animal control agency or police department to report the incident, especially:
If you don't know if the dog has been vaccinated against rabies.
If the dog appears sick or is acting strangely.
If possible, contact the owner and ensure the animal has a current rabies vaccination. You will need the rabies vaccine license number, name of the veterinarian who administered the vaccine, and the owner's name, address, and phone number.
Report Bite to LA County Recover Losses for a Bite
We offer free consultations for victims of dog bites anywhere in California, including Los Angeles, San Diego, Santa Barbara, Monterey, San Francisco, Oakland, San Jose, Bakersfield, Redding, Palm Springs, Orange County, Sacramento or Fresno. Call
(888) 488-1391

to speak directly to the best dog bite attorneys in California
---
Animal Control Agencies in Los Angeles County
Agency
Telephone
Address
On-site
Shelter
Avalon City Hall – Code Enforcement
(310) 510-0220
PO Box 707, Avalon, CA 90704
No
Beverly Hills Animal Control
(310) 285-1119
455 N Rexford Dr, 1st Floor, Beverly Hills, CA 90210
No
Best Friends (Mission Hills location)
(818) 643-3989
15321 Brand Ave, Mission Hills, CA 91345
Yes
Best Friends (NKLA – West LA location)
(424) 208-8840
1845 Pontius Ave, West L.A. 90025
Yes
Burbank Animal Control
(818) 238-3340
1150 N. Victory Pl, Burbank, CA 91502
Yes
City of Commerce Animal Control
(323) 887-4460
2535 Commerce Way, Commerce, CA 90040
No
Culver City Animal Services
(310) 253-6143
4040 Duquesne Ave, Culver City, CA 90232
No
Duarte City Animal Control
(626) 357-7938
1042 E. Huntington Dr, Duarte, CA 91010
No
El Monte Animal Control
(626) 580-2081
11333 Valley Blvd, El Monte, CA 91731
No
El Segundo Animal Control
(310) 524-2231
348 Main St, El Segundo, CA 90245
No
Hawthorne Animal Control
(310) 675-4444
4455 W 126th St, Hawthorne, CA 90250
No
Hermosa Beach Animal Control
(310) 524-2750
1035 Valley Dr, Hermosa Beach, CA 90254
No
Huntington Park City Animal Control
(323) 826-6682
6542 Miles Ave, Huntington Park, CA 90255
No
Inland Valley Humane Society
(909) 623-9777
500 Humane Way, Pomona, CA 91766
Yes
La Puente Animal Control Division
(626) 855-1555
15900 E Main St, La Puente, CA 91744
No
Lawndale Animal Control Division
(310) 973-3220
14717 Burin Ave, Lawndale, CA 90260
No
Long Beach Animal Care Services
(562) 570-7387
7700 E. Spring St, Long Beach, CA 90815
Yes
Lynwood Animal Control Division
(310) 603-0220
11330 Bullis Rd, Lynwood, CA 90262
No
Chesterfield Square (South LA) Shelter
(888) 452-7381
1850 W. 60th St, Los Angeles, CA 90047
Yes
East Valley Shelter
(888) 452-7381
14409 Vanowen St, Van Nuys, CA 91405
Yes
Harbor Shelter
(888) 452-7381
957 N. Gaffey St., San Pedro, CA 90731
Yes
North Central Shelter
(888) 452-7381
3201 Lacy St, Los Angeles, CA 90031
Yes
West Los Angeles Shelter
(888) 452-7381
11361 W. Pico Bl, Los Angeles, CA 90064
Yes
West Valley Shelter
(888) 452-7381
20655 Plummer Street, Chatsworth, CA 91311
Yes
Agoura Shelter
(818) 991-0071
29525 Agoura Rd, Agoura, CA 91301
Yes
Baldwin Park Shelter
(626) 962-3577
4275 N. Elton St, Baldwin Park, CA 91706
Yes
Carson Shelter
(310) 523-9566
216 W. Victoria Ave, Carson, CA 90748
Yes
Castaic Shelter
(661) 257-3191
31044 N. Charlie Canyon Rd, Castaic, CA 91310
Yes
Downey Shelter
(562) 940-6898
11258 S. Garfield Ave, Downey, CA 90242
Yes
Lancaster Shelter
(661) 940-4191
5210 W. Avenue I, Lancaster, CA 93536
Yes
Palmdale Shelter
(661) 575-2888
38550 Sierra Hwy, Palmdale, CA 93550
Yes
Manhattan Beach Animal Control
(310) 802-5160
420 15th St, Manhattan Beach, CA 90266
No
Monterey Park Animal Services
(626) 573-1311
320 W. Newmark, Monterey Park, CA 90640
No
Pasadena Humane Society
(626) 792-7151
361 S. Raymond Ave, Pasadena, CA 91105
Yes
Redondo Beach City Animal Control
(310) 318-0611
415 Diamond St, Door 2, Redondo Beach, CA 90277
No
Rolling Hills City Hall
(310) 377-1521
2 Portuguese Bend Rd, Rolling Hills, CA 90274
No
Rosemead Animal Control Services
(626) 569-2292
8301 E. Garvey Ave, Rosemead, CA 91770
No
San Gabriel Valley Humane Society
(626) 286-1159
851 E. Grand Ave, San Gabriel, CA 91776
Yes
Santa Fe Springs Animal Control Police
(562) 409-1850
11576 Telegraph Road, Santa Fe Springs, CA 90670
No
Santa Monica Animal Control
(310) 458-8594
1640 9th St, Santa Monica, CA 90404
Yes
Southeast Area Animal Control Authority (SEAACA)
(562) 803-3301
9777 Seaaca St, Downey, CA 90241
Yes
spcaLA P.D. Pitchford Companion Animal Village
(562) 216-2542
7700 East Spring St, Long Beach, CA 90815
Yes
spcaLA South Bay Pet Adoption Center
(310) 676-1149
12910 Yukon Ave, Hawthorne, CA 90250
Yes
Temple City Animal Control
(626) 285-7187
9701 Las Tunas Dr, Temple City, CA 91780
No
Torrance Animal Control
(310) 618-3850
2200 Jefferson St, Torrance, CA 90501
No
City of Vernon Animal Control
(323) 583-8811
4305 Santa Fe Ave, Vernon CA 90058
No
West Hollywood Animal Care and Control
(323) 848-6882
8300 Santa Monica Blvd, West Hollywood, CA 90069
No
<c/enter>