When choosing the right motorcycle accident law firm in California, the process can feel overwhelming and even daunting. You are already going through a traumatizing time, and it may feel hard to keep things straight as you go through web page after web page of California personal injury law firms.

The State Bar of California licenses approximately 266,000 attorneys in the state, and approximately 190,000 are actively practicing. In 2017, roughly 18 percent of them were noted as personal injury lawyers, which brings your number down to about 34,200 attorneys to choose from. It's hard to choose the right one.
As a motorcycle accident victim, you have the right to claim monetary damages during this catastrophic event. At Arash Law, we want our motorcycle accident clients to be as comfortable as possible throughout the process of seeking compensation for damages. Our motorcycle accident law team will aggressively pursue everything you deserve.
Motorcycle accident victims choose us because we have spent decades winning millions for them. Call Arash Law at (888) 488-1391 or book a consultation with us online. We'll have a look at your case at no cost to you so that you can decide with peace of mind.
The Severity of Motorcycle Accidents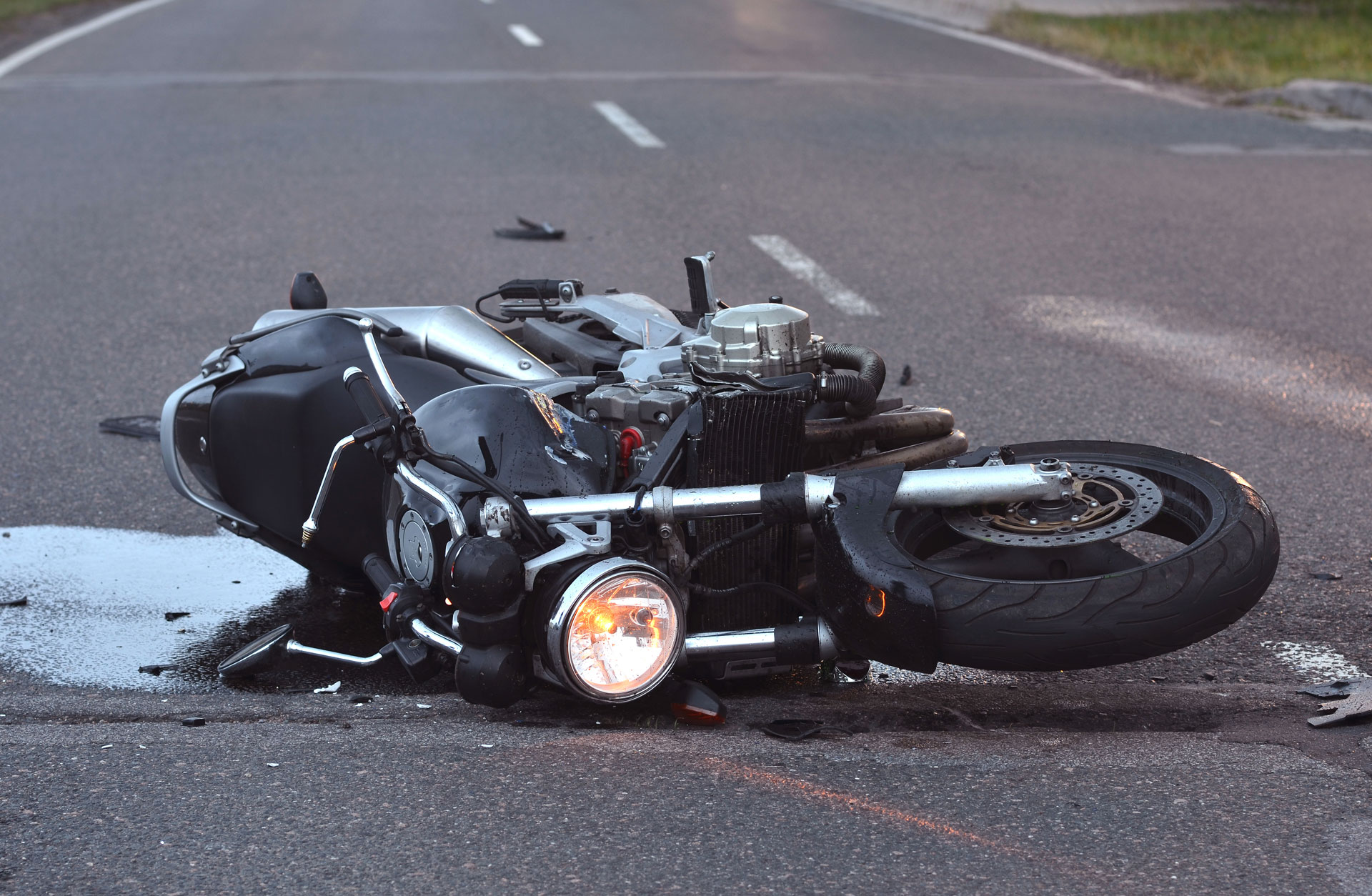 Motorcycle accidents are considered among the most severe crashes in California, as the conception is that they are usually fatal. That is because motorcycles lack the barricades of protection you would have in a car accident. They aren't usually fatal. But they are serious and sometimes deadly.
The National Highway Traffic and Safety Administration (NHSTA) reports on Table 50 of their most recent motorcycle statistics that in 2018, there were 109 k motorcycle accidents in California. Of those, 5,115 were fatal, and 79 thousand of those accidents involved sustained injuries by humans. Another 25 thousand involved property damage only, meaning no loss of life or injury.
Motorcycle accidents are severe, and those injuries are among the most severe kind on the road. Couple that with property damage, and you have a life-changing event that you deserve compensation for. We are a motorcycle accident law firm that knows what you need and how to get it for you.
Call the motorcycle accident team at Arash Law at (888) 488-1391 to determine how to get your claim started.
The Most Common Causes of Motorcycle Accidents
Without airbags, door beams, roofs, and cushioning, motorcyclists in accidents are more likely to be severely injured for life than those in car accidents. Motorcycle accidents are caused by the same reasons that other accidents are caused. They are just more severe because they lack the surroundings of a car.
The leading causes of motorcycle accidents are:
Speeding
Driver or biker inexperience
Unsafe conditions
Unsafe lane changes
Improper turns
Distracted or reckless driving
Malfunctioning or defective motorcycles
Impaired visibility
Failing to avoid colliding with an object
Each of these causes has a formula when your claims for damages are processed. For example, a driver in a car can be at fault for failing to avoid colliding with an object if the object is you on a motorcycle. California is an at-fault state with comparative negligence laws. The party that is most at fault in an accident will pay for most of the damages.

For motorcycle accidents, the injuries are likely to be more severe, and the costs in your claim are higher. You will be entitled to compensation for physical and emotional pain, medical bills, property damage, and lost wages. That includes wages that you will no longer be able to make if you sustain life-altering injuries.
Other common kinds of accidents include:
Speeding
Driver or biker inexperience
Unsafe conditions
Unsafe lane changes
Improper turns
Distracted or reckless driving
Malfunctioning or defective motorcycles
Impaired visibility
Failing to avoid colliding with an object
Lane-splitting
Again, each of these causes and kinds of motorcycle accidents has a formula that a good motorcycle accident law firm knows how to handle. Our team of motorcycle accident attorneys at Arash Law can examine your case and examine each of these points with you. We'll tell you what you can expect from your claim and aggressively pursue it for you. Call Arash Law at (888) 488-1391 and book a free consultation on your claim.
Lane-Splitting – We Can Help
Lane-splitting might be the most talked-about motorcycle accident law in California. It might even be the most discussed in the nation. It's controversial, and some say it errs on the side of car drivers, but that isn't always the case.
California is the only state in the nation where lane-splitting is legal or protected. It's a practice used by motorcyclists to drive on the lane dividers and move between vehicles to move up the roads faster. During a traffic jam, they like being able to do this. Some say that this practice causes more deaths, but that isn't always the case.
Lane-splitting was originally outlawed in California, as it has been in every other state. But in 2016, Governor Jerry Brown signed AB 51. AB-51 didn't necessarily make lane-splitting legal, but it does remove the ban from lane-splitting. But they are free to do so when doing so safely. In some cases, lane-splitting is even safer for bikers who need to get off the highway or move forward faster. In poor visibility or bad traffic, lane-splitting could save a biker's life.
If you have been involved in a motorcycle accident and are being accused of this falsely, we can help you. The motorcycle accident team at Arash Law has represented many cases where lane-splitting was an issue. Call us today at (888) 488-1391 or book a consultation online so we can help you get the compensation you deserve.
Most Common Motorcycle Injuries
Motorcycle injuries are considered deadly, and sadly, sometimes they are. But most of them are not. Even so, they tend to be among the most severe injuries seen in any collision, which is why they are seen as accidents that are scarier than most.
Each of these injuries means compensation for the victim: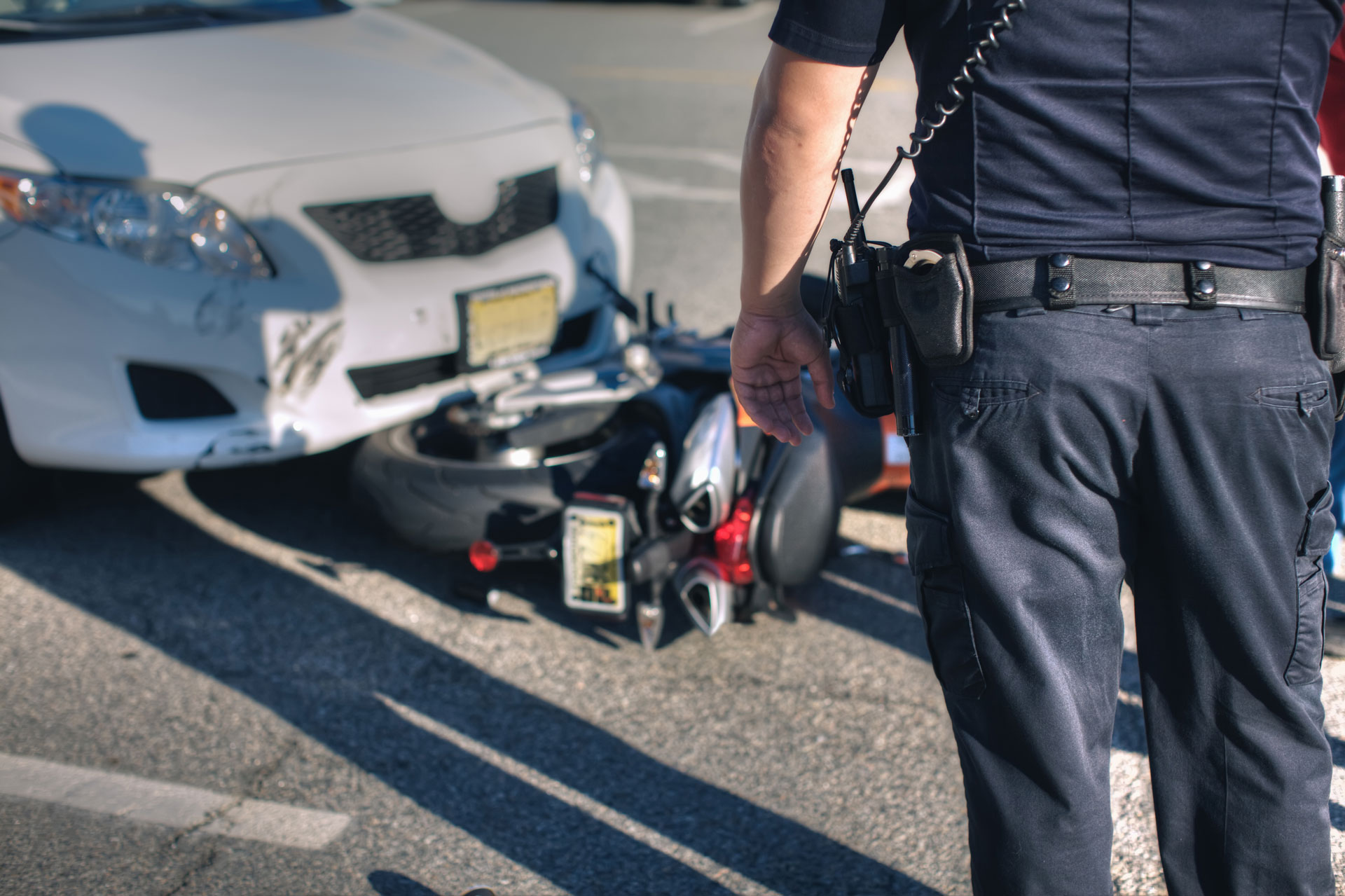 Head injuries, such as a traumatic brain injury or concussion
Bone fractures, such as to the shoulder and pelvis
Muscle damage
Soft tissue skin damage, such as road rash (which can include first, second, or third-degree burns)
Biker's arm, such as nerve damage in the upper arm that could lead to permanent paralysis
Any one of these injuries will change your life. It's not uncommon in a motorcycle accident to have many of them. You need a motorcycle accident law firm that understands this and understands your needs.
We know you want to get on your bike again. Every day that doesn't happen is a loss that has value for you. Call our California motorcycle accident lawyers at Arash Law at (888) 488-1391 today, and we will walk you through the process of getting you the compensation you deserve.
Helmet Laws and Motorcycle Accident Claims
Motorcycle accidents can be tricky claims, but so can every other accident claim. You might be made to feel like you are at fault if you weren't wearing a helmet. Or, someone may say you weren't when you were. You are required by California law CVC §27803 to wear a motorcycle helmet in California, and it must be a U.S. Department of Transportation (DOT) compliant helmet.
That is required. Face and eye protection are recommended. Even if you were not wearing a helmet, you are just as entitled to damages in an accident. California is a pure comparative negligence state, which means the party most at fault will pay for the most damages. If "not wearing a helmet" does not impact your injuries or claim, it will become a moot point.
Comparative negligence means that a jury or the lawyers will determine the percentage of fault for each party. It is not unreasonable to find the other party 90 percent at fault, helmet or no. You may not even sustain head injuries in the accident, in which case the helmet issue is even more of a moot point. If you didn't wear a helmet, and your head wasn't injured, it won't be a factor in your case.
The helmet alone is not an immediately correctable problem. In other words, what is done is done. Wear one because head injuries will change your life and the lives of your loved ones. But in an accident where another party is bringing it up, it isn't likely to impact the case too much. Penalties for not wearing a helmet are fines and warnings by California Highway Patrol if that is the only violation in the case.
Let us know if you are having a helmet problem in your case. We'll take care of it for you. Call the team at our motorcycle accident law firm at (888) 488-1391 and see our success record for yourself. We'll take care of this for you so that you can stop worrying about it.
Damages After a Motorcycle Accident
A motorcycle accident is severe and costly. Every minute you suffer has value. But you are also bogged down with medical costs, property loss, job worries, trauma, and suffering, and you don't know what's going to happen next.
We can help. What follows are the most common damages after a motorcycle accident that you may recover:
Medical costs – This damage includes costs incurred in the past, present, and future and may even include travel for specialists and rehab.
Property damage – Property damage covers full repair costs or replacement of the pre-cash value of a totaled vehicle.
Lost wages – If you lose work because of the injuries you suffered, you can be compensated (including wages for lost future earnings).
Pain and suffering – Pain and suffering is a trauma for which you can receive compensation.
Punitive damages – If another party engaged in serious wrongdoing, there are punitive damages that provide compensation.
Our motorcycle accident team has recovered millions in motorcycle cases. Book a free consultation at Arash Law, and we'll tell you exactly what you deserve in damages.
Choose the California Motorcycle Accident Law Firm That Can Help
Motorcycle accidents are among the most traumatizing because the injuries are severe and game-changing. If you or someone you know has been in one, we can help. We've been helping California residents for decades recover damages from motorcycle accidents.
Our motorcycle accident law firm can review your case at no cost to you and let you know what you are entitled to when it comes to damages. Call the motorcycle accident team at Arash Law today at (888) 488-1391 and help you get the claim started.