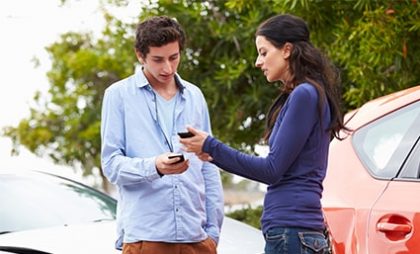 The average age of first alcohol use in the United States is now reported to be 12, driving home the point that it is never too early to encourage your teens to make wise choices regarding drugs, alcohol, peer pressure, and drinking and driving. Who talks to an eighth-grader about drinking and driving? Everyone should.
What if your child's ride home from practice is intoxicated? Will they know what to do? What if their friend has a driver's license and they have been drinking? 
These are all real-life scenarios that parents should discuss with their children before they happen. The California Highway Patrol's RIGHT TURN Middle School Program offers tips for parents such as those on alcohol use prevention strategies, having  discussions with your teen, and ideas to empower them to say "no."   
The Risks of Young Teens and Alcohol
When it comes to underage drinking, the statistics are startling. The number of alcohol-related traffic accidents involving teens is high, as is the number of teens involved in drownings and violent incidents where alcohol played a role. Being proactive can save your teen's life or the life of someone they know.
Consider these statistics:
Teens who drink alcohol are more likely to become sexually active sooner in life, to have sexual intercourse more frequently, and to have unprotected sex more than teens who elect not to drink

Young people who drink are at a higher risk than those who do not to be victims of violent crime, rape, aggravated assault, and robbery

Problems with schoolwork and school conduct are more rampant among teens who drink

A young person dies in a traffic crash due to intoxicated driving once an hour on weekends and once every two hours on weekdays

About 77 percent of alcohol-related youth fatalities can be

attributed to young males

An individual who begins drinking alcohol in their younger teen years has quadruple the chances of alcohol dependence than someone who waits until adulthood to consume alcohol
Ten Parental Strategies for Prevention
Here are some strategies you can use to reduce your teen's risk of engaging in underage drinking.
Adopt family rules regarding drinking.

When parents enact rules and expectations surrounding alcohol use, their children are less likely to even begin drinking. For example, kids will not stay at parties thrown by their peers where alcohol is being served, and they are less likely to ride in a car with an intoxicated driver

Keep tabs on the alcohol in your home.

be aware of how much you have and if some suddenly disappears or seems less than usual

Get to know other parents, especially parents of the kids your children are friends with.

Doing so can help you keep closer tabs on your children.

Be the example.

Use alcohol in moderation, never drink and drive, do not use alcohol to handle your problems, never ride in a vehicle with another driver who has been drinking, and refrain from telling stories about your own drinking that may lead them to see alcohol use as glamorous or funny.

Do not support teen drinking in any way such as allowing teens to drink in your home or buying alcohol for them.
Encourage your child to build healthy relationships.

Keep in mind that if their friends use alcohol, they are more likely to drink as well.

Keep your kids busy.

children who are bored are more like to experiment with alcohol.

Check out a safe-ride home program where parents can enroll and prepay for their child's ride home. 
Keep track of your child's activities, plans, and whereabouts, no matter their age.
Four Practical Ways Your Child Can Say No to Riding with a Drunk Driver
As your child gets to the age where he or she is getting rides from other people, you should discuss what they should do if they believe that a person who is going to give them a ride is drunk
Call a parent or another trusted adult for a ride and then say no thanks, I have another ride

I think I'm going to spend the night (then call a parent tell them about the situation).

​I think I'm going to walk (ONLY if they are in an area that they usually walk and are familiar with, it is during daylight, AND they have a buddy with them).

Simply say there's no way I am riding with you

Injured by a Drunk Teen Driver? Call an Experienced California Car Accident Lawyer for Victims of Negligent Motorists
Teen drivers are unpredictable, and those that have been drinking create an even graver problem. It is best to discourage these behaviors from a young age. If you were injured on California's roads, you have an option to seek payments for your damages by filing a claim against the at-fault party.
We have decades of experience serving injured accident victims in San Francisco, Riverside, San Jose, San Diego, Sacramento, Sherman Oaks, and throughout California.  Our dedicated lawyers have recovered over 200 million dollars for clients just like you. Contact Arash Law today at (888) 488-1391 or online to set up your free case evaluation with an experienced California car accident lawyer from our firm.