Your Teen's Guide to Safe Driving
Driving has long been a rite of passage for many teens. When a teen has the freedom to drive alone, they are experiencing one of the most liberating times of their life. As with many aspects of growing up, with great freedom comes great responsibility. Everyone who gets behind the wheel, no matter their age, needs to accept and appreciate this responsibility every moment they are on the road. Doing so not only ensures your own safety but the safety of those around you. 
Unfortunately, motor vehicle accidents are the number one cause of death for teens in the United States today. These crashes are preventable, and by sticking to proven strategies, the safety of young drivers can improve. If you or your teen has been involved in an accident, it's in your best interest to discuss your case with a California car accident lawyer at Arash Law as soon as you can.
---
The Enormity of Teen Accidents
In 2017 alone, 2,364 teenagers in America between 16 and 19 years of age were killed in car crashes, while approximately 3,000 were treated in emergency rooms for injuries caused by car accidents. This averages to about six teens between the ages of 16-19 dying every day as a result of motor vehicle crashes in addition to hundreds of daily injuries.
People ages 15-19 accounted for 6.5 percent of the United States population in 2017. However, this same age group caused $13.1 billion or nearly 8 percent of the total cost of motor vehicle injuries in the same year due to fatal and non-fatal accidents. 
Ages Most at Risk
Teens ages 16-19 are most at risk for motor vehicle accidents than any other age group. Per mile driven, this age group is almost three times as likely than drivers who are 20 and older to be involved in a fatal crash. Other risk factors are as follows:
Being a Male — In 2017, the motor vehicle death rate for male drivers aged 16-19 was more than twice as high as the death rate for female drivers in the same age group.
Teens Driving With Teenage Passenger —Having teen passengers in the vehicle with a teen driver increases the crash risk of unsupervised teen drivers. This risk increases with each additional teen passenger.
Newly Licensed Teens — During the first months of licensure, the risk of motor vehicle crashes is significantly raised. In fact, the 2017 National Household Travel Survey revealed that the crash rate per mile driven is 1.5 times more for 16-year-olds than it is for drivers ages 18-19.
---
The Greatest Risk to Teen Safety Sits in the Garage
An astounding half of all teens will be involved in a car accident before they graduate from high school. The involvement of parents should not end when the teen receives their driver's license. To learn more, read this report. The more experience a teen driver has, the better. Parents should provide their teen drivers with resources to help them gain the experience they need.  
California, along with all other states, does not have laws that will completely protect teen drivers. However, when these laws are combined with parental rules and supervision regarding the number and age of passengers, nighttime driving and cell phone use while driving safety increases. Parents can enforce agreements like this one to take an active part in keeping their teens and other drivers on the road safe. 
---
The Leading Cause of Teen Deaths in America is Motor Vehicle Crashes
By taking action, you can help change this statistic for your children and possibly others.  
The National Highway Traffic Safety Administration (NHTSA ) sponsors Teen Driver Safety Week each year in October. The biggest influencers on teen drivers are their parents, even when it doesn't seem as if they are listening.
NHTSA reminds parents to put the driving rules in place before their teens get behind the wheel with "5 to Drive":
No cell phones while driving

No extra passengers

No speeding

No alcohol

No driving or riding without a seat belt
---
The Risk Factors for Teen Crashes
To help decrease the number of injuries and fatalities from teen crashes, it is essential to understand what puts teens at risk. The most common and significant risk factors include:
Inexperience: Studies show that teens are more likely than their older counterparts to underestimate or not be able to recognize dangerous situations on the road. They are also more likely than adults to make perilous decision errors that lead to severe crashes.
Speeding: Teens are more likely than older drivers not to drive the speed limit and allow shorter headways (the distance between the front of one vehicle to the front of the one following).
Seat Belt Use: When compared with other age groups, the groups with the lowest rates of seat belt rates are teens and young adults. In 2017, less than 60 percent of high school students always wore seat belts as passengers. Among young drivers aged 15-20 who lost their lives in car accidents in 2017, nearly half were not wearing seatbelts at the time of the crash.
Alcohol Use:

Any amount of alcohol intensifies the risk of crashes among teenage drivers as compared with older drivers.

In 2017, The National Youth Risk Behavior Survey found that 6.5 percent of high school students had ridden with a driver who consumed alcohol within the previous month. Among students who drove, 5.5 percent drove when they had been drinking alcohol during the 30 days before the survey.

Drinking alcohol is illegal before the age of 21; inherently, so is drinking and driving. Even still in 2017, 15 percent of drivers aged 16-20 involved in fatal motor vehicle crashes had a blood alcohol content level (BAC) of .08 percent or more. This level is the legal limit for adults aged 21 and older in all states, except Utah, which has a BAC limit of .05 percent.

In 2017, 58 percent of drivers ages 15-20 who were killed in motor vehicle crashes after drinking and driving were also not restrained with a seat belt.

Among male drivers ages 15-20 who were involved in fatal crashes in 2017, almost one-third were speeding at the time of the collision, and one-fifth had been consuming alcohol.
Nighttime and Weekend Driving: 

In 2017, 40 percent of motor vehicle crash deaths among teen drivers and passengers ages 13-19 happened between the hours of 9 pm and 6 am, and more than half occurred on a Friday, Saturday, or Sunday.
---
Eight Elements that Decrease Teen Safety on the Road
Teen drivers and their parents need to be fully aware of the leading causes of teen car crashes, injuries, and fatalities which are:
Driver inexperience

Driving with teen passengers

Nighttime driving

Not using seat belts

Distracted driving

Drowsy driving

Reckless driving

Impaired driving
The good news is that there are reliable methods to increase teen safety on the road. Examine what the research to learn what you can do to help your teen stay safe when it comes to driving. 
Saving Teen Lives with Seat Belts
As babies and young children, you likely strapped your teens into their car seats and ensured that they were in place as they should be. Just because your child is a teen now doesn't mean either of you can ignore the importance of restraints in a vehicle. Nearly half of all teen drivers and passengers who died in vehicle crashes in 2017 were not restrained when their crash occurred. Wearing a seatbelt, according to research, reduces the risk of severe crash-related injuries and fatalities by approximately half. 
Seat Belt Safety Laws Need Primary Enforcement
Seat belt laws vary from one state to the next. In California, not wearing a seatbelt is a primary offense. This means that law enforcement officers can stop drivers simply for not wearing a seatbelt. In other states where it is not a primary offense, law enforcement officers must have another reason to stop drivers but then can ticket them for not wearing a seatbelt. Studies show that seatbelt use is higher in states with primary enforcement. 
Abstaining from Alcohol Use Prevents Accidents
To help prevent drinking and driving among the teenage population, the minimum legal drinking age should be enforced. There should be zero tolerance for drivers under the age of 21. 
---
The Use of Graduated Driver Licensing Requirements Reduces Fatal Accidents
Like other complex skills, driving must be practiced to be learned adequately. Combining the lack of driving experience behind the wheel and normal teenage risk-taking behaviors, the results can be deadly. Graduated driver licensing (GDL) systems provide the supervision and skill-building that new drivers need. GDLs provide:
Longer driving practice periods

Limited driving under high-risk conditions for newly licensed drivers

Greater participation from parents when their teens learn to drive 
Studies show that comprehensive GDL systems are associated with 26 to 41 percent reductions in fatal motor vehicle crashes and 16 to 22 percent reductions in overall crashes among 16-year-old drivers.
Parents should become familiar with California's GDL system to help ensure the safety of their teen drivers. 
---
The California GDL System Requirements
Individuals who are enrolled in driver's education can drive with the supervision of an instructor. Those who apply for a license and do not participate in driver's education are required to wait until they turn 18 years of age to get their driver's license. At that point, they do not have to complete and intermediate license state. 
Teens can obtain their learner's permit at age 15, but they must have six months of driving experience before getting their driver's license. They must complete a minimum of 50 hours of supervised driving, 10 of which must be at night. California law allows secondary enforcement of unsupervised driving between the hours of 11 pm and 5 am. At all times, secondary enforcement is utilized to restrict passengers younger than 20 with teen drivers, although exceptions are allowed for immediate family members. 
In addition, teen drivers must have their license for one year and be at least 17 years of age to drive at night and not have passenger restrictions. 
---
What is the Leading Cause of Teen Automobile Crashes?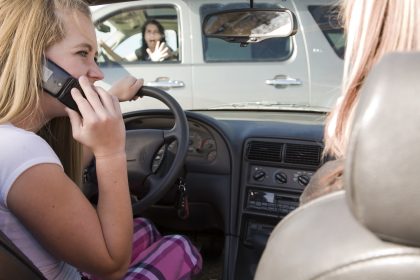 When you learn anything new, mistakes are likely to happen. Teens are human, and the same applies when they are learning to drive. Practice does make perfect when it comes to practice and teen driving skills.
Experts say that the safest and best way to ensure your teen gets the experience they need is to ride along with them frequently and to monitor their progress. Even 30 minutes each week of riding in the car with your teen can significantly improve their safety when behind the wheel. If you don't feel qualified or feel intimated, check out Pointers for Parents for some ideas. 
Remember that just because your teen is well-behaved, a high-achiever, a reliable employee, or makes excellent grades does not mean they do not need practice driving or that they will naturally be good drivers. The playing field is level when it comes to teens and learning to drive.
The Children's Hospital of Philadelphia Research Institute identified the most common errors made by teen drivers that lead to accidents in April of 2011. As much as 75 percent of crashes involving teen drivers can be traced to their inexperience. The other 25 percent is generally caused by:
Lack of looking across the roadway

Driving too fast for conditions

Distraction by something inside or outside their car
Getting plenty of practice behind the wheel should be a priority for your teen. Start by allowing them to drive during the day with your supervision, but don't be too picky about weather or road conditions. Remember that the road and weather conditions will vary when your teen is licensed to drive. When your teen is ready, you can gradually and intentionally add in driving practice at night, in heavy traffic, and in adverse weather conditions. 
---
Significantly Decrease Distracted Driving
Teens are involved in three times as many fatal crashes as other drivers. Crashes are the leading cause of death for American teenagers today. These crashes can be attributed to inexperience on the road as well as immaturity and:
Speed

Mixing driving with alcohol and drug use

Not utilizing seat belts

Distracted driving such as cell phone use, loud music, or teen passengers

Drowsy driving

Driving at night
---
Can Teenage Passengers Safely Ride with Inexperienced Drivers?
The plain and simple answer is no. Even one teen passenger can increase the risk of a crash when a teen is behind the wheel by as much as 44 percent. Having teenage passengers is a distraction to young drivers and one in which they do not know how to handle effectively.
Of course, this means that the days of picking up a friend before school, going on a date, or taking peers to the mall are gone for young teens. Safety should be a priority. Keep in mind that your teen does not have to be the driver as passengers die in teen driver crashes as well. If your teen is riding with another teen, don't be afraid to ask questions like:
Who's driving?

Where are they going?

When will they be on the road? 

How long has the teen driver had their license? 

Are they driving far from home? 

Will they be driving at night?
In other states outside of California, laws may not allow a teen to transport their siblings. This can be an inconvenience to many parents, but again, the safety of your children is paramount. In fact, sometimes siblings are more distracting than friends or peers as they know how to upset your teen driver or what makes them laugh. Even though California allows siblings to ride with teen drivers, it is safer if you can avoid this situation for at least one year after your teen begins driving. By making an exception for siblings lawmakers are more easily able to pass teen driving legislation since it allows parents to decrease their hours on the road, but it does not mean that driving with siblings in the car is safe for teens. 
---
Day Driving Versus Night Driving
When the sun goes down, it is harder for teen drivers to see and to be seen. Familiar environments can appear foreign when lit by headlights and streetlights. No matter your age or what type of driver you are, accident rates are simply higher at night when it is dark. Although the risk increases notably for teen drivers. During the night, drivers who are 16 and 17 years old are three times more likely to be involved in a fatal vehicle accident than during the daylight. 
Studies show that nearly 20 percent of fatal crashes that involve teen drivers between the ages of 15-17 occur between the hours of 6 pm and 9 pm. This age group is critical as it correlates with when teens first receive their learner's permit and progress through the GDL and begin their first year as a licensed driver. Even when looking at a broader age group of 15-19 years of age, still almost 18 percent of accidents happen between 9 pm and midnight. 
In addition to the darkness, this six-hour stretch of time is when many teens are leaving school, attending activities, or going to work. It is also a time that fatigue can start. 
Even still, teens need the experience of driving at night in order to develop their skills. Be sure to provide them ample opportunities to drive at night with you or another adult in the car to help improve their night driving. If it is not possible to do so, gradually increase the hours that they are allowed to drive into the evening and will enable them to gain experience as a licensed driver slowly. 
Some states even have laws to protect teens that restrict what times they can be alone on the road. In California, teens are not allowed to drive by themselves between the hours of 11 pm and 5 am, although it is only secondary enforcement.
---
Actions You Can Take
You set the example for your teen driver. A recent Liberty Mutual Insurance survey revealed that nearly 70 percent of parents of teen drivers use at least two distracted or dangerous driving behaviors themselves while behind the wheel. Texting while driving is a primary culprit. You can help reduce your teen's dangers of distracted driving by setting a safe driving example. 
Talk to your teens about texting while driving and its dangers. Review your cell phone bill to determine how often they text and if they are doing so while driving. If you are aware of when your teen might be on the road, do not call or text them. If you do call, ask if they are driving. If the answer is yes, call them back later or have them pull over and call you back. 
---
Safety by the Dozen: 12 Tips for Parents and Their Teenage Drivers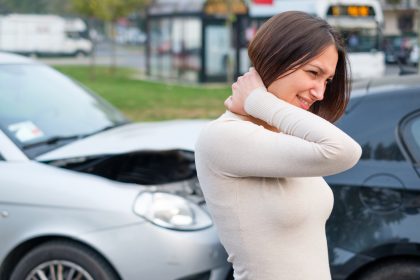 Put down the phone  —  Up to o11 percent of drivers age 19 and younger who were involved in fatal accidents were distracted. Talking and texting while driving substantially increases the risk of injuries and fatalities.
Reduce speed  —  Teens often drive over the speed limit or too fast for weather or road conditions, which can be caused by their impulsiveness or poor judgment. Over one-third of male drivers between the ages of 15-20 were speeding immediately before their fatal accident.
Don't mix drinking with driving  —  Thankfully young drivers are less likely than adults to drive after they have consumed alcohol. However, when they do drink and drive, their risk of a crash is much higher because the effects of alcohol combined with their inexperienced driving skills is a recipe for disaster.
Be prepared  —  Make sure your teen is prepared for an emergency. Pack an emergency kit that includes items such as a flashlight, jumper cables, a first aid kit, water, and non-perishable snacks.
Limit driving at night  —  There is a reason GDL programs restrict teen driving at night. During 2017, 17 percent of teenage fatalities on the road occurred during the hours of 9 pm and midnight, and nearly a quarter occurred between midnight and 6 am.
Be mindful of weather conditions  —  Teen drivers are inexperienced at handling roads impacted by weather conditions. It is imperative to teach them how to drive in poor weather confidently. You might want to look into a driving school that can help them with safety and car control techniques, such as what to do if they are hydroplaning. It is better to get this practice with an experienced driver in the car before going out on their own.
Limit the number of passengers  —  Each passenger adds to the risk of a fatal crash. With three or more passengers, the risk climbs to four times as much compared to the driver being alone. Numerous studies reveal that teens who have passengers in their vehicles are much more likely to partake in risky driving and become distracted. These factors will multiply the dangers.
Select the right vehicle  —  It's tempting to buy an inexpensive older car for your teen or to provide them with a hand-me-down that has seen its fair share of miles. From a financial standpoint, this might initially make sense. However, these cars are not likely to have advanced safety features like electronic stability control or side-curtain airbags. Keep your teen safer by selecting the right vehicle after doing your research.
Put rules in place  —  Your teen will need to abide by California driving laws and the restrictions of the GDL program, but you should also but your own rules in place. Spell out the penalties if they break the rules and put everything in a contract. If necessary, take their keys away.
Minimize the distractions  —  Drivers on the road today face more distractions than any drivers that have come before. This can make driving challenging for beginners. Older generations may have only needed to worry about changing the radio station or talking with passengers, while today's teen drivers are also tempted by distractions on their phone, touchscreen and GPS controls in the console, and even DVDs and video games being played by passengers. Teens need to know that their safety and the safety of those around them relies on being a focused driver.
Click your seat belt  —  The NHTSA reports that 60 percent of fatalities of people under the age of 20 from car accidents were unrestrained at the time of their accident. Wearing a seatbelt is a simple way to reduce injuries and fatalities should an accident occur.
Be prepared  —  Like all other drivers, your teen's driving career will be filled with the unexpected. The best thing you can do is to ensure they are prepared for these events. Make sure they know what to do if their car breaks down or they are in an accident. Pack their vehicle with an emergency supply kit and even an atlas in case they cannot access the GPS on their phone.
---
Call Arash Law Today to Schedule a Free Case Evaluation with a California Car Accident Lawyer
If you or your teen driver is involved in an accident, you need the reliable representation of a California personal injury attorney. Contact Arash Khorsandi and his colleagues at Arash Law by phone (888) 488-1391 or receive a free online case consultation.