California, the most populous state in the United States, is known for its breathtaking landscapes, vibrant entertainment, and unimaginable traffic. The latter has led to car accidents becoming common on the state's busy roads and highways. The consequences of these accidents can be devastating, leading to property damage, serious injuries, and fatalities. Founded by famous attorney Arash Khorsandi, Esq., Arash Law is here to help when you suffer an injury or lose a loved one in a car accident.
The California Highway Patrol's Statewide Integrated Traffic Records System (SWITRS) 2019 Report showed 269,031 injuries and 3,737 deaths related to car accidents that year. The recent estimates for 2022 put that number to 221,559 injuries and 4,030 deaths (See Number of Car Crashes Section below). These staggering figures indicate a clear and pressing need for measures to improve road safety in the Golden State.
Understanding the scope and magnitude of this problem is critical for assessing safety needs and preventing accidents. This can be gained by examining California auto accident statistics, which provides insights into road safety issues. In this article, you will find information about data access tools, collision statistics in California, their common causes, and how factors like alcohol and seatbelts affect these crashes.
Our experienced California car accident lawyers at Arash Law have handled personal injury cases for decades. We know that road safety issue in the state is becoming increasingly critical. In sharing our findings, we hope to raise awareness and advise car accident victims on how to receive the justice and compensation they deserve.
Transportation Injury Mapping System (TIMS)
The Transportation Injury Mapping System (TIMS) is an interactive online mapping tool providing detailed information on transportation-related injuries and deaths in California. Funded by the California Office of Traffic Safety (OTS), the Safe Transportation Research and Education Center (SafeTREC) of the University of California, Berkeley, developed and maintained the tool. Transportation planners, researchers, and policymakers can use TIMS to identify high-risk locations and populations, analyze crash data, and design interventions for road safety.
The system integrates data from various sources, including the California Highway Patrol's SWITRS, to provide a comprehensive view of transportation-related injuries and fatalities in the state. Users can generate maps and report on variables such as crash severity, location, time of day, and type of road user (e.g., motorist, pedestrian, cyclist, etc.). Some of the key tools available on TIMS include:
SWITRS query & map
SWITRS GIS map
California safety PM target setting
Collision diagram
SRTS map viewer
ATP maps & summary data
Motorcycle collision map
California Office of Traffic Safety (OTS)
The California Office of Traffic Safety (OTS) is a state government agency responsible for promoting and improving road safety in California. Established in 1966 and operated under the California State Transportation Agency, its mission is to reduce the number and severity of traffic collisions and injuries in the state by providing leadership, coordination, and funding for effective traffic safety initiatives.
The OTS also developed a Collision Ranking Tool, allowing users to explore California crash data. The tool can pull up information about high-risk locations for traffic accidents and compare statistics among cities with similar-sized populations. Below is a list of some of the other data and statistical resources provided by the OTS:
Number of Car Crashes, Injuries, and Deaths in California for 2020-2022
Various organizations collect California auto accident statistics, including the California Office of Traffic Safety (OTS) and the California Highway Patrol (CHP). Most of the latest data available is from 2022, though data from 2021 to 2022 are provisional and subject to change.
Listed below are some of the findings on car accident statistics in California leading up to 2022, taken from the Statewide SWITRS Summary of the Transportation Injury Mapping System (updated as of June 2023).
2022
There were 159,623 total traffic crashes involving injuries or fatalities.
Of the total, 155,878 were injury crashes, while 3,745 were fatal crashes.
From these crashes, 221,559 were injured, while 4,030 were killed, a total of 225,589.
11,787 pedestrians were killed or injured, 1,777 were older adults, 1,073 were children.
8,811 bicyclists were killed or injured, and 1,102 were children.
12,427 deaths and injuries were motorcyclists.
27,396 of all crash-related deaths and injuries were alcohol-involved, while 76,114 were speeding-related.
2021
There were 162,092 total traffic crashes involving injuries or fatalities.
Of the total, 157,941 were injury crashes, while 4,151 were fatal crashes.
From these crashes, 225,198 were injured, while 4,465 were killed, a total of 229,663.
11,444 pedestrians were killed or injured, 1,679 were older adults, 923 were children.
7,770 bicyclists were killed or injured, and 820 were children.
11,911 deaths and injuries were motorcyclists.
28,548 of all crash-related deaths and injuries were alcohol-involved, while 79,721 were speeding-related.
2020
There were 147,148 total traffic crashes involving injuries or fatalities.
Of the total, 143,476 were injury crashes, while 3,672 were fatal crashes.
From these crashes, 203,888 were injured, while 3,982 were killed, a total of 207,870.
11,154 pedestrians were killed or injured, 1,690 were older adults, 780 were children.
8,095 bicyclists were killed or injured, and 652 were children.
10,986 deaths and injuries were motorcyclists.
23,275 of all crash-related deaths and injuries were alcohol-involved, while 67,957 were speeding-related.
Common Causes of California Auto Accidents
As the statistics above reveal, collision fatalities and injuries occur daily in California. A variety of potential causes lead to an automobile accident, and it's important for drivers to become familiar with the most common ones. Awareness of these factors can help promote better safety habits, spread awareness, and, ultimately, save lives.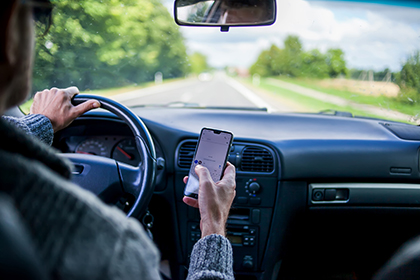 Distracted driving – With the rise of smartphones and other devices, crashes stemming from distracted driving are becoming increasingly common.
Drunk driving – From 2017 to 2022, alcohol-impaired driving accounted for 22 to 26% of California's traffic fatalities.
Speeding – From 2017 to 2022, speed was indicated as the primary crash factor in more or less one-third of California's fatal and injury car accidents.
Breaking traffic laws – Running red lights, failing to yield, and other forms of neglecting traffic laws put drivers and others on the road at serious risk.
Drowsy driving – Those who drive while tired or sleep-deprived are significantly more likely to cause a crash.
Inexperienced drivers – Teenagers or those who recently obtained their driver's licenses are at a greater risk of car accidents.
Aging drivers – Drivers 65 and over accounted for 13.8% of statewide fatalities in 2018-2022, with improper turning being the most common factor in aging driver collisions.
Dangerous roadways – Potholes, uneven pavement, debris, and other poor road conditions can cause accidents. Other factors making roads more dangerous are lack of proper signage, inadequate lighting, confusing road design, and road construction.
Bad weather – Rain, fog, or other adverse weather conditions can make it more difficult for drivers to arrive at their destinations safely. Wet roads, in particular, can lead to skidding or hydroplaning, potentially resulting in a crash.
Several other factors can increase the likelihood of getting into a car accident, such as driving at night. Intoxicated drivers and poor visibility make nighttime the most dangerous time to drive. In addition, vehicle defects are a common cause of crashes, as faulty brakes, defective tires, and other mechanical issues can lead drivers to lose control.
If you were in a car accident, one or a combination of the factors above likely contributed to the mishap. Contact Arash Law, led by Arash Khorsandi, Esq., today for a free case review to receive compensation for your injuries, property damage, and pain and suffering.
Locations of Fatal Crashes
According to California's most recent statewide collision overview from the 2020-2024 Strategic Highway Safety Plan, the Los Angeles area accounts for nearly half of all traffic-related injuries and deaths. Below is a rundown of traffic deaths from 2008 to 2017 in various regions throughout California.
Los Angeles – 15,530 (49%)
San Francisco Bay Area – 4,708 (15%)
San Diego – 2,564 (8%)
Redding – 1,429 (4%)
Sacramento – 2,872 (9%)
Fresno – 4,816 (15%)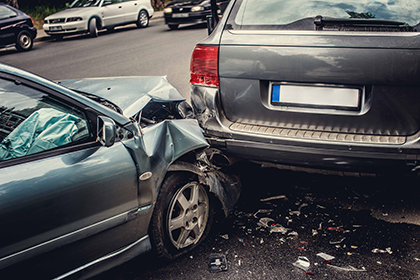 The numbers above indicate a higher frequency of accidents occurring within or near urban areas. In 2019, 2,463 people died from crashes near cities, compared to 1,135 people in rural areas. In all regions, accidents occurring in intersections, interchanges, and other roadway access points accounted for roughly 40% of all collisions, making these areas some of the most dangerous on our roads.
How Many People Die in Car Accidents in California?
Making up around 12% of the total US population, California also represents one of the country's major locations for traffic accidents. Between 2018 and 2022, 20,018 people were killed and 1,194,530 were injured, with 83,759 being serious road collisions in the state. The statistics translate to an average of 4,000 traffic-related deaths per year.
However, it's important to keep in mind that the greater population size in California is a contributing factor to these figures. Measured per capita, or mile traveled, California is not a considerably dangerous place to drive.
Most fatal car accidents kill only one person. For instance, in 2019, there were 3,438 fatal crashes. These crashes led to 3,737 deaths in California, which is an average of 1.1 deaths per fatal crash (the same can be said for 2022).
It's worth noting that the number of deaths per fatal crash can vary depending on various factors, including the number of vehicles involved, the speed at which each vehicle was traveling, the types of vehicles, and conditions on the road.
Seatbelt Use and Alcohol Use as Major Fatal Crash Factors
Apart from speeding, alcohol-impaired driving and seat belt non-use are the major behavioral focus areas of the National Highway Traffic Safety Administration (NHTSA). They believed these three factors explained the increase in traffic fatalities seen from 2020 to 2021, although they weren't the only ones. All data presented in this section is taken from the 2021 Overview of Motor Vehicle Traffic Crashes of NHTSA unless otherwise stated.
Seatbelt Non-Use Fatalities
Seatbelts and other safety restraints save many lives yearly but are not 100% effective. Nationwide, the passenger vehicle front-seat belt use for adults increased from 90.3% in 2020 to 90.4% in 2021, which is not statistically significant. Among those killed in 2021, half (11,813) were unrestrained (11,820 were restrained). 57% of those killed during the nighttime were unrestrained, compared to 43% during the daytime.
Of those occupants of passenger vehicles who survived fatal crashes in 2021, only 15% were unrestrained compared to 50% of those who died. During the nighttime, 17% of passenger vehicle occupants who survived fatal crashes were unrestrained, compared to 13% during the daytime.
In California, the aforesaid Statewide SWITRS Summary reported 789 unrestrained occupant fatalities out of the 4,030 total in 2022. 2021 saw the highest number of deaths, with 923 out of 4,465.
In 2018, 93% of adults reported always wearing seatbelts in California compared to the 87% national rate. There were 633 unrestrained occupant deaths that year out of 3,804. The following year, in 2019, the state was second, with 96% just behind Hawaii, regarding seatbelt usage. 648 died out of 3,737 deaths.
Alcohol-Impaired Driving Fatalities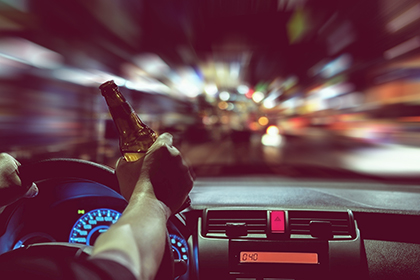 Driving under the influence also significantly contributes to traffic fatalities in the United States. Roughly 37 people nationwide die in drunk-driving crashes every day in 2021 — that's one person every 39 minutes. 13,384 alcohol-involved traffic deaths were reported — a 14% increase from 2020 — accounting for 31% of overall traffic-related fatalities that year.
In California, the percentage was slightly higher than the national average, at 32%, with 1,370 alcohol-involved traffic fatalities out of 4,285 total deaths.
Additionally, the aforementioned California statewide collision overview stated that from 2008 to 2017, drunk driving collisions more likely occurred on weekends (Friday, Saturday, and Sunday), with 78% happening between 4 p.m. and 3 a.m.
With so many people injured and killed due to drunk driving, it can be difficult to accept that this type of collision is one of the most preventable. If you intend to drink, you should always designate a sober driver or arrange for alternative transportation.
The Average Settlement Amount for a California Car Accident Claim
California car accident settlement amounts vary widely depending on the case's specifics, including injuries, property damage, lost income, and pain and suffering. For serious injuries such as broken bones, spinal cord injuries, or traumatic head injuries, settlement amounts can range from tens of thousands to millions.
In car accident cases with property damage only, the average settlement in California is about $3,000. However, when injuries are involved, car accident settlements have an average payout of over $15,000.
You may be owed significant compensation if you have suffered an injury in a traffic collision. Contact the team at Arash Law, managed by Arash Khorsandi, Esq., to discuss your case and estimate the settlement sum.
Contact Arash Law for a Free Consultation Today!
If you suffered an injury or a loved one was killed in a car accident, the dedicated California injury attorneys at Arash Law, under the leadership of Arash Khorsandi, Esq., can help you secure the financial recoveries you're entitled to.
With decades of experience and over $500 Million recovered, our team will work tirelessly to ensure that you receive a just outcome with the most settlement possible for property damage, medical expenses, lost income, and pain and suffering.
Our legal team at Arash Law understands the stress and uncertainty that can follow a car accident. That is why we provide our valued clients with personalized attention and aggressive legal representation.
Don't wait to get the legal help you need. Contact Arash Law today for your free consultation by calling (888) 488-1391. We are here to help you take the first step toward getting the compensation you deserve. We serve clients in California, including Los Angeles, San Diego, Sacramento, San Francisco, Riverside, San Jose, and Orange County.