Riverside

Car Accident Lawyers
with over $500 Million Recovered in Compensation for Injury Clients.
You May Be Entitled to Compensation

POWERHOUSE INJURY LAW FIRM

Protecting Injured Car Accident Victims in Riverside County
The Inland Empire is home to Riverside. Riverside County is one of the most populous and diverse counties in southern California. It is the Santa Ana River that gives Riverside County its name. Situated approximately fifty miles southeast of Los Angeles, Riverside is the most populated county in the Inland Empire. 
Riverside is also considered a part of the Los Angeles metropolitan area. According to recent data, it is the 12th most populated city in California and considered as the 61st most populated city in the country. With Riverside car accident lawyers on your side, you can rest assured that you have a dedicated legal team working to protect your rights and help you get the compensation you deserve.
Riverside is home to approximately 300,000 residents. San Bernardino is another major city close to Riverside. The Riverside-San Bernardino-Ontario metropolitan statistical area is home to about 4,500,000 people. Southern California is one of the most compelling parts of the state, and Riverside is a key component of the features that make Southern California one of the most popular regions in the United States.
Automobile accidents are traumatizing, and Southern California is a congested and crowded area where the majority of people use their personal vehicles for transportation. Many traffic collisions result in serious bodily injury or death. Accident victims may struggle to deal with the reality of being involved in a dangerous accident. Individuals involved in accidents may feel angry, frustrated, and stressed. Physical injuries can force people to stop working and spend large amounts of time participating in physical therapy and rehabilitation. Unfortunately, some accident victims suffer permanent disabilities due to their injuries.
An accident victim may suddenly find themselves unable to participate in their favorite hobbies and activities. Public transportation cannot handle the large number of people living and working in Riverside. Automobile accidents frequently occur at the busy intersections in Riverside County and on the many freeways that become congested in the mornings and afternoons with commuters.
Some victims may not have any time to respond if another driver is speeding and suddenly causes an accident. Fatalities can occur at any time while traveling on the roads in Riverside. According to the
National Highway Traffic Safety Administration
, automobile accidents are the leading cause of fatalities for individuals in the United States between the ages of sixteen and twenty-four.
Approximately one-half of the 2.5 million people suffering injuries in car accidents each year are left with permanent disabilities. Spinal cord injuries and traumatic brain injuries are some of the most severe injuries that can occur during automobile accidents.
Riverside County is a populated area, and the large population makes it more likely that accidents will occur on a regular basis. Approximately 292 people died in automobile accidents in Riverside in 2018. In 2017, 305 fatalities occurred due to automobile accidents. The 91 and 60 Freeways are two sites where most traffic collisions happen in Riverside.
Some of the most dangerous spots in Riverside for drivers and passengers are the 60 and 215 freeway interchanges, the 60 and 15 freeway interchanges, and the 90 and 60 freeway interchanges. Other spots where many collisions take place are Canyon Crest, Jurupa Avenue, and Arlington Avenue. Downtown areas with congested streets see more fatalities due to traffic accidents.
Vehicle safety is paramount, and most automobiles come equipped with safety features designed to prevent serious bodily injury and death. Ignoring these safety features can make accidents more dangerous for drivers, passengers, and pedestrians. Responsible drivers can help prevent serious accidents that put the lives of others at risk. For example, all vehicle owners should perform regular safety checks and maintenance assessments to make sure their vehicles are in good working order.
Sometimes individuals are already stressed with other problems in their lives, and then they are forced to deal with an automobile accident. Most people underestimate how many problems can arise from suffering injuries during a traffic accident. Stress and anxiety can increase due to automobile repairs, medical bills, and problems associated with insurance companies. Also, many accident victims experience post-traumatic stress disorder when they attempt to drive after being involved in an accident. If a victim cannot return to work due to their injuries, financial problems can quickly become overwhelming and cause depression and family strife.
The effects of trauma can remain with victims for months or years. Sometimes an accident victim is unable to travel in an automobile due to anxiety and stress caused by post-traumatic stress disorder. Accident victims often need to seek counseling to learn how to deal with the overwhelming fear and anxiety experienced by survivors of traffic collisions.
A farm worker suffered multiple broken bones and other orthopedic injuries resulting from an auto accident where the defendant driver attempted to make a left turn in front of our client in heavy fog.
– 
ARASH KHORSANDI
Automobile Accidents in Riverside
Millions of people live in southern California, and Riverside is one of the most populated cities in the entire region. Riverside is home to approximately 1.4 million licensed drivers, and more than 1.7 million automobiles are located in Riverside. Riverside has a large number of fatalities caused by traffic accidents. In 2015, nearly 230 fatal accidents occurred in Riverside. About 13,000 people suffered injuries during automobile accidents in Riverside. These accident victims are interested in learning more about personal injury claims and how they can seek financial compensation for their injuries.
Individuals in Riverside often do not know what to do after being involved in an automobile accident. Insurance policies, traffic collision reports, and other documents are all relevant to any personal injury claims asserted by injured accident victims.
Traffic Details in Riverside
Approximately 320,000 residents call Riverside County, California, home. The I-215, State Road 60, and State Route 91 are some of the busiest highways in Riverside. Thousands of people traveling on these highways at the same time can make it more likely that automobile accidents will occur.
How A Riverside Car Accidents Attorney Can Help
Many accident victims do not know where to turn when they want to seek monetary compensation for their injuries. A Riverside car accident lawyer can help accident victims file civil lawsuits so they can seek compensation to help pay for medical bills and other costs that arise due to an automobile accident. Property loss and lost wages are also recoverable from a negligent driver and their insurance company. Also, some accident victims may be unable to perform their job duties, and they can seek financial compensation for lost future earnings.
The Best Reasons to Retain an Automobile Accident Lawyer
A skilled and knowledgeable automobile accident lawyer is prepared to take a case to trial if the insurance company does not offer a reasonable settlement amount. Also, a Riverside car accident lawyer can devise techniques and strategies for countering the arguments asserted by insurance companies. Having an experienced legal advocate on your behalf can give you the best chance of obtaining monetary compensation for your injuries.

Emperatriz Ayala
My husband had an accident 2 years ago, a 85 years old man hit him, the Arash law group works very well on my husband case that took 9 month and he won the case and my husband was happy with the results. A year later I got into an accident as well and I'm still waiting in my case is almost resolving and it's 9 months already. This people knows the law and they do their job right to help you out in getting the most for you to fight on your behalf. I strongly recommend the Arash Law firm they do things right in a efficient and professional manner.

Chris Zavala
Had a great experience with all the people at Arash law. Long story short was in a bad car accident. It was overwhelming and the whole process was a lot, but they kept me in the loop. They answered all my questions and gave me great advice. Couldn't be any happier. Would definitely recommend anyone looking for a personal injury lawyer. They'll guide you through the whole process!

Jill Smith
Having Arash Law handle my auto accident was the best decision I could have made. Everyone I interacted with was kind, professional and detail oriented. I am extremely happy with the outcome and would recommend them highly.

Joseph R. Porter
From start to finish, Arash Law firm is there every step of the way with close, constant, personal contact and attention. I never knew a Law firm could actually care so much for me as a person and what I was personally going through as well as the settlement I was going to recieve once my case was finally completed. Thank you to everyone at Arash Law for your ongoing support and communication. You are the ONLY firm I will ever recommend to someone who is need of a great attorny.

Monica Parra
I had an excellent experience with Arash Law. I will definitely recommend to my family and friends. I interviewed a few firms before deciding to work with Arash Law. What made my experience excellent was (i.e. head attorney being accessible to talk to and he answered all my questions and concerns, sensitive and thorough personel who completed in home intake & follow up process, being connected immediately to quality Physicians who addressed my injuries and recovery process, clear contract-read throughly to ensure its something you can commit to). Being in a car accident is a traumatic experience and I had a sense of peace knowing Arash Firm was walking with me throughout the whole process. Thank you Arash Firm for all your hard work and help. I am so grateful and appreciative for you all! 🙏 With Gratitude, Monica Parra
The Most Common Categories of Automobile Accidents
Automobile accidents happen under many different circumstances. One accident may only involve one driver and one pedestrian. Another accident may involve several automobiles in a multiple-vehicle accident. The following are some of the most common kinds of accidents that occur in Riverside:
Head-on Collisions – Head-on collisions are extremely dangerous. The force of two front ends of two vehicles striking each other can cause serious bodily injury and death. The extreme impact that happens during head-on collisions can also endanger other vehicles in close proximity to the accident scene.
Rollover Accidents – Rollover accidents can occur when an automobile takes a sharp turn while traveling at a high rate of speed. Many victims who are involved in rollover accidents die due to their injuries. Untripped rollover accidents and rollover accidents are distinct types of accidents. Untripped rollover accidents are the result of a vehicle's tires rising up from the pavement. Poor weather conditions and speeding can cause untripped rollover accidents. Tripped rollover accidents occur when a vehicle makes contact with an object and then rolls over. Top-heavy automobiles, such as large trucks and sport utility vehicles, are are more likely to be involved in rollover accidents. Rollover accidents can cause serious bodily injury and death, particularly if drivers or passengers are not wearing safety belts.
Rear-end Collisions – Rear-end collisions can occur unexpectedly when drivers are texting and driving or engaging in other forms of distracted driving. One car may slow down suddenly, and then another vehicle may not have time to prevent a collision. Spinal cord injuries, such as whiplash, frequently occur during rear-end collisions. Unfortunately, many drivers do not have time to brace for the impact, and serious bodily injuries can happen quickly and unexpectedly. Under most circumstances, the individual driving the automobile in the rear is considered responsible for the accident. Rear-end collisions involving trucks can be even more dangerous than rear-end collisions involving sedans and compact cars.
Side-impact Collisions – The majority of side-impact collisions occur when one driver does not yield to a second automobile. Also, side-impact collisions take place at intersections where a driver does not pay attention to traffic lights. Catastrophic injuries may occur if drivers are traveling at high speeds. Fortunately, some vehicles contain side airbags that can reduce the likelihood of serious bodily injury or death. Many drivers do not have time to brace for impact before being involved in a side-impact collision. Passengers and drivers may both suffer serious bodily injuries if they are struck by an automobile traveling at an excessive speed
Single-car Accidents
Failure-to-yield Accidents
Merging Accidents
Sideswipe Accidents
Intersection Accidents
Left-turn Accidents
Pile-up or Multi-car Accidents
Low-impact Collisions
Automobile accidents resulting in fatalities may lead to wrongful death cases filed by the decedent's surviving relatives. A knowledgeable Riverside car accident lawyer can help you understand if you may have grounds to assert a wrongful death claim against the negligent driver.
The Most Common Causes of Automobile Accidents
Recently developed safety mechanisms such as forward-collision warning systems and autonomous braking can make it less likely that automobile accidents will result in serious bodily injury or death. These technologies can help drivers and passengers avoid serious injuries such as fractured bones, spinal cord injuries, and traumatic brain injuries.
Some automobiles are safer now than they were twenty years ago. More than 7 million automobile accidents occurred throughout the country in 2016. Vehicle collisions are a fact of life in the United States.
Although automobiles are now designed with more sophisticated safety features, the freeways in Riverside are still extremely dangerous. Drivers need to be alert and responsible while driving on crowded highways. However, all drivers are prone to committing errors that can cause accidents and collisions. The following are some of the most common causes of accidents in Riverside:
Inexperienced driving and younger drivers
Following other vehicles too closely
Fatigued driving
Driving the wrong way down a road
Driving at night
Pedestrian violation
Unsafe starting or backing
Some activities are more likely than others to cause automobile accidents. An experienced Riverside car accident lawyer can help injured victims understand their legal rights and how to begin the process of asserting legal claims against any negligent parties.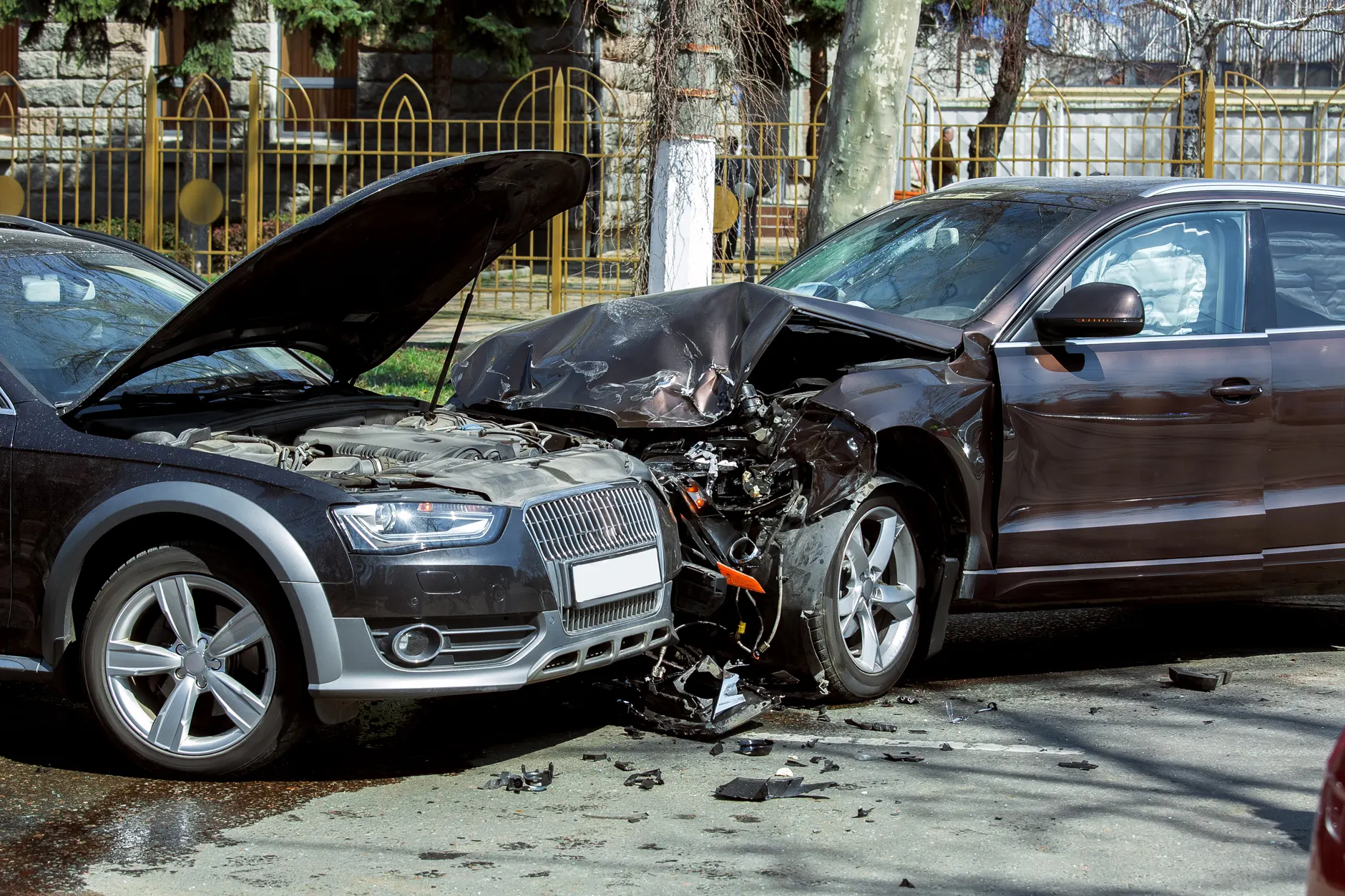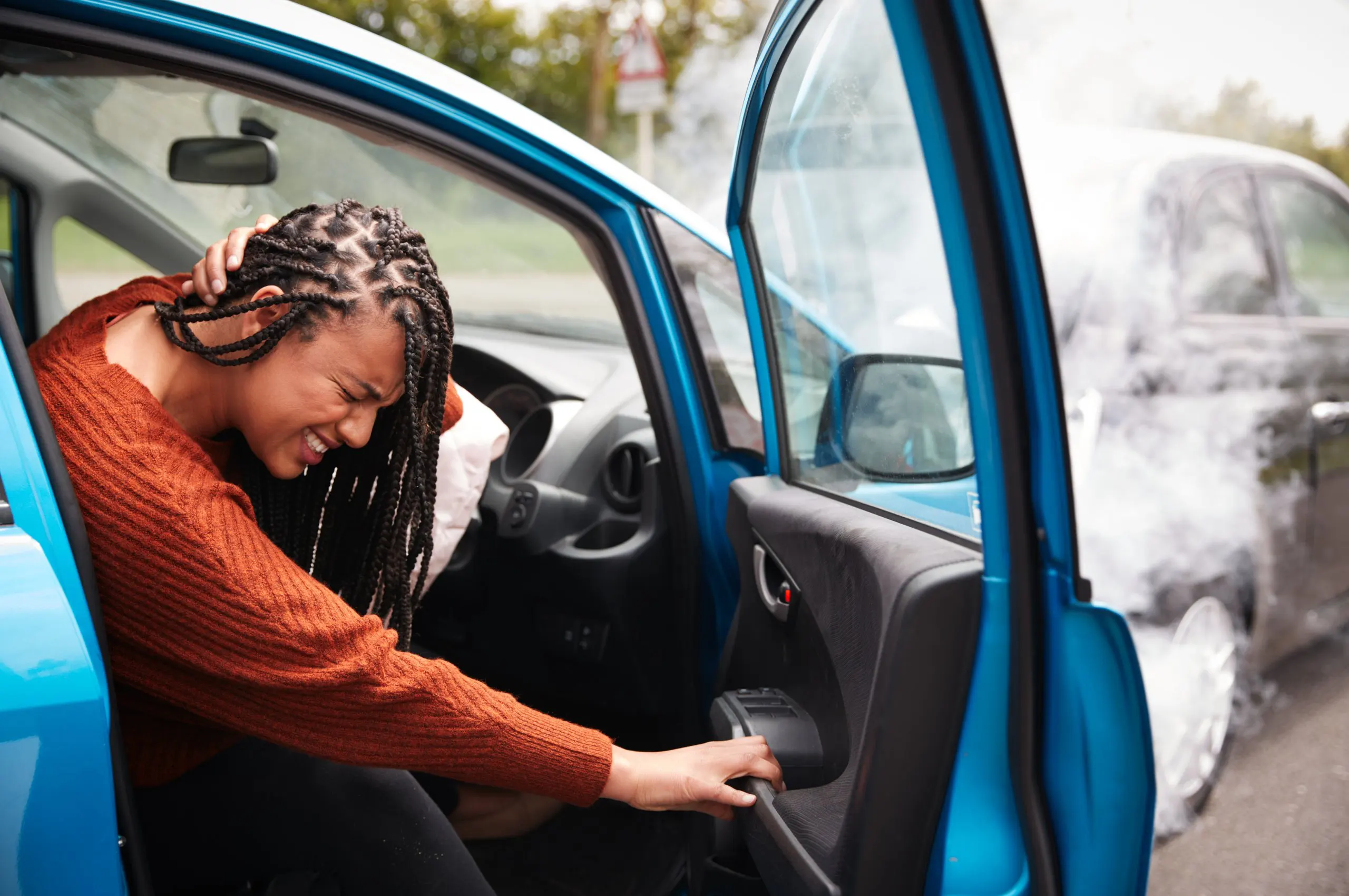 The Types of Injuries Occurring in Automobile Accidents
Approximately three million individuals suffered injuries in automobile accidents in 2016. The National Highway and Traffic Safety Administration contains valuable information regarding traffic accident statistics.
Injuries can affect drivers and passengers who are involved in seemingly minor traffic accidents. Injured victims do not have to be involved in catastrophic accidents to suffer serious bodily injuries. Common injuries that victims suffer in automobile accidents include: 
Broken bones
Spinal cord injuries
Burns
Traumatic brain injuries
The brain is particularly vulnerable during traffic accidents. Concussions can affect victims for years and cause memory loss and emotional dysregulation. Whiplash is also a type of injury that can cause nausea, headaches, and dizzy spells. Symptoms from these injuries may not become apparent until weeks or months after the date of the injury.
Traumatic brain injuries can have lifelong consequences. Symptoms include: 
Blurred vision
Dizziness
Confusion
Individuals injured in rollover accidents and head-on collisions may lose their limbs. An accident victim may not realize they suffered a severe laceration until medical personnel begin treating them at the accident scene. Shock and adrenaline can prevent injured individuals from realizing they have suffered serious bodily injuries.
Bone fractures can require surgery and extensive physical therapy. Some accident victims may not realize that they have suffered a fracture until they seek out medical treatment after the date of the injury. It is important for accident victims to seek medical treatment as soon as they can after suffering injuries in a traffic accident.
Automobile accidents are filled with flammable liquids and other chemicals. It is likely that accident victims will suffer severe burns, depending on the type of accident in which they are involved. Damaged nerves, severe infections, and permanent scarring can all result from severe burn injuries. Sometimes burn injuries can cause a victim's death. Other victims may have to undergo multiple skin grafts to treat their burn injuries.
Spinal cord injuries can cause temporary or permanent disabilities. Individuals who have suffered spinal cord injuries typically experience numbing sensations, back pain, and tingling of the nerves. Unfortunately, spinal cord injuries are capable of causing loss of bowel function, loss of feelings in the lower body, and paralysis.
The Parties Liable for the Injuries That Victims Suffer in Automobile Accidents
Negligence law is the part of tort law that governs which parties may be liable for causing injuries during an automobile accident. Negligent behavior occurs when a driver acts in a reckless or irresponsible manner and causes another to suffer bodily injury.
Drivers have a duty to operate an automobile in a reasonable manner and not to take risks that will cause an unjustifiable risk to human life. Negligence law deals with duties and whether their breach causes injuries to other people or property. In every car accident case, negligence law plays a vital role. A skilled Riverside car accident lawyer can help injured victims determine how best to establish that the driver who caused the accident was negligent.
Primary Causes of Car Accidents in Riverside
The California Highway Patrol collects information regarding motor vehicle accidents in Riverside. Approximately 26,000 traffic accidents occurred in Riverside in 2017. The following accidents were the most common in Riverside:
Pedestrian right-of-way – 149
Following too closely – 183
Improper passing – 227
Pedestrian violation – 231
Hazardous violation – 268
Driving on the wrong side of the road – 450
Unsafe starting or backing – 730
Traffic signal or sign error – 1,550
Unsafe lane changing – 1,765
Driving under the influence of drugs or alcohol – 2,165
Car right-of-way error – 2,293
Improper turning – 5,993
Excessive speed – 9,019
What Happens If I Am in an Automobile Accident?
If you were a party to an automobile accident and you are at fault, you will be liable for the personal injuries suffered by the other parties as well as any property damage that arose due to the accident. A knowledgeable automobile accident lawyer in Riverside can help you determine how best to proceed if you want to seek financial compensation for your injuries.
Gathering Evidence to Establish Arguments for Your Case
A negligent driver will be automatically liable for the injuries that you suffered during an accident. You need to focus on collecting the evidence that can be used to establish the other driver's liability. The accident scene may contain evidence that can help you establish a strong case. Documentary evidence such as videos and photographs is extremely useful in automobile accident cases. Witnesses who may have observed the accident can provide statements that can be recorded and preserved. It is important to collect a witness's contact information at the scene of the accident. The following are examples of other kinds of evidence that may help your case:
Evidence regarding premium payments
Copies of insurance policies
Tax returns and pay stubs regarding lost wages
Receipts related to vehicle damage and repairs
Medical bills and medical records
Items of clothing you wore when the accident occurred
Traffic collision report
The details and information related to these documents may seem overwhelming to you. You should remember that you can seek help for every aspect of your automobile accident claim. A skilled and knowledgeable Riverside car accident lawyer can help you do everything within your power to develop a strong case strategy and pursue the financial compensation you deserve, such as:
Subpoenaing witnesses
Coaching an injured victim for testimonial purposes
Gathering black box information that may contain useful information
Subpoenaing mobile phone records
Reviewing traffic camera footage
Discovering surveillance footage of the accident from any individuals or businesses
Requesting a copy of the police report and analyzing its contents
Reviewing medical records
Performing an accident reconstruction
Taking accident scene photographs
Employing skilled accident scene investigators
Preserving evidence is important if you want to strengthen your case. Some evidence may need to be documented soon after the accident to make sure it does not dissipate.
What Steps Should I Take if I Am Injured During an Automobile Accident?
Car accidents often occur unexpectedly, and the shock of an accident can make people feel like they don't know where to turn. It is important to understand the options available to you after a vehicle collision. The following are some of the most important things everyone should do after being involved in a car accident:
Collect evidence – Review the accident scene and document any details that may be used as evidence. Taking photographs and videos of the accident scene can help preserve evidence that can be helpful in a personal injury case. Also, speak with witnesses and gather their contact information. If you suffered property damage during the accident, collect any debris near the scene of the accident.
Obtain insurance information from the other party – Collect the insurance information of the other party, but do not admit liability for the accident.
Contact law enforcement – Immediately call law enforcement and request that an ambulance be sent to the accident scene. You should request that police officers create a report for your records.
Determine the extent of your injuries – Assess the people who were in the accident and contact emergency medical personnel. Many drivers and passengers may not think that they suffered an injury, but everyone involved in an accident should be examined by a medical professional.
Do not make the situation worse – Some parties may panic and become overwhelmed after being injured in an automobile accident. It is important for everyone to keep their composure and move the vehicles out of the path of oncoming traffic.
When Can I File a Civil Lawsuit?
Insurance companies want to maximize their profits, and insurance company representatives may offer you a low settlement offer in exchange for you signing a waiver of your rights to sue in the future. Do not sign the waiver before consulting with a knowledgeable Riverside car accident lawyer. You can obtain a higher settlement offer, or you may need to file a lawsuit and begin litigation. The following are common forms of monetary compensation you can pursue after a car accident:
Punitive damages – If the other party engaged in egregious conduct, you can seek punitive damages that are intended to punish the defendant and deter the defendant from committing the same behavior in the future.
Property damage – The at-fault driver is liable for paying repair costs if you suffered property damage during the accident.
Lost earnings – You can seek compensation for the time you lost from work due to the accident. You may claim lost future earnings if you are unable to perform your work duties in the future due to your injuries. It is also possible that your injuries may make it impossible for you to return to your former career after recovering from a car accident.
Bodily injuries – You can seek financial compensation for medical bills that you incurred due to the accident
Should I Obtain Legal Representation?
An insurance adjuster may want to speak with you after a car accident. It is best for you to seek independent legal counsel before you speak with any representative of an insurance company. You want to make sure that you understand your legal rights, and a skilled Riverside car accident lawyer can provide you with the information you need to make informed decisions about your rights and if you want to seek monetary compensation for your injuries.
Driving Laws in California
The statute of limitations – Injured individuals in California need to file personal injury claims within two years of the date of injury. Some exceptions may apply that can toll the statute of limitations for a period of time.
Sharing fault – California adheres to a pure comparative negligence scheme, meaning the amount of financial compensation a party may be entitled to will be lowered based on their degree of contributory negligence.
Automobile insurance – All individuals who operate an automobile in California must be financially responsible for $35,000 in damages. California allows motorists to establish financial responsibility with a surety bond of $35,000, a deposit in the amount of $35,000, or an insurance policy. The minimum amounts of insurance coverage are $5,000 for property damage liability, $30,000 for bodily injury liability, and $15,000 for bodily injury liability per person.
Reporting automobile accidents – Accidents must be reported to the Department of Motor Vehicles if the accident resulted in more than $1,000 or if any party suffered a bodily injury during the accident.
Dealing with insurance companies can be difficult for individuals who are unfamiliar with personal injury law and insurance law. Understanding your legal rights and how you can protect them will make it easier for you to comprehend the insurance company's motives. Oftentimes, an insurance company is attempting to save money. One method of doing so is by having accident victims accept low settlement offers and waive their right to file a civil lawsuit against the at-fault driver or the insurance company.
What Is the Cost of Retaining a Personal Injury Lawyer?
It is important to understand that many car accident lawyers use a contingency fee agreement when representing clients in personal injury cases. The client does not pay any fees to the attorney before financial compensation is collected. After the case settles, the attorney will deduct a percentage of the total, and this reduction compensates the lawyer for the legal services provided to the client.
Some attorneys may bill clients using different fee arrangements. For example, a Riverside car accident lawyer may have an hourly rate or use a retainer fee. It is important to understand the differences between these fee agreements before you retain legal counsel.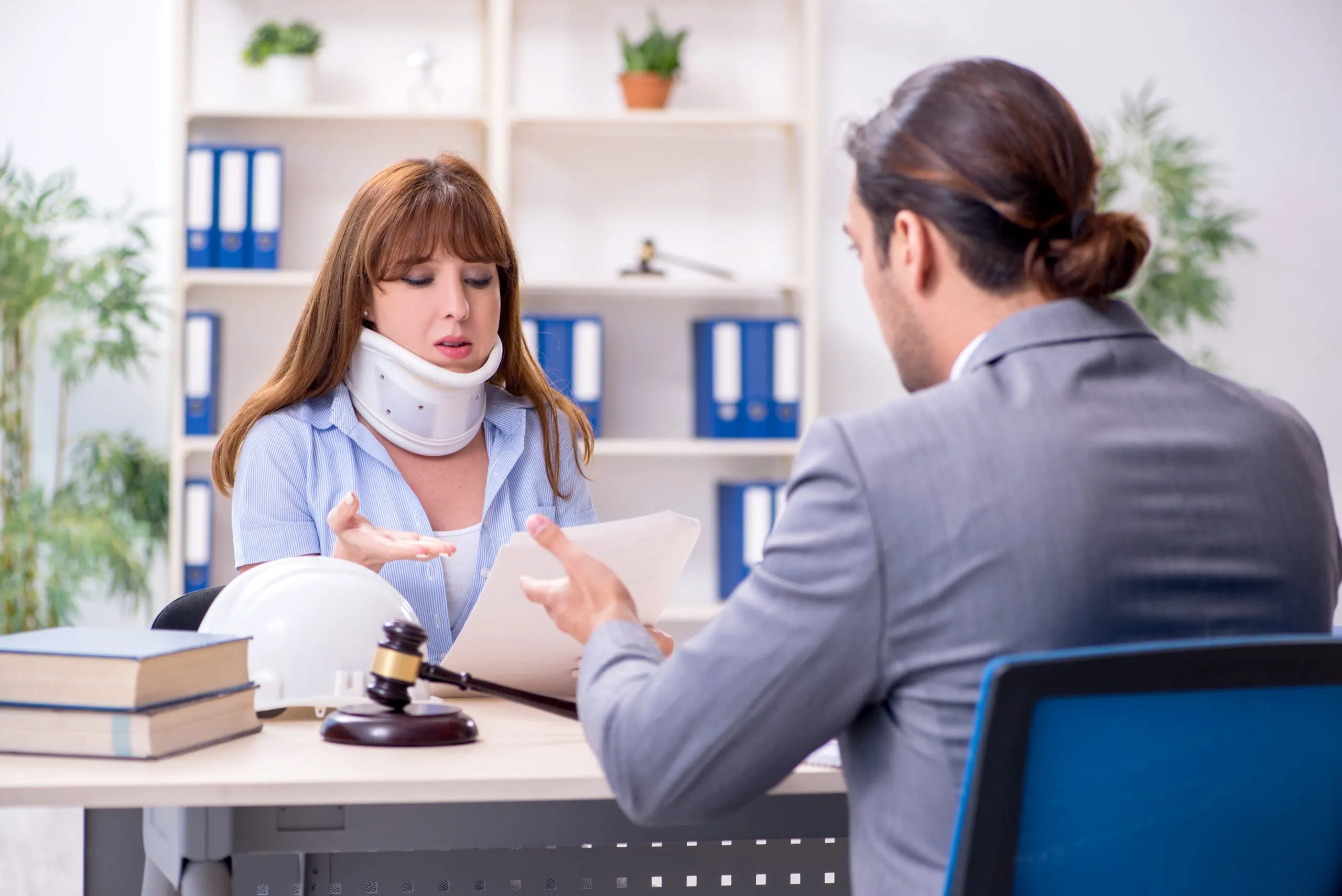 Settlement in a motor vehicle accident; client suffered internal injuries.
– 
JUDD ROSS ALLEN
Types of Damages in Personal Injury Cases
Individuals who have suffered injuries in automobile accidents can seek financial compensation for medical bills, lost earnings, property damage, and other costs associated with the accident. Some injuries may require multiple surgeries, and injured parties may have to spend months or years recovering from their injuries. Also, some injured individuals cannot return to work, and they lose any wages they could have earned if they had not suffered injuries.
The following types of compensation may be available to those injured in car accidents:
General damages – Emotional distress; loss of consortium; physical pain and suffering
Special damages – Repair or replacement services, such as vehicle maintenance or infant care; home and vehicle modification costs; lost earnings; lost future earnings; past and future medical bills
You need to identify the liable parties who are involved in an automobile accident. This step is important for proving liability. Many different parties may be liable for your injuries, including:
Marketers, retailers, shipping companies, manufacturers, and common carriers
The employer of the driver who caused the accident
The owners of the vehicles involved in the accident
Other drivers who were involved in the accident
It is also important to understand the concept of contributory negligence. California uses a pure comparative negligence scheme to assess instances of contributory negligence. The full monetary award is lowered in proportion to the accident victim's percentage of fault. A driver may be held to be twenty percent liable for the accident, and the at-fault party may be eighty percent liable for the accident. Accordingly, the driver will have their overall financial compensation reduced by twenty percent to account for their degree of fault.
The driver responsible for the accident may not have automobile liability insurance. Many drivers who operate vehicles in California do not have automobile liability insurance. The total number of uninsured drivers in California may be as high as fifteen percent.
Uninsured motorist coverage can protect drivers in California who are involved in accidents with uninsured drivers. If you are struck by a driver who does not have insurance, you can still seek financial compensation from the insurance company rather than filing a claim with a third party. If you do not have uninsured motorist coverage or underinsured motorist coverage, you may not have the ability to seek financial compensation for your injuries.
Do I Have to Attend Court to File a Claim?
The majority of automobile accident claims in California settle out of court. You may go to court if an insurance company does not offer a reasonable settlement amount. All automobile accidents are different, and a skilled Riverside personal injury attorney can understand if it may be necessary to litigate your case. Many automobile accident lawyers work on a contingency fee basis, so you do not need to provide any financial assistance if your case does go to court.
How Should I Communicate with My Insurance Company?
You will need to file a report informing your insurer of the automobile accident. You do not want to risk losing your insurance coverage because you did not report the details of your accident. It is important to be clear and forthright when you inform the insurance company of the details regarding the car accident. However, insurance adjusters may attempt to reduce your insurance claim. Do not provide any information regarding faults or how you are dealing with any injuries. An attorney should focus on communicating with insurance companies regarding the nature and extent of your injuries.
How to Reduce Your Chances of Being in an Automobile Accident
Automobile accidents can be extremely traumatic. However, drivers can take active steps to reduce the likelihood that they will be involved in a car accident. The following suggestions will help drivers protect themselves and other motorists while traveling on roads in California:
Focus on the road. – Distracted driving is one of the most dangerous activities drivers can engage in at any time. Putting away a mobile phone, turning down the radio volume, and removing all distractions can protect drivers and passengers.
Be a defensive driver. – Drivers need to focus on the drivers surrounding them. Paying attention to the other vehicles on the road can prevent accidents and make driving a safer activity. Paying attention to the actions of other drivers can prevent traffic accidents.
Avoid alcohol and drugs. – Drivers need to be focused on the road and other drivers around them. Intoxicated drivers are more likely to cause traffic accidents. Even small amounts of alcohol and drugs can cause impairment.
Maintain your automobile. – Focusing on keeping your automobile in good working condition can prevent many accidents. If any vehicle recall issues arise, it is best to take your automobile to a dealership so any issues can be addressed.
When Can I Receive a Settlement Check?
A settlement check should arrive in one to two weeks after a party signs a release of liability form that the insurance company has provided. However, it can take months or even years for cases to to be resolved, depending on the facts and circumstances of each case. In California, insurance companies have forty days to deny a claim or provide a settlement offer once they have proof. Insurance adjusters may still investigate accident claims during this time.
You may accept the insurance company's offer, reject the offer, or appeal the denial. The decisions you make can extend the overall time period of your case. An automobile accident claim trial may last one or two days, but most cases do not go to trial. The full process often takes one calendar year. The following steps are a general outline of a personal injury case process:
File the complaint. – It can take weeks or months to serve the defendant because you need to find the defendant and their registered agent, if applicable.
Wait for the defendant's answer. – The defendant has approximately a month to file a response to the complaint.
Discovery. – The discovery phase occurs when parties exchange information about the facts of the case. Discovery may last months or a year.
Appeal. – Any outcome of a trial can be appealed by either party. The appeals process may mean that the parties will have to wait years until a final judgment is ordered.
Automobile accident cases can settle at any point in time. If a party presents evidence that can affect the outcome of a case, they can often get the other party to make a settlement offer.
Contact Arash Law's Award-Winning Team of Car Accident Lawyers in Riverside
Contact Arash Law, spearheaded by Arash Khorsandi, Esq., at (888) 488-1391 to schedule a free consultation. Our Riverside car accident attorneys serve the surrounding areas such as Corona, Redlands, Norco, San Bernardino, Moreno Valley, Rialto, Fontana, Loma Linda, Mira Loma, Colton, Glen Avon, Bloomington, Pedley, Grand Terrace, and Rubidoux.
Get The Latest News from

The Best California Accident Law Firm Today