Our Moreno Valley Injury Law Firm

Doesn't Just Win,


We Win Big!
You May Be Entitled to Compensation

Accidents in Moreno Valley can result in serious injuries, emotional trauma, and financial hardship. Injury victims often seek legal advice from the top-rated personal injury law firm in the area for help navigating the complicated legal process.
Moreno Valley, located in Riverside County, California, is a vibrant city with a growing population and numerous roadways. Unfortunately, with increased traffic and neglectful people, accidents can happen. Car accidents are among the most common types of accidents reported in the area, often resulting from distracted driving, speeding, drunk driving, or reckless behavior. Drivers should be aware of the risks associated with these behaviors and take extra caution when driving in the area.
If you need legal representation following a personal injury in Moreno Valley, our injury law firm is here to help. With our extensive experience, client-centered approach, and proven track record, we are committed to fighting for your rights and pursuing justice. Contact us at (888) 488-1391 to schedule a free consultation with our award-winning lawyers today!
Morales v. Construction Group Staffing (settled on 7/23/2020) – settlement involving a client who was catastrophically injured when he fell from a height of 4 stories down a shaft. This is a record breaking California Workers' Compensation settlement. Read more about this case on Yahoo! Finance News
– 
TINA ESHGHIEH
IF YES, You may be able to recover financial compensation. TELL US MORE: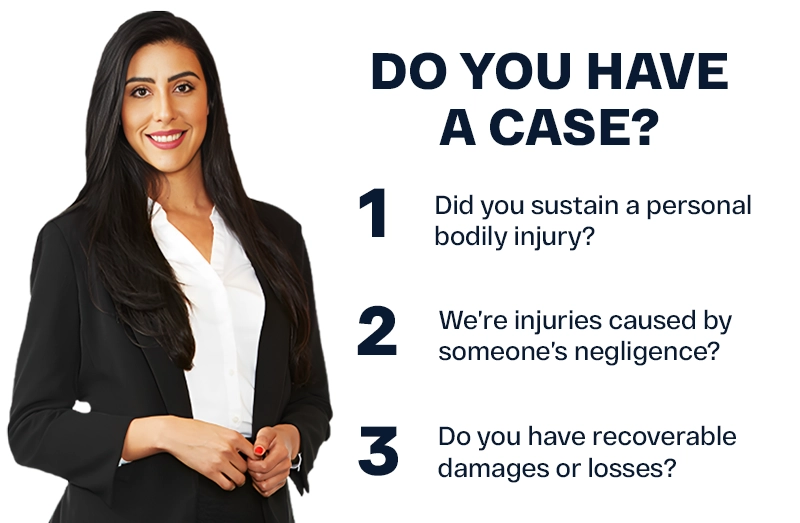 IF YES

, You may be able to recover financial compensation.

TELL US MORE:
Key Factors To Strengthen Your Personal Injury Claim in Moreno Valley
"Personal injury" is a broad term encompassing various daily injuries in California. Injuries may result from negligence, failure to exercise reasonable care, or intentional misconduct. The success of your personal injury claim depends on establishing four essential facts:
The defendant in your claim owes you a duty of care. Identifying the defendant and establishing the expected level of reasonable care and caution in the situation that led to your injury. For instance, California drivers have a duty of care to abstain from driving under the influence of drugs or alcohol.
The defendant breached their duty of care through intentional or negligent actions. You must show how the defendant violated their duty of care through a specific act or inaction. For instance, using a cell phone while driving would violate the driver's duty of care.
The defendant's actions directly caused damages. To pursue a personal injury claim, proving that the defendant's actions resulted in measurable losses is necessary. The injury law firm can help you calculate these damages for your claim.
Plaintiff's damages are solely caused by the defendant's breach of duty of care, excluding any other causes. Establishing a clear causal link between the defendant's claimed breach of duty and your damages is essential, demonstrating that they did not arise from any other source.
Your personal injury claim is more likely to succeed if you meet these requirements. You can obtain eyewitness statements and gather physical evidence from the scene of your injury with the help of a Moreno Valley injury law firm. If necessary, they can also consult expert witnesses. For instance, in a car accident case, an experienced accident reconstruction expert may be required to demonstrate how the incident unfolded.
We are here to help if you need any further guidance or assistance. We are ready to assist you in pursuing a personal injury claim.
Personal Injury Cases We Handle at Moreno Valley
Your unique personal injury case deserves the support of a law firm with a successful track record in handling similar cases. The experienced attorneys at our law firm in Moreno Valley have secured over $500 million in settlements and favorable verdicts in a wide range of personal injury and wrongful death cases, including:
Auto Accidents
Motorcycle Accidents
Truck Accidents
Pedestrian Accidents
Bus Accidents
Train Wrecks
Bicycle Accidents
Rideshare Accidents
Plane Accidents
Traumatic Brain Injuries
Spinal Injuries
Dog Bites
Premises Liability
Slip-and-Fall Accidents
Wrongful Death
Our Moreno Valley injury law firm also handles cases involving nursing home abuse, workplace accidents, landlord liability, childcare injuries, etc. We urge you to contact us immediately if you sustained injuries in any other type of accident not mentioned above. The dedicated team at our firm can provide you with all the assistance and support you need during such a challenging time.
Damages You Can Recover with The Help of A Moreno Valley Personal Injury Law Firm
In California, damages are determined based on actual harm suffered rather than speculation. A Moreno Valley injury victim can pursue the following types of damages:
Costs incurred, paid, or expected to be paid in the near future are considered economic losses. Economic damages are calculated by assessing the accident's bills and expenses. Some examples include:
Hospital bills
Medications and medical equipment costs
Treatment expenses
Occupational or physical therapy fees
Property loss or damage
Loss of income or earning capacity
Accident victims may receive compensation for emotional and intangible suffering. It is more challenging to quantify non-economic damages because they relate to losses that cannot be measured. Among them are:
Pain and suffering
Disfigurement or disability
Emotional distress
Anxiety
Post-traumatic stress disorder (PTSD)
Loss of a loved one or life partner
Life-altering consequences
Punitive damages may be awarded to a victim if the responsible party's actions were malicious or reckless. Unlike compensatory damages, punitive damages serve as a form of punishment for the defendant and a deterrent against similar behavior.
In California, a jury may grant punitive damages if the defendant acted with malice, fraud, or oppression. The success of your lawsuit depends on the quality of your injury law firm's presentation, the defendant's conduct, and the specifics of your claim. Know and protect your rights by contacting a reliable injury law firm in Moreno Valley today.
Proving Fault for a Personal Injury in Moreno Valley
In personal injury cases, liability can sometimes be highly disputed, and California's pure comparative negligence law may be enacted. In some cases, it can be easier to establish liability, such as when a traffic camera captures evidence of a defendant's negligence causing a collision. However, it can be more challenging in other situations. Furthermore, defendants may claim that the plaintiff shares some responsibility for their injuries.
Under the pure comparative negligence rule, a plaintiff can still receive compensation for their damages even if they are partially at fault. Nevertheless, the final compensation amount is reduced in proportion to their percentage of fault.
If a judge determines that a plaintiff is 10% at fault in a civil suit with a $100,000 award, the plaintiff will receive $90,000 after accounting for their shared liability of 10%. If you are concerned about sharing fault for your recent injury, contacting a trustworthy personal injury law firm may be your best call.
Personal injury claims often involve negligence. Generally, negligence refers to failing to exercise reasonable care or breaching a specific duty. Obtaining the necessary evidence to accurately identify the defendant and establish how their actions directly contributed to your injuries will play a crucial role for your injury law firm in Moreno Valley.
Dealing With Insurance Companies After a Personal Injury
In the event of an accident, your first avenue of recovery is insurance. Filing an insurance claim can compensate for immediate expenses such as medical bills.
However, insurance companies often seek to minimize settlements or deny coverage. In these situations, a Moreno Valley personal injury lawyer becomes invaluable. Having an attorney by your side makes filing insurance claims smoother. They can handle all correspondence with insurance company representatives on your behalf and ensure you receive a fair settlement.
Once you have exhausted all available insurance coverage, your attorney can assess your remaining losses and include them in a personal injury lawsuit against the at-fault party. There may be instances, however, where the negligent party lacks insurance or insurance coverage is not applicable. Your only option to seek compensation in such cases may be to file a personal injury lawsuit.
At our personal injury law firm in Moreno Valley, Arash Law's skilled injury attorneys, under the leadership of Arash Khorsandi, Esq., can help you navigate insurance claims and legal proceedings confidently.
They will advocate for your rights, fight for fair compensation, and guide you through the process every step of the way. Don't hesitate to contact our firm to discuss your case and explore your legal options for recovering the compensation you deserve.
Hire Our Award-Winning Personal Injury Law Firm in Moreno Valley
Navigating the legal process and securing justice often requires the expertise of an experienced attorney. We at Arash Law, under the direction of Arash Khorsandi, Esq., provide invaluable assistance and direction to increase your case's value significantly.
As a qualified personal injury law firm, we provide the following services in Moreno Valley:
Handling all communication related to your claim or case: By taking charge of interactions with insurance adjusters, we relieve you of the pressure and stress associated with these conversations. Our attorneys understand the tactics used by insurance companies and ensure that your rights are protected throughout the process, allowing you to focus on your recovery without the added burden of dealing with insurance companies directly.
Assisting you in finding quality medical treatment: Beyond legal representation, we go the extra mile to help you access the necessary medical care to aid in your recovery from the accident. Our firm provides invaluable guidance on understanding your injuries and navigating the healthcare system. We ensure you receive the care you need while helping you address the financial aspects of medical treatment.
Making a solid argument for maximum compensation: Our firm has built a reputation for delivering compelling demand packages that prompt insurance companies to pay fair settlements before trial. This approach saves you time and money by securing your compensation sooner. When we present a demand, we ensure that the insurance company takes notice. In cases where adequate compensation is not offered, we are prepared to advocate for your rights in court, seeking justice through a jury trial.
No Fee Until We Win: Our Commitment to Winning Your Case
If you're questioning the value of hiring an injury law firm, it's essential to understand the benefits of California's contingent fee system. Our firm operates on a contingent fee basis, so you won't have to pay any legal fees unless we win your case, especially if you have suffered a severe injury.
The contingent fee structure ensures that we only get paid if we successfully obtain compensation for you. This approach is designed to make legal representation accessible to individuals who may not have the means to pay an attorney hourly. It allows injured individuals in California to pursue their rightful compensation without financial concerns. Rest assured, all fee details will be thoroughly discussed and clearly outlined in our agreement at the outset of your case.
What Sets us Apart From Other Injury Law Firms in Moreno Valley
As one of California's most renowned and successful injury law firms, our firm takes pride in our team of over 100 legal professionals dedicated to providing unparalleled customer service and delivering outstanding results. Our accomplished trial attorneys have achieved multimillion-dollar verdicts and settlements in cases involving catastrophic injuries and wrongful deaths.
With a strong reputation in the field of accidents and injuries, we have established valuable connections with the finest doctors and medical teams throughout California. Whether you reside in Los Angeles, Riverside, San Diego, or Orange County, we can connect you with top specialists without the burden of upfront bills and fees. Your well-being is our utmost priority, and we are committed to ensuring you receive the best medical care.
Our injury law firm in Moreno Valley offers the following services:
Free and Confidential Consultations at Your Convenience
We understand that meeting in person may not always be possible, so we offer free and confidential consultations that can be conducted over the phone or via teleconference. We strive to make the process convenient for our clients, especially during challenging times. Time is of the essence in California when pursuing legal action, so it is crucial to engage a personal injury attorney without delay. Attorneys at our firm will promptly initiate the investigation and evidence-gathering process as soon as we validate your claim.
Electronic Signing for Efficiency and Safety
With E-Sign technology, you can conveniently electronically sign retainer agreements, settlement agreements, and other legal documents. Our clients can quickly sign essential documents digitally from their smartphones or computers, ensuring efficient legal proceedings and compliance with social distancing guidelines.
Stay Informed Through Text and Email
Curious about the progress of your case? At Arash Law, under the supervision of Arash Khorsandi, Esq., we prioritize keeping our clients informed throughout the entire legal process. You will receive regular updates via text and email, and you can always reach out to us for inquiries regarding the status of your case.
Skilled Negotiation for Maximum Settlement
Our attorneys are skilled negotiators and litigators, whether we are working from our office or communicating over the phone. Our firm is dedicated to pursuing maximum compensation for our clients, enabling them to move forward after an accident. We recognize the increased importance of securing the best possible outcome in these uncertain times. If you receive a compensation award, we can arrange for a direct transfer of funds to your bank account, providing a faster and more convenient resolution to your case.
We are committed to serving our clients with professionalism, efficiency, and empathy. Contact us today to schedule your consultation and discover how we can support you in your personal injury case.
The Best Injury Law Firm in Moreno Valley Trusts
Beware of other firms that make empty promises without the willingness to go to trial for you. At our office, you will be assigned a dedicated lawyer who will be there for you every step of the way.
Our Moreno Valley law firm stands out from other firms handling accidents and personal injuries. We have an outstanding track record of successfully representing victims – So far, we helped our clients recover over $500 million in settlements. Our main goal is to secure the maximum settlement possible for your case.
Our firm takes pride in serving clients in many locations near and around Moreno Valley. Whether you reside in Riverside, San Bernardino, Santa Ana, Anaheim, Long Beach, Los Angeles, Glendale, San Diego, or Chula Vista, you can expect top-notch legal representation from us. We are dedicated to providing excellent service and achieving favorable client outcomes, regardless of location.
Get The Latest News from

The Best California Accident Law Firm Today