Oakland

Motorcycle Accident Lawyers
with over $500 Million Recovered in Compensation for Injury Clients.
You May Be Entitled to Compensation

POWERHOUSE MOTORCYCLE ACCIDENT LAW FIRM

Protecting the Injured in Oakland
Oakland, California, is the county seat of Alameda County and the largest city in the county, as well as the East Bay area of the greater San Francisco Bay Area. The United States Census reported that Oakland had a population of 433,823 as of July 1, 2021. With a large population, it is not uncommon for various accidents to happen. Knowing who to turn to is crucial if you're ever involved in such events. 
That's where our team of record-setting Oakland motorcycle accident lawyers comes in. We have the experience and expertise to help you navigate the legal process and get the compensation you deserve.
As of 2011, the Port of Oakland was the fifth busiest container port in the United States, after Long Beach, Los Angeles, Newark, and Savannah. Oakland saw a population growth of more than 124 % following the 1906 San Francisco Earthquake, as the population went from fewer than 67,000 in 1900 to more than 150,000 in 1910.
The Oakland area is home to several attractive motorcycle roads for enthusiasts, including Reliez Valley Road and Bear Creek Road, Mount Diablo Summit Run, Electric Loop, Panoramic Highway, and California State Route 1 on the San Mateo Coast. The
East Bay Park District
's 73 parks spanning 125,000 acres, 1,250 miles of trails, and 55 miles of shoreline make it the biggest regional park district in the country.
Motorcycles can be very popular in the East Bay area because the warmer weather is ideal for riding and people deal with less fog than in San Francisco. Unfortunately, motorcyclists are often involved in all kinds of motorcycle accidents that threaten their well-being.
If you suffer severe injuries or your loved one is killed in a motorcycle accident in the greater Oakland area of California, you will want to quickly contact an experienced motorcycle accident attorney in Oakland so you can learn about your rights and recover as much financial compensation as possible. 
Other drivers are frequently at fault for motorcycle accidents, and a victim will want help proving that another driver caused the crash.
Mild Traumatic Brain Injury
December 2016: $22M+ verdict in a mild traumatic brain injury case. The entire details of the case can be found in the public record filings by the defendant entity that sued its defense
– 
BRIAN BEECHER
California Motorcycle Accident Statistics
The 539 motorcycle fatalities in 2020 were up from the 491 and 523 in 2019 and 2018, but they were down from the 578 and 576 in 2017 and 2016, respectively. Nationally, the 5,579 fatalities in 2020 were the most of the five-year period, with 5,038 in 2018 marking the lowest figure.
Berkeley SafeTREC
also reported that Alameda County had 18 motorcycle fatalities and 84 serious injuries in 2020. Unsafe speed accounted for 30.9% of crashes, while improper turning was 22.2%, automobile right-of-way violations were 16.1%, people driving or riding under the influence of drugs or alcohol were 8.9%, and traffic signs or signals were 4.4%.
Common Causes of Motorcycle Accidents
Motorcycle accidents can always stem from various causes, and it is not easy for the victims involved to prove that another party was at fault for their crash. In general, some of the most common causes of motorcycle accidents in California include, but are not limited to:
distracted driving
driver fatigue or drowsy driving
speeding
reckless driving
aggressive driving
lane splitting
dangerous road conditions
inclement weather
inexperienced drivers
blind spots
negligent drivers
sudden stops
improper turns
driving under the influence (DUI)

Emperatriz Ayala
My husband had an accident 2 years ago, a 85 years old man hit him, the Arash law group works very well on my husband case that took 9 month and he won the case and my husband was happy with the results. A year later I got into an accident as well and I'm still waiting in my case is almost resolving and it's 9 months already. This people knows the law and they do their job right to help you out in getting the most for you to fight on your behalf. I strongly recommend the Arash Law firm they do things right in a efficient and professional manner.

Chris Zavala
Had a great experience with all the people at Arash law. Long story short was in a bad car accident. It was overwhelming and the whole process was a lot, but they kept me in the loop. They answered all my questions and gave me great advice. Couldn't be any happier. Would definitely recommend anyone looking for a personal injury lawyer. They'll guide you through the whole process!

Jill Smith
Having Arash Law handle my auto accident was the best decision I could have made. Everyone I interacted with was kind, professional and detail oriented. I am extremely happy with the outcome and would recommend them highly.

Joseph R. Porter
From start to finish, Arash Law firm is there every step of the way with close, constant, personal contact and attention. I never knew a Law firm could actually care so much for me as a person and what I was personally going through as well as the settlement I was going to recieve once my case was finally completed. Thank you to everyone at Arash Law for your ongoing support and communication. You are the ONLY firm I will ever recommend to someone who is need of a great attorny.

Monica Parra
I had an excellent experience with Arash Law. I will definitely recommend to my family and friends. I interviewed a few firms before deciding to work with Arash Law. What made my experience excellent was (i.e. head attorney being accessible to talk to and he answered all my questions and concerns, sensitive and thorough personel who completed in home intake & follow up process, being connected immediately to quality Physicians who addressed my injuries and recovery process, clear contract-read throughly to ensure its something you can commit to). Being in a car accident is a traumatic experience and I had a sense of peace knowing Arash Firm was walking with me throughout the whole process. Thank you Arash Firm for all your hard work and help. I am so grateful and appreciative for you all! 🙏 With Gratitude, Monica Parra
The
Insurance Institute for Highway Safety (IIHS)
reported that California had 953,977 registered motorcycles in 2021, the most of any state in the country, with Florida being second at 645,012. California Vehicle Code § 27803 establishes that both the driver and any passenger must wear a safety helmet meeting the requirements established pursuant to California Vehicle Code § 27802 when riding a motorcycle.
According to Berkeley SafeTREC, broadside crashes (25.1%) and overturned crashes (21.0%) were the most frequent crash types for fatal and serious injury motorcycle crashes. Over two-thirds (67.2%) of motorcycle crash fatalities happened in urban areas, compared to 32.3% on rural roads.
More than one-third (39.0%) of all motorcycle crash fatalities occurred on non-interstate principal arterials, with the next most common locations for motorcycle crash fatalities being non-interstate minor arterials (26.7%) and non-interstate collectors (16.9%). Most fatal (93.7%) and serious injury (90.5%) motorcycle crash victims were men, with people ages 25 to 34 comprising 26.0% of motorcycle fatalities and 28.6% of motorcycle serious injury victims.
Dangerous Roadways in Oakland
In October 2022,
KTVU-TV
reported that a new study from MoneyGeek.com showed that two stretches of Bay Area freeways were among the five deadliest roads in California. A portion of Interstate 80 (I-80) between exits 14A and 8A in Oakland and Berkeley was the second-most dangerous roadway in California, with 15 catastrophic accidents causing 17 fatalities.
Another portion of I-80 from exit 15 to exit 21 near Richmond and Emeryville saw 18 fatalities. While Interstate 880 (I-880) between Oakland and San Leandro was considered the 33rd most deadly in California.
Other dangerous roads in the Oakland area include:
Interstate 5 (I-5)
United States Route 101 (US 101)
California State Route 99 (CA 99 or SR 99)
The intersection of 42nd Street and Telegraph Avenue in Oakland
The intersection of Russell Boulevard and College Avenue in Berkeley
Tunitas Creek Road in San Mateo County
Grizzly Creek Boulevard in Alameda County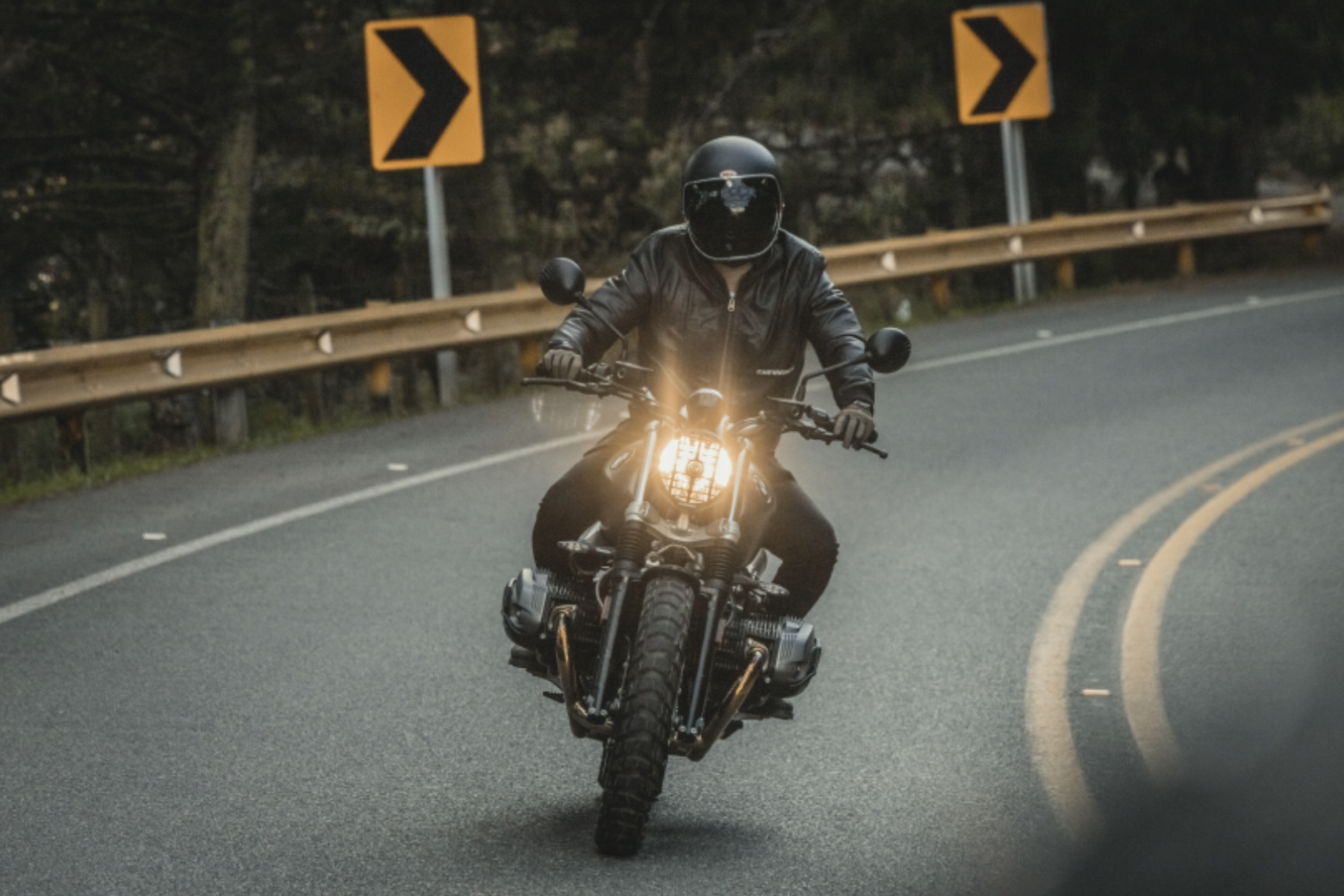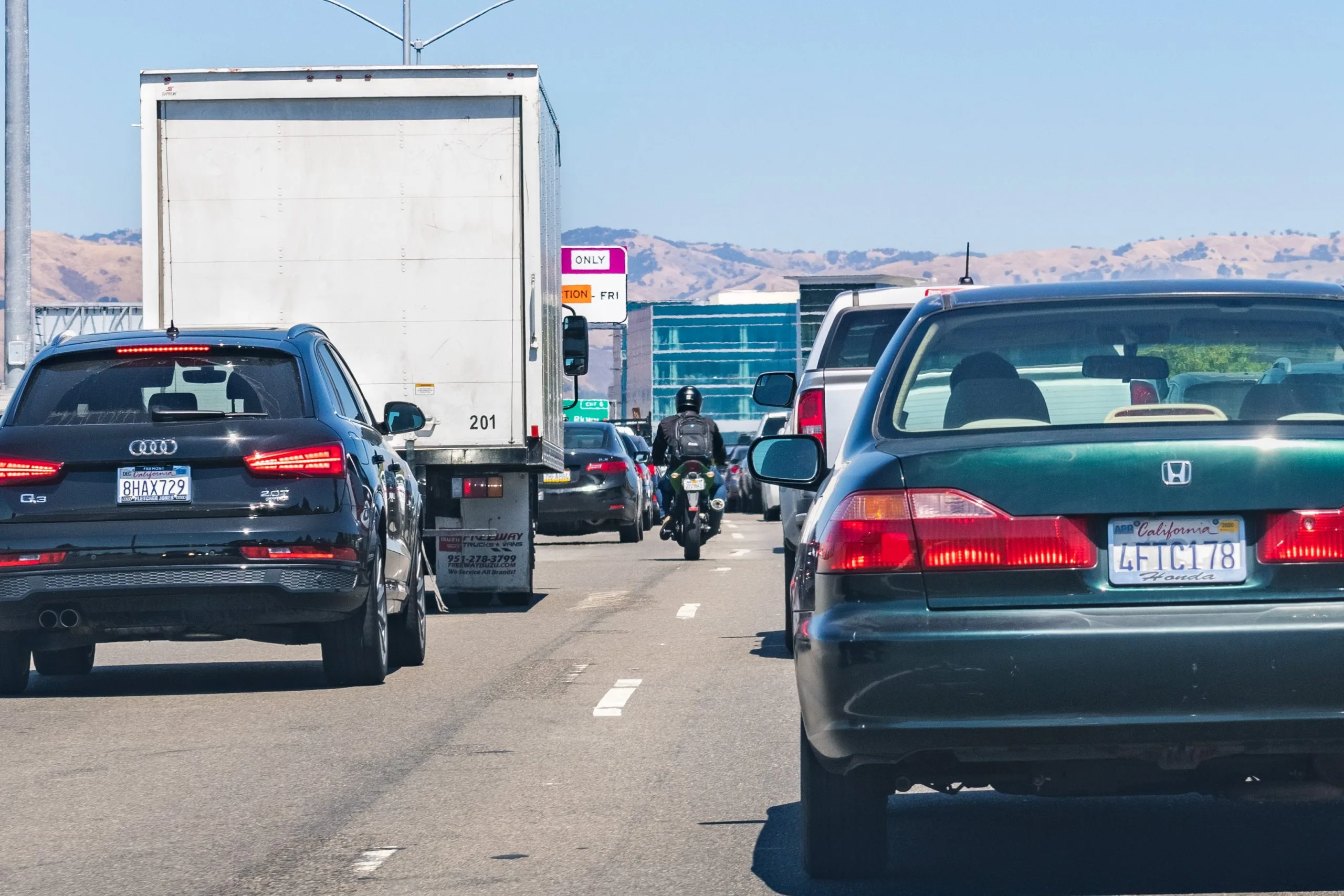 Reasons Why Motorcycle Accidents Are Dangerous
The bottom line will always remain that people riding motorcycles are at far greater risk of serious injuries in any kind of accident because motorcyclists generally do not have any of the protection afforded to occupants of motor vehicles. Motorcyclists are much more likely to be thrown from their bikes in collisions, which often increases the likelihood that injuries may be catastrophic.
There are a number of common risk factors associated with riding motorcycles that people should be aware of. Some of the most common kinds of factors people associate with motorcycle accidents include, but are not limited to:
While there is often an assumption that younger motorcyclists are at greater risk of crashes,
World Journal of Emergency Surgery (WJES)
research shows drivers older than 40 years of age were 25% more likely to die after motorcycle injuries. Crash injury rates between older and younger road users showed a higher severity of injuries and mortality rate for older riders. The
National Library of Medicine
also reported that people sustaining trauma in motorcycle accidents who were over 65 years of age needed longer and more intensive treatment than their younger counterparts.
Berkeley SafeTREC reported that the number of fatally and seriously injured motorcyclists in 2020 was notably higher between 3 p.m. and 6 p.m., making up 21.9% of fatal and 25.5% of serious motorcyclist injuries. Higher percentages of fatal injuries (37.1%) and serious injuries (40.3%) occurred between noon and 3 p.m. and between 6 p.m. and 9 p.m., respectively.
The
Centers for Disease Control and Prevention (CDC)
reported that helmets saved an estimated 1,872 lives in 2017, and 749 more lives would have been saved if all motorcyclists had worn helmets that same year. Motorcycle helmets are 37% effective (for riders) and 41% effective (for passengers) in preventing deaths, with helmets reducing the risk of head injury by 69%.
Data from the Berkeley SafeTREC showed that alcohol-impaired drivers were involved in more accidents of all kinds in California, but there was a 4.4% increase in 2020 for motorcycle accidents. The
National Library of Medicine
found that motorcyclists who drank and drove were at higher risk of death and disability than other types of drivers. In fact, a study of 67,183 patients who underwent blood alcohol concentration (BAC) testing showed 68.52% tested negative, 21.14% tested positive above the legal limit, and 10.34% tested with a BAC of more than 0.08.
California offers two kinds of motorcycle licenses: Class M1 permits the operation of any two-wheeled motorcycle and all vehicles listed in Class M2, while Class M2 authorizes the operation of a motorized bicycle, moped, or bicycle with an attached motor. Minors who are 15½ years of age or older but younger than 17½ years of age must submit a Certificate of Completion of Motorcycle Training (Form DL 389), bring proof of completion of both driver education and driver training, or have a Class C driver license, and pass both the driver knowledge and the motorcycle driver knowledge test. Applicants who are 18 years of age or older but under 21 years of age must submit a DL 389 and pass both the driver knowledge and the motorcycle driver knowledge tests. Motorcycle license applicants 21 years of age or older are encouraged, but not required, to enroll in the California Motorcyclist Safety Program (CMSP) training course.
Lane splitting involves riding a motorcycle between lanes or rows of slow-moving or stopped traffic going in the same direction. The
American Motorcyclist Association (AMA)
endorses lane splitting and notes that allowing lane splitting is not the same as requiring it.
People will want to be sure they are working with an experienced motorcycle accident lawyer in Oakland who can examine all of the risk factors involved in their crash when determining liability.
Types of Injuries in Motorcycle Accidents
People should understand that motorcycle crashes often have the potential to result in several different kinds of injuries. In fact, it is always possible that a person can ultimately suffer multiple kinds of injuries in the same accident. Some of the most prevalent kinds of motorcycle crash injuries include:
broken bones or fractures
severe burn injuries
head injuries
skull fractures
closed head injuries
concussions
traumatic brain injuries (TBIs)
spinal cord injuries
paralysis
neck injuries
leg injuries
arm injuries
back injuries
chest injuries
post-traumatic stress disorder (PTSD)
internal organ injuries
permanent nerve injuries
amputations
wrongful death
When a motorcycle accident results in a person's death, the family left behind can file a wrongful death action. Many people involved in motorcycle accidents are entitled to various forms of compensation, so it becomes important for them to retain legal counsel so they can be sure that they can obtain as much as possible.
Frequent Factors in Motorcycle Accidents
Several different factors can affect motorcycles and cause potential collisions. Among the most common kinds of factors that lead to motorcycle accidents often include, but are not limited to:
The most common cause of many motorcycle crashes is the action of another driver, as it is often some kind of driver negligence that ultimately causes a motorcycle wreck. Driver negligence takes many forms, such as speeding, driving recklessly, failing to signal, or simply being inattentive.
Many motorcycle accidents involve collisions with stationary objects on roads that motorcycles cannot avoid because of the actions of other drivers.
Speeding is a very common traffic violation that many drivers in California commit on a daily basis, but people need to be aware that driving in excess of the posted speed limit means that drivers cannot come to full stops when necessary and are at greater risk of causing collisions.
The left turn ends up being a far more common cause of motorcycle accidents than right turns, and the
National Highway Traffic Safety Administration (NHTSA)
reported that 42% of fatal motorcycle accidents occur when a car is turning left while the motorcycle is passing directly through an intersection or passing another vehicle.
Common Kinds of Motorcycle Accidents
Left-Turn Accidents – A study titled "Motorcycle Accident Cause Factors" that the National Technical Information Service (NTIS) commissioned emphasized that left-turn collisions occur in 42% of motorcycle accidents. Motor vehicles turning left often fail to see motorcyclists, so collisions are often the result of people failing to check their surroundings adequately.
DUI – The Annual Report of the California DUI Management Information System from the California Department of Motor Vehicles (DMV) states that there were 124,141 DUI arrests in California in 2019, which was far less than the 208,531 a decade prior. The fact remains that DUI was a factor in 1,187 alcohol-related crash fatalities and 27,333 alcohol-related crash injuries, as well as 798 drug-related crash fatalities and 2,998 drug-related crash injuries.
Head-On Collision – Motorcycles colliding head-on with other vehicles are rare, but such collisions happen when other drivers are driving the wrong way or in certain other circumstances. Head-on collisions are always more likely to be fatal.
Lane Splitting – Although lane splitting is legal in California, there are situations in which lane splitting can be dangerous. Motorcyclists always need to be aware of when other motor vehicles may be changing lanes because lane splitting can often result in collisions when motorcyclists collide with other cars.
Hitting Stationary Objects – There can be a wide variety of situations in which motorcyclists strike objects on roads, and they can be powerless to avoid collisions because of the actions of other drivers. People will want to be certain they have legal representation in these types of cases.
Personal Injury Settlement
Our client was the victim of a rear-end accident who was left injured and severely in pain. Arash Law was able to outshine other injury law firms when he searched online, and thankfully we were able to handle everything for our client from A to Z — All that he had to do was ask and focus on his recovery. Our client's life has changed forever, and the compensation received for the pain and suffering has opened paths for new lifelong opportunities.
Personal Injury Settlement
Our client was the victim of a rear-end accident who was left injured and severely in pain. Arash Law was able to outshine other injury law firms when he searched online, and thankfully we were able to handle everything for our client from A to Z — All that he had to do was ask and focus on his recovery. Our client's life has changed forever, and the compensation received for the pain and suffering has opened paths for new lifelong opportunities.
Determining Fault for an Oakland Motorcycle Accident
Many motorcycle accident claims are going to involve people arguing that another party acted negligently while driving and that the negligence was the cause of the motorcycle accident.
Negligence is customarily proven in California by demonstrating four elements:
Legal Duty – A person has a legal duty to act in a reasonable manner while driving and follow all state traffic laws
Breach of Duty – A person breaches their duty of care when they do something an average person will not do under the circumstances
Cause – The breach of duty caused a person's injuries
Harm – The injuries have resulted in damages
Numerous kinds of evidence can come into play when people are seeking compensation for their injuries, including medical records, medical bills, police reports, and witness statements. Damages can include medical expenses, lost wages, and pain and suffering, among many other types of damages.
It is important for everyone to understand that California is known as a comparative negligence state, which means all people are allowed to recover damages for any accident, even when they were primarily at fault. The disadvantage of this system is that people's awards could be lower depending on how negligent they were. For example, if someone receives a $100,000 award for a motorcycle accident but is later found to be 55% at fault, their award will be reduced by $55,000, and they will only receive $45,000.
Motorcycle Laws in California
California has a large number of motorcyclists on its roads, and state law imposes a number of regulations on people riding motorcycles. Common state laws include:
1
Registration and Insurance
Registering a motorcycle in California requires a California Certificate of Title, or the name and address of a lienholder, proof of insurance, a valid California motorcycle license, and payment of applicable fees. People are required to register their motorcycles with the DMV.
Motorcycle applicants under 21 years of age must complete a CMSP training course before receiving a motorcycle instruction permit. That being said, motorcycle applicants 21 years of age and older are encouraged, but not required, to enroll in the CMSP training course.
California Civil Code § 1714 is the state law establishing that all people are responsible, not only for the result of their willful acts but also for an injury occasioned to another by their want of ordinary care or skill in the management of their property or person.
4
Fault and Liability Laws
California, being a comparative fault state, is very different from how many other states handle motorcycle accident claims. This is because Alabama, Maryland, North Carolina, Virginia, and the District of Columbia are the only states that use contributory negligence, which prohibits people from filing claims when they were even partially at fault for their accidents.
All kinds of monitored vehicle crashes in California are going to involve a statute of limitations (or time limit) of two years from the date of the accident. There are certain exceptions in some cases, such as the fact that victims who are minors will have two years to file from the date they turn 18 years of age.
California state law requires all motorcyclists to wear helmets compliant with United States Department of Transportation (DOT) standards. Failure to wear an approved helmet can result in a fine of up to $250 and one-year probation.
The California Highway Patrol notes that lane splitting by motorcyclists is legal in California, but intentionally blocking or impeding a motorcyclist in a way that can cause harm to them or opening a vehicle door to impede a motorcyclist is illegal.
Steps to Take After a Motorcycle Crash
Following a motorcycle accident in Oakland, a person needs to first check themselves for any injuries. People should call 911 as soon as possible to report their crashes and have police officers dispatched to the scene of the accident.
All motorcyclists will want to exchange information with other drivers involved in collisions, making sure to get the names, addresses, phone numbers, and insurance information of other parties. People should always make an effort to document the scenes of their crashes by taking as many photographs or videos of the scene as possible.
You should try to get pictures from various angles and distances. Also, be sure to look for any witnesses who saw the accident and ask them for their contact information as well.
People will want to hire motorcycle accident lawyers as soon as possible for their crash injury claims. Insurance companies will be quick to contact people and try to convince them to accept much less beneficial settlements, so you will want to have legal counsel that can fight for a more appropriate amount.
Liability in Motorcycle Accidents
Liability can be a complex issue in some motorcycle accident cases because, even though police officers may determine one party was at fault for the crash, an independent investigation can reveal additional factors that complicate liability. The bottom line will always be that the party that is determined to be liable for an accident will be responsible for paying all of the damages.
One complicating factor in determining liability in these cases can be vehicle ownership, as people who were driving vehicles for work purposes may mean that the employers themselves will become liable for crashes. People will want to be sure they understand all of the different parties that can be held liable in their case.
Liability is not always clear-cut in California, meaning it is always possible that multiple parties can share the blame. A motorcycle accident award will be divided into certain percentages, and a person will recover damages based on their percentage of fault.
The primary reason a person will want to hire  experienced Oakland motorcycle accident lawyers to assist them in their injury case is that an expert lawyer is going to conduct their own investigation into the crash to determine exactly who was at fault and who can be held liable. You will give yourself the best chance of recovering as much as possible by retaining legal counsel.
Insurance companies make their money by settling injury cases for as little as possible, so you need to be aware that any insurer handling your case is not concerned with taking care of you. It is important to hire a motorcycle accident attorney in Oakland, CA in these cases so people who got into accidents in this large metropolis can have somebody knowledgeable on their side to protect their rights.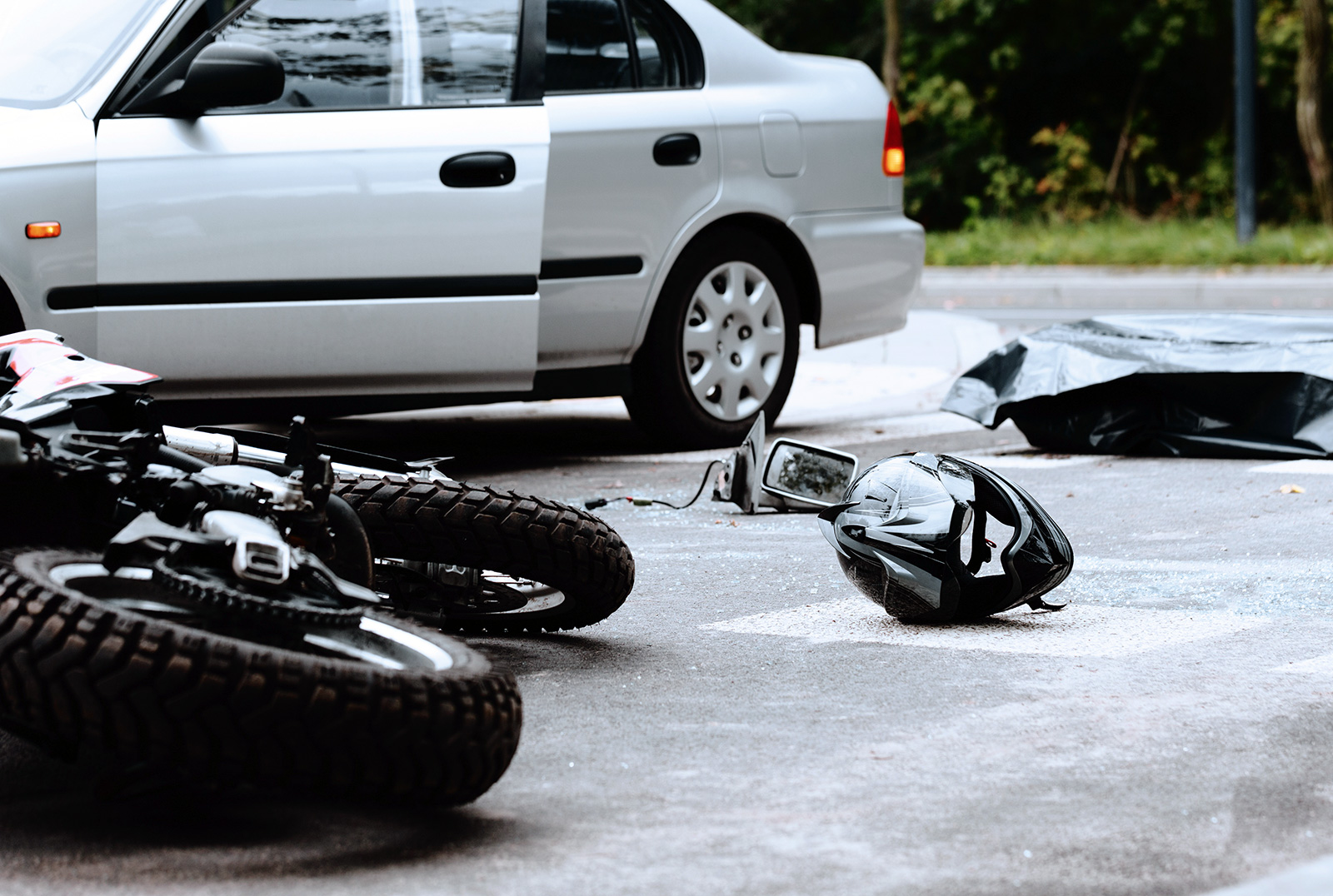 Settlement in a motor vehicle accident; client suffered internal injuries.
– 
JUDD ROSS ALLEN
Possible Compensation for an Oakland Motorcycle Accident
When discussing the kinds of compensation people can recover in motorcycle accidents, awards usually come in the form of compensatory damages. Compensatory damages is a phrase that usually involves two kinds of damages, economic and non-economic.
Economic damages refer to the kinds of tangible costs people can calculate and prove, such as:
Non-economic damages will be much more subjective and typically do not have inherent financial values, typical examples include:
Damages are much more common in jury awards because juries will have to allocate awards under certain categories. Settlements are typically based on possible jury awards, with insurance companies attempting to pay less than they might have to if a case went to trial while a motorcycle accident lawyer in Oakland is fighting to recover as much as they can.
How a Lawyer Can Help After a Motorcycle Accident
When people hire motorcycle accident attorneys in Oakland, CA, they immediately hire individuals who have experience handling these types of claims and know how to navigate the many legal complexities that are involved. An injury lawyer will explain to a person what their rights are and what action can be taken in their case.
An attorney is going to be most beneficial in negotiating a possible settlement to the case, but they can also assist motorcycle accident victims in obtaining necessary medical attention. When people are having difficulty paying their medical bills, a reliable lawyer can negotiate a medical lien that allows people to continue receiving medical treatment under an agreement to pay all of their bills out of a jury award or settlement.
Will Failure to Wear a Helmet Impact My Case?
All motorcyclists in California are expected to wear helmets, but a person injured in a motorcycle accident who was not wearing a helmet can fully expect an insurance company to argue that the person's injuries were more the result of their failure to wear a helmet than anything another driver did. If you find yourself in one of these situations, you should hire an experienced motorcycle accident lawyer from Arash Law, headed by Arash Khorsandi, Esq., to represent you. Our legal team is skilled at convincing the insurance provider that even those who weren't wearing helmets still deserve fair and complete compensation.
Understanding Motorcyclist Fault in Accidents
People need to remember that California allows all people involved in motor vehicle accidents to file injury claims, even if they were primarily at fault. For example, you can still file a claim even if you were found to be 99 percent responsible for your motorcycle crash, but you will see 99 percent of your award forfeited, and you will only recover 1 percent of the damages.
Time Limits for Making Motorcycle Accident Claims
Two years is the statute of limitations for motorcycle accident claims in California. People will want to seek legal representation right away because waiting too long may not give an Oakland motorcycle accident lawyer enough time to investigate a case, and failure to file within two years means people will forfeit their rights to recover anything.
What People Should Do When an Insurance Company Offers a Settlement
Many insurance companies are very quick to reach out to people involved in motorcycle accidents to extend settlement offers; however, the offers are almost always lowball amounts that are nowhere near what people are actually entitled to. Do not let the amount you are being offered fool you; you definitely deserve much more than you realize.
It is always in a person's best interest to have a skilled lawyer handle all settlement negotiations because an Oakland motorcycle accident lawyer is going to have a far better idea of what a case is actually worth.
Many people involved in motorcycle accidents are reluctant to seek legal representation for fear of the costs of hiring a motorcycle accident lawyer in Oakland, CA. This is not the case for us because Arash Law is among the many top law firms that handle cases on a contingency fee basis.
A contingency fee means that you do not pay anything upfront for us to handle your case. We will only charge you an agreed-upon percentage of your jury award or settlement when we win or settle your case, and you will not pay anything if we cannot achieve either one of those outcomes.
Call Arash Law to Schedule a Free Consultation
Did you suffer severe injuries, or was your loved one recently killed in a motorcycle accident in the greater Oakland area of California? Do not wait another moment to get in touch with Arash Law, which is under the direction of Arash Khorsandi, Esq.
Our website allows you to request a consultation through an
online form
. We make ourselves available 24 hours a day, seven days a week. In addition, we can schedule your meeting at the time and place that will be most convenient for you and your family.
Our respected Oakland motorcycle accident law firm serves many surrounding areas of Oakland, including Piedmont, Alameda, Albany, Berkeley, Moraga, Orinda, San Francisco, San Leandro, Lafayette, Richmond, Ashland, Tiburon, San Lorenzo, San Pablo, and El Sobrante.