Stockton

Truck Accident Lawyers
with over $500 Million Recovered in Compensation for Injury Clients.
You May Be Entitled to Compensation

Skilled Stockton Truck Accident Lawyers dedicated to

Finding A Solution For You And Your Family
Commercial trucks, known as semi-trucks and tractor-trailers can seem imposing on the open road, but they are important to domestic trade in the United States. They are also notorious for causing the most damaging traffic accidents. Stockon, with many major freeways intersecting through the city, knows this well. All motorists in Stockton must drive responsibly to avoid accidents with commercial trucks. However, when accidents happen, victims can contact the esteemed Arash Khorsandi, Esq. and his team of Stockton truck accident lawyers at Arash Law for legal assistance in seeking compensation for injuries and losses. Call us at (888) 488-1391 for a free consultation.
Drivers who operate semi-trucks must possess a commercial driver's license. They must be cautious, observant, and alert while driving throughout California. However, these drivers sometimes act negligently or recklessly. The ensuing truck accidents are extremely dangerous because individuals in passenger vehicles often suffer serious bodily injury or death. Accident victims in Stockton may be left wondering how to enforce their legal rights to seek fair compensation after suffering injuries during a truck accident.
Skilled truck accident lawyers in Stockton can gather the evidence you need to substantiate your legal claims. They can also represent your interests throughout every stage of a civil lawsuit. Truck accident cases are often more complex than regular car accident cases because they involve multiple defendants who may be liable for your injuries.
You can learn more about the legal options available to you if you speak to knowledgeable truck accident attorneys in Stockton, California. The truck driver who was responsible for causing the accident will likely have legal counsel, more so the trucking company with all their resources at their disposal. Therefore, you need to have someone on your side who understands the complexities of civil litigation.
Verdict for a client who was sideswiped by a commercial truck
– 
JUDD ROSS ALLEN
Commercial Truck Drivers and Liability Insurance
Commercial truck drivers in California must have at least $750,000 in liability insurance to compensate accident victims for their injuries. However, not all victims will receive this sum if they suffered an injury in a commercial truck accident. The economic value of any legal claim will be based on the nature of the victim's injuries, the total medical bills, the days or months of being out of a job, and the total insurance policy limits.
In accident cases involving serious bodily injuries, the plaintiff can claim an amount greater than $750,000. The outcome of the case will likely hinge on whether the truck company has a certain amount of cash reserves or assets, whether the truck driver was an employee or an independent contractor, and whether additional insurance policies are applicable to the case.
Commercial Truck Drivers – Regulations and Public Policy
The legislators in California have set forth a complex array of regulations applicable to commercial truckers. These regulations concern the following topics:
The amount of regulatory inspections commercial truck drivers must perform
The physical records and timesheets commercial truck drivers must maintain while operating a commercial vehicle
The total amount of time commercial truck drivers must spend not driving every day
The specific regions where commercial truck drivers may not drive
The speed limit applicable to commercial truck drivers
The factors listed above will be relevant to any civil lawsuit involving commercial truck drivers. A truck accident attorney is familiar with the technical aspects of the regulations that apply to commercial truckers. You may not know which options are available for holding them liable for your injuries. Speaking with skilled truck accident lawyers in Stockton can help you understand how you can seek financial compensation for your injuries.
800+ Real Client Reviews Verified by Google
Truck Accidents – Primary Causes
What follows are some of the most common causes of truck accidents in Stockton.
Trucks may have an excessive amount of cargo loaded onto their trailers. Commercial trucks with too much cargo can roll over and blow their tires due to the excess weight. Cargo imbalances can also cause truck accidents when flying objects fall off the trailer and strike nearby motorists.
Weather conditions can change quickly in northern California depending on the time of year a commercial truck driver is passing through. Fog, snow, ice, and rain are some of the most dangerous weather conditions for these drivers. Truck operators may lose control under these conditions even if they are cautious. Since poor weather conditions have caused numerous accidents involving multiple automobiles, all. drivers must be careful when they encounter dangerous weather on the road.
Commercial truck drivers are often frustrated, tired, and overworked due to the conditions of their jobs. These factors can make these drivers more likely to engage in reckless and dangerous behavior, including road rage. Some truckers may drive recklessly, not let other drivers pass, and act in an erratic manner.
Many commercial truck drivers text while driving, which is a form of distracted driving that can put lives at risk. Also, these drivers may eat while driving or operate their trucks while fatigued. It only takes one second of irresponsible behavior for a serious truck accident to occur. Unfortunately, some of these accidents cause extensive property damage, serious bodily injury, and death.
Driving at An Excessive Rate of Speed
Many commercial truck drivers drive at excessive rates of speed. Thankfully, devices that track a truck's speed can help reduce this dangerous behavior. Truck accidents can cause catastrophic damage, and any slight mistake while speeding can launch a truck into several passenger vehicles. Truck operators can avoid being involved in accidents by not driving over the speed limit.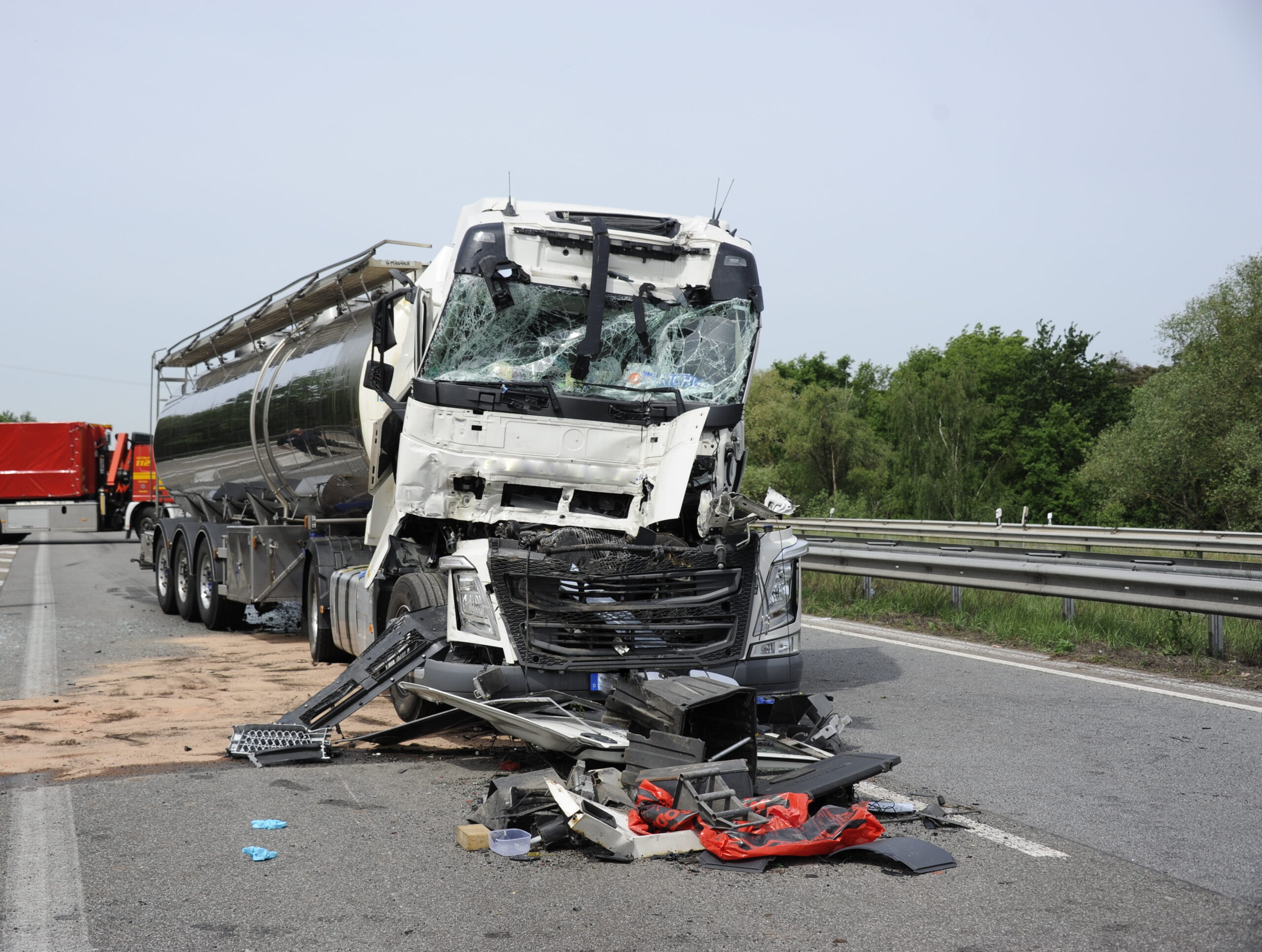 The Most Common Types of Injuries Victims Suffer During Truck Accidents
Commercial truck accidents that involve both large trucks and smaller automobiles typically cause serious bodily injury or death. The size and weight of a truck are capable of crushing a passenger vehicle. The occupants often cannot survive these accidents, giving rise to wrongful death cases.
The injuries a victim suffers during a truck accident may cause them to lose the ability to enjoy their hobbies and relationships with their family. The following are some of the most common injuries victims suffer during truck accidents:
Disability
Paralysis
Third-degree burns
Fractured bones
Amputations
Internal organ injuries
Spinal cord injuries
Though these injuries are common in commercial truck accidents, this list does not include other types of injuries a victim may suffer, some of which can also be a part of your truck accident case.
Assessing Liability in Commercial Truck Accident Cases
Truck accident cases are more complex than automobile accident cases primarily due to the multiple parties that may be liable for your injuries. The latter typically has one of two parties that may be liable.
The following are some of the potentially liable parties in a truck accident case:
The manufacturer of the truck
The shipping company that made the shipping order
The business entity leasing the commercial truck
The commercial truck owner
The commercial truck company
The commercial truck driver
It can be difficult to keep these entities separate when working on a truck accident case. Having skilled Stockton truck accident lawyers will allow you to focus on recovering from your injuries so you do not have to keep up with the complex developments in a civil lawsuit.
Retaining Truck Accident Lawyers Stockton Trusts
Trusted Stockton truck accident lawyers have the experience and knowledge necessary to work on every aspect of your truck accident case. Understanding how these cases work is key to successfully litigating them. Defense counsel will use various tactics designed to intimidate you or make you feel as if you do not deserve monetary compensation for your injuries.
Proficient lawyers are experts on the multiple issues related to truck accident cases. They know passenger vehicles do not stand a chance when they collide with a commercial truck. The differences in weight and size often cause passenger vehicle occupants to suffer serious bodily injury or death. A commercial truck may weigh many times more than a single-passenger vehicle.
State and federal laws are also applicable to truck accident cases. Understanding statutes, regulations, and amended laws can make the entire process of litigating a case slow and methodical. Also, proficient Stockton truck accident attorneys need to possess comprehensive knowledge of the trucking industry and the regulations carried out by the Federal Motor Carrier Safety Administration (FMCSA).
The California Department of Transportation is the agency that regulates commercial trucking within the state. Unfortunately, some trucking companies may attempt to retain important evidence regarding your legal claims.
Commercial Truck Accidents and Civil Lawsuits
As part of the claims process, capable Stockton truck accident attorneys will draft the complaint, a legal document that initiates a civil lawsuit. The following are relevant to any negligence claims you assert:
A truck driver has operated a commercial truck that is unsafe and has not been properly maintained.
A truck driver has operated a vehicle for an excessive amount of hours without resting.
A truck driver has not adhered to traffic laws and traffic regulations.
A truck driver does not look at their blind spots before changing lanes.
A truck driver passed through roads that were unsafe.
A truck driver overturned a truck due to excessive weight on the trailer.
A truck driver was operating a commercial vehicle without adequate training or experience.
All drivers must adhere to the standard of care to operate a vehicle as a reasonably prudent person would under the same circumstances. Similarly, truck drivers have a duty to those they meet on the open road. The four elements of negligence are duty, breach, causation, and damages. These elements must be satisfied to plead adequately a negligence claim in California.
Paz v. Airfax Logistics (settled on 5/26/2020) – settlement in a case involving a client who was involved in a trucking accident and sustained a traumatic brain injury and other trauma.
– 
TINA ESHGHIEH
The Economic Value of A Commercial Truck Accident Claim
Financial stress may cause accident victims to feel helpless after they are involved in a truck accident. It can be helpful to know that the truck driver and the truck company may be liable for your damages. An essential component of any truck accident case is ensuring the liable parties are held accountable for their negligent or reckless conduct. However, you must calculate your total damages to claim the correct amount.
Experienced Stockton truck accident attorneys can calculate the damages relevant to your particular truck accident case. Both general and special damages are often claimed in these cases. But punitive damages are sometimes claimed depending on the facts and circumstances of the case. The economic value of your case will depend on the following factors:
The disabilities the victim now lives with on a daily basis
The pain and suffering experienced by the accident victim
Past and future lost earnings
Medication costs
Past and future medical bills
You may have suffered serious bodily injuries during a truck accident, meaning that you may claim a higher amount of damages. However, the defense attorneys will fight your claim and assert that you did not suffer your injuries during the truck accident. Working with a skilled Stockton truck accident lawyer can provide you with the resources you need to assert your legal claims.
Wrongful Death Claims and Truck Accidents
An individual may have died during a truck accident. The surviving family members have the right to assert a wrongful death claim. These family members represent the estate of the decedent. The surviving family members must still establish the liability of the defendant. Wrongful death cases may involve civil law, criminal law, and property law.
Contact The Award-Winning Truck Accident Lawyers Stockton Relies On for A Free Consultation
Arash Law, founded by famous attorney Arash Khorsandi, Esq., helps injured victims seek financial compensation for their injuries. We have decades of experience representing clients in truck accident cases and have recovered over $500 Million for clients throughout California. Our team will focus on your case and is not afraid to stand up to insurance companies and assert your rights to fair compensation. Contact Arash Law at (888) 488-1391 to schedule a free consultation.
Our dedicated Stockton truck accident lawyers have a proven track record of success, serving neighboring cities like Manteca, Lodi, Tracy, Ripon, Galt, Brentwood, Oakley, Riverbank, Modesto, Oakdale, Antioch, and Ceres.