In recent years, rideshare programs like Uber and Lyft have become hugely popular. Most Californians have used a rideshare service at some point, and many will continue to use these convenient services again and again. But what happens when an Uber or Lyft is involved in a car accident?
These services are still relatively new, and the law is not settled when it comes to personal injury claims involving rideshare services.  This is why it is so essential to hire an experienced California personal injury attorney after any Uber, Lyft, or other ridesharing accident. You still have the legal right to be fully and fairly compensated for all the losses you have sustained as the result of the car accident.  At Arash Law, we know how to fight and win car accident cases.
Our aggressive lawyers have recovered more than $200 million for personal injury victims. Call (888) 488-1391 today to schedule your free consultation with an experienced California personal injury attorney. We fight hard to protect your legal rights.  Read our Uber-rider's guide below:
How Do Rideshare Apps – Like Uber, Actually Work? 
Uber and Lyft are companies that run mobile apps to connect freelance drivers with people needing rides.
On one side of the transaction, a rider in need of a car will open the app and search for drivers in the area. The app will quote a price, so the rider knows exactly what he or she will be charged before the ride ever occurs.
On the other side of the transaction, freelance drivers log into the app and show that they are available for pickups. They are notified when someone needs a ride and can choose to accept or decline the fare. All purchases and tips are handled in the app, so there is no exchange of money in the vehicle. 
The drivers who work for these companies are independent contractors – not employees. This has the potential of limiting the amount of liability that Uber or Lyft can have for negligent driving. Traditionally, an employer is legally responsible ("liable") for all negligence committed by any employee in the scope of his or her employment.
This rule does not extend to independent contractors. However: as with many laws, there are exceptions to this general rule. If, for example, an employer was negligent in hiring or supervising its independent contractors, it could be liable for that negligence (though not the negligence committed by the independent contractor). In another example, an employer might be responsible if the injury victim could prove that the worker was actually an employee (even though the employer called him an independent contractor). 
Fortunately for victims, Uber & Lyft carry significant third-party liability insurance that covers individuals injured by accidents caused by their drivers.
These and other exceptions are causing legal battles to occur in courts across the country. These cases are especially prevalent here in California, where Uber and Lyft are headquartered in Silicon Valley, close to the Arash Law offices in San Francisco and nearby San Jose. Rideshare drivers are a new type of worker who may not fit easily into current legal definitions of "independent contractor" or "employee."
This is a problem when these drivers cause accidents. Worse still – these drivers are likely to cause accidents. Because Uber drivers must always be using the app while working, they can easily be distracted while driving. Distracted driving has long been known to cause serious traffic accidents.
What Do I Do After an Accident in an Uber?  Any auto accident can be an overwhelming experience. It is essential to know what to do so that you get all the help you need, and also protect your legal interests.  Following these (4) simple steps:
1)  First, Get to safety!
If your vehicle is still drivable, pull off to the side of the road (or better yet, a nearby parking lot). If the vehicle is not drivable – or if you were a passenger in an Uber – get out of the vehicle and out of the way of traffic. It is vital to get out of traffic so that no one involved is struck yet again by another vehicle. If someone else needs assistance, help get them out of the way of traffic (if you can do so safely).
2)  Next, Call 911.
The dispatcher will be able to walk you through the next steps, so even if you are not sure what to do, there will be someone to help. The dispatcher will help you determine whether anyone on the scene needs medical care. This should always be the first priority on the scene. The exchange of information and gathering evidence can occur later, but if an ambulance is needed, that should always come first. 
3)  Third – Always work with police on the scene.
If the accident occurred on a public road, the police will likely be called to respond to the crash. They will take each driver's statement and facilitate the exchange of insurance information. Be sure to get information on how to obtain their police report once it is ready.
4)  And last but not least! Don't forget to gather evidence!
If you have the opportunity, gather evidence from the scene. You might be able to get the phone number of a bystander who witnessed the accident. With camera phones, it is easy to take photos or video of the accident scene. All this evidence can be useful in proving your personal injury claim. If you were in an Uber, it is also important to get the Uber driver's details. Screenshot the vehicle info in the app or take a picture of the license plate.  Take pictures of the Uber vehicle if possible.
My Uber Got Into an Accident. Can I Sue Uber?
Since Uber drivers are independent contractors, it is challenging to sue Uber directly if one of their drivers is to blame in case of an accident that caused injuries to a passenger. However, even though they are independent employees, Uber drivers are covered under Uber's $1 million insurance policy whenever in an accident.   If your Uber driver is not at fault, the other driver's personal insurance plan comes into play first. Supposing they don't have enough to cover possibly serious medical bills, Uber's $1,000,000 underinsured motorist policies may apply.
Whose Insurance Will Pay for My Injuries Sustained in an Uber Accident? 
The person who is at fault for causing the accident has a legal obligation to compensate all victims who were injured in that accident. A personal injury claim is therefore filed with the at-fault driver's insurance company. If another driver (not the Uber driver) was at fault for the accident, it might not be necessary to deal with Uber at all. Your personal injury attorney can file a claim with the at-fault driver's insurance company.
He or she will then negotiate a fair settlement value of your claim. If the insurance company is willing to make a fair settlement offer, you will be paid, and your claim will be settled and final. If not, your attorney may have to file a lawsuit or even take your case to trial. This allows you to make your case to a jury, and let your peers determine the fair value of your personal injury claim.
If the Uber driver was at fault for the accident, the settlement process becomes a little more complicated. Uber drivers must maintain personal policies on their vehicles. These policies cover the driver while he or she is not working for Uber. But once the driver opens the app and is either waiting for a rider, en route to a pickup or carrying a fare, Uber has insurance policies that can cover accidents. (The amount of this coverage varies depending on whether the rider was in the vehicle or the driver was simply en route.) Uber carries insurance that covers injuries to riders caused by their drivers' negligence. The amount of coverage varies by state but is at least one million dollars per rider.
However: it is not always as simple as filling a claim with Uber's insurance company. The insurance companies may fight over who was actually at fault for causing the Uber accident. An Uber driver might have a personal insurance policy that covers rideshare driving, and Uber might require that policy to be exhausted before it will pay. All of these coverages might be insufficient to pay for all of your damages, and you might need to file an underinsured motorist claim under your own auto insurance policy. Each additional insurer gives the others an opportunity to try to deflect blame.
After all, if someone else is at fault, they won't have to pay. Remember that insurance companies are not in the business of protecting your legal right to full and fair compensation for your injuries. They are in the business of paying as little as possible on as few claims as possible. This is why you need an aggressive personal injury attorney dealing with the insurance companies on your behalf.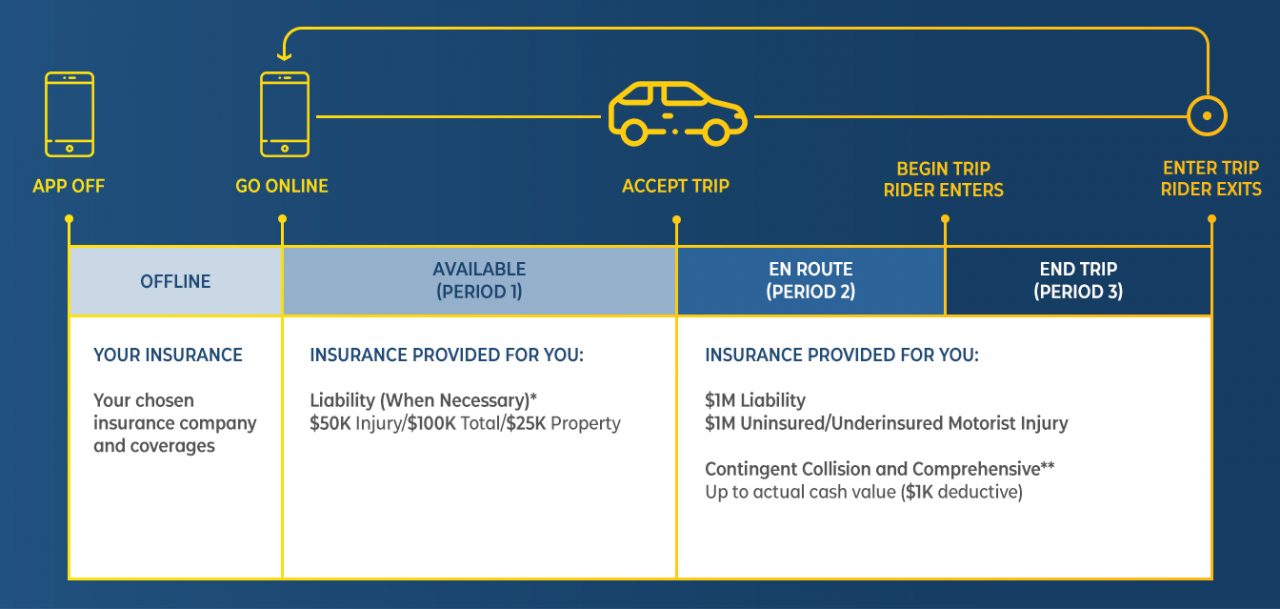 If I'm Riding in a Uber – What Losses Can I Recover For After an Accident? 
The law requires all negligent drivers to pay for the damages they cause. These losses can include:
Property damage to your vehicle or personal belongings

Medical bills

Lost wages

Pain and suffering

Disfigurement (such as a scar)

Loss of enjoyment of life (if, for example, you are no longer able to engage in a job or hobby you enjoyed before the accident).
Some of these losses are easy to determine. For example, a body shop can provide a written report of all the damage to your vehicle and exactly how much they will charge to fix it. Medical bills provide specific dollar amounts for the medical treatment that was required as a result of the accident. When the costs are documented with receipts and itemized invoices, it is easy to determine exactly how much you lost as a result of the accident. Other losses, however, can be far more difficult to value. 
Pain and suffering is often the largest part of a personal injury settlement (or jury award).
It is also the most difficult to value. What dollar amount will compensate the victim for weeks of painful physical therapy? What about permanent injuries (such as nerve damage) that will never fully recover? The victim will suffer an uncertain amount of pain for the rest of his or her life. How do you determine the dollar amount that will compensate you for that pain? This same problem occurs when the injury victim loses the enjoyment of life. What if the victim can no longer pick up his or her children? What if paralysis has prevented him from walking across the stage at graduation or ever taking another dance class again? These are devastating losses. They can rob an injury victim of some of the most important moments in life. Victims have the legal right to be compensated for these losses. But what number could possibly equal the loss of important family moments? As you can imagine, the other driver's insurance company thinks that number is a lot lower than you do. This is why it is so important to have an aggressive personal injury attorney fighting for your claim. If the insurance company refuses to make a fair settlement offer, you have the right to let a jury determine the value of these intangible losses. 
Calculating Lost Wages After Being Involved in an Accident While Riding a Uber
Lost wages can be easy or difficult to calculate, depending on the complexity of your case. If you miss a couple of days of work and are able to return to your former hours and duties, it can be easy to calculate lost wages. Your employer simply provides documentation of the number of hours missed and your hourly wage. (Salaried employees can prorate their salary based on a forty-hour workweek.) Multiplying these numbers gives an exact amount of lost wages. However, complex injuries can lead to far more time lost from work, and this can make it much more difficult to calculate lost wages. What if you lose your health insurance during an extended leave of absence? A negligent driver must pay for all losses – including employment benefits. This means that any health insurance coverage, retirement contributions, or other benefits lost as a result of the car accident are also part of a personal injury award. 
The calculation becomes even more difficult if the injury victim cannot maintain his or her former hours or duties. This can lead to a permanent decrease in earning potential. This, too, must be part of a personal injury award. The lost employment benefits must also be compensated. For example: imagine that an injury victim can only work part-time after an accident. Because of this, she is no longer eligible for health insurance through her employer. This lost benefit must be compensated. As you can imagine, it is difficult to determine the exact value of lost benefits. It can also be difficult to calculate the loss in the victim's future earning potential. Will he or she ever be able to return to work? If so, will it be at the former level of income, or will it take time to work back up to the position held before the accident? All of these issues give the insurance company a chance to argue for a lower settlement award. 
The True Cost of Personal Injuries
Futurity reports that nonfatal injuries in the United States cost $1.8 trillion in 2013. This number was compiled by researchers who examined medical spending, work lost, and decreased quality of life. Car accidents caused over three million injuries in 2013. These cost Americans a total of $207 billion, and the average cost of an injury was $66,857. (Remember: California state law only requires drivers to carry coverage for $15,000 per person.
The added costs must come from somewhere.) These numbers affect society greatly. When insurance companies deny claims – or refuse to pay a fair amount – the rest of the country is left to shoulder the burden. Employers suffer financially from decreased productivity. Unpaid medical bills hurt the entire healthcare industry. And the decreased quality of life prevents injury victims from working and engaging in their communities. These are very real losses that should not be ignored. 
Futurity also interviewed a professor at Brown University who noted that these injuries were preventable. Safety training and education efforts are important for preventing injuries. But when a negligent driver causes injury, it is important to hold him or her accountable in order to deter future bad driving behavior. Raised insurance premiums are an important deterrent to bad driving. They can also warn other drivers not to engage in bad driving behaviors. This is the same reason why states have outlawed texting and driving, driving without seatbelts and other dangerous driving behaviors. Bad drivers will continue to engage in bad behavior unless there are consequences for their actions. 
Car accident injuries have a high cost to society. More importantly, they can dramatically affect you and your family for years to come. The law says that a negligent driver must compensate you for all the losses you sustain. Unfortunately, a single insurance policy is often not enough to cover all of your losses. This is why it is important to work with a personal injury attorney who understands all the insurance policies that might be available to cover your losses. In the case of an Uber accident, the supplemental $1 million policy offered by the company is an important legal avenue to pursue. 
Call Today to Schedule a Free Case Evaluation with a Trustworthy California Uber Accident Lawyer
As you can see, personal injury claims can become very complicated when a rideshare service is involved. Insurance companies often take advantage of this confusion and attempt to avoid their legal obligation to pay for your injuries.
Don't fight the insurance companies alone – get the advice of an experienced California personal injury attorney who will fight hard for your legal rights.
At Arash Law, we have fought hard to win hundreds of millions of dollars for our clients. Let us deal with insurance company tactics, so you can focus on your recovery. Call (888) 488-1391 today to schedule your consultation. 
We have offices all across California to conveniently serve you in your area, be it Los Angeles, Riverside, San Francisco, Sacramento, Woodland Hills, San Jose, San Diego. We can also come to you, wherever you are in CA.
Arash Law works on a contingency-fee-basis, which means plaintiffs won't owe any attorney or legal fees unless they win a settlement or court judgment in their case.  Ask our Uber accident lawyers in California if you have a case?