Glendale

Slip and Fall Accident Lawyers
with over $500 Million Recovered in Compensation for Injury Clients.
You May Be Entitled to Compensation

Dedicated Glendale Slip and Fall Accident Lawyers are 

Turning Injured Victims Into Victors
When stepping onto someone else's property, an expectation of reasonable safety is only natural. Unfortunately, accidents occur, and slip and fall incidents are expected consequences of hazardous conditions. Arash Law's Glendale slip and fall accident lawyers, under the guidance of Arash Khorsandi, Esq., are here to protect your rights if you have suffered due to unsafe conditions. For insights into your legal options, contact us for a free consultation at (888) 488-1391 or fill out the "Do I Have a Case?" form on our website.
Whether it's a wet floor, an uneven surface, or a cluttered walkway, the potential for accidents is high. While these incidents may seem trivial to some, the reality is that slip and fall accidents can result in severe, even life-threatening injuries. 
Injuries stemming from slip and fall accidents range in severity from broken bones and sprained joints to head injuries and spinal damage. The aftermath often entails excruciating pain, limited mobility, and an extended recovery period. 
The legal framework governing slip and fall incidents falls under premises liability, a subset of personal injury law. This extends to injuries on public or private property, including falling merchandise incidents in large retail stores, accidental drownings, and animal attacks. Given the complexity of these cases, securing representation from seasoned Glendale slip and fall accident attorneys is paramount.
If you've experienced a slip and fall accident leading to medical expenses, lost earnings, physical pain, or emotional suffering, you may be entitled to compensation. Our Glendale slip and fall accident lawyers from Arash Law stand ready to assist you in every step of the legal process.
SM v. Doe Defendant (settled on 10/14/2020) – settlement in a case involving a client who sustained a spinal cord injury and mild traumatic brain injury when he fell off a roof. The team at Arash Law secured an additional $610,000 as part of the third party settlement.
– 
TINA ESHGHIEH
What to Do Following a Slip and Fall Accident?
Accidents happen, and when they do, knowing the proper steps to take can make all the difference. In the aftermath of a slip and fall incident, your immediate actions are crucial for your well-being and any potential legal proceedings.
Here are the essential actions to take after a slip and fall accident:
Seek Immediate Medical Treatment. Seek medical attention promptly, especially in cases involving fractures, head injuries, or spinal cord injuries. The immediate post-accident period is critical, and medical professionals can stabilize your injury and coordinate with specialists for necessary care. Always adhere to the healthcare provider's follow-up recommendations.
Notify the Business or Property Owner. Inform the business or property owner about the accident and request their insurance information. This information is vital for notifying your insurance company. Ensure that you share these details promptly with your Glendale slip and fall accident lawyers for further follow-up.
Document the Incident. Record detailed information about how the injury occurred. Note down all relevant details surrounding the accident. Take photographs of the scene. Quick action is essential, as the accident site may undergo cleaning, removal, or repairs shortly after the incident.
Contact Glendale Slip and Fall Accident Lawyers. Reach out to experienced Glendale slip and fall accident lawyers to initiate a claim. While it's possible to submit a claim independently, partnering with a skilled attorney from Arash Law ensures you don't forfeit the compensation you deserve. Timely contact with Arash Law slip and fall/premises liability lawyers ensures proper preservation of evidence and filing within the statute of limitations, maximizing your chances of receiving maximum compensation for your injuries.
Why Should I Hire an Attorney?
Pursuing compensation for a slip and fall accident entails a multi-step process that includes conducting a thorough investigation of the incident, collecting pertinent evidence, engaging in negotiations for fair compensation, and meticulously assessing the hazards present during the accident. Moreover, determining the value of damages suffered is a crucial component in this intricate process.
However, constructing a compelling case should be something other than a current concern for you; your focus should be on treating your injuries. This underscores the importance of contemplating the engagement of our adept Glendale slip and fall accident lawyers at Arash Law. Importantly, we offer no upfront fees, and our lawyers' remuneration is contingent upon your receipt of compensation.
At our law firm, our slip and fall accident attorneys are well-equipped to handle every aspect of a slip and fall claim on your behalf should we ascertain the viability of your case. Leveraging our extensive resources and experience, we conduct a comprehensive investigation into your accident to ensure a solid foundation for your claim.
Notably, our track record speaks to our prowess in obtaining compensation, with a cumulative recovery exceeding $500 Million for injury victims.
800+ Real Client Reviews Verified by Google
Facts and Statistics About Slips and Falls
The probability of injuries stemming from slip and fall accidents is more significant than commonly acknowledged. Consumer Product Safety Commission (CPSC) attests that floors and flooring materials directly contribute to over 2 million slip and fall injuries annually. The Centers for Disease Control and Prevention (CDC) further illuminate the gravity of these incidents:
One in every five falls results in a serious injury, such as a broken bone or head injury.
Over 800,000 people require hospitalization annually due to falls, with a majority involving head injuries or hip fractures.
More than 95 percent of hip fractures are a consequence of falls, typically sideways.
Falls are the leading cause of traumatic brain injuries.
The total medical cost associated with falls exceeded $50 billion in 2015.
Every year, one in three Americans aged 65 and above experiences a fall, with half being repeat fallers. Falls account for 40% of all nursing home admissions, and over 60% of nursing home residents face falls annually. Shockingly, falls rank as the sixth leading cause of death among individuals aged 70 years or older. The concerning upward trend is highlighted by the CDC, reporting that in 2005, over 15,000 individuals aged 65 and above succumbed to falls, marking a substantial increase from 7,700 a decade earlier. CDC data indicates that approximately 1.8 million people aged 65 and above received emergency room treatment due to falls.
These figures confirm the considerable dangers posed by slip and fall incidents. If you've experienced such an accident, don't let misplaced embarrassment hinder you from seeking necessary medical treatment. Recognize the significance of early diagnosis and promptly seek medical attention.
Don't let the result of a slip and fall overwhelm you. Step safely into financial recovery with Arash law, where your well-being and rightful compensation take center stage. Contact us today for a free consultation.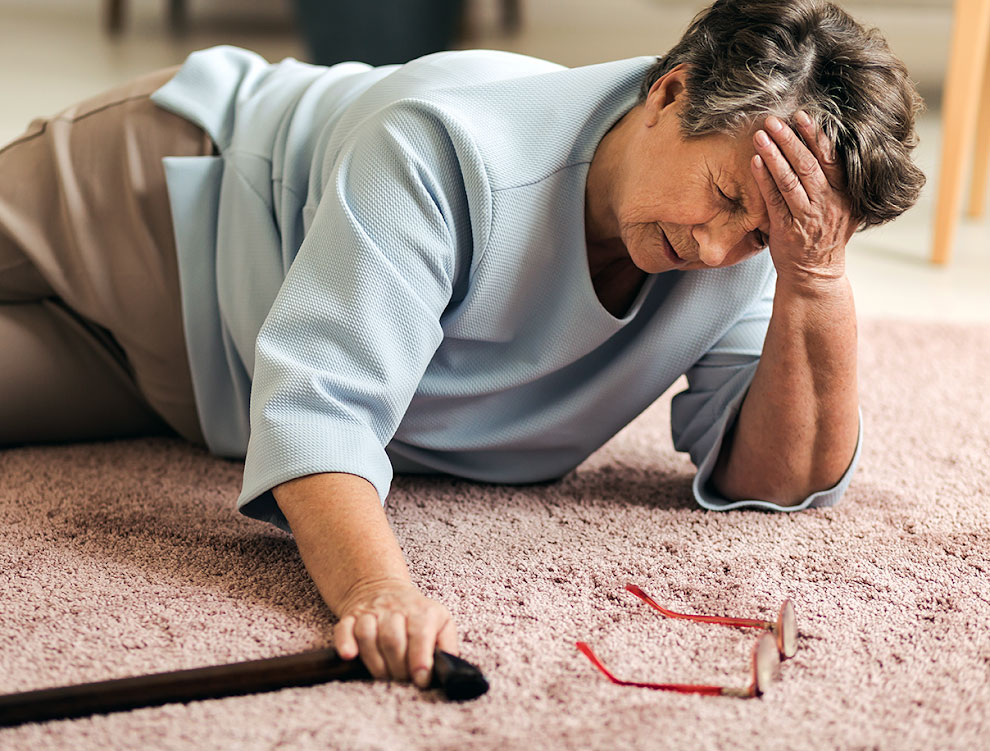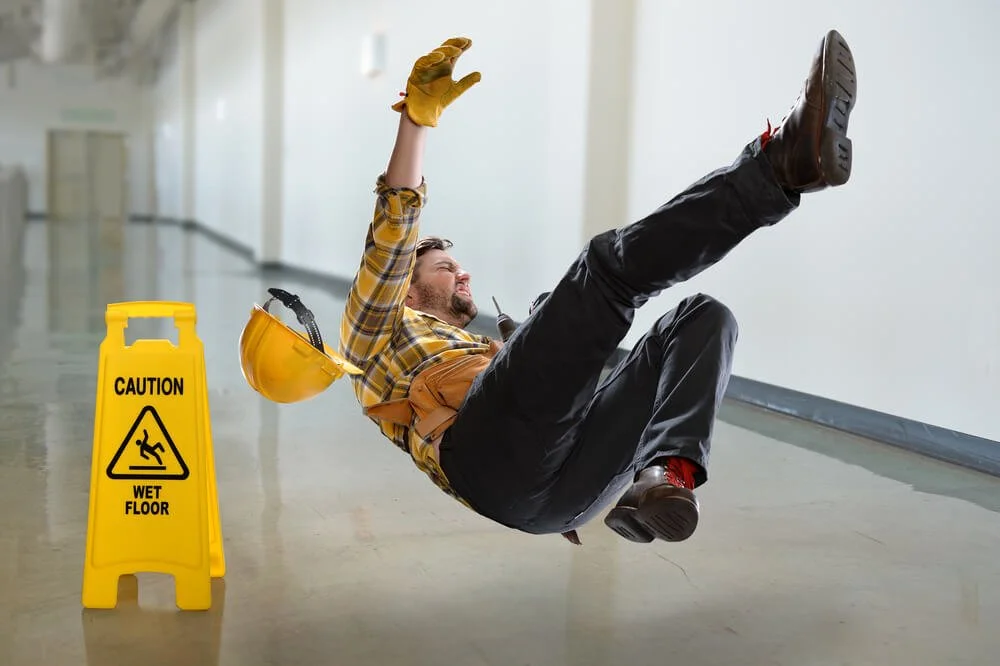 Where Do Slips And Falls Happen The Most?
Slips and falls are common occurrences that can happen virtually anywhere, but there are certain locations where these accidents occur more frequently. These areas typically have higher foot traffic or unique environmental factors contributing to a greater risk of slipping and falling. Here's a closer look at these typical hazard zones:
Moving stairs are a focal point for foot traffic in many public spaces, and the combination of mechanical movement with variable step heights often leads to missteps and falls.
Although they may seem safe, abrupt stops and the small gap between the elevator and floor level can cause people to trip.
With spills, frequent cleaning, and bustling staff and patrons, restaurants are prime spots for slip-and-fall incidents.
Spilled liquids, slimy produce on the ground, and freshly mopped floors make grocery stores a top location for slips and falls.
The vast corridors and multiple levels, often with smooth and polished floors, increase the likelihood of slipping, especially during busy hours or in inclement weather when wet shoes are common.
Wet and slippery surfaces are inherent to pool areas, making them a common place for slips and falls.
Uneven, worn, or improperly maintained steps can be treacherous, and missing handrails exacerbate the risk.
Construction and industrial locations are rife with potential slip and fall hazards, from loose materials to uneven terrain.
Cracks, uneven paving, ice, and debris can turn an ordinary walk into a potential accident scene.
Climbing and working on ladders requires balance and caution, and falls from ladders can be particularly dangerous.
Potholes, oil slicks, and ice are just a few hazards that can make these areas risky.
Stepping off a curb might seem simple, but misjudging the height or not noticing a step can easily result in a fall.
Understanding where slips and falls are most likely to occur can help in taking preventative measures to avoid such accidents, whether it's by paying extra attention in these areas, ensuring proper maintenance, or wearing suitable footwear. It's also crucial for property owners to keep these areas safe to prevent accidents and potential liabilities.
Most Common Causes of Slip and Fall Accidents
Understanding the specific hazards that contribute to these incidents is crucial for both businesses and individuals. Here, we explore five types of slip and fall accidents that commonly occur, shedding light on potential dangers and emphasizing the importance of preventative measures.
Wet and slippery floors pose a significant risk, especially in places like grocery stores and supermarkets, where accidents frequently result from dropped wet or liquid merchandise. Even after cleanup efforts, residual slipperiness can persist, necessitating visible warnings like wet floor signs. Various contaminants beyond water, such as spilled coffee, detergents, cooking grease, oil, or wax, can contribute to hazardous conditions.
Simple hazards like electric or phone cords strewn across the floor can lead to serious injuries. Clutter, defined as any obstruction in a walkway, may include items like small garbage cans blocking paths or ladders propped against walls. These harmless elements become potential sources of harm when left unattended.
Damaged Floors or Loose Floor Components
Uneven flooring created by missing, loose, or broken tiles can easily lead to trips and falls. Business owners are responsible for frequent property inspections and promptly rectifying hazardous conditions. Awareness of a hazard without appropriate action may result in liability.
Adequate lighting in business establishments, parking garages, or lots is essential for enabling individuals to identify and navigate through unsafe conditions. Good lighting is basic and necessary for all businesses. Property owners or lessees must ensure proper lighting and promptly address outages to mitigate potential dangers.
Cracks or Gaps in Sidewalks or Walkways
Uneven surfaces in walkways, even a one-inch gap in concrete, pose significant hazards. Business owners must be vigilant about removing and reducing hazards. In environments where distractions like children or pets may cause oversight, a hazard in a walkway may go unnoticed.
Our Glendale slip and fall accident lawyers from Arash Law are committed to safeguarding you against these slip and fall hazards. If you have been a victim, trust our slip and fall accident lawyers, we will ensure that you will receive the compensation you rightfully deserve. Your safety is our priority, and we are committed to helping you through this legal process. Throughout the entire process of your legal case, we will be with you every step of the way.
Injuries Resulting from Slips and Falls
Injuries resulting from a fall can vary in severity, ranging from minor to life-threatening factors depending on various circumstances, such as the type and location of the fall, the victim's age, and overall health. Slip and fall accidents in California often lead to a variety of injuries, including:
Broken Bones. Fractures to the ankle or wrist are prevalent in fall-related incidents. In individuals over 65, 87% of bone fracture injuries result from falls. "Fall Onto Outstretched Hand" (FOOSH) injuries, often referred to as FOOSH fractures, may necessitate surgical intervention, physical therapy, and extended recovery. Ankle injuries, particularly severe ones like trimalleolar fractures, can entail a recovery period exceeding 12 weeks.
Bruises and Contusions. Bruising occurs due to the impact of a fall. While most bruises heal with time and rest, severe cases can lead to permanent tissue damage, chronic numbness, loss of function, or muscle strength.
Dislocated Shoulders. A forceful impact causing the arm's top to dislocate from its socket can result in a painful dislocated shoulder injury. Given the shoulder's instability, surgery might be required if nerves or blood vessels sustain damage.
Knee Injuries. The complex knee joint, vital for weight support, is susceptible to fractures, dislocations, ligament injuries, meniscal tears, and tendon tears from falls. Recovery may involve surgery and an extended rest period to regain full functionality.
Lacerations. Falls can lead to cuts and scratches from contact with sharp surfaces or attempts to break the fall. Older adults, more prone to falls, face increased vulnerability to lacerations, bleeding, and potential infections.
Nerve or Spine Damage. Any numbness, altered function, or significant weakness below the patient's "level of injury" may indicate a spinal cord injury. In older adults, even minor falls can result in more easily broken bones, with treatment decisions based on symptom severity and injury location. Some injuries may have permanent consequences.
Sprained Wrists or Ankles. Ligaments stretched beyond their limits in a fall can lead to joint injuries like wrist and ankle sprains. Graded by severity (mild, moderate, or severe), these injuries may require varying pain management and rehabilitation.
Strained Muscles. Similar to sprains but involving muscles or tendons, strains occur when muscles are overstretched and torn, commonly seen in hamstring and lower back strains. Treatment involves pain management and extensive rehabilitation.
Traumatic Brain Injuries (TBIs). Head blows during a fall can result in serious TBIs, leading to physical, cognitive, and behavioral impairments that may endure for months or become permanent.
At Arash Law, you'll always be in the loop. Our Glendale slip and fall accident lawyers' goal is not just to win your case but to secure maximum compensation efficiently for your injuries so that you can focus on your recovery without unnecessary delays.
Staying Safe from Slip and Fall Accidents
In addition to the above causes of slip and fall accidents, inappropriate footwear and certain behaviors can increase the risk of getting into one. These behaviors include:
Walking Too Fast or Running. Quick or running movements can increase the risk of losing balance and falling.
Rapid Changes in Direction. Abrupt changes in the walking direction may lead to slips or trips.
Distractions. Diverting attention away from the walking path can result in overlooking potential hazards.
Not Watching Where One is Going. Failing to observe the surroundings increases the likelihood of encountering obstacles.
Carrying Materials Obstructing the View. Carrying items obstructing the line of sight can impede one's ability to navigate safely.
Wearing Sunglasses in Low-light Areas. Wearing sunglasses in areas with low visibility may hinder the ability to detect hazards.
Failure to Use Handrails. Neglecting to utilize handrails in areas where they are available reduces support and stability.
If a fall seems imminent, following these recommended procedures can mitigate potential injuries:
Tuck your chin in, turn your head, and throw an arm up. Landing on an outstretched arm is preferable to directly impacting the head.
Twist or roll your body to the side while falling. Landing on the buttocks and side is safer than a direct impact on the back.
Keep your wrists, elbows, and knees bent. Bent joints can absorb some impact, reducing the risk of severe injuries.
Avoid attempting to break the fall with your hands or elbows. Trying to break the fall with hands or elbows can result in additional injuries.
Maximize body contact with the surface. Aim to have as many square inches of your body in contact with the surface during a fall to distribute the impact more evenly.
If you have experienced a slip and fall accident and seek comprehensive legal representation, contact our Glendale slip and fall accident lawyers at Arash Law today. We are ready to provide free consultation, assess the specifics of your case, and guide you on the path to securing the compensation you rightfully deserve. We are committed to justice, so don't let your injuries go unaddressed – step forward with Arash law.
Personal Injury Settlement
Our client was the victim of a rear-end accident who was left injured and severely in pain. Arash Law was able to outshine other injury law firms when he searched online, and thankfully we were able to handle everything for our client from A to Z — All that he had to do was ask and focus on his recovery. Our client's life has changed forever, and the compensation received for the pain and suffering has opened paths for new lifelong opportunities.
Personal Injury Settlement
Our client was the victim of a rear-end accident who was left injured and severely in pain. Arash Law was able to outshine other injury law firms when he searched online, and thankfully we were able to handle everything for our client from A to Z — All that he had to do was ask and focus on his recovery. Our client's life has changed forever, and the compensation received for the pain and suffering has opened paths for new lifelong opportunities.
When to Hire a Slip and Fall Attorney in Glendale?
Slip and fall incidents can lead to severe consequences, and understanding when to engage slip and fall attorneys in Glendale is important for securing just compensation for your injury. Consider the following scenarios that warrant the expertise of slip and fall lawyers:
If the tenant possessed knowledge of hazardous conditions. If the tenant or property owner was aware of a significant defect or danger on their premises but chose to overlook or neglect to warn others, they bear responsibility for the injuries sustained by the victim. Establishing a strong case involves demonstrating that prior complaints from other customers or tenants were ignored. This serves as compelling evidence when invoking the liability of a property owner.
If the property owner violated local, state, and federal property codes. Should a property owner breach laws pertaining to local, state, or federal property codes, it strengthens the chances of a favorable outcome in your case. Furthermore, if your injury resulted from violating one or more of these codes, your slip and fall case gains even more outstanding merit. The circumstances leading to the fall are crucial in how the court perceives your case. For instance, if a stair step crumbled while you were descending, it constitutes negligence and inadequate maintenance by the owner.
If you had a very serious injury. If you sustained a significant injury due to the neglected and unsafe conditions of the space, your prospects of a successful claim are highly favorable. This is particularly true if your injuries were severe enough to necessitate hospitalization or a leave of absence from work. The gravity of your injuries plays a pivotal role in determining the compensation you may receive. An experienced Glendale personal injury lawyer can assess the extent of your injuries before presenting the case in court and strategize the best approach to secure the highest compensation.
With Arash Law, our Glendale slip and fall lawyers go beyond conventional legal strategies. We bring innovation, tenacity, and relentless pursuit of justice to every slip and fall claim. Elevate your legal journey – choose Arash Law, your trusted legal advocate in Glendale.
Is it Possible to File a Slip and Fall Lawsuit in Court?
Yes. Liability must be established against the property owner, lessee, or individual in control of the premises where the incident occurred to build a compelling slip and fall case. The key elements you must demonstrate are that these entities, referred to as defendants, knowingly permitted a hazardous condition to persist, posing a threat of injury to visitors, including yourself. Additionally, you can establish their liability by proving that the defendants either were aware of the dangerous condition or should have been aware but neglected to address it. This negligence on their part led to the slip and fall accident, causing you harm.
It is not mandatory to prove that the defendants were aware of the hazardous condition but failed to rectify it. Sufficient grounds for liability exist if it can be demonstrated the defendants created the unsafe condition and neglected to remedy it, resulting in the slip and fall incident and subsequent injuries.
Our Glendale slip and fall accident lawyers at Arash Law specialize in building a compelling case. We will fight with you tirelessly to establish a claim against property owners, lessees, or individuals in control of the premises where your incident occurred. Our success is intertwined with yours. Contact us today.
Do Premises Liability Claims Include Falls At Work?
Slip and fall accidents are actually the leading cause of employees taking time off from work for injuries, especially in construction work. When employees are injured on the job, employers are protected from being sued by the workers' compensation system.
Every business in California must carry some form of workers' compensation insurance. It doesn't matter whether workers' compensation was caused by their own negligence, their employer's negligence, or no one else's negligence.
There are some instances in which you can also file a premises liability claim against a third party if you slip and fall on the job. For example, a restaurant delivery person slipped and fell on the wet floor of a customer's apartment building. Say there wasn't any wet floor sign in the area, then the delivery person can file a third-party premises liability claim.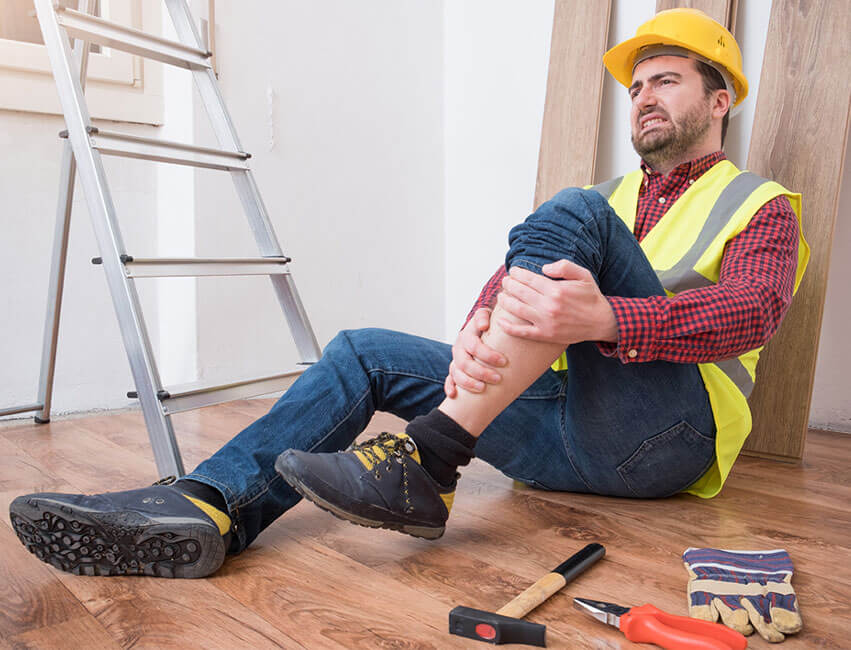 Settlement in a motor vehicle accident; client suffered internal injuries.
– 
JUDD ROSS ALLEN
How Do You Prove Negligence in a Slip and Fall?
For a slip-and-fall case to succeed, you must gather and present all the necessary evidence to persuade the judge. To do so, you need to get the names and phone numbers of any witnesses to your accident if you saw them.
It is even more beneficial to snap pictures of the area where you slipped and fell as soon as possible (a cell phone camera will do). It is frequently difficult to gather proof of an incident because the condition that caused the fall is swiftly cleaned or eliminated.
Then, we will investigate and gather any facts pertaining to your trip and fall case. In this situation, a Glendale slip-and-fall lawyer could help you gather the following proof:

Recordings of surveillance videos
Police statements based on firsthand reports
Medical records
Grievances lodged against the landowner in the past
Email, phone, and other correspondence
Inspection logbooks
Legal Rights for Invitees, Licensees, and Trespassers for Slip and Fall Claims?
There are three types of visitors under California law: invitees, licensees, and trespassers.
Invitees are individuals invited onto the property for business purposes. Property owners owe them the highest duty of care.
Licensees, such as social guests, are owed a slightly lower duty of care. They are expected to take reasonable care not to cause injury to others and to warn them of any known dangers.
Trespassers are generally not owed a duty of care by property owners, but exceptions may apply if a property owner is willful or malicious in their conduct.
What is the Average Settlement for Slip and Fall Cases?
Slip and fall claims are characterized by their lack of fixed settlement amounts, and this uncertainty is further compounded by California's adherence to the legal principle of comparative negligence. In essence, this legal framework dictates that if the court determines that the accident victim bears partial responsibility for the incident and ensuing injuries, the compensation awarded to the plaintiff will be proportionally reduced based on the percentage of their perceived fault.
To illustrate, consider Kate, who is granted a $100,000 compensation. If the jury assigns 50% liability to Kate for her accident, her final compensation will be adjusted accordingly to 50%, resulting in $50,000.
An illustrative scenario involves a plaintiff navigating a grocery store where a liquid spill has occurred. If, at the time of the accident, the plaintiff was distracted by texting on their phone, the court might allocate blame for the incident between both the plaintiff and the defendant, depending on their respective levels of guilt in the slip and fall case.
If a fair settlement cannot be reached through negotiation, slip and fall accident lawyers in Glendale are ready to advocate for your rights in the courtroom fiercely. Our experienced slip and fall accident attorneys are prepared to present a strong case that reflects the actual value of your damages.
What is the Time Limit for Filing a Slip and Fall Claim?
Have you ever encountered the term "statute of limitations"? It is a formidable adversary to legal claims, imposing a specific timeframe within which a lawsuit must be initiated before the window of opportunity permanently closes. In the area of slip and fall accidents, California's statute of limitations stipulates a concise 2-year period from the date of the accident for the filing of a slip and fall lawsuit in court.
This timeframe can be drastically shortened to 120 days from the incident date if the slip and fall transpired on government-owned property. Notably, if the victim is a minor, the statute of limitations extends to 2 years after the individual turns 18, providing more leeway for legal action.
The implications of the statute of limitations are severe; failure to file a slip and fall case within the legally mandated timeframe results in the immediate dismissal of the entire claim. The court does not entertain considerations of the gravity of injuries or the defendant's actions, even if they led to the loss of a loved one.
Therefore, it is imperative to promptly reach out to our Glendale slip and fall accident attorneys at Arash Law if you believe you have a viable claim. Acting sooner rather than later allows us to assess the remaining time before the statute of limitations bars your access to legal recourse.
Get Help From An Experienced Glendale Slip and Fall Lawyer Today
Slip and fall cases can be complicated to handle on your own. This is why we recommend reaching out to an experienced Glendale slip and fall lawyer who can manage the process on your behalf if you have a valid case.
At Arash Law, we are prepared to do everything we can to pursue maximum compensation on your behalf. We can answer any questions about the legal process during a free consultation. Each year, Arash Law and the team led by Arash Khorsandi, Esq., get recognized with prestigious awards, including accolades by distinguished industry leaders and prestigious attorney associations for continuous case-winning success, such as being named Premier Lawyer of America's 2019 Top 40.
Our adept Glendale slip and fall accident lawyers bring decades of experience and a history of undeniable success. Our legal services span beyond Glendale, reaching neighboring areas across California, including Sunland, La Crescenta-Montrose, La Cañada Flintridge, Altadena, Pasadena, Alhambra, Monterey Park, Beverly Hills, Hollywood, Burbank, North Hollywood, and Sun Valley. 
Our slip and fall accident attorneys are available to talk with you 24 hours a day, seven days a week. You pay us no upfront fees for our services. We only get paid if we help you obtain compensation through a settlement or verdict.
Take the first steps toward resolution by contacting us at (888) 488-1391 for a complimentary case evaluation. Our outstanding track record of securing over $500 Million in client compensation speaks to our legal expertise. Your journey towards justice commences with us.