Fresno

Uber Accident Lawyers
with over $500 Million Recovered in Compensation for Injury Clients.
You May Be Entitled to Compensation

Fresno Uber Accident Lawyers

That Win All The Time
According to a California Office of Traffic Safety (OTS) report, over 30,000 people have been killed, and 100,000 have suffered severe injuries on California roads since 2010. Motor vehicle crashes are incredibly common in California, and it is common for certain accidents to involve Uber or other rideshare vehicles.
Uber accidents immediately add a new level of complexity to a personal injury claim because rideshare companies can be held liable in certain cases, However, establishing such liability can be very tricky, and companies like Uber will invest heavily in defending themselves to avoid being held accountable. A person will want to be sure they are working with the experienced Fresno Uber accident lawyers at Arash Law, founded by famous attorney Arash Khorsandi, Esq., in these cases because our firm handles all rideshare accident cases on a contingency fee basis, which means people do not pay us anything unless we win or settle their cases first.
A farm worker, suffered multiple broken bones and other orthopedic injuries resulting from an auto accident where the defendant driver attempted to make a left turn in front of our client in heavy fog.
– 
ARASH KHORSANDI
Does Uber Pay Fresno Uber Accident Damages?
When people suffer injuries in accidents involving Uber vehicles, there is an immediate temptation for the same people to think that the rideshare company itself is going to be liable for all damages. The truth is that Uber makes all of its drivers independent contractors, meaning that the company can spare itself liability in many cases, although there can be cases in which Uber's own insurance policy for its drivers will come into play.
Uber is generally required to provide all of its drivers with some form of liability insurance, and such policies can provide significant benefits to people injured in Uber accidents. Since Uber classifies its drivers as independent contractors, most people cannot to sue Uber itself in court, although they can still file claims with Uber's insurance company.
In general, Uber's own insurance policy is treated as being secondary to their driver's own personal insurance policy. Most rideshare companies are only liable for the actions of drivers when drivers are actively involved in work for rideshare companies.
Uber might not be responsible for a crash occurring while a driver is not logged into the Uber app. Benefits available under an Uber policy will vary, and a negligent Uber driver who injures another person means a victim must first exhaust the driver's coverage before Uber's own insurance policy kicks in.
Fresno Car Accident Statistics
According to OTS, traffic fatalities in California increased by 3.4 percent from 3,719 in 2019 to 3,847 in 2020. The number of drunk driving fatalities (i.e. Fatalities in crashes involving a driver or motorcyclist with a blood alcohol concentration (BAC) of 0.08 grams per deciliter (g/dL) or higher) increased by 20.0 percent from 966 in 2019 to 1,159 in 2020, and the alcohol-impaired driving fatality rate increased by 4 percent from 2019 to 2020, which accounted for 30 percent of California's 3,847 fatalities.
The percentage of drivers killed in motor vehicle crashes who tested positive for legal or illegal drugs increased by 8 percent from 42 percent in 2018 to 50 percent in 2019. The percent of unrestrained passenger vehicle occupant fatalities increased by 19.2 percent from 634 in 2019 to 756 in 2020.
Motorcycle fatalities also increased by 9.8 percent from 491 in 2019 to 539 in 2020. The good news will be that pedestrian fatalities decreased by 2.5 percent from 1,011 in 2019 to 986 in 2020, and bicycle fatalities decreased by 9.8 percent from 143 in 2019 to 129 in 2020.
The Fresno Community Health Improvement Partnership (FCHIP) also reported that the age-adjusted death rate due to motor vehicle traffic collisions in Fresno was 16.4 per 100,000 population for 2018-2020, which was the highest figure of the past decade. The age-adjusted death rate due to unintentional injuries of 47.0 per 100,000 population for 2018-2020 was also the highest mark of the past 10 years.

Emperatriz Ayala
My husband had an accident 2 years ago, a 85 years old man hit him, the Arash law group works very well on my husband case that took 9 month and he won the case and my husband was happy with the results. A year later I got into an accident as well and I'm still waiting in my case is almost resolving and it's 9 months already. This people knows the law and they do their job right to help you out in getting the most for you to fight on your behalf. I strongly recommend the Arash Law firm they do things right in a efficient and professional manner.

Chris Zavala
Had a great experience with all the people at Arash law. Long story short was in a bad car accident. It was overwhelming and the whole process was a lot, but they kept me in the loop. They answered all my questions and gave me great advice. Couldn't be any happier. Would definitely recommend anyone looking for a personal injury lawyer. They'll guide you through the whole process!

Jill Smith
Having Arash Law handle my auto accident was the best decision I could have made. Everyone I interacted with was kind, professional and detail oriented. I am extremely happy with the outcome and would recommend them highly.

Joseph R. Porter
From start to finish, Arash Law firm is there every step of the way with close, constant, personal contact and attention. I never knew a Law firm could actually care so much for me as a person and what I was personally going through as well as the settlement I was going to recieve once my case was finally completed. Thank you to everyone at Arash Law for your ongoing support and communication. You are the ONLY firm I will ever recommend to someone who is need of a great attorny.

Monica Parra
I had an excellent experience with Arash Law. I will definitely recommend to my family and friends. I interviewed a few firms before deciding to work with Arash Law. What made my experience excellent was (i.e. head attorney being accessible to talk to and he answered all my questions and concerns, sensitive and thorough personel who completed in home intake & follow up process, being connected immediately to quality Physicians who addressed my injuries and recovery process, clear contract-read throughly to ensure its something you can commit to). Being in a car accident is a traumatic experience and I had a sense of peace knowing Arash Firm was walking with me throughout the whole process. Thank you Arash Firm for all your hard work and help. I am so grateful and appreciative for you all! 🙏 With Gratitude, Monica Parra
What People Should Know About Fresno Uber Accidents
People need to understand that Uber is not always responsible for accidents involving one of its drivers. Uber liability can be a very complex issue that most people are not prepared to deal with on their own.
It is incredibly important that individuals who suffer injuries in an Uber accident seek legal counsel quickly to clarify all of their legal options after an Uber accident . An experienced attorney can best figure out how to hold Uber itself can be held liable for an accident and ensure a person can recover all of the financial compensation they are entitled to.
Distracted Driving as a Common Cause of Uber Accidents
It should go without saying that Uber drivers frequently rely on their cell phones to get information about potential passengers and work duties, so distracted driving is among the most common causes of Uber accidents. People who believe that distracted driving was a factor in their Uber accidents will want to work with an experienced attorney who can possibly subpoena a negligent driver's phone records to prove the driver was using their cell phone at the time of a collision.
When Drunk Driving Is Involved in Uber Accidents
While most people in California are aware that the state rigorously enforces drunk driving laws, there is no denying that arrests for driving under the influence (DUI) arrests remain incredibly common in the Golden State each year. FCHIP reports that 26.0 percent of driving deaths had alcohol involvement in Fresno for 2016-2020, which was lower than the high of 30.0 percent in 2009-2013.
The Fresno Bee also reported that Fresno had an average of 648 DUI arrests annually per 100,000 residents, which translated to an average of 1,148 total DUI arrests per year and made the city the worst in the state for DUI arrests. It is never out of the question that an Uber driver may have been operating while under the influence of alcohol or a legal or illegal drug.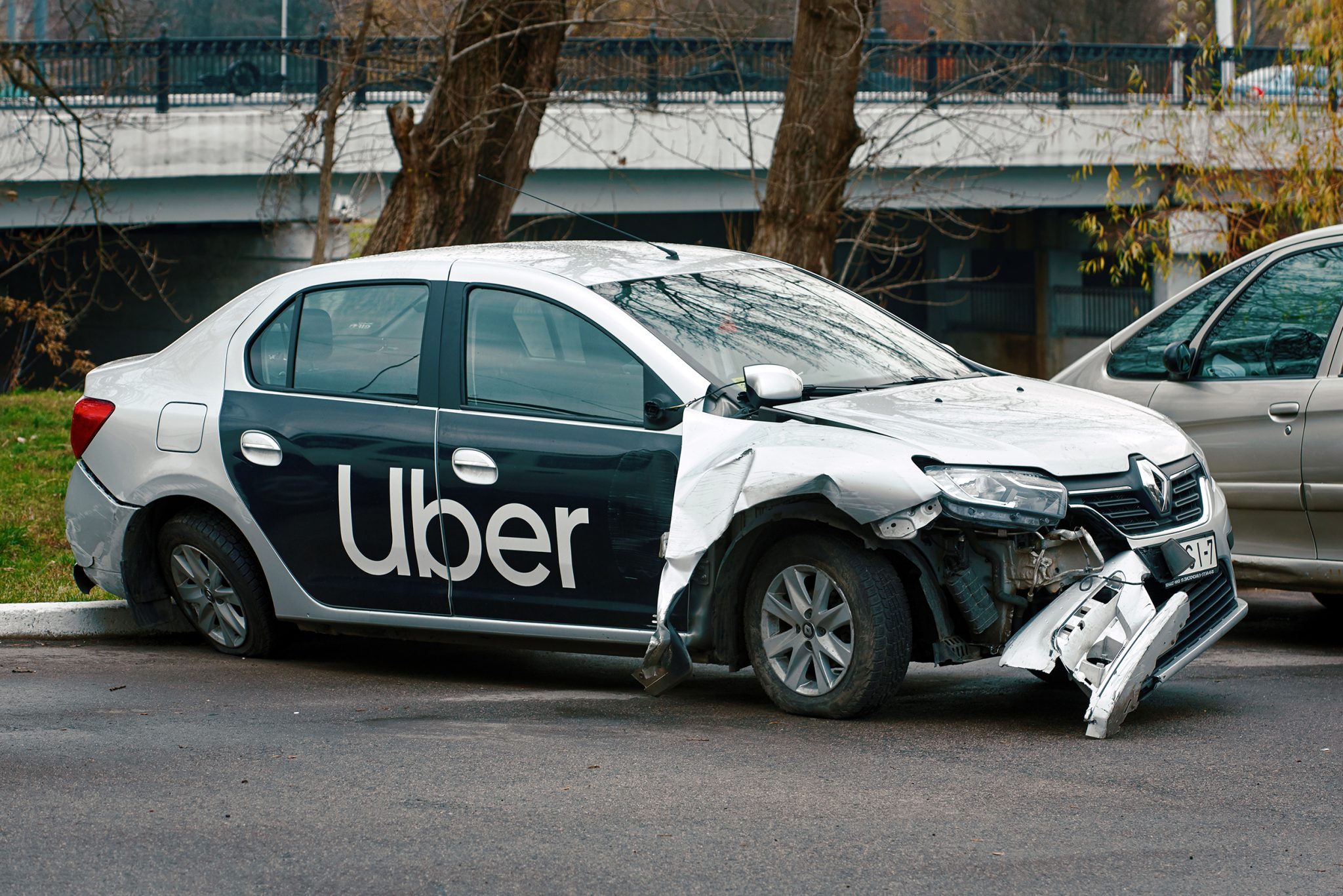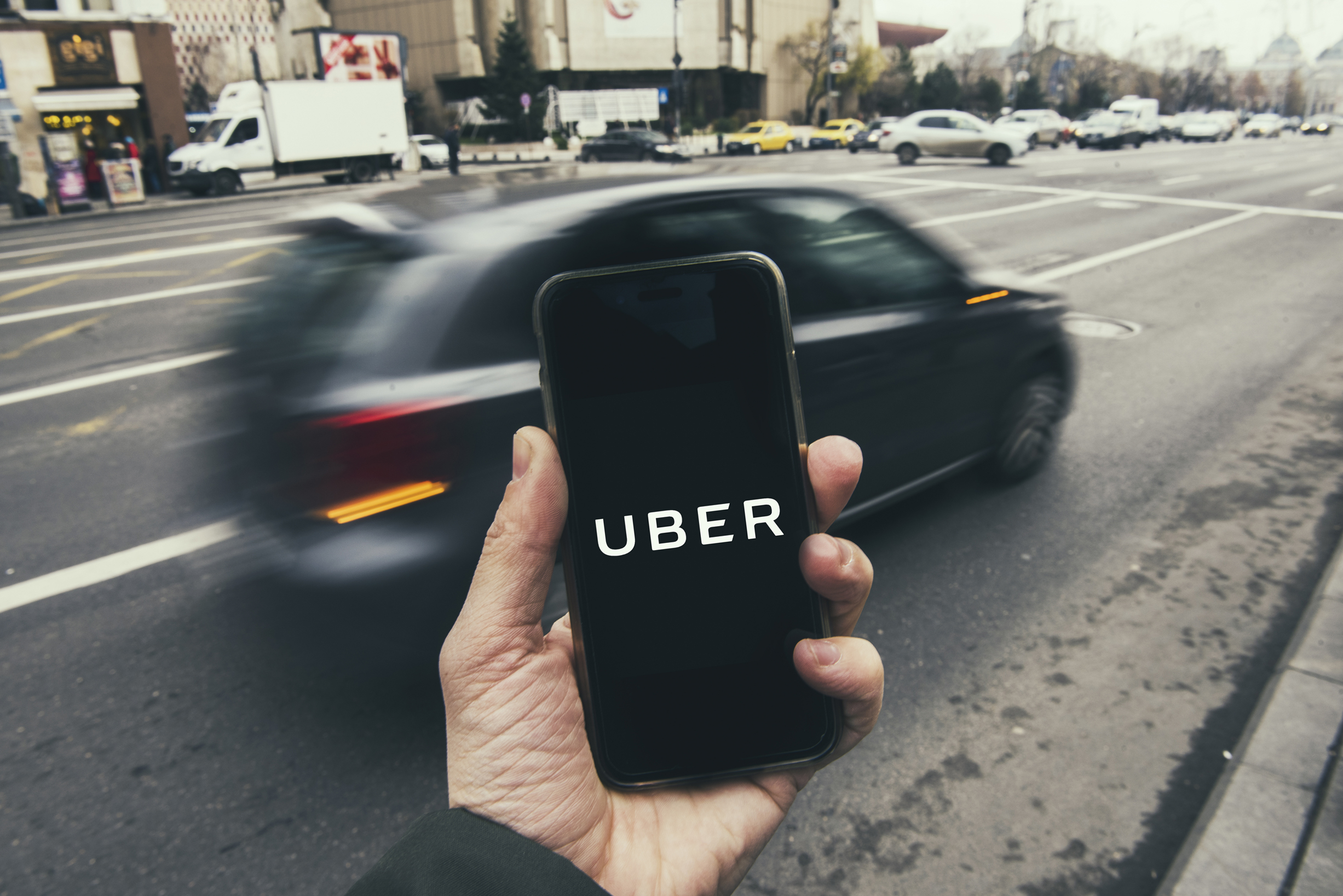 Uber Accidents Caused by Speeding
The
Fresno Police Department
states that it issued 54,542 traffic citations in 2015, with 9,582 of the citations being for speeding. The Fresno Bee also reported that 1,056 people were killed in traffic crashes due to speeding OTS said traffic collisions caused by speeding killed 1,056 people in California in 2016, according to OTS.
Many Uber drivers are in a hurry not just to pick up passengers but also to perform deliveries. There is little doubt that the speed an Uber driver was operating under at the time of a collision can play a major role in a person's injury case.
Why an Attorney Is Important in an Uber Accident in Fresno
If a person is involved in an accident involving Uber or any other rideshare service in Fresno or a surrounding area, it will be a good idea for them to contact an attorney who has experience with these kinds of claims. While the process is often similar to other car accident cases, Uber accident claims will also have unique issues that can complicate recoveries in these types of situations.
Several statutes can impact how people can obtain financial compensation after rideshare accidents. Working with a lawyer who understands the process and legal precedents involved in a case against Uber will make an important difference in the outcome of a person's case.
Under the guidance of Arash Khorsandi, Esq., Arash Law is prepared to guide people through the entire process. Our Fresno Uber accident lawyers have handled multiple ride-sharing accident claims on behalf of injured victims and will know how to seek the maximum compensation they deserve.
Our firm has recovered more than $500 million for our clients. We recovered $1 million for a client who suffered a spinal cord injury in an Uber accident.
Arash Law is deeply committed to helping our clients get the compensation they need and deserve after an Uber accident or injury. We fully understand how difficult life can be for victims after an injury, and we will devote all of our resources to helping people recover and move on with their lives.
It is important for people to understand that Arash Law, under the leadership of led by Arash Khorsandi, Esq., is not limited just to car accidents, as we also handle cases of other improper actions by Uber drivers. We have handled cases involving Uber drivers dragging passengers out of vehicles, stealing passengers' phones, threatening to attack passengers, kidnapping passengers, and sexually assaulting passengers.
Common Challenges of Uber Accidents
Liability is often one of the biggest obstacles in Uber accident actions because several parties can share liability, and it is often difficult for people to prove liability by themselves. An Uber accident lawyer with powerful resources can collect all of the relevant data, like driver logs, app data, witness accounts, and accident reconstruction reports, to help determine each party's responsibility.
There can also be several time restrictions on certain actions, which emphasizes the importance of getting an Uber accident lawyer in Fresno involved in your case as soon as possible. People may have to file certain claims with an insurer within a certain time frame, specified period of time or risk losing the ability to recover anything at all.
In the end, the biggest obstacle to recovery for most people is going to be dealing with an insurance company, whether they are representing the driver or Uber itself. Insurers all share the same goal of trying to settle cases for the least amount possible so they can preserve their bottom lines, so it is important to have an injury lawyer who knows how to negotiate a fair and full settlement in these cases against Uber.
How Uber Time Periods Work
One of the major difficulties with Uber insurance claims is how Uber divides up its insurance coverage. Depending on when an accident occurred, a person might not have any insurance coverage through the company as an Uber driver.
Uber says that its own insurance will work as follows for its drivers:
Driver is offline or driver app is off

– The driver's personal insurance company and coverages apply.

Driver is available or waiting for a ride request

– Uber maintains automobile insurance on a driver's behalf for covered accidents. Third-party liability will apply when a driver's personal automobile insurance does not apply and provides $50,000 in bodily injury per person, $100,000 in bodily injury per accident, and $25,000 in property damage per accident.

Driver is en route to pick up riders and during trips

– Uber offers automobile insurance on a driver's behalf in case of a covered accident, including $1 million in third-party liability, uninsured or underinsured motorist bodily injury or first-party injury insurance, and contingent comprehensive and collision with an actual cash value of the car and a $2,500 deductible. 
Proving Fault for an Uber Accident
Uber drivers are rarely quick to admit when they were at fault for a crash, and many drivers will try to pass the blame on to other parties, such as other drivers. These defenses are valid in some cases and completely contrary to the facts in others. However, victims should definitely seek legal representation for assistance proving that an Uber driver was completely at fault for any car accident.
How Do Uber Accidents Happen?
Uber and other rideshare accidents often occur because of some form of driver negligence, although there can be a limited number of cases in which other causes may be possible. For example, an Uber driver may not be at fault when a mechanical issue with their motor vehicle, possibly caused by a defective part, causes a crash.
In most cases, an Uber driver is the responsible party because of certain actions like DUI offenses, speeding, or, perhaps most commonly, distracted driving. There is little doubt that the basic nature of an Uber driver's work often means they are distracted by their cell phones so distracted driving is an especially common claim in many of these cases.
Personal Injury Settlement
Our client was the victim of a rear-end accident who was left injured and severely in pain. Arash Law was able to outshine other injury law firms when he searched online, and thankfully we were able to handle everything for our client from A to Z — All that he had to do was ask and focus on his recovery. Our client's life has changed forever, and the compensation received for the pain and suffering has opened paths for new lifelong opportunities.
Personal Injury Settlement
Our client was the victim of a rear-end accident who was left injured and severely in pain. Arash Law was able to outshine other injury law firms when he searched online, and thankfully we were able to handle everything for our client from A to Z — All that he had to do was ask and focus on his recovery. Our client's life has changed forever, and the compensation received for the pain and suffering has opened paths for new lifelong opportunities.
How People Should Deal with Insurance Companies
When a person files a claim relating to an Uber accident, they are often going to have to deal with an insurance company, whether the insurer represents the driver themselves or Uber. No matter how friendly and concerned insurance agents might seem on the phone, people need to remember that insurance companies are never on their side.
Insurance adjusters will investigate accidents and then do everything they can to minimize the insurance company's losses relating to the crash. One of the most common tricks insurance companies use is asking for recorded statements they claim are necessary to move forward with claims, and all people should decline the opportunity to provide these statements because what insurers are hoping to do is trick people into making damaging admissions that ultimately hurt their claims.
When people submit written demand letters for compensation, insurance companies will frequently respond with much lower counteroffers that are far less than what people are entitled to. Every single person will want to have a team experienced Fresno Uber accident lawyers dealing with an insurance company on their behalf because the lawyer can negotiate a much fairer and fuller settlement to the case.
What People Should Do After Uber Accidents
The immediate aftermath of any Uber accident will be a very important time for people involved to take certain actions. You will want to be sure that you do all of the following after any Uber accident you happen to be involved in:
Stop at the scene of the accident.

Call 911 so the local police department will be dispatched and emergency responders can treat

anyone who is injured

. 

Collect the names of all people involved, including Uber drivers and passengers, getting contact and insurance information.

Also, seek contact information from any witnesses.

Take

photo

or videos of the car or cars involved, the accident scene, and injuries. Try to note all other relevant information, including the location of the crash, weather conditions, hazards, and any other important information about an accident.

Contact an experienced Uber accident attorney at Arash Law, managed by Arash Khorsandi, Esq., as soon as possible.
Insurance Coverage for Uber Accidents
Uber provides up to $1 million in insurance coverage under certain circumstances, but whether Uber pays anything will depend on their driver's activity at the time of an accident. When an Uber driver is using their vehicle for personal use and is not available to pick up passengers, a driver involved in an accident will be covered only by their automobile insurance.
The California Department of Motor Vehicles (DMV) notes that the acceptable forms of insurance include a motor vehicle liability insurance policy, a cash deposit of $35,000 with the DMV, a certificate of self-insurance issued by the DMV, and a surety bond for $35,000 from a company licensed to do business in California. The minimum liability insurance requirements under California Insurance Code §11580.1b are $15,000 for injury or death to one person, $30,000 for injury or death to more than one person and $5,000 for damage to property.
If an Uber driver is available for passenger pickup but does not have a passenger, the driver will be covered by their personal automobile insurance policy, but Uber will provide additional supplemental liability coverage of $50,000 per injury (up to $100,000) and up to $25,000 in property damage, although the supplemental insurance is only available when a driver's insurance is exhausted. If an Uber driver is involved in an accident while carrying a passenger, the driver and passenger will be covered under Uber's $1 million insurance policy.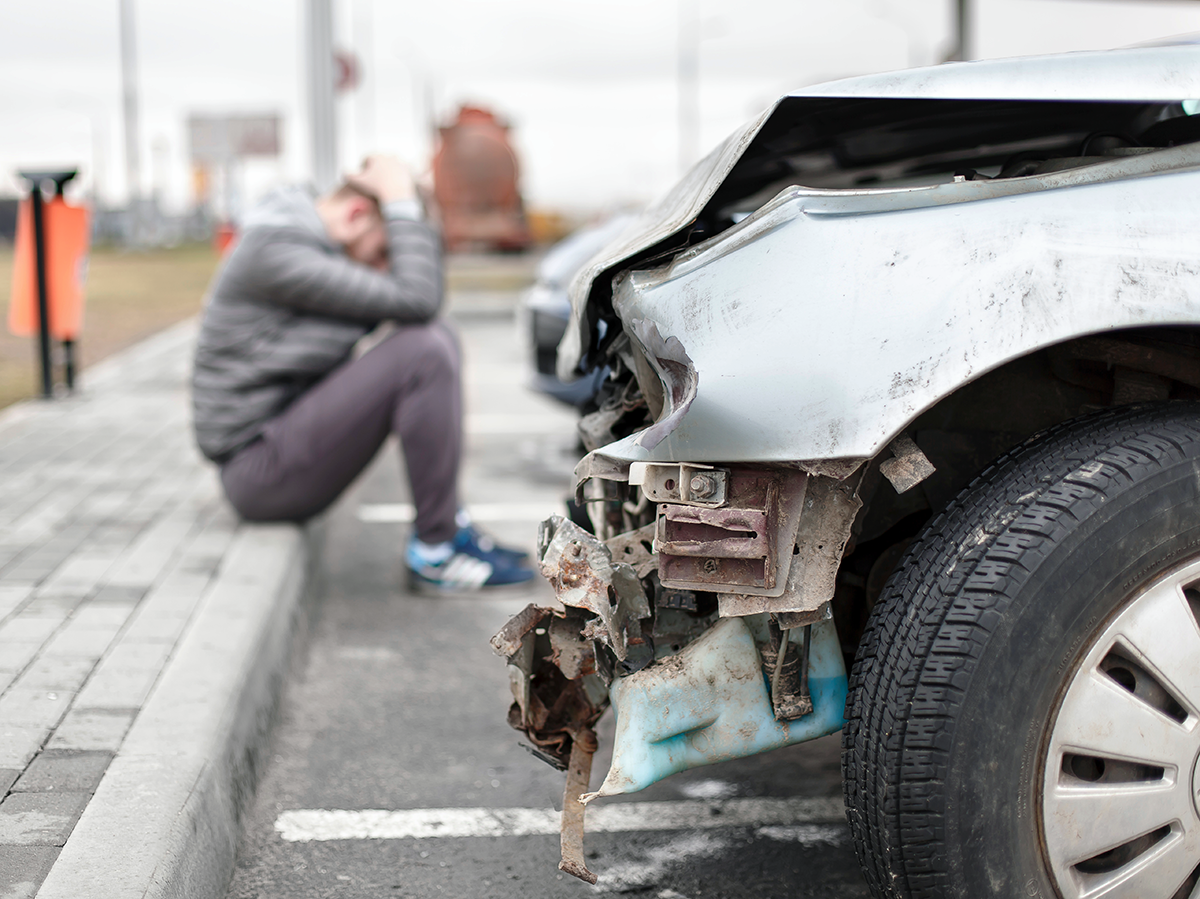 Settlement in a motor vehicle accident; client suffered internal injuries.
– 
JUDD ROSS ALLEN
How Uber Accident Settlements Work
Many car accidents cases involving Uber vehicles are likely to result in settlement because neither side involved usually wants to bear the extraordinary costs involved in taking a case to trial. Uber or an insurance company often tries to settle these cases very quickly by offering people lump-sum amounts to close their cases, and while accepting such an offer can seem like a quick way to resolve a case, people need to understand that most of these initial offers are much less than what people are actually entitled to.
When a person is works with Arash Law, under the direction of Arash Khorsandi, Esq., our firm knows how to negotiate a far more fair settlement offer that truly covers every expense a person will be dealing with because of their accident. When an insurer proves unwilling to provide an acceptable settlement offer, it may be necessary to file a lawsuit to take the case to court.
It is again important to keep in mind that Uber's insurance policy for its drivers will have three tiers:
Driver offline

– Uber's insurance policy does not apply when a driver is not using the Uber app or is marked as being offline. Accident claims must be filed against a driver's privately held policy or any other motorists involved in a crash.

Driver available

– If an Uber driver is waiting for a new ride request or is marked as available, Uber will provide a 50/100/25 third-party liability insurance that covers a driver in the case of an accident. Such policy coverage will only apply when a driver's own auto insurance policy does not apply or is exhausted.

Driver with passenger

–If an Uber driver is en route to pick up a passenger or already has a passenger in their vehicle, Uber will provide a $1 million third-party liability uninsured or underinsured motorist bodily injury policy. 
Accidents in Fresno involving Uber vehicles can cause injuries in several ways. At Arash Law, our team has helped all kinds of Uber accident victims, including Uber passengers, Uber drivers, drivers or passengers in other vehicles colliding with Uber vehicles, and pedestrians, bicyclists, or other innocent bystanders injured in Uber accidents.
Dealing with Claims Against Massive Corporations
According to
CNN
, Uber had 32,800 employees in 2022. That same year, Uber earned $31.9 billion in revenue, which marked an 82.6 percent increase from its revenue in 2021.
The bottom line is that Uber Technologies, Inc. is a major corporation that is very concerned about its profits, so it is going to do everything it can to ensure that the compensation it pays is the least amount possible. The same also holds true for the insurance companies Uber employs.
People should be aware that working with a Fresno Uber accident attorney in these cases is often the best way to ensure that they can recover as much compensation as possible for their crashes. A confident Fresno Uber accident lawyer is going to handle a case on a no-win, no-fee guarantee, so they only get paid when they win or settle these cases.
Common Kinds of Injuries in Fresno Uber Accidents
There is little doubt that an Uber accident has the potential to cause all kinds of possibly severe and possibly even fatal injuries to people. Under the leadership of Arash Khorsandi, Esq., Arash Law has decades of experience handling all kinds of injury claims, including people who have suffered such injuries as:
Fractures or broken bones 
Concussions 
Crush injuries 
Closed head injuries 
Back injuries 
Knee injuries 
Leg injuries 
Neck injuries 
Arm injuries 
Internal injuries 
Skull fractures 
Traumatic brain injuries (TBIs) 
Spinal cord injuries 
Permanent nerve injuries 
Severe burn injuries 
Soft tissue injuries
It is important for a person always to seek medical attention after any Uber accident so they can have a medical professional properly evaluate their condition and determine if there are any injuries the person might not even know about. A proper diagnosis will be key to proving any injury claim.
Who Will Be Covered in Uber Accidents?
Uber offers coverage for all people involved in accidents involving Uber vehicles, including passengers, other motorists, and occupants of other vehicles as well as pedestrians and bicyclists. The coverage will also extend to Uber drivers in some circumstances, although an injured rideshare driver usually needs to file a claim with their own insurance provider first.
If an Uber driver does not have a rideshare endorsement on their policy, their claim will usually be denied, and a driver operating a vehicle in a commercial capacity at the time of an accident voids their coverage. After a claim is denied, Uber's coverage typically applies.
Liability for Fresno Uber Accidents
The bottom line of all car accidents is that liability is frequently complex and may be highly contested in some cases. The general idea of personal injury actions in California is that people can seek compensation from the parties responsible for causing their injuries, but claims need to be filed within two years of the date of an accident.
The Law Office of Arash Khorsandi, Esq., will diligently investigate the cause of an Uber accident and knows how to identify determine all possible liable parties. There can be several different possible explanations for Uber accidents, which may include:
An Uber driver is at fault for making a mistake behind the wheel that causes an accident.

The driver of another vehicle colliding with an Uber vehicle is at fault for causing the crash.

Passengers in a vehicle contributed to the cause of a crash by distracting drivers.

Manufacturers of parts in any vehicle could be liable if defective parts played a role in causing an accident. 

Government entities might be responsible for failure to build and maintain safe roads when they do not fix or warn the public about unreasonably dangerous road conditions.
The list above is by no means a complete list of all possible liable parties, but it does offer some of the most common situations. It is again important for people to get in touch with Arash Law so they can be confident that they have somebody with a solid understanding of these types of cases digging into the details of their accident.
Types of Damages for Fresno Uber Accidents
When a person files a lawsuit against Uber or another party involved in an Uber accident, they can be entitled to compensatory damages. The phrase "compensatory damages" usually covers some combination of economic damages and non-economic damages.
Economic damages are common types kinds of out-of-pocket expenses that can be proven and calculated. Common examples often include:
Medical expenses, such as past, present, and future medical bills, as well as costs relating to hospital stays, prescription medications, surgeries, and rehabilitative therapy

Lost income

Lost earning capacity
Personal property damages

At-home nursing care costs

Replacement service costs

Any other out-of-pocket expenses
Non-economic damages are much more subjective and generally do not have inherent financial values. Some of the most frequent examples include:
Pain and suffering
Loss of consortium
Amputations
Diminished enjoyment of life and activities
Disfigurement and scarring
Disability 
There can also be cases in which victims of Uber accidents can seek punitive damages, which are intended to punish defendants for egregious actions that caused accidents and deter others from taking similar actions in the future. 
Under California Civil Code § 3294, punitive damages require clear and convincing evidence that a defendant was guilty of oppression, fraud, or malice, with malice being defined as conduct intended by a defendant to cause injury to a plaintiff or despicable conduct which is carried on by a defendant with a willful and conscious disregard of the rights or safety of others, oppression meaning disgraceful conduct that subjects a person to cruel and unjust hardship in conscious disregard of their rights, and fraud being defined as intentional misrepresentation, deceit, or concealment of a material fact known to a defendant with the intention on the part of the defendant of thereby depriving a person of property or legal rights or otherwise causing injury.
How Insurance Coverage Works for Accidents Caused by Uber Drivers
Uber does provide insurance coverage for accidents caused by its drivers, but the coverage only applies in certain situations, meaning that specific details of an accident will play a major role in determining if Uber itself pays anything relating to a person's injury claim.
People need to remember that Uber does not classify its drivers as "employees" but as "independent contractors." The company often denies liability after accidents, which leads to them disputing many claims. Under California Assembly Bill 5 (AB 5), a worker must be classified as an employee, and not a contractor, unless the person is free from direction and control applicable both under the contract for the performance of service and, in fact, the service is performed outside the usual course of business of the employer, and the person is customarily engaged in an independently established trade, occupation, profession, or business of the same nature as that involved in the service performed.
In response to AB 5, Uber made several changes to its app for drivers in California, such as allowing drivers to see destinations in advance and removing penalties for rejecting rides. Uber also started testing a new feature that allows drivers to set their own rates, with passengers seeing the lowest fares accepted by available drivers.
When an Uber driver has made their vehicle available to passengers on the Uber app but has not yet paired with a passenger, Uber will provide supplemental accident liability insurance for drivers that consists of:
$50,000 for bodily injury per individual

$100,000 for bodily injury per crash

$25,000 for property damages per accident
During any period when an Uber driver is en route to pick up a passenger, driving a passenger to a destination, or otherwise engaged in the rider's transaction, Uber will maintain supplemental accident liability insurance coverage for its drivers that consists of:
$1 million third-party liability

Underinsured or uninsured motorist bodily injury coverage

Contingent collision and comprehensive coverage up to a car's actual value with a $1,000 deductible 
At all other times, Uber will not supply supplemental insurance for drivers. Only a driver's own personal auto liability insurance covers damages caused by accidents.
Under California state car insurance law, the minimum amount of accident liability insurance a driver must carry is:
$15,000 for injury or death to one person

$30,000 for injury or death to more than one person

$5,000 for damage to property
In any Fresno Uber accident case, the status of an Uber driver at the time of an accident will be tremendously important to a person's recovery options. The experienced Uber accident injury lawyers at Arash Law, headed by Arash Khorsandi, Esq., can take steps to locate, secure, and evaluate evidence relevant to determining the driver status and ensure clients can benefit from the maximum insurance coverage available for their injuries and losses.
How Arash Law Helps Fresno Uber Accident Victims Secure Compensation
Arash Law focuses exclusively on representing victims of personal injuries such as Fresno Uber accidents. We make it a mission to secure as much compensation as possible for our clients when they suffer harm because of another party's actions.
We will tailor your legal strategy in an Uber accident case to serve your unique priorities and needs. Some of the services we can provide in a Fresno Uber accident can include:
Investigating an Uber accident to determine the cause

Taking immediate action to secure critical evidence of an Uber driver's status on the Uber app at the moment of an accident

Calculating the complete range of damages, your need to compensate others for their injuries, and to pay for current and future medical care.

Identifying every party who might owe damages to clients under California state law

Preparing and filing insurance claims and lawsuits demanding compensation for clients

Representing clients in Fresno court proceedings

Negotiating settlements with the parties at fault and their insurance carriers

Collecting compensation due to clients through settlements, judgments, or jury awards
People should not waste their time trying to negotiate settlements on their own with insurance companies because all insurers relish the opportunity to exploit people who are attempting to handle these kinds of cases on their own. You should not settle for less than you are entitled to, and Arash Law, spearheaded by Arash Khorsandi, Esq., will know how to fight to ensure that you can get every last dollar that is available to you.
Possible Damages for Rideshare Accidents in Fresno
The first thing most people are going to ask lawyers when discussing their Uber accident cases is how much their cases are worth. This question can be tricky to answer because so many variables can impact what amount can actually be recovered.la
The truth is that there will need to be a rigorous investigation performed before experienced Fresno Uber accident lawyers can truly speak with any confidence about a possible award. In some cases, the things people say immediately following a collision can also impact what they can recover.
The bottom line is that certain kinds of damages are more common than others, but people should also be aware that their own cases can involve unique claims that entitle them to other kinds of less frequent damages. In general, some of the most common kinds of damages in these cases can include:
Medical bills

– Any health care costs a person incurs because of an accident are usually recoverable, which can include ambulance transportation costs, emergency care costs, rehabilitation costs, prescription medications, and any surgeries.

Future medical costs

– Serious accidents often result in long-term or permanent disabilities, and people who are expected to incur further medical costs at the conclusion of their cases can have expenses included in their settlements.

Lost income

— Any income a person is unable to earn while recovering from injuries may be included in damages.

Loss of future earnings

— If a person's injuries affect their future income-earning ability, such as an inability to return to their regular work and having to accept a lower-paying position, the Fresno Uber accident lawyers at Arash Law can ensure these losses are also included in a settlement.

Pain and suffering

— Pain and suffering is one of the most common kinds of non-economic damages in many injury claims. Virtually all people are dealing with some level of pain and suffering.

Emotional distress

— Many accidents will involve shock or impact, causing mental impacts. People who suffer catastrophic injuries or see a loved one die can obtain emotional distress damages.

Loss of enjoyment of life

— Many injuries can drastically diminish a person's quality of life. When a victim is unable to participate in certain activities, it can result in depression or loneliness. 

Loss of consortium

— When a person's husband or wife suffers an injury, they can collect compensation for loss of consortium, which refers to a loss of companionship, intimacy, affection, care, comfort, protection, and assistance.
Will My Uber Accident Case End Up at Trial?
Most lawyers do not want to take cases to trial because trials are expensive and the outcomes are uncertain. Settlements are usually the most common outcomes in these cases because large companies like Uber or the insurance companies involved will not want to pay to take a case to trial, so commitments to settlements are usually increased as soon as any legal action is filed seeking to take a case to trial.
Should a case have to go to trial, Arash Law will be more than prepared to fight the good fight on behalf of its clients and work hard to give people the best chance of recovering as much as possible. There can be cases in which trials end up paying people even more than they will have received through settlements, so trials are not always the worst outcomes in these cases.
Speak With The Only Uber Accident Lawyers Fresno Trusts To Get The Results They Need
If you suffered catastrophic injuries or your loved one was killed in an Uber crash in the greater Fresno area, you will want to be sure you work with an attorney who understands the applicable rideshare laws and insurance policies that might be available in your case. Arash Law, created by Arash Khorsandi, Esq., has handled scores of Uber and other rideshare accident cases, so we are fully prepared to do all of the work necessary to ensure you are taken care of.
Arash Law handles every single case on a contingency fee basis, meaning you will not pay us anything upfront, and you do not owe anything unless our firm wins or settles your case. We can discuss your case in greater detail with you when you call (888) 488-1391 or contact us online to take advantage of a free consultation.