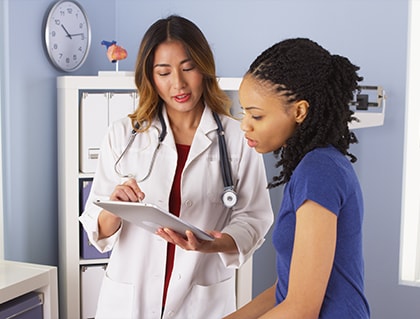 Faking an injury is harder than it sounds. It takes more than just saying, "it hurts!" to build a credible medical history. Your medical history is a comprehensive list of data compiled throughout your life.
For this reason, it's nearly impossible to skew your medical history in your favor. Having an objective medical history is often the only way to prove the legitimacy of your personal injury. Sometimes, insurance companies can exploit your medical history to minimize settlement. 
To win your personal injury case and receive compensation for your claim, it's highly essential to seek medical attention immediately after your accident, speak openly with your physician, follow all of your doctor's instructions, and attend follow-up visits to your doctor for extended treatment. 
You will also need to avoid exacerbating your injury through exercise, physical activity, or other issues. If you fail to seek medical treatment immediately, the defendant will likely claim that you're actively seeking payment for a fake injury.
What are Medical Records?
Medical records are official documentation highlighting the diagnosis and treatment of your injury. Medical records can be compiled over time to showcase your entire medical history. Medical records can include:
Ambulance/paramedic records

Emergency records

Hospital records
Physical records

Records from follow-up appointments

MRIs, CT scans, X-Rays, and testing records
All of these records should include a complete description of your injuries throughout your treatment, the complete dates of treatment, the outcome of your treatment (the outcome and long-term injuries), a cost breakdown of all of your treatment, a summary of treatment, an evaluation of your current medical status, and future treatment associated with projected costs. 
Medical Records: The "Best Evidence" Rule
In a typical lawsuit, courts apply the "Best Evidence" rule, which prioritizes original records over photocopies. You likely won't have to worry about your healthcare provider already discarding your medical records.
Federal law requires healthcare providers to retain copies of medical records for at least six years. Some providers retain these records even longer than that. 
Permission to Release Medical Records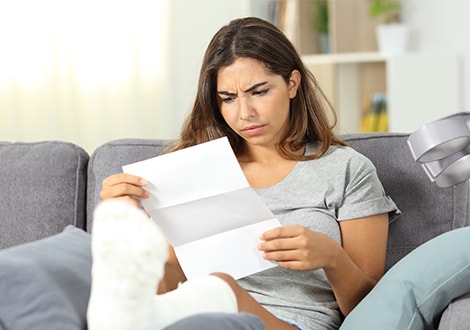 If you've filed a personal injury claim, your personal injury attorney will certainly ask for you to authorize the release of your medical records. The request will generally include the social security number, patient's name, patient account number, and birth date. 
You can choose to request different records from various dates or all of the documents in the provider's position. Fortunately, your personal injury lawyer can request these records on your behalf if you provide your permission in writing that's both signed and dated.
Additionally, you can send your request to your healthcare provider via fax or mail. In fact, many preeminent healthcare providers allow patients to request their records through an online portal. If you make your request through fax or mail, it's essential to call your provider to confirm that they received it. 
The healthcare provider will usually deny this request, but a medical subpoena can be pursued. 
Medical Records: What Happens When Insurance Adjusters Request Your Medical Records
If you've already sent a demand letter in the middle of the personal injury settlement negotiations, you may have sent a few of your records over to your insurance adjuster. In some cases, your insurance adjuster may ask for records you never sent over. 
For example, if you received an X-ray in the hospital, but you only provided your doctor's notes to your insurance adjuster, your insurance adjuster may request additional records from your radiologist. 
If there is medical evidence of a preexisting injury, your adjuster will want to see records regarding that injury. It is completely up to you to determine if their request is reasonable to you. After all, you have to provide your consent for any request. 

If their request seems reasonable, inform your adjuster that you are willing to provide the medical records they want if they pay for them (there is usually a small fee for the healthcare provider to copy your records).

If your adjuster agrees to these terms, confirm this agreement in writing for legal purposes. Next, request the records and review them before sending them over to your insurance adjuster. Be sure to remove records that do not pertain to their initial request.
Unfortunately, some insurance providers simply want to obtain your medical records to manipulate an angle to embarrass you, undermine your claim, and snoop around your medical history. 
Therefore, if their request for your medical records seems inappropriate or like a dishonest settlement tactic, do not comply. Doing so is especially important if the request does not relate to the injuries you've suffered.
For this reason, ask your insurance adjuster to explain why they need your medical records. If you're not convinced with their answer, politely inform them that their request is not relevant and it would invade your privacy. 
Remind them also that if your claim ends up in court, both lawyers will argue the merits of each side with the information provided. Don't be hesitant to be firm with your insurance provider. You are paying them, after all. They're not entitled to your medical records, nor can they coerce you into giving them away without a good reason.
Medical Reports: What Happens When Insurance Adjusters Request Your Medical Report
The medical records your doctor has may not reveal every detail about your current injuries and your claim. For example, your medical records may not make it clear how much of an accident contributed to your current injury and how much a preexisting injury was a factor. 
Your medical records may not include the prognosis for the time of recovery. Sometimes, a doctor can tell you something about the long-term effects of your injury and won't include it in your medical records. 
As a result, you or your insurance provider might want a report to receive more insight on a medical issue. If your adjuster asks for a medical report and their request seems to be reasonable, do not allow them to speak to your doctor.
Instead, inform the adjuster that you will consider their request for your medical report, and you will reach back out with a response (within a week or so). Next, contact your doctor and find out whether or not they will be willing to write a favorable report for you.
See how much they will charge you to write this report and if the report will do you some good. Then you can contact your insurance adjuster and find out if they are willing to pay for the transmittance of the report. If the adjuster agrees, send them a confirmation letter. 
Privacy Concerns:
Every state has specific terms for obtaining medical reports to achieve a legal purpose. If you plan to draft a medical records subpoena, you must first familiarize yourself with the state and federal rules regarding the Health Insurance Portability and Accountability Act of 1996 (HIPAA).
For example, the HIPAA Privacy Rule and state guidelines give you the full right to access medical records in California. The HIPAA Privacy Rule sets this legal precedent for medical records across the country. 
Reasons for Releasing Medical Records
There are several advantages to releasing your medical records in support of your personal injury claim. 
It allows both you and the defendant to determine the physical injuries and feasibility of a specific case. 

It provides details of the extent and nature of the claimant's current injuries. 

It helps to calculate the damages the injured party sustained.

It allows a medical expert to determine the true cause of the claimant's injuries and assess whether doctors practiced the right care. 
Another major reason why assessing medical records is important is that it helps the defendant better understand the plaintiff's preexisting injuries. Here's a scenario in which releasing medical records can become an issue. Let's say that a person is suing a grocery store because they fell into a sinkhole and broke their ankle. The grocery store may have reason to believe that the claimant has aggravated an existing ankle injury that the person suffered while playing basketball a few months ago. 
How Medical Records Can Impact Your Case
As the claimant, your medical records can be used to:
Determine the extent of your injuries and the merit of your claim. 

Prove the legitimacy of your injuries, either in settlement negotiations or in court. 

Calculate damages associated with your injuries, which also include intangible damages such as pain and suffering.
Calculate future damages, such as rehabilitation sessions and/or therapy.

Determine the cause of your injuries and whether your doctor practiced reasonable care.
What is Maximum Medical Improvement (MMI)?
MMI is the point at which your doctor asserts that your condition has been stabilized. This simply means that your condition is not expected to get any worse and is also not expected to get much better as well. It may be ideal for you to reach MMI before resolving your claim. If you are lucky, reaching MMI means that you have made a full recovery. You should still be compensated for all of the pain and suffering you've endured.  Unfortunately, this scenario doesn't always happen.
Functional Capacity Evaluation (FCE)
If you have previously held a job or of working age, your doctor may recommend an FCE if your ability to return to work is impaired by your lingering disability. An FCE is a comprehensive test that will screen your ability to work. It will even evaluate your cognitive capacity to check for brain injuries. Overall, an FCE is crucial for claiming damages based on a person's lost earning capacity. 
Medical Records Matter at the Settlement Table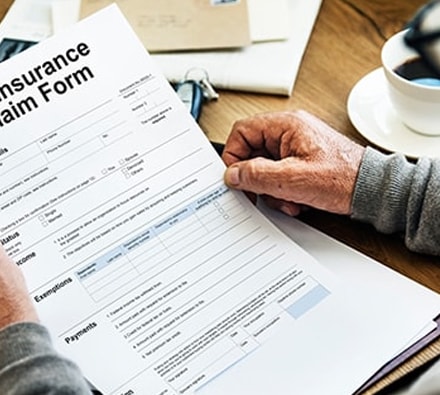 Of course, you will need to submit your medical records in court. Some people may ask, why does submitting medical records matter since most civil suits are resolved through out-of-court settlements. The most basic evidence to this question is that your medical records can help you receive leverage in your lawsuit. To be honest, an insurance company is not going to be motivated to entertain negotiations with you unless they are convinced you can prove your claim in court with some type of admissible evidence. Documented evidence of your condition, such as medical records from your healthcare provider, is one of the most powerful forms of evidence. 
Independent Medical Examinations
If your medical records support your side of the story, the defendant is not going to like it. Insurance companies placed in this situation often initiate independent medical examinations to undermine your claim and injuries. These examinations are conducted by their doctor.
Unfortunately, you may be required to participate in an independent medical examination based on the subtle terms of your insurance policy or via court order.  Sometimes, you can refuse an independent medical examination, but your refusal can be used against you in court in a way that implies that "you are trying to hide something."
The purpose of an independent medical examination is:
To confirm that you are injured.

To confirm whether your injury is as serious as you claim.
To confirm whether your injury was caused by your accident.

To find a way to undermine your claim. 
If you end up filing a lawsuit, you will be obligated to access an independent medical examination report if the defendant plans to use it in court. The chances are that the report will support your insurance company's side. Your lawyer can combat this by telling the jury that your insurance company chose their own doctor who conducted the investigation. 
Call Us Today to Speak with a California Personal Injury Attorney
If you need to hire a personal injury lawyer in California, then you've come to the right place. Our lawyers have decades of experience and have recovered more than 200 million dollars on behalf of our clients. In addition, we will never collect legal fees unless we win your case. Give us a call today at (888) 488-1391 or contact us online to speak to a member of our legal team and request a consultation.