In the aftermath of an accident, you will face various situations causing confusion and frustration. After getting medical attention, your priorities will shift toward fixing your vehicle. The first step to fixing your property is to get an estimate for repair costs.
Usually, the insurance company will suggest a body shop for you, but it may not always be the best choice. After a crash, you may wonder if you must use the body shop your insurance company suggests or if you can find one alone. If you find a body shop yourself, how do you know if this repair shop is better than the other? Continue reading to learn more about choosing the right autobody shop after a traffic accident.
Contact our legal team if you or a loved one has suffered injuries or property damage after a car crash. Our industry-recognized injury attorneys at Arash Law, whose team was founded by famous attorney Arash Khorsandi, Esq., have decades of experience helping Californians get the compensation they deserve after an accident. Contact us today at (888) 488-1391 or via chat to schedule a free no-obligation case evaluation.
The Insurance Company May Have a Business Relationship with the Body Shop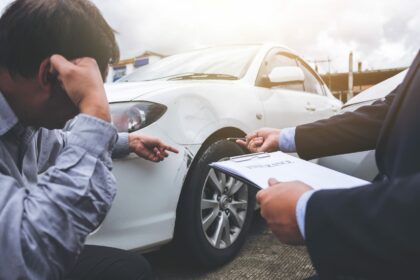 Your insurance company may have an ongoing business relationship with the repair shop they choose to use. These situations usually involve the insurance company funneling business to the body shop in exchange for lower repair costs charged to the insurance company. Because of this dynamic, you should be critical about whether the shop is the best choice for your needs.
Before you agree to take your car to the repair shop your insurance company recommends, ask yourself a couple of questions:
Does this body shop work for me or the insurance company?
Is the insurance company looking out for my best interests?
If you decide that the body shop your insurance company chose is not the best fit, consider the following while deciding on a body shop.
Remember: You Get to Choose
Yes, you can choose which body shop repairs your car after an accident. Your insurance company can and probably will offer a body shop to you, but the final decision on whether to get your car fixed at the recommended shop is yours. In fact, it is illegal for your insurance company to refuse to pay for repairs from a body shop of your choice.
Speaking to a personal injury lawyer can be beneficial before talking to your insurance company. Insurance adjusters sometimes need a reminder that the company does not have the ultimate decision-making power for repairs after an accident.
Benefits of Choosing Your Body Shop
Getting the job done well is essential after a traffic accident. Part of getting the best job done for you is taking charge of what company does your repairs. Quality and experience vary significantly from shop to shop. Sometimes, the insurance company will choose a body shop that does not have a good reputation for completing quality work. After visiting the shop that the insurance company picks, you are free to choose your own body shop if it does not seem like a good fit.
There are many benefits to choosing a repair shop yourself, including: 
Comparing shops to get the best fit for your budget
Asking about the shop's qualifications and certifications
Choosing to leave the shop if you are not comfortable with the atmosphere
The insurance company cannot limit where you get your car repaired. Choosing your own body shop gives you the agency to pick the shop that will give you the best value for your time and money. Keep reading to learn more about what you should consider while choosing a body shop.
How to Find the Right Body Shop
Choosing the best body shop to take care of your car repairs is essential. However, finding a quality body shop in metropolitan areas of California may prove more challenging than you anticipate. Here are some things to consider when choosing a body shop:
Reviews
Today, we can find a lot of information about companies online. Users can rely on online reviews to learn about previous customers' service quality. However, remember that you should always take reviews with a grain of salt. You may come across an incredibly negative review, but that can reflect that customer's bias. Generally, unless you encounter negative comments about the service, the body shop is probably a good choice.
Get Recommendations from Friends and Family
When looking for a service provider, asking friends and family is an excellent place to start. The opinions of family and friends can be more helpful than online reviews because of your familiarity with them. You know your family member's temperament and whether their reactions to their experiences are overblown or genuine.
Do Your Research
It will help if you do your research. It may be tempting to go with the first repair shop. You may also feel pressure from the insurance company to choose a shop quickly or go with their repair shop. However, remember that your insurance provider cannot keep you from going to a shop of your choosing. Your research should include reading reviews, speaking to friends and family you trust and learning what they recommend, and word of mouth.
Search for Shops Close to You
Take the time to search for a local shop. You are not limited to using chain body shops, and you can pick a well-known shop, but there are benefits to going with a smaller place. You should feel secure in your chosen shop and feel like a guest, not just another customer. Also, local shops are more likely to hold a certification and be transparent throughout the repair process.
Get Estimates
After narrowing down your choices for body shops, you can contact each shop for estimates. Once you get your estimates, you can compare prices and determine whether you can afford their services. Remember to ask what parts the mechanics will use. Ask if the shop uses new factory parts, manufacturers, or used parts. Knowing what kinds of parts the shop uses will give you a good idea of how your car will be fixed.
Check for Industry Certifications
The Federal Trade Commission suggests that drivers ask body shops whether they carry industry certifications. Certifications guarantee that shop technicians have met material repair-work qualifications. Examples of sources for industry certifications include:
Automotive Service Association
National Institute for Automotive Service Excellence
Inter-Industry Conference on Auto Collision Repair
Remain Diligent
Remain diligent as you look for the right body shop. Do not be afraid to ask questions. It will help if you get an answer to each of your questions so you feel comfortable leaving your property at the repair shop. A good technician will not be offended or shut down when you press them for information. Ask the shop if it will handle the insurance paperwork for you because getting preapproval for repairs makes the repair process easier and more efficient.
Trust Your Gut
Ultimately, it is crucial to trust your gut after an accident. Getting repairs done can be frustrating, but ensuring you get the best service available is essential. Some common signs that a particular body shop is not suitable for you include being disorganized or dirty. The shop might not be a good fit if the owner seemed annoyed at your questions or the mechanics seemed overwhelmed.
Look for a shop that is welcoming, organized, transparent about its capabilities, certified, and worth your time and money.
Benefits of Using the Body Shop Your Insurance Company Recommends
Sometimes, getting your car repaired at the shop your insurance company recommends is the best choice. The facts surrounding your situation make using the insurance-recommended body shop a better or worse decision. There are common benefits to using an insurance-recommended body shop.
Less Paperwork
There is generally less paperwork if you use the insurance-recommended repair shop. If you choose a repair shop for yourself, you may have to deal with the hassle of completing the paperwork required by the insurance company. In addition to less paperwork, going with the insurance company's repair shop is beneficial because insurance companies require the body shops they work with to guarantee their work, meaning you can get your car fixed if an issue arises from their repair for as long as you own the car.
Save Time
Getting your vehicle repaired at the body shop recommended by the insurance company is an excellent way to get your car back sooner. The shop is pre-approved by your insurance company so that you may save time and money on the front end. Going to an approved shop saves you time because there is no need to search for one, and you avoid waiting for approval from the insurance company.
Potential Discounts
Choosing to use the insurance-recommended repair shop comes with potential discounts. First, choosing to use the pre-approved body shop may help reduce your deductible. The deductible is the out-of-pocket price that you pay for repairs. The savings can help you cope during an already stressful time. You may receive more savings because the pre-approved body shop works directly with the insurance company and handles any additional costs during the repairs without you acting as the go-between.
Benefits of a Direct Repair Program
Finding the right body shop is essential. Getting your car fixed quickly and thoroughly can help you get your life back on track after a traffic accident. In this regard, many insurance companies offer direct repair programs.
A direct repair program is a network of collision repair shops that are pre-approved by your insurance company. Accident victims may wish to work with shops in this network, but it is optional. There are various benefits to using a direct repair program.
Prioritize Your Vehicle
Based on their agreement with your insurance company, a body shop of a direct repair program will prioritize working on your vehicle. You will receive the preferred treatment. Because your vehicle will be first in line, you can get your car back on the road quicker than if you took your car to an out-of-network body shop.
Quality
In-network body shops must meet quality standards set by the insurance company. Body shops have the incentive to ensure their repairs are top-tier quality. The insurance company may stop working with them if their quality is not the best. Insurance companies screen the body shops they work with before deciding to send you to get repairs done.
Use of One-Stop Shops
Choosing a body shop that is part of a direct repair program benefits accident victims by reducing the hurdles they must overcome if they choose their repair shop. If you choose a shop in a direct repair program, you can take your car to one location and complete various steps, including getting a repair estimate, fixing your car, and picking up a rental car.
Ability to Streamline Repair and Payment
Using a direct repair auto shop makes the repair and payment process more efficient. The in-network repair shops can help reduce paperwork and save time.
Warranties
Pre-approved body shops offer customers a warranty for their work. If you take your car to the repair shop of your choosing, they may also offer a warranty for their work. However, an approved shop guarantees the immediate repairs they make, and the warranty extends a nationwide network of body shops.
Questions to Ask Before Making Your Final Decision
It will help if you ask some questions before deciding which body shop to use. The answers to these questions will help ensure that your vehicle is properly cared for and that you won't have mechanical issues after returning your car. Consider asking the following questions:
How long has it been in business?
Ask the body shop owner how long they have been in business, if possible. Longevity shows that the body shop has a good reputation. Usually, if the shop does not have a positive reputation in the community, its business will not last long.
Does the shop have experience working on your type of car?
Depending on the type of vehicle, you may need a specialized body shop to complete your repairs. You may need a specialized repair shop if you have a hybrid or luxury brand car like a Porsche or Telsa. Most repair shops can fix most gas-powered vehicles. To save time finding a new shop, it is always worth asking if the mechanics at this body shop can fix your type of car.
Is there a chance the estimated price will increase after the repair starts?
Sometimes, the estimated price for a repair will increase if the mechanics working on your vehicle find other issues they must address to care for your car correctly. If that happens, you may pay a higher out-of-pocket fee for repairs. Ask the body shop whether such an increase might happen so you can prepare your budget. Estimates are unlikely to increase for minor dents or other superficial knowledge.
Does the shop offer a lifetime warranty?
Ask the shop if it offers a lifetime warranty on the repairs it makes to your vehicle. Most reputable body shops offer a warranty. The warranty may not be for a lifetime, but the shop may offer a warranty for several months or years, depending on the area.
Lifetime warranties usually cover the work completed on your vehicle's mechanical parts. However, a lifetime warranty will not cover your vehicle's structure, panels, bumpers, or other impacted areas.
Rental Car Coverage
Review the terms of your policy to determine if your coverage allows you to get a rental car. After an accident, life goes on, and you will need alternative transportation. A rental car is an excellent way to keep your life going while your car is in the shop. If you choose a pre-approved body shop, your insurance company may work with you to extend your rental care period. Check your policy to learn more about what your insurance company will cover during the rental period.
Contact Arash Law by Arash Khorsandi, Esq. for Legal Advice Today!
It is always wise to seek legal counsel after a traffic accident. After an accident, you must focus on your physical, financial, and mental well-being. In addition to those matters, you must also find a way to pay for car repairs. Our team of talented car accident attorneys at Arash Law, under the leadership of Arash Khorsandi, Esq., have decades of experience helping Californians get the recovery they need. We will handle the legal side of the aftermath of an accident, from medical bills to car repairs. We fight for our clients to receive total and fair compensation.
Contact our office today at (888) 488-1391 or via chat to schedule a free no-obligation case evaluation. We look forward to hearing from you!