Sacramento

Motorcycle Accident Lawyers
with over $500 Million Recovered in Compensation for Injury Clients.
You May Be Entitled to Compensation

Motorcycle Accident Lawyers Sacramento Riders Trust Most
Motorcycle crashes cause some of the most deadly – and expensive – injuries of all motor vehicle accidents. It is important to protect your legal right to obtain compensation for all of your injuries and losses. 
Our experienced Sacramento motorcycle accident lawyers are ready to fight for you. We work hard to protect injury victims from insurance company tactics and find all potential sources of compensation that they are entitled to. Before you hire a motorcycle attorney, it is helpful to learn more about the process. Doing so can protect you from accidentally saying something that could hurt your claim. 
Learn more about the rate of motorcycle accidents in California, common causes of motorcycle accidents, how to stay safe on your motorcycle, and the answers to frequently asked questions about motorcycle crashes. 
largest personal injury settlement in Calaveras County in 2020; client suffered lower leg injuries.
– 
Judd Ross Allen
Our California Motorcycle Accident Lawyers Know How to Get Results
You don't have to guess who is the best motorcycle accident lawyer in California. The proof is in their work, and our acclaimed law firm has a history of getting results of motorcycle injury victims. Here are just a few of the many settlements we have secured for our clients:
$1,550,000: In July 2021, we settled a case where a rideshare vehicle hit a motorcyclist. It was the largest motorcycle settlement in Tulare County in 2021. Our client suffered injuries to the spine and wrist. Because rideshare companies carry commercial auto insurance policies with high limits, we were able to get over a million and a half dollars for our client's costly injuries.
$1,450,000: Our client was a motorcycle rider who hit an uneven road surface in a construction zone. The city and its construction contractor tried to deny liability, even during the first day of trial. Our work in court was so strong that the case settled after the first day of trial. Our client suffered fractured ribs and severe head trauma. It took nearly a million and a half dollars to fairly compensate her for these serious injuries.
$1,000,000: In this case, our client started at a disadvantage. The police report erroneously listed him as the at-fault party of a collision between his motorcycle and a truck. As a result,  the insurance company assumed he was at fault and initially refused to pay him anything. Our legal team worked hard to prove who was actually at fault for the accident. We were able to settle the claim for the full limits of the insurance policy. 
These are just a few of the many results we have obtained for motorcycle injury victims. Whatever challenges the insurance company throws at us, our aggressive injury lawyers are ready to fight and prove the amount of compensation you are legally entitled to. 
California Motorcycle Accident Statistics
According to the California Office of Traffic Safety, motorcycle fatalities decreased by nearly ten percent between 2018 and 2019. That said, about one thousand riders died on the roads of California in those two years. Thousands more suffered serious injuries – sometimes, permanent disabilities that will change their lives forever, along with the lives of their families and loved ones.
The DMV reports that there were a total of 857,273 motorcycles registered in California in 2019. California consistently ranks among the states with the most registered motorcycles on the road. For this reason, we also have more motorcycle accidents than most other states. Certain road conditions can also make a motorcycle accident more likely to occur. Motorcycle riders must be aware of these risk factors and adjust their riding habits accordingly.
800+ Real Client Reviews Verified by Google
Common Causes of Motorcycle Accidents in Sacramento
Motorcycle riders, like drivers, owe a duty of care to everyone else on the road. This fact means that they have a legal obligation to operate their bikes with "reasonable prudence." Motorcycle riders and drivers must all take reasonable precautions to prevent motorcycle accidents from occurring.
By learning about the common causes of motorcycle accidents, riders can be better prepared to avoid them and prevent accidents from happening at all. In addition, doing so can save the headache of a legal claim. More importantly, it can save lives and spare the pain and suffering associated with serious injuries.
Here are a few of the most common causes of Sacramento motorcycle accidents:
According to the National Highway Traffic Safety Administration, speed was a factor in 26 percent of all traffic fatalities in the U.S. in 2019. NHTSA estimates that 9,478 road deaths in 2019 were related to speeding. There are many reasons why speeding is so dangerous: first, it increases the stopping distance you need at the exact moment you have less time to react. Second, speeding increases the amount of force generated in a collision. Protective equipment is less effective at high speeds. This fact is why injuries are more likely to be fatal in accidents involving speeding.
Lane splitting is the practice of riding a motorcycle between two lanes of stopped (or slowed) traffic. California is the only state in the U.S. to allow lane splitting. It being legal does not mean it's safe. In fact, lane splitting can be highly dangerous. Drivers rarely expect to find a motorcycle riding next to them in between lanes, which can lead to accidents. Additionally, motorcyclists often lane split during a risky time: in heavy traffic, cars are slowing and moving and stopping frequently. These conditions make it difficult for motorcycle riders to predict other drivers' moves.
Parking lots and garages are other examples of places where drivers may not be expecting motorcycles. Often, a driver is concentrating on backing up and not watching the area around their vehicle. As a result, they may have difficulties spotting motorcycles (especially in a poorly lit parking garage). Riders should be especially careful in lots and garages. Use your horn or lights as necessary to make your presence known to other drivers.
For years, researchers have known that being drunk impairs the ability to safely operate a vehicle. This information has even resulted in action: all fifty states prohibit drunk driving, and there can be severe criminal penalties for engaging in it. There have been decades of constant public awareness campaigns about the problem.
And now, with the wide availability of rideshare services like Uber and Lyft, it is easier than ever to avoid drunk driving. Yet, despite all this, it still happens way too often. NHTSA reports that 29 percent of all motorcycle operators killed in 2019 were legally impaired at the time of their death (i.e., had a blood-alcohol level of .08 or higher).
And among all vehicle types, motorcycles had the highest rate of drivers impaired by alcohol at the time they were involved in a fatal collision. One in four drivers, or 25 percent, were legally drunk at the time of the accident.
Motorcycle riders, like all other road users, have a legal obligation not to operate a motor vehicle while they are impaired by alcohol. There are many ways to avoid drunk driving:
Call a cab
Call a friend
Use a rideshare service, like Uber or Lyft
Walk
Designate a sober driver for the evening
Whatever you spend on a cab or Uber, it will be nothing compared to the costs of an accident or criminal charges. It could also prevent a lifetime of guilt over injuring someone else – or even killing them. Drunk drivers must be held accountable for their actions to deter other drunk drivers in the future. Our top-notch law firm fights hard to protect the rights of injury victims who have been harmed by drunk drivers.
Alcohol is not the only substance that can impair a driver's ability to safely operate a motor vehicle. Street drugs, prescription medications, and household substances (like spray paint) can all be used to get high. California law prohibits the operation of a motor vehicle by anyone who is impaired "to the slightest degree."
This means that a rider could face criminal charges, civil liability, and even a driver's license suspension if they took even the smallest amount of any of these substances before driving. Impaired driving has been a particular problem during the country's opioid epidemic.
Motorcycles are difficult to see in the roadway because they are smaller and less well-lit than passenger vehicles. If a driver is impaired, it could be even more difficult for them to see a motorcycle rider, and serious injuries are likely to result. It is important to hold these drivers accountable for their actions.
Even if the driver just took a prescription medication as directed, it might not be safe for them to drive. This is why these medications come with warnings. Our Sacramento motorcycle accident lawyers know how to prove all types of impairment. 
Distracted driving has become a major problem in recent years. NHTSA estimates that over three thousand victims were killed by distracted drivers across the United States in 2019. Drivers have always been distracted by the radio, eating and drinking, pets and children, and their cargo.
But now, vehicles are equipped with built-in navigation programs, calling features, and entertainment systems. Drivers have a legal obligation not to allow themselves to become distracted by these features. If they do, and a motorcycle rider is injured, the driver is legally responsible for paying for all of the rider's injuries and losses.
Motorcycle riders are entitled to ride a bike that is safe. If a bike is sold with dangerous defects, the manufacturer can be held liable for any injuries in an accident caused by the defective motorcycle. This is the reason why manufacturers will voluntarily pay for costly recalls: it is less expensive to recall the part than to pay hundreds of personal injury claims and possibly even wrongful death lawsuits.
There are hundreds of individual parts and systems within a motorcycle. Our experienced Sacramento motorcycle accident lawyers know how to prove what went wrong and how the motorcycle was defective. We work with experts to resolve the technical issues involved in motorcycle cases to be sure that you get the compensation you are owed.
8
Poor Roadway Conditions
Uneven road surfaces can cause a driver to lose control of any vehicle. This is particularly problematic for motorcycle riders: unlike passenger vehicles, a motorcycle has no stability systems, and a rider must maintain physical control of the bike at all times. Potholes, trenches, salt damage, and poor construction work can all leave a roadway in a dangerous condition.
Motorcyclists who are injured by poor roadway surfaces have the right to obtain compensation from the party who was responsible for the roadway. This could include a construction company, a city or municipal entity, a state highway agency, or other government entities.
Heavy traffic can lead to accidents for all kinds of reasons. Some drivers simply become impatient and engage in road rage behaviors. Tailgating, honking, speeding, and other forms of aggressive driving can cause accidents, and motorcycle riders are most vulnerable to road rage crashes. Heavy traffic also often involves a lot of stop-and-go (or slow-and-go) driving with frequent braking.
Some drivers stop paying attention after a long drive stuck in traffic. Rear-end collisions are common in these situations. Motorcycle riders can prevent these accidents by avoiding heavy traffic wherever possible. Check the traffic on your navigation program before leaving to see if there are any hot spots you should avoid.
If you consistently have traffic problems on your commute, try a different route to see if the traffic is any better. And most importantly: do not lose your cool when you are stuck in traffic! Road rage, inattention, and speeding are all common in heavy traffic, but they can all lead to preventable deaths.
Injured Motorcycle Riders in Sac-Town Can Get Paid For Their Injuries Even When They Are Partly At Fault for Causing the Accident
Car accident cases do not always have just one person who was at fault. Fault can be assigned to both drivers, or other road users, or even a company that was nowhere near the scene of the accident (for example, when a manufacturer is liable for an accident caused by a defective vehicle.) When a motorcycle is involved in a collision with a driver, another motorcycle, or a bicycle rider, the motorcycle rider can be found partly at fault. The good news is that California law still allows injury victims to get compensation for their injuries, even if they were partly at fault for the accident that caused them.
"Fault" or "liability" is assigned to everyone involved in percentages. The injury victim can recover compensation from each defendant for their percentage of fault. So if, for example, a motorcycle rider and a driver were each fifty percent at fault for an accident that caused the rider $100,000 in injuries, the rider could still recover $50,000 from the driver for their half.
There are many things a motorcycle rider can do to be found at fault. Distracted driving, impaired driving, and speeding are common causes of accidents. But motorcycle riders can also be found partly at fault if they were violating a traffic rule at the time of the accident. Here are some common traffic rules that apply to motorcycle riders on public roads in California:
Helmet use (Section 27803 of the California Vehicle Code)
Daytime use of headlights
Wearing a full headset while driving (riders may have one earbud in, but one ear must remain uncovered)
Lane splitting (though not illegal, it is dangerous and can be the cause of an accident)
Never assume that you cannot get any compensation because you might have been partly at fault. Injury victims should also not assume they are at fault because the other driver's insurance company says so.
Remember, they are not on your side: they work for the other driver, and their job is to get out of paying you if they can. Injury victims have the right to get legal advice from their own accident lawyers. The Sacramento personal injury attorneys at our reliable law firm can advise you if you might be partly at fault and whether this is likely to reduce the amount of compensation you deserve.
Wrongful Death Claims in Sacramento Motorcycle Accident Cases
Sadly, not all motorcycle accident victims are able to survive their injuries. Hundreds of riders are killed every year across California. If your loved one was killed by a negligent driver or due to a defective motorcycle, you might have the right to file a wrongful death claim. This is not an easy process. Grieving loved ones must relive painful memories and learn horrible details about the death of a person they cared about.     
Despite this, it is important to hold defendants accountable for their negligence – particularly when their actions were so bad as to cause unnecessary death. The experienced wrongful death attorneys for motorcycle accidents at Arash Law headed by Arash Khorsandi, Esq. work with family members to prepare them for the difficult legal process. We will prepare for every difficult task and support you at every step of this painful process.
FAQs About Sacramento Motorcycle Accidents
The more you know about motorcycle accident claims, the better you can protect your legal rights until you are able to hire an attorney. Here are some of the most common questions our Sacramento motorcycle accident lawyers are asked: 
1
What should I say to the insurance company?
You should only talk to your own insurance company. If someone calls you from the other driver's insurance company, you can either refer them to your lawyer or let them know that your attorney will contact them. Insurance companies often try to take advantage of injury victims who do not have attorneys. They might ask for a recorded statement that could be used against you later. They might even try to pressure you into settling your case quickly before you can get your own lawyer who can tell you what your claim is really worth.
The best way to protect your legal rights is to simply say as little as possible until you have hired a lawyer. Once the other driver's insurance company is notified that you have counsel, they may no longer contact you directly about your case. All communications must go through your attorney's office.
2
How do I know which motorcycle accident lawyer to hire?
A quick internet search for "Sacramento motorcycle accident lawyer" will show you dozens of options right in your local area. So how do you know who the best accident lawyer is? It is important to find an attorney who has experience with cases like yours. A lawyer who also practices criminal defense, family law, and other areas may not have enough personal injury law experience to expertly handle your claim.
Even a personal injury lawyer may not have experience handling motorcycle accident claims. Motorcycle cases involve different legal, technical, and medical issues than other types of personal injury cases. The personal injury lawyers at our award-winning law firm have handled many motorcycle accident cases and won millions of dollars for our motorcycle injury clients. We will fight hard to prove your case and get the compensation you deserve for your motorcycle accident injuries.
3
What is a bodily injury claim?
There are different types of insurance claims for different types of losses. A property damage claim covers the cost of repairs to your motorcycle. (It can also cover other property damage, such as a cell phone that was crushed in the collision.) A bodily injury claim pays compensation for all the losses you have suffered due to injuries caused by the defendant. This includes both economic and non-economic losses.
4
What is the difference between economic and non-economic damages?
You are likely to hear these terms as your case is settled. The fact is, motorcycle injury victims suffer all types of losses due to their injuries. Some of these are economic losses, such as medical bills and lost wages from missing work. Other losses are non-economic.
These intangible losses include physical pain, emotional suffering, a decrease in the quality of life, and other losses that are difficult to prove. These non-economic losses can also be called "pain and suffering" or "general damages." Insurance companies like to attack the value of non-economic damages precisely because they are so difficult to prove.
After all, how can you put a dollar amount on missing your graduation or being unable to hold a child? Our motorcycle accident lawyers know how to prove the fair value of these losses in order to get the compensation you deserve.
5
How long will my case take?
Every case is different. If the defendant is clearly at fault and the insurance company agrees to a fair case value, it might be possible to settle your case in as little as a couple of weeks. But many cases take longer than this. The insurance company might try to blame you for the accident, or say that your medical care is too expensive, or simply make a lowball offer.
In these cases, our attorneys work hard to prove the value of your case. We obtain evidence and work with expert witnesses and investigate every possible claim, which can take time. Sometimes, a complicated injury requires more extensive treatment, and this too takes time.
If the insurance company refuses to make a fair settlement offer, your lawyer might advise you to file a lawsuit. The court process can take time as well. Be patient! Even if it takes some time to do this work, it is the best way for your attorney to get you the compensation you deserve.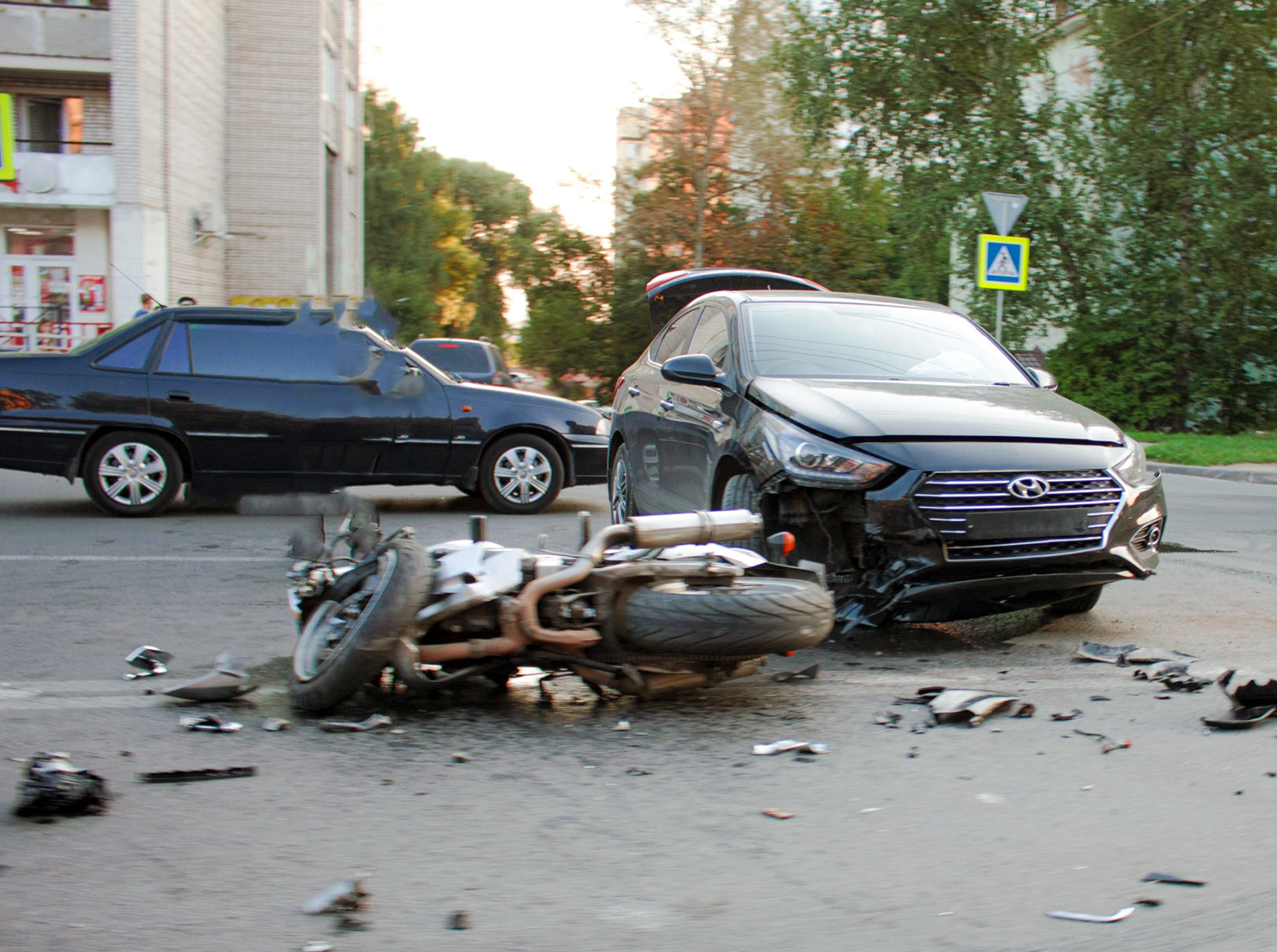 Experienced, Aggressive Sacramento Motorcycle Accident Lawyers
You could search online for "Sacramento motorcycle accident lawyers near me," but you have already found one of the top injury law firms in California. Our skilled Sacramento motorcycle accident attorneys have decades of experience. We understand the legal, technical, and medical issues that are specific to motorcycle injury claims.
Our skilled legal team has collected over 500 Million dollars for clients across the Golden State. We serve clients in Los Angeles, San Francisco, Riverside, Bakersfield, Santa Barbara, San Jose, San Diego, Fresno, Sacramento, Sherman Oaks, and throughout California.
We serve all of Sacramento and the surrounding areas. Call (888) 488-1391 or contact us online today to schedule your free consultation.
Get The Latest News from

The Best California Accident Law Firm Today