What Is An Auto Insurance Claim?
So in case you are not aware, a claim is where you will ask the car insurance company to help you get compensated for damages that you may have received after an accident has occurred. It is also when you have an insurance company representing you or intervening on your behalf if you are the one who is responsible for damages after an accident. With that said, you are going to pay a lot of money for your car insurance, and you should definitely pick the best company for you before any auto accident ever occurs.
Remember that while saving money is good, you don't want to skimp on quality service, either. There are many good auto insurance companies, but there are also a few shady ones that will try to play hide-and-seek when you need to file a claim. All that said, let's dive into the five steps to filing a claim!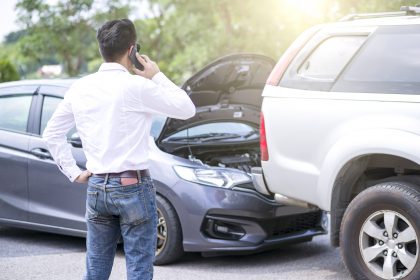 Step One: Call 911 From the Scene
There's no question here of injuries or no injuries, and a police report will help you with your auto insurance claim. Not only will it help you, but not having one is almost worse. Let's say you and the other party try to leave the scene without reporting the automobile accident that is illegal in some states.
Then there are the matters of injuries, hostility, and your beat-up car, truck, or SUV. We all hope not to get into accidents, but they happen. Then we just hope no one gets hurt. Sadly, people are hurt more often than not, and another reason to call 911 is to get yourself checked out. Car accidents can lead to long-lasting injuries that need to be deal with, which we'll get to.
Then there are the "hostilities" that you might receive from the other drivers. Most are not in a good mood after an accident. Some will be polite and even show concern for your well-being. Some might also threaten you or get violent. Do yourself a big favor here and call 911. After all, if they start brandishing a weapon, your car might not be able to get you to safety. Also, note that a lot of states will have you submit a report to the local DMV as well. If you're not sure whether or not you have too, call your insurance agent ASAP.
Step Two: Gather Information & Pictures About the Accident
First and most importantly, take pictures of your car as soon as you can. Do it at the scene if you have the ability. You will need pictures of every accident impacted part of your car, and they will need to be of decent quality.
Then write down everything that you may need to file your claim. Make notes for what you're going to say so you don't forget an important detail. Write down any phone numbers you may need to call or give to your insurance agent. Another thing you can do at the scene if you are healthy enough is getting the information of willing witnesses. They will be vital for your car insurance claim to move forward.
Step Three: It's Time To Call Your Insurance Company
Again, if you can do this from the scene of the car accident, you are golden. Your insurance company might even just send someone out to the accident scene. Remember that bit earlier about paying for good service? Yeah, that is where this applies. If you're still at the accident scene, then your car insurance might even pay for a tow-truck, assuming you have that included in your insurance. You might also want to include rental car coverage in your auto insurance. Either way, once you have called your insurance company, then they will begin handling your claim.
Step Four: Your Insurance Agent
At this point, you will be assigned a specific insurance agent from your insurance company. They will begin talking to all other parties involved to work out the best deal for you. Their main goal is to get you and your car back on the road as soon as possible. They will investigate all the circumstances and evidence. Hence why it is so important for you to have all your information in order.
They will also guide you through many important decisions and might even make a few good recommendations on where is best to get your car fixed. They will either meet with you in person or simply give you a call, which is normally up to you. If you have rental car coverage, then they will help you with that as well so that your car can be properly fixed.
They will also investigate any personal injury you suffered and add it to your claim. Note that it is important to see a doctor within two weeks of an accident in most states. If you did not go to the hospital from the accident, then schedule an appointment with your physician to get yourself checked out. A claim will go through more smoothly with the more information your insurance agent has.
Diminished Value Claims & Total Loss Claims
While not a step in itself, this is a little side note about these two subjects. If your car was damaged severely but not severely enough for a total loss claim, then you should consider filing a diminished value claim. This will offset any financial loss down the road as your car will not be worth as much.
A total loss claim is when your car is totaled and simply not repairable. This usually happens when there is severe damage to the frame. A vehicle's metal frame is very difficult to fix and usually impossible. Even if it is fixed, the car may never drive the same again.
The final subject of this topic is gap insurance. If you have a newer vehicle that you owe money on, then you may have gap insurance. Be sure to inform your insurance company of this and get in contact with the company that handles your gap insurance. Not doing so could be a painful monetary mistake.
Step Five: Wrapping Up Your Claim
With any luck, you should be driving your car, good as new, away from the bank with a good claim payment. However, there are a few things that will prevent this from happening. The first of which are you doing something with your car without letting your insurance company know. Never have any work done to the car without the insurance company's approval. They are the ones paying for it, after all.
Just be sure to pay any deductible you have when you're asked to do so. Your insurance adjuster will give you an estimate that will sufficiently outline the work that will be done to your vehicle. Also, remember that your insurance company's response is based on the coverage you pay for with them.
If you need a California car accident lawyer or you feel you are being treated unfairly or unjustly by any involved party, including your own insurance company, feel free to contact a reputable attorney like those at Arash Law, who you can call anytime at (888) 488-1391.