It can be difficult to pinpoint the precise odds of the chances for dying in a car crash, however, motor vehicle accidents that relate to deaths in the United States total around 90 each day and more than 32,000 yearly. The NHTSA, also known as the National Highway Traffic Safety Administration, made a report that in 2018 traffic deaths had decreased, but there were still 36,560 accidents that year.
In the past, the survival rate for a car accident was fairly low, but with advancements in technology as well as road safety guidelines, the Insurance Institute for Highway Safety says that fatalities for car accidents have declined by more than a third in more recent years. In spite of this decrease, car accidents are still one of the leading causes of death in the United States. The leading cause of death for individuals that are aged between 1 and 54 is road traffic accidents.
The Facts About Global Road Traffic Injuries and Deaths
Yearly, 1.35 million individuals are killed on the roadways. 

Nearly 3,700 individuals are killed each day around the world in traffic accidents that involve buses, cars, bicycles, motorcycles, pedestrians, or trucks. 

It is estimated that injuries related to road accidents are the 8th leading cause of death for all age groups. 
COVID-19 Affect on Accidents?
Surprisingly, the empty roads are riskier than before the pandemic caused by COVID-19. A news release by NSC shows that despite the decrease in driving and mileage of drivers, there has been an increase seen in a few places. The early data is indicating a 14 percent jump in year-over-year fatality rates per miles that were driven in March, despite an 8 percent drop in the total number of car accident deaths in March of the previous year. 
Below are the states that have seen an increase in car accident deaths within the first 3 months of 2020.
Arkansas (16 percent)

California (8 percent)

Connecticut (42 percent)

Illinois (11 percent)

Louisiana (23 percent)

Nevada (10 percent)

New York (17 percent)

North Carolina (10 percent)

Oklahoma (9 percent)

Tennessee (6 percent)

Texas (6 percent)
The states listed below have seen decreases in the number of car accident deaths for the first three months this year.
Arizona (-4 percent)

Hawaii (-32 percent)

Idaho (-28 percent)

Iowa (-13 percent)

 Maryland (-13 percent)

Michigan (-12 percent)

Oregon (-24 percent)

South Carolina (-12 percent)
Due to the pandemic, the number of miles driven for the first 5 months of 2020 went down 17.3% in comparison to 2019. The total deaths for 2020 currently total 13,890 for car-related accidents which have decreased 6 percent in comparison to 2019.  According to these statistics, the odds of car accident fatalities are approximately 1 in 77. The victims for motor vehicle incidents include bicyclists, passengers, pedestrians, motorcyclists, and other victims. 
Top 10 States with the Highest Vehicular Accident Death Rate Per 100,000 People in the U.S. 
Montana

               22.6

Mississippi

           20.5

North Dakota

      20.5

West Virginia

      17.9

Alabama

               17.6

Oklahoma

            17.6

Arkansas

              16.3

South Carolina    16.1

South Dakota

     16.0

Tennessee

           15.3
Top 10 States With the Lowest Auto Accident Death Rate Per 100,000 People in the US
New Jersey

                 6.1

New York

                    6.1

Rhode Island

             6.2

Washington

               6.3

Alaska

                         6.9

Minnesota

                  7.1

Hawaii

                        7.3

Utah

                            7.6
---
How to Improve Your Chances of Surviving A Car Crash
Most Americans will be involved in a car accident in one way or another every 17.9 years according to the car insurance companies based on automobile collision claims. That is why it is so important to be prepared in advance in case of an accident. So, let's go over some of the ways to keep you and your passengers safe. 
Choose The Right Car
When buying a vehicle, it is important to find out just how that vehicle will handle a crash. Modern cars are a lot safer than those from the past. Features such as:
Anti-lock Braking Systems (ABS)

Electronic Stability Control (ESC)

Tire Pressure Monitoring Systems (TPMS)

Back-up cameras.
Back-up sensors.

Park assist (Self-parking)

Voice controls.

And more
All of this help to make a car safer and help to lower the number of serious accidents that end in deaths.
Avoid Crashes When Possible
This may seem self-explanatory, but you should try to avoid accidents whenever possible. There are a lot of newer cars that have alerts that sound whenever you are likely to be in an accident. This used to be a feature that was solely in luxury or expensive vehicles, but these features are now becoming the standard for all vehicles. 
Some of these features help you to see better by highlighting your blindspots, others will warn you if you are about to hit a vehicle in front of you or if you are drifting into another lane. These features are extremely helpful in preventing accidents as they are able to warn drivers before the accident occurs. Another newer feature of vehicles is adaptive cruise control, which will allow the driver to set the distance they want to be from the car in front of them. The vehicle will then slow down or signal when another car cuts in front of them within that distance. 
However, it is important to keep in mind that you are still responsible no matter how high-tech a vehicle you have. These vehicles are not perfect, and a machine or the technology itself will not be who is blamed in the event of an accident. 
Wear A Seatbelt
Again, this should be obvious but always wear your seatbelt. It doesn't matter if you are only on a short trip around the corner. It does not matter what seat you are in either, drivers and passengers both should be wearing their seatbelts.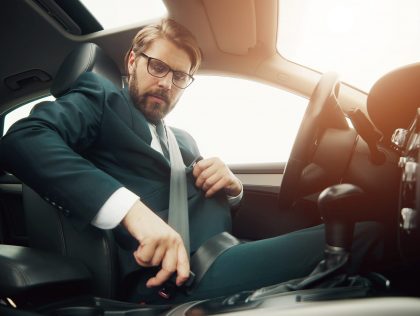 It is also important to ensure any children riding with you are buckled properly in their seats, whether they are in a booster seat, car seat, or if they are old enough for just a seatbelt. Be sure that it is the appropriate protection needed for their height, age, and weight. 
Remember any child or infant that is shorter than 32-35 inches tall, then the seat needs to be rear-facing. If you are concerned about purchasing multiple car seats for children, there are car seats that convert from rear to front-facing. There are also 3-in-1 car seats that can have your child protected until it is time for them to sit without a car seat. Be sure to look into the rating of the car seat you intend to purchase which is provided by the National Highway Transportation Safety Administration.
Seatbelts were made standard for cars after the 1960s, however, they were not required by law until the 1980s. According to the statistics, seatbelts were able to save 329,715 lives. The survival rate for a passenger vehicle when not wearing a seatbelt is only 50%, and these numbers only go down if you are driving a light truck or SUV.
If you are not riding in a vehicle that has seatbelts, such as a bicycle, motorcycle, or motorbike, there are still safety measures you can take. Wearing your helmet is the most important decision you can make in this case.
Sit Properly 
It is also important to have proper posture as it helps save lives. If you are not sitting correctly you can be seriously injured or killed in an accident. Remember that the more contact your body has with the seat, the better. This is advice that goes for both the driver and passengers of a vehicle. It is important that your head is protected as whiplash can occur in serious accidents. A neck pillow or travel pillow can be helpful in this case. 
Drive Defensively & Safely
Defensive driving is essentially ensuring you are focused on the road to avoid any potential danger. When risks are inevitable, respond in a conscious manner to any hazards in your way. It is being cautious of your surroundings. 
You also need to drive safely, distractions while driving can cost lives. Don't text, email, or get on any social media while driving. Eating and driving is also a distraction that could cause an accident. When you are at the wheel of a vehicle, your focus should solely be on driving. If you do not drive with two hands normally, be sure that you are able to have both hands available in case of any incidents. 
Tips To Help You Stay Safe
Here are a few basic tips to help you stay safe when driving:
Pay attention when driving.

Be alert and adjust your driving as needed.

Be sure to learn how your vehicle drives. Know how it turns, its stopping distance, as well as all other features. 

Drive safely, do not cut off other drivers. 

Keep your emotions under control. 

Stay a distance of two seconds behind other cars that are in front of you. Or keep at least a car's distance between you and other vehicles.

 Keep up with the flow of traffic, don't go too fast or too slow.
Learn about your vehicle and know its safety features.

Be sure your brake lights and headlights.

Obey the laws of traffic and use turn signals.

Try taking a defensive driving course. 

Never drive when impaired by drugs or alcohol.

Look at the  Association for Safe International Road Travel (ASIRT) for information about driving hazards and road safety risks by country.

Check out the country information page on the U.S. Department of State website for more information regarding road safety, security, and overall safety.
How to React In Case of An Accident
The response you have after an accident can save or end your life. Let's go over some basics on what you should do if you ever find yourself in a car accident. 
Here's what to do after an accident:
Do not panic. Stay at the scene of the accident, if possible, and be sure everyone is alright. Be sure you are alright before checking on others.

If possible, move to a safer location. Put on your emergency flashers in order to prevent any further accidents. 

Call the police in order to report the accident. A report should always be made unless the accident is minor and no property damage or injuries occurred. 

Be sure to exchange insurance information with all other parties involved. If possible, take photos of license plates and all vehicles at the accident. 

Do not admit fault, even if you think you were the cause. There may have been other instances that caused the accident. Stick only to the facts when talking to the officers at the scene and be as detailed as possible.

Be sure to seek medical attention by going either to the hospital or your primary care doctor as soon as possible. Even if you do not feel pain immediately, some symptoms take time to present themselves. 

Talk to the insurance adjusters on the day of the accident, if possible. 

Make a file that contains all documents related to the accident. It should have a copy of the police report, medical bills, injury treatment plans as well as any other documents that relate to the incident. 

Chat with a lawyer. Here at Arash Law, we offer free consultations so you can discuss your accident without risk or obligation. Give us a call at (888) 488-1391.
No one is able to predict a car accident, but you are always able to prepare for them. Keep a checklist like the one above in your glove compartment in order to stay prepared. This can help you to stay calm and collected after an accident, and best assist you in protecting your rights. 
This checklist can help you feel better prepared after a serious car accident. If you still need help and are not sure what to do, call our award-winning car accident attorneys at Arash Law. We will walk you through step by step of what to do.