Glendale

Truck Accident Lawyers
with over $500 Million Recovered in Compensation for Injury Clients.
You May Be Entitled to Compensation

Powerful Truck Accident Lawyers Dedicated to 

Defending the Injured in Glendale
Your physical well-being and financial stability face imminent jeopardy when an 18-wheeler unexpectedly swerves into your lane, rear-ends you, or collides with your vehicle in any manner. From the moment of impact to years into the future, the repercussions of this traumatic event are likely to persist. Fortunately, seeking assistance from Glendale truck accident lawyers can be the solution for your compensation claim. For a free and no-risk consultation, contact us at (888) 488-1391 or fill out our online "Do I Have a Case?" form on our website.
After experiencing a life-altering truck accident, victims often find themselves yearning to regain the sense of normalcy they once had. The linchpin for a successful recovery lies in obtaining the compensation rightfully owed from the individual accountable for the crash. The avenue to securing what you deserve often involves pursuing a personal claim.
However, navigating through this process successfully poses a considerable challenge for those lacking substantial legal expertise. At Arash Law, headed by Arash Khorsandi, Esq., our Glendale truck accident lawyers are dedicated to aiding you in obtaining the financial restitution essential for your recovery from injuries and losses. Recognizing the hardships involved in overcoming a severe accident, we are here to champion your case.
Paz v. Airfax Logistics (settled on 5/26/2020) – settlement in a case involving a client who was involved in a trucking accident and sustained a traumatic brain injury and other trauma.
– TINA ESHGHIEH
Truck Accident Statistics
Each passing year witnesses a growing presence of trucks on the roads throughout the United States. These mighty vehicles, with their powerful engines and imposing presence, have become an integral part of our modern transportation system. Whether delivering goods to our local stores or transporting essential supplies across the country, trucks keep our economy moving.
The surge in truck traffic can be attributed to various factors. This spike may contribute to the escalating fatalities resulting from truck crashes, as projected by the National Highway Traffic Safety Administration (NHTSA). Their estimates indicate that truck accidents led to 5,610 deaths in 2021, marking a 13% increase from 2020 and a staggering 52% rise from 2010.
California consistently ranks among the top three or four states with the highest truck accident fatalities. This upward trajectory of truck accidents and fatalities also holds true for Glendale. Given California's warm climate, truck accidents often involve more than just motor vehicles; they encompass various modes of transportation, such as bicycles, scooters, skateboards, roller skates (blades), and pedestrians. With limited protection, if any, these truck accidents tend to result in more severe injuries and deaths—nearly 70%, which is twice as likely as a passenger in a car.
Understanding Fault in 18-Wheeler Accidents
When it comes to the unfortunate event of a Glendale semi-truck accident, one of the most crucial aspects to consider is identifying the party responsible. Determining liability is a vital step in seeking justice and ensuring that the appropriate actions are taken to prevent such incidents in the future. Undertaking the task at hand can prove to be quite challenging, as multiple parties may bear varying degrees of responsibility. This system in California law is known as pure comparative negligence.
Here are some potential parties that could be held accountable for your commercial truck crash:
Truckers – Drivers who operate semi-trucks while drowsy, drunk, distracted, or recklessly can significantly contribute to accidents. Holding such drivers financially accountable is a viable option.
Trucking Companies – If trucking companies violate federal or state regulations, such as overworking their drivers, they may be implicated in your claim for compensation.
Cargo Loaders – Improperly loaded or inadequately secured cargo is a common cause of truck accidents. If your Glendale truck accident attorney can demonstrate that the cargo was loaded carelessly, you may pursue compensation from the responsible party.
Mechanics – Regular maintenance is crucial for trucks. In cases where poor maintenance or shoddy work leads to crashes, holding the mechanic accountable is a potential course of action.
Manufacturers – Large commercial vehicles consist of numerous parts, and defects in any of these components could contribute to a truck accident. If a defective part played a role in your Glendale truck accident, the manufacturer might be liable for your injuries.
Local Government Agencies – Hazardous road conditions, such as narrow lanes, sharp turns, or debris, can pose risks for any vehicle, including huge trucks. If such conditions contributed to your truck accident in Glendale, seeking compensation from the government agency responsible for road safety may be an option.
Truck accident lawyers in Glendale will meticulously examine all available evidence to identify the individuals or entities you should include in your compensation claim. Arash Law's experienced truck accident attorneys Glendale trusts understand the intricacies of these cases and recognize that various entities may share the blame.
From negligent truckers and violating trucking companies to careless cargo loaders, mechanics, manufacturers, and even local government agencies responsible for road safety, we leave no stone unturned in assessing the factors contributing to your accident.
800+ Real Client Reviews Verified by Google
Truck Accidents Regularly Result in Severe Injuries
Examining data from the Federal Highway Administration reveals that the sheer size and weight of large commercial trucks are genuinely remarkable. These colossal vehicles can tip the scales at a staggering 80,000 pounds while stretching up to 75 feet in length. It's important to note the specific dimensions may vary depending on the type of connection employed between the trailer and the tractor.
When it comes to collisions on the road, the size of vehicles plays a crucial role in determining the severity of injuries. Compared to traditional passenger cars, commercial vehicles are significantly larger, which can lead to more severe consequences in case of an accident.
In a car accident, both drivers and passengers are unfortunately at risk of sustaining various injuries. In traditional cars, these incidents can lead to a range of common injuries. The following are some of these injuries and their potential impact on those involved.
Spinal cord trauma with paralysis – Damage to the spinal cord that results in the loss of sensation or movement in certain parts of the body.
Severe neck or back injury – Serious damage to the neck or back, often involving fractures, herniated discs, or other structural issues.
Whiplash – A neck injury caused by a sudden, forceful back-and-forth movement, commonly occurring in car accidents and even truck accidents.
Traumatic brain injuries – Injuries to the brain caused by a sudden impact or force, potentially leading to cognitive and neurological impairment.
Concussions – Mild traumatic brain injuries characterized by temporary loss of normal brain function.
Head fractures or facial wounds – Fractures to the skull or injuries to the face, which can vary in severity.
Severe lacerations or puncture wounds – Deep cuts or wounds that may result in significant bleeding and tissue damage.
Crush injuries or amputations – Injuries caused by the compression of body parts, potentially leading to severe damage or loss of limbs.
Internal bleeding or organ damage – Damage to internal organs or blood vessels, often not visible externally but can be life-threatening.
Significant scarring or disfigurement – Permanent, noticeable marks or alterations to the appearance of the body, which can have psychological and emotional effects.
The Value of Your Truck Crash Claim – Potential Damages in A Truck Accident Lawsuit
Once you have meticulously recorded every detail of your injuries and established the party responsible for your unfortunate semi-truck accident, it is time to seek the guidance of skilled Glendale truck accident lawyers. With their expertise, you can accurately assess the worth of your injury claim and pursue rightful compensation.
When determining the value of your claim, various factors come into play, primarily the types and severity of the damages you suffered. These factors play a crucial role in assessing the compensation you may be entitled to. Understanding how these elements influence the value of your claim is essential for navigating the legal process and ensuring you receive fair compensation for your losses.
When involved in a large commercial truck accident, the resulting damages can be extensive and overwhelming. In the aftermath of a truck accident or personal injury lawsuit, various types of damages may be available to you. These include:
Medical Expenses: Large commercial vehicle accidents often lead to severe injuries, necessitating extensive medical treatment such as surgeries, hospital stays, medications, rehabilitation, and ongoing medical care. Our Glendale truck accident lawyers play a crucial role in ensuring that you receive compensation covering all your medical expenses.
Lost Wages: If your injuries prevent you from working, claiming lost wages is possible. Reliable Glendale truck accident attorneys will evaluate your current and future earning capacity, calculating compensation for the income you have lost or will lose.
Property Damage: Truck accidents often result in substantial damage to your vehicle, potentially leading to complete destruction. Compensation can be sought to cover the costs of repairing or replacing your vehicle.
Pain and Suffering: Accidents involving large vehicles can cause significant physical pain and emotional distress. Compensation may be available for the physical pain, mental anguish, and emotional suffering resulting from the accident.
Emotional trauma: Additional compensation for the psychological impact of the accident, addressing issues like anxiety, depression, or other emotional distress resulting from the incident.
Wrongful Death: In the unfortunate event of a loved one losing their life in an accident, a wrongful death lawsuit may be an option. This legal recourse allows you to seek compensation for funeral expenses, loss of financial support, and emotional suffering.
Seeking guidance from truck accident lawyers in Glendale is critical if you want to receive the deserved compensation for the damages you've endured. These legal professionals will advocate on your behalf, collecting evidence, negotiating with insurance companies, and representing your best interests in court to secure financial reparation for your losses. Contact Arash Law today for compassionate and knowledgeable Glendale truck accident attorneys who prioritize your well-being.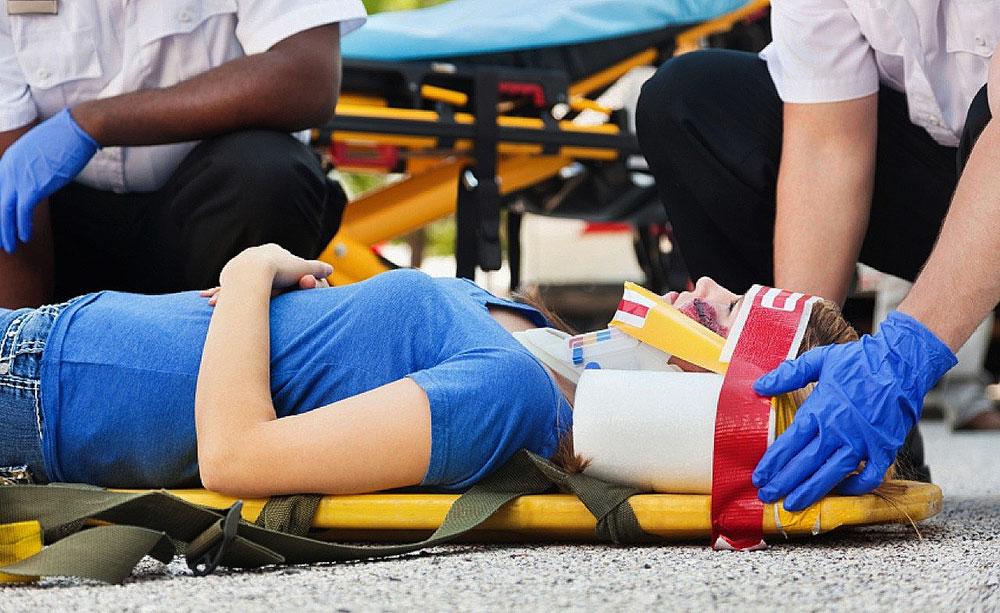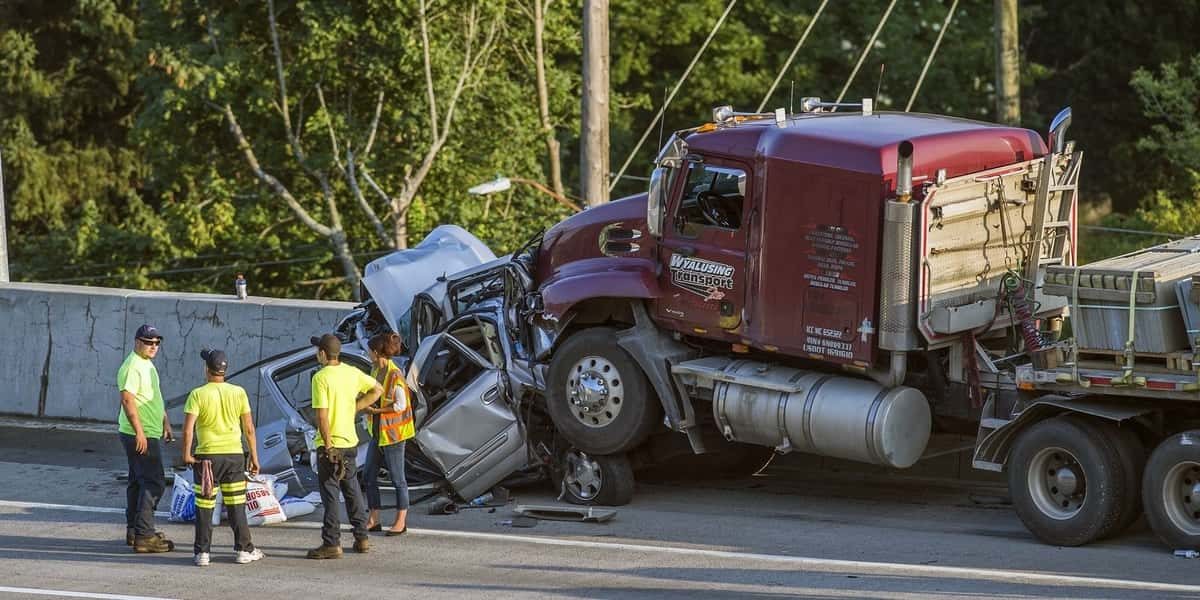 Steps to Take After A Glendale Truck Accident
In the aftermath of a truck accident, whether you find yourself at fault or not, the steps you take immediately can significantly impact the outcome of your situation. The complexities involved in such incidents require a systematic approach to ensure a comprehensive response. Below is a detailed guide to assist you in navigating through the aftermath of a truck accident. It provides a step-by-step plan to make informed decisions.
Get to safety and wait for help: Move to a secure location away from traffic hazards, prioritizing safety for yourself and the others involved. While ensuring your safety, patiently await assistance. The importance of a secure environment must be recognized.
Check for injuries and Call 911: Conduct a thorough self-assessment for injuries. Swiftly call emergency services by dialing 911 to ensure timely medical assistance and the involvement of law enforcement.
Document Driver Licenses: Capture clear, legible photos of the Driver Licenses of all drivers who were part of the accident, ensuring accurate identification.
Record Insurance ID cards: Document visual records of the insurance ID cards held by each driver involved in the collision, providing crucial information for the claims process.
Photograph Vehicles: Take detailed photographs of all vehicles present at the accident scene, including your own, to depict the extent of damages incurred during the collision.
Gather Witness Information: In the presence of independent witnesses, collect their names and phone numbers, recognizing their potential contribution to the factual account of the incident.
Contact Glendale Truck Accident Lawyers from Arash Law: In the wake of a truck accident, promptly reach out to Arash Law to engage the expertise of seasoned truck accident attorneys in Glendale. This proactive step ensures timely legal counsel and guidance tailored to your situation.
Common Causes of Truck Accidents – How Do Trucking Accidents in Glendale Happen?
Truck accidents carry significant consequences, often resulting in severe injuries or, tragically, fatalities. Gaining insights into the prevalent causes of these accidents empowers individuals to take preventive measures and avert such outcomes. Several common factors contribute to truck accidents, emphasizing the importance of vigilance and awareness:
Driver fatigue: Extended hours on the road can induce fatigue, impairing a truck driver's responsiveness and decision-making capabilities and elevating the risk of accidents.
Distracted Driving: Similar to other motorists, truck drivers may succumb to distractions like texting, eating, or using electronic devices while driving, heightening the likelihood of accidents.
Poor Vehicle Maintenance: Neglecting regular maintenance and inspections increases the chances of equipment failures, such as faulty brakes or tire blowouts, rendering the truck more susceptible to accidents.
Speeding: Excessive speeding compromises a truck driver's control over the vehicle and extends the stopping distance, escalating the potential for catastrophic collisions.
Drug or Alcohol Impairment: Operating a truck under the influence of drugs or alcohol impairs judgment, reaction time, and coordination, significantly amplifying the risk of accidents.
By comprehending these prevalent causes, individuals can recognize the critical importance of enlisting the expertise of Glendale truck accident attorneys specializing in such cases. Proficient legal professionals can conduct a thorough investigation, ascertain liability, and guide victims in pursuing the rightful compensation they deserve.
At Arash Law, you're selecting more than just legal representation – you're partnering with a team deeply immersed in the complexities of truck accident cases. Our attorneys go beyond the surface, conducting meticulous investigations, establishing liability, and seamlessly guiding victims through the intricate process of securing the compensation necessary for a full recovery. Connect with Arash Law today to access our dedicated and knowledgeable Glendale truck accident lawyers, who will stand by your side every step of the way.
Why Should You Hire Glendale Truck Accident Lawyers?
Experiencing a collision involving commercial trucks is a distressing and transformative event with potentially severe consequences due to the substantial size and weight of these vehicles. The outcome can be devastating, underscoring the imperative need for legal representation to protect your rights and pursue the rightful compensation.
Truck accident cases, by nature, are intricate and involve various entities, such as trucking companies, drivers, and insurance companies. Navigating this challenging legal terrain without legal assistance puts you at a distinct disadvantage. A legal professional by your side ensures you have an advocate to steer you through the nuances of the legal process, providing the support needed during such a challenging time.
Providing Knowledge and Experience
Proficient truck accident lawyers in Glendale bring a wealth of knowledge and practical experience to the table when dealing with such cases. Their intimate familiarity with the laws and regulations specific to commercial trucking enables them to craft a compelling case on your behalf. After conducting a thorough investigation, gathering pertinent evidence, and interviewing witnesses, they painstakingly establish liability, laying the groundwork for a formidable legal strategy in your case.
Negotiating on Your Behalf
Moreover, lawyers specializing in trucking accidents possess the skills to engage in effective negotiations with insurance companies. Their goal is to secure equitable compensation covering various aspects such as injuries, lost wages, medical expenses, and pain and suffering. These legal experts are well-versed in the strategies employed by insurance adjusters to either undervalue or outright deny claims. With dedicated trucking accident attorneys in Glendale by your side, you can trust that they will vigorously advocate for your best interests.
Representing You in Court
If reaching a fair settlement proves impossible, your attorney is prepared to escalate the matter to court. In this scenario, they will act as a steadfast advocate, meticulously presenting a compelling case that aims to secure the maximum compensation you rightfully deserve.
In the aftermath of a semi-truck accident, hiring the services of Glendale truck accident lawyers becomes imperative. Their specialized knowledge and unwavering dedication to your case will not only provide reassurance but also enhance the likelihood of securing the compensation necessary to rebuild your life in the wake of such a traumatic event.
Personal Injury Settlement
Our client was the victim of a rear-end accident who was left injured and severely in pain. Arash Law was able to outshine other injury law firms when he searched online, and thankfully we were able to handle everything for our client from A to Z — All that he had to do was ask and focus on his recovery. Our client's life has changed forever, and the compensation received for the pain and suffering has opened paths for new lifelong opportunities.
Personal Injury Settlement
Our client was the victim of a rear-end accident who was left injured and severely in pain. Arash Law was able to outshine other injury law firms when he searched online, and thankfully we were able to handle everything for our client from A to Z — All that he had to do was ask and focus on his recovery. Our client's life has changed forever, and the compensation received for the pain and suffering has opened paths for new lifelong opportunities.
Why Choose Arash Law for Your Truck Accident Case?
In the aftermath of a truck accident, facing the intricate legal processes can be unsettling, and seeking guidance from knowledgeable personal injury attorneys is essential. At Arash Law, we stand ready to support you during this challenging time. The uncertainty and pressures from insurance companies can be overwhelming, but with our experienced truck accident lawyers in Glendale by your side, you can regain control of your situation.
Here's how our dedicated team at Arash Law can ease the burden for you:
Comprehensive Case Review and Legal Insight: We conduct a thorough examination of your case, ensuring you're well-informed about all available legal options.
Guidance on The Right Course of Action: Based on your unique circumstances, our legal experts can advise you on the best course of action.
Thorough Accident Investigation: Our investigation goes deep into the details of the accident, gathering evidence to build a solid and persuasive case.
Establishing Responsibility: Our team works diligently to establish liability on the part of the responsible party or parties involved in the accident.
Skilled Negotiations for Maximum Compensation: We engage in direct negotiations with insurance companies, advocating for the maximum fair compensation for your damages.
Efficient Paperwork Handling and Deadline Management: We take charge of obtaining and filing the necessary paperwork, ensuring all deadlines are met in a timely manner.
Court Representation if Necessary: Should your case require legal proceedings, we are prepared to represent you in court, presenting a strong and compelling argument.
Arash Law takes pride in standing up for clients like you and is committed to pursuing the maximum settlements you deserve. While you focus on healing after your truck accident, our skilled Glendale truck accident attorneys will fight tirelessly to deliver the damages owed to you. Call our legal team today for a free consultation at (888) 488-1391.
How to Gather Evidence for My Trucking Accident Case?
Gathering the necessary evidence to support your case involves meticulous effort. Here are key considerations to guide you:
If you are contemplating initiating a personal injury lawsuit, it's imperative to seek evidence from cutting-edge devices, driving logs, and government agencies. Partnering with one of our Glendale personal injury attorneys streamlines the process of acquiring this information before the trucking company discards it as part of their regular business practices.
Examine the electronic logging device or an event data recorder installed in the truck. These devices record essential information about the truck's operations, including route details, vehicle miles, speed, braking patterns, hours of service, and more. Valuable data can also be obtained from onboard computers, global positioning systems, and inclinometers.
Scrutinize the driving log of the involved big rig. This examination can validate whether the driver adhered to federal and state laws and regulations and took breaks during appropriate rest periods.
To secure the best legal assistance for your truck accident case, contact Arash Law at (888) 488-1391. Our Glendale truck accident lawyers can liaise with insurers, develop a personalized winning strategy, and meticulously gather evidence for your case. By availing of our services, you can alleviate stress, save time and money, and secure the maximum compensation for your losses and injuries. Reach out to us today!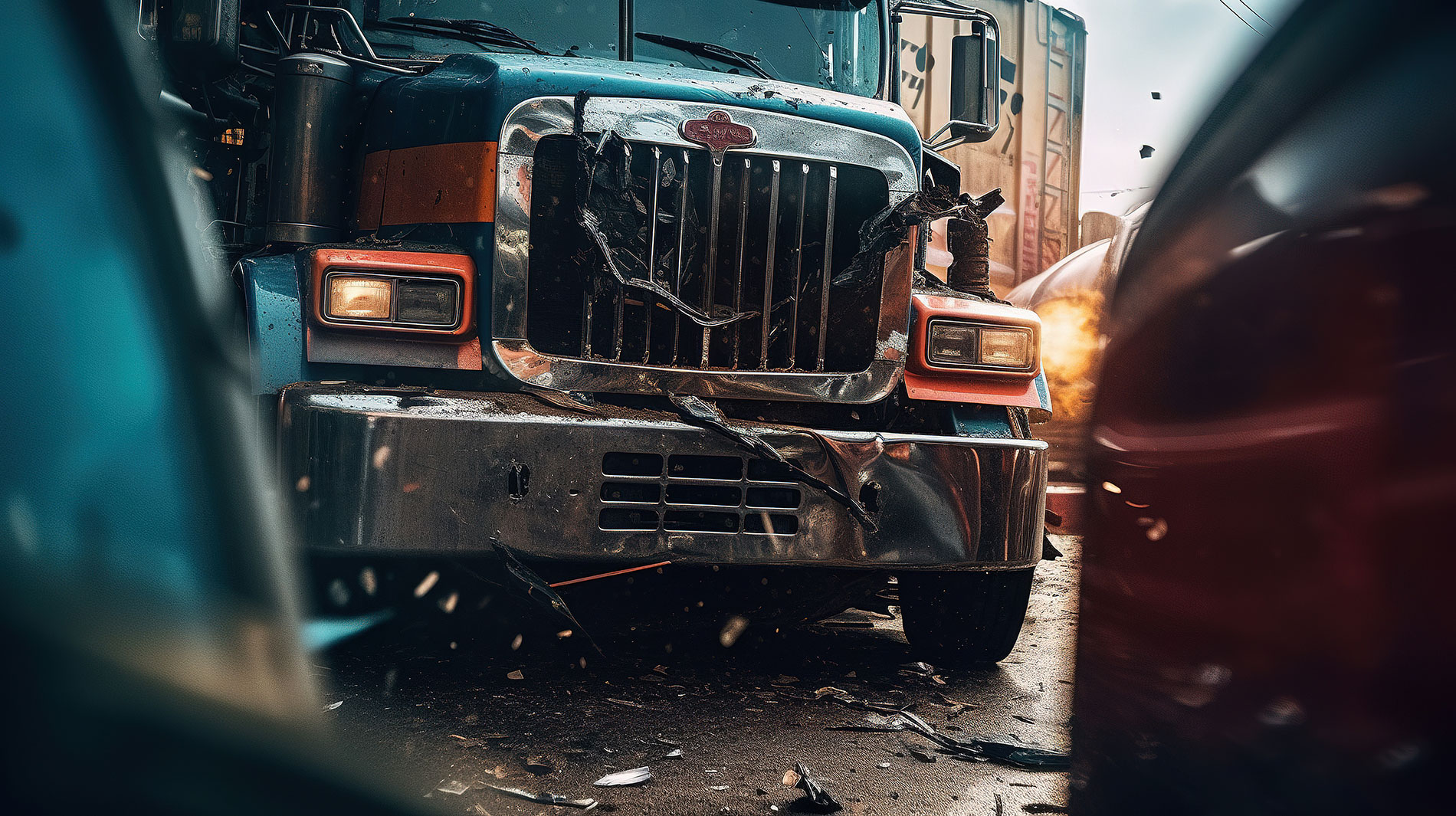 Settlement in a motor vehicle accident; client suffered internal injuries.
– 
JUDD ROSS ALLEN
How Much Will it Cost to Hire Glendale Truck Accident Lawyers?
At Arash Law, your initial consultation with truck accident lawyers in Glendale comes at no cost! Overlooking the insights gained during this meeting could have significant consequences down the road. Notably, there are no upfront expenses associated with our services. We operate on a contingency fee basis, meaning your attorney will only receive a percentage of your settlement as a fee for their services. In essence, your expenses are directly tied to the amount you recover. You bear no financial burden unless your case is successfully won or settled.
What Are Attorney Contingency Fees?
A contingency fee can be described as a predetermined lump sum that your attorneys receive in the event of a successful outcome in your personal injury case. This fee structure is commonly associated with personal injury cases such as car accidents, dog bites, and slips and falls, and it contrasts with upfront hourly rates or retainers.
Unlike hourly fees, where you pay for the attorney's time regardless of case outcome, contingency fees are contingent on your case being victorious. Typically, a contingency fee for an attorney amounts to one-third of the final verdict or award, although this percentage may vary based on the particulars of your case. In certain situations, such as claims necessitating an extended and costly trial or involving expert witnesses, the contingency fee might increase to 40%.
It is paramount to engage in a comprehensive discussion regarding the contingency agreement with your lawyer before affixing your signature to any official documents. This ensures a clear understanding of the fee structure and prevents any potential misunderstandings down the legal road.
A contingency fee agreement serves as a beneficial option for individuals seeking legal representation, irrespective of their immediate financial capacity to cover legal expenses. Opting for a contingency fee agreement spares you from additional fees at various stages throughout the legal process.
Furthermore, you won't be held responsible for any out-of-pocket costs when engaging in a contingency agreement. This approach provides financial flexibility and aligns the attorney's compensation with the client's favorable case outcome.
How Soon Do I Need to File My Personal Injury or Truck Accident Claim?
You should file your personal injury claim without delay. Do not postpone the filing of your truck accident case or any similar incident causing injury. Although many claims against private entities are subject to a two-year statute of limitations, reaching out to the truck accident lawyers in Glendale at Arash Law promptly after your accident is strongly advised. Taking immediate action enhances the likelihood of a successful case outcome. It facilitates the potential for obtaining the maximum cash settlement that duly considers your injuries, along with any associated losses such as medical expenses and lost wages.
Connect With Award-Winning Truck Accident Lawyers in Glendale
If you suffer from a truck accident in Glendale, securing the services of compassionate Glendale truck accident lawyers is essential to ensure you obtain the rightful financial restitution. Semi-truck collisions can lead to severe injuries and substantial financial setbacks, and facing the legal complexities alone can be daunting.
Taking on large companies alone for compensation is challenging. Arash Law can level the playing field and guarantee the just settlement amount you deserve in your truck accident case. Our team of experienced lawyers, led by Arash Khorsandi, Esq., can assist you in filing an injury claim against the responsible parties, regularly supporting your pain and suffering.
With decades of experience handling truck accident cases and a proven track record of success, our proficient Glendale truck accident attorneys can navigate you through the technicalities of laws and determine the appropriate legal course of action. We prioritize ensuring you receive top-notch legal assistance and representation against your auto insurance company and other parties involved.
We offer our legal services in neighboring locations across California, spanning Burbank, La Canada Flintridge, South Pasadena, Los Angeles, Pasadena, West Hollywood, Altadena, Alhambra, San Marino, San Gabriel, Monterey Park, Beverly Hills, East Los Angeles, Commerce and Rosemead. Our dedicated Glendale truck accident attorneys are available around the clock, ensuring accessibility when you need assistance.
Act promptly by contacting us. Time is a critical factor, so don't hesitate to seek legal counsel to optimize the potential outcome of your personal injury claim. Covering diverse domains of personal injury law, including challenging truck accident cases, Arash Law is your partner in seeking justice.
Take the first steps toward resolution by contacting us at (888) 488-1391 for a complimentary case evaluation. Our exceptional track record of securing over $500 Million in client compensation speaks to our legal expertise. Your journey towards justice commences with us.